Apple's new iPhone X brings the first major design overhaul in years, so I'm taking a look at a wide range of iPhone X cases from different manufacturers to see what's available. This is my second review roundup post, which covers Casetify, Caudabe, and Incipio.
My first review roundup on cases from Twelve South, Nomad, Speck, and Apple can be found here, and in the coming days, I'll have additional review roundups that highlight many other cases.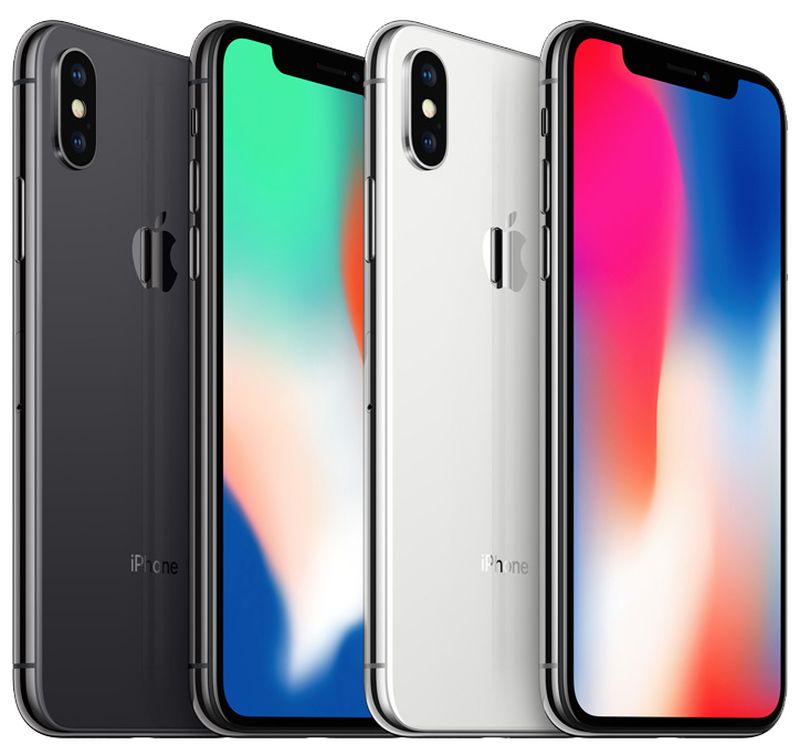 For all of my reviews, I'm looking at the general usability of iPhone X cases. Extreme drop tests and in-depth testing aren't covered because those factors are less important than how a case works on an average day, and it's often fairly easy to tell from design how protective a case is going to be.
Factors like bulk, button accessibility, grip, thickness, and appearance are what I focused on. With the removal of the Home button, button presses are more important, and there are a surprising number of cases out there that make the buttons a lot more tedious to press.
All of the cases in today's review roundup support wireless charging and I've confirmed that each one works with a Qi wireless charger I have on hand.
Casetify
Casetify offers a huge selection of cases for the iPhone X, some of which are customizable and some of which are more standard case designs.
I'm a fan of Casetify's customizable cases, and I've ordered them several times in the past. They're essentially clear cases that you can add your own images to, or choose one of hundreds of designs from artists.
There are three base customizable cases: the Snap Case ($35), the Impact Case ($45), and the Glitter Case ($45), which has a layer of liquid-filled glitter inside of it.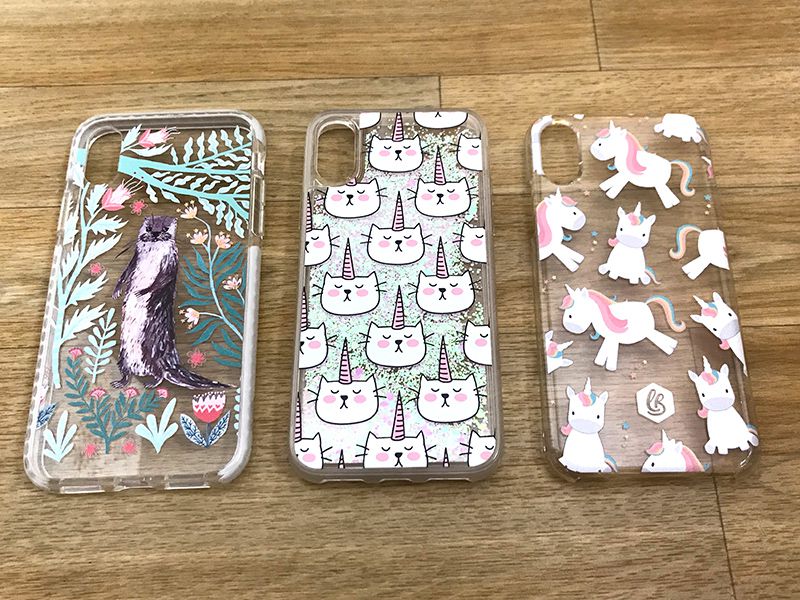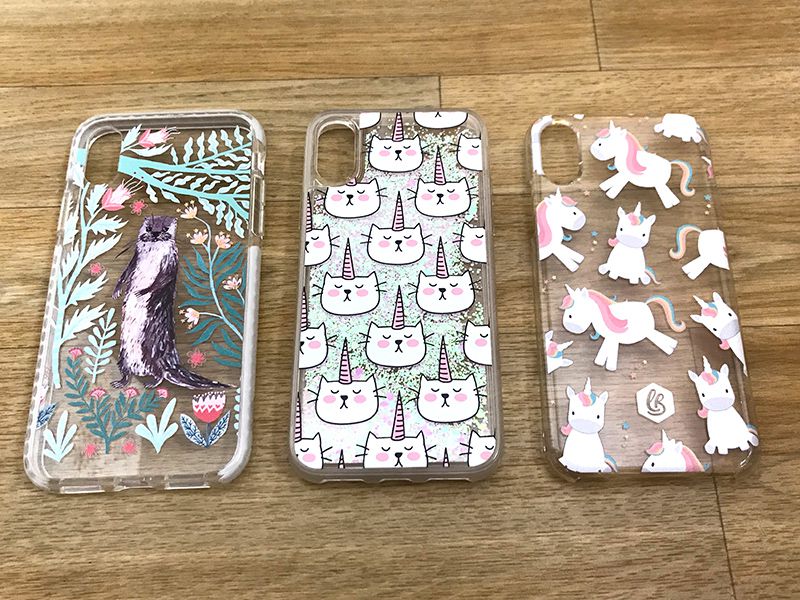 From left to right: Impact Case, Glitter Case, Snap Case


All of these are clear, hard plastic cases that snap onto the iPhone, but the Snap Case is a simple little shell that leaves the bottom and side buttons exposed, while the Impact Case and the Glitter Case cover all of the buttons and offer protection for the bottom of the phone.
The Snap Case is the most minimal of the three customizable case options, while the Impact Case is somewhat bulkier. The Glitter Case is the thickest of the bunch because it needs dual layers for the layer of liquid glitter to float around. It looks neat, but it adds a lot of bulk. Glitter and Impact both cover the buttons but leave them usable and easy to press, and all three cases have a bit of a lip that comes up to protect the display.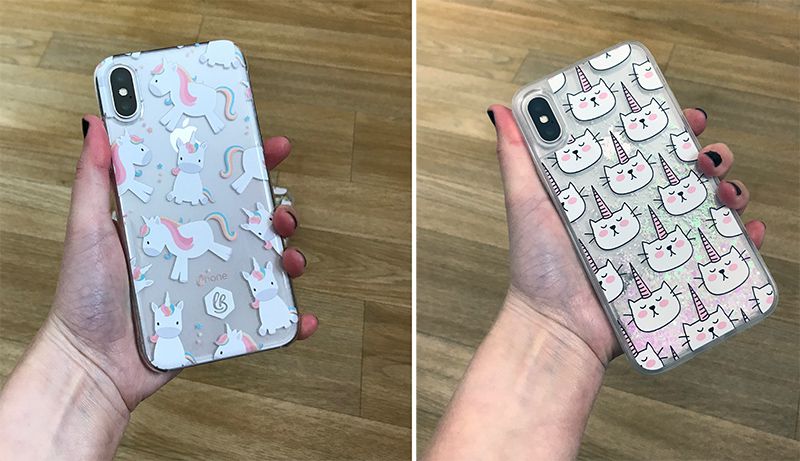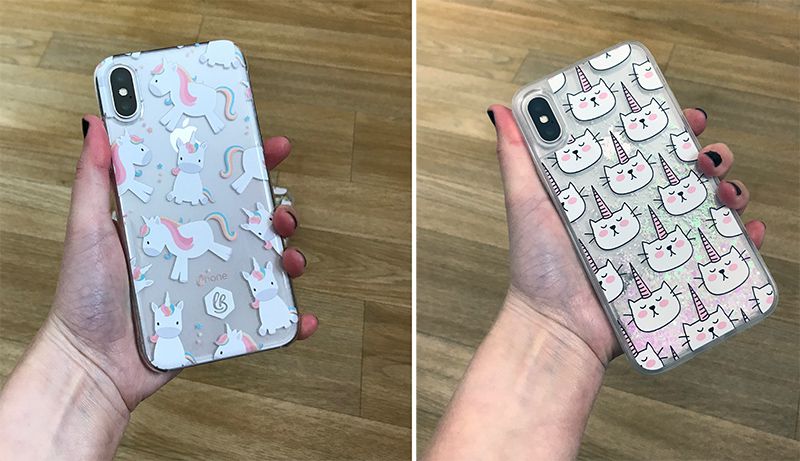 Casetify's customizable cases are great because (with the exception of the Glitter Case) they're lightweight, add a decent amount of protection, and look however you want them to look. I love the look of the glitter in the Glitter Case, and while it adds a little too much rear thickness to the iPhone X for my taste, I'm still going to use it.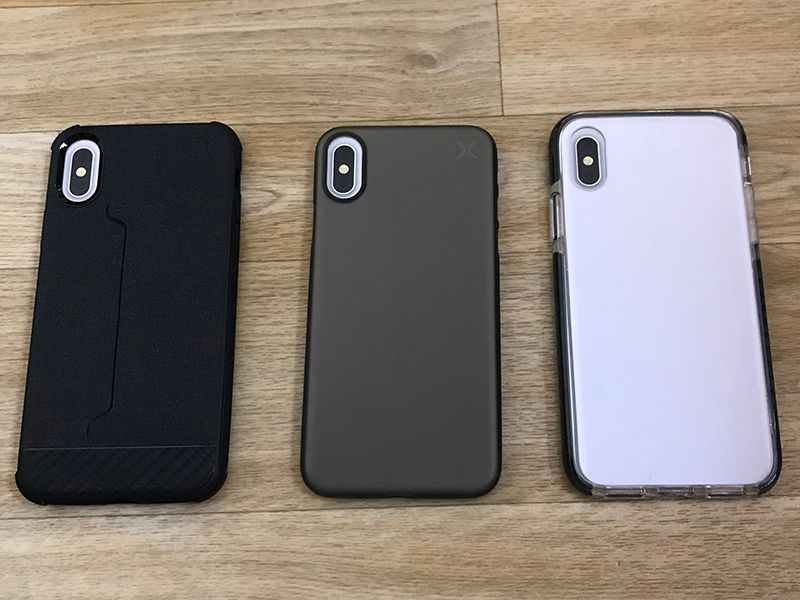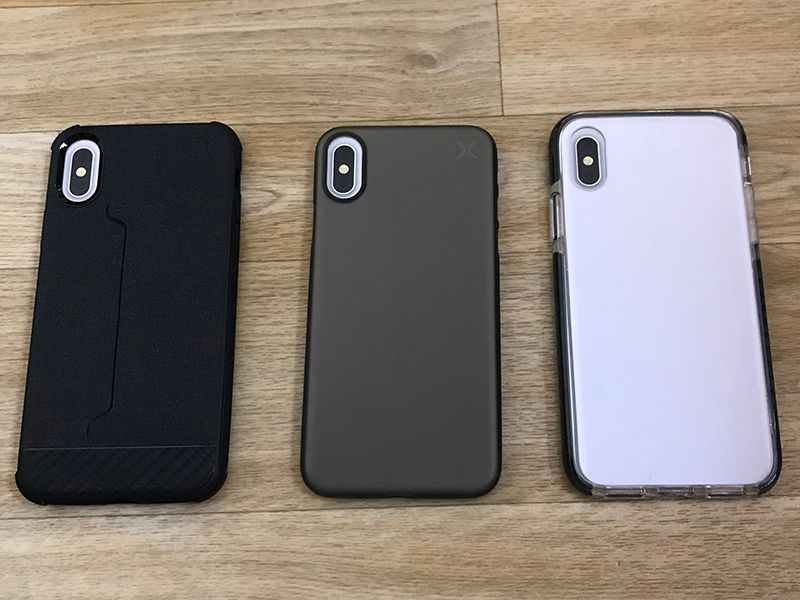 From left to right: Essential Woven, Essential Skin, Essential Impact


Casetify also makes non-customizable cases, several of which are sleek and stylish. The Essential Snap ($28) is a lightweight, hard shell case that has a rough texture that's easy to grip. Darker cases pair the best with the iPhone X's black front bezels, and the black rubber rim of this case paired with the fabric back looks great. This case isn't as thick as some of the others I've tested, but it's going to keep the iPhone X safe from scratches and minor drops.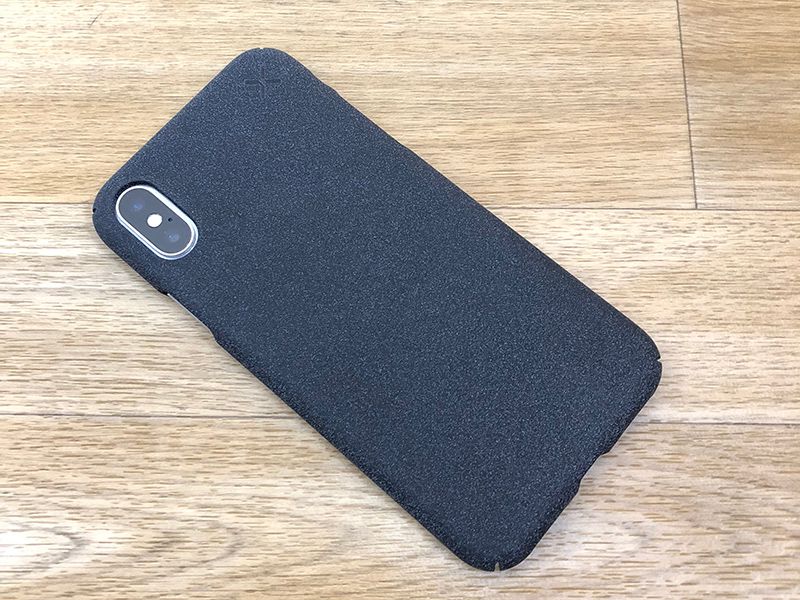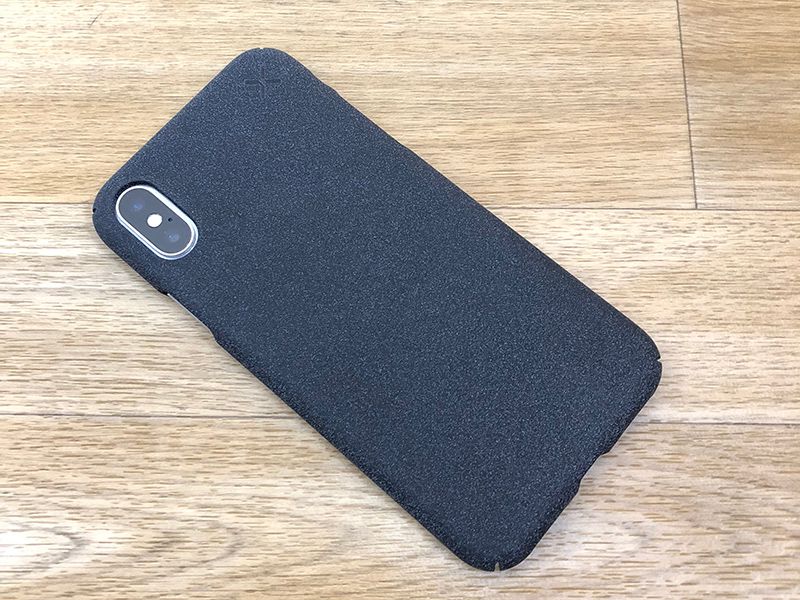 Essential Snap


The Essential Woven Card Case ($40) is similar in design to the Essential Snap, but it features a slit on the back that can hold a few cards and it has a rubber rim. The Essential Impact ($45) is a clear case with a hard plastic back and flexible, shock absorbing rubber edges, and like the rest of the Essential Cases, it has a lip that protects the display.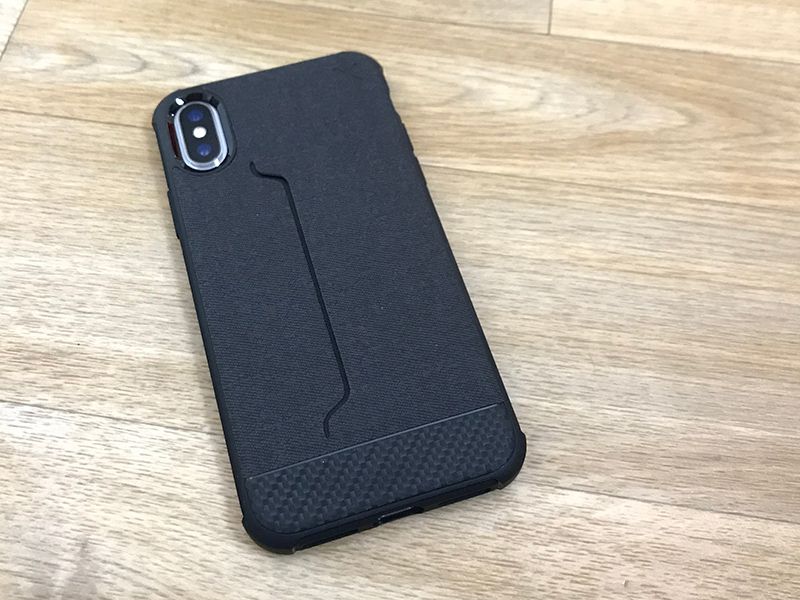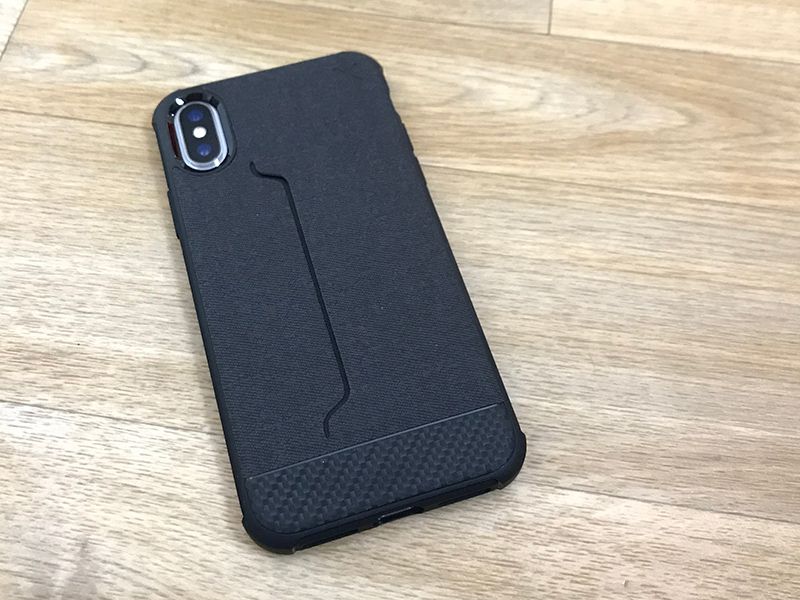 Casetify's final case is the Essential Skin ($25). The Skin is a super slim plastic-style ~0.3mm case that's similar to other cases novodasoftwaresold by several brands. It offers only scratch protection and isn't going to do much if you drop your phone. It also doesn't have any display protection.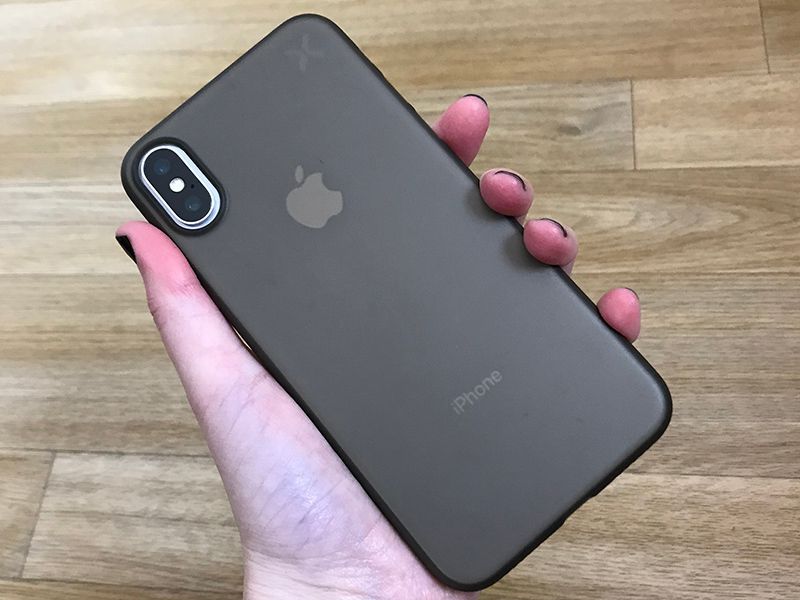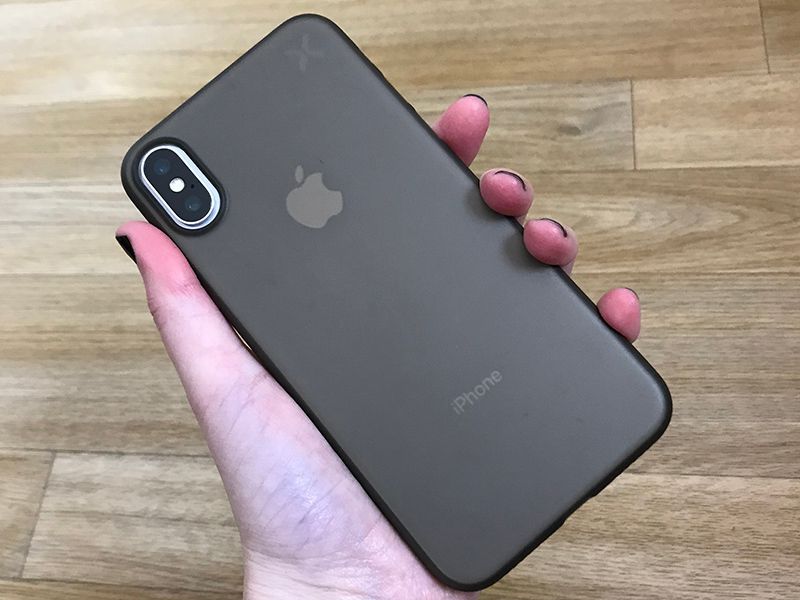 Incipio
Incipio is a well-established iPhone case maker with several options for the iPhone X, and all of the cases I tested are relatively slim but seem to offer a decent amount of protection. Each case wraps all the way around the iPhone X, covering the buttons and the bottom of the device, and they all come up over the screen just a bit to protect the display when face down. It's worth noting that most of these Incipio cases have prominent branding in the form of a large Incipio logo on the back of most of the cases.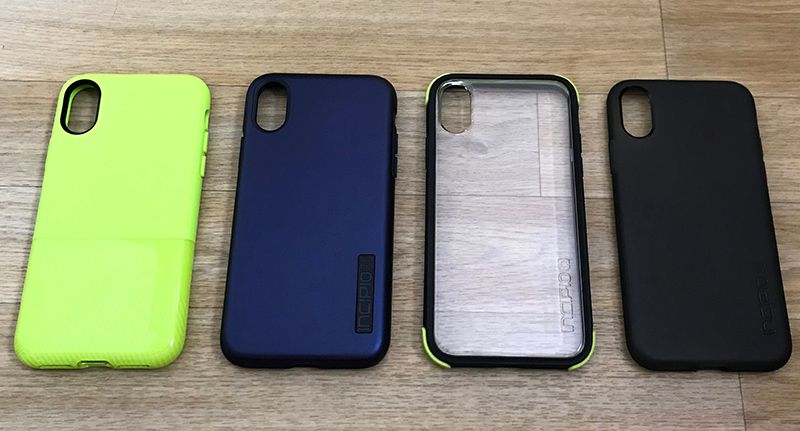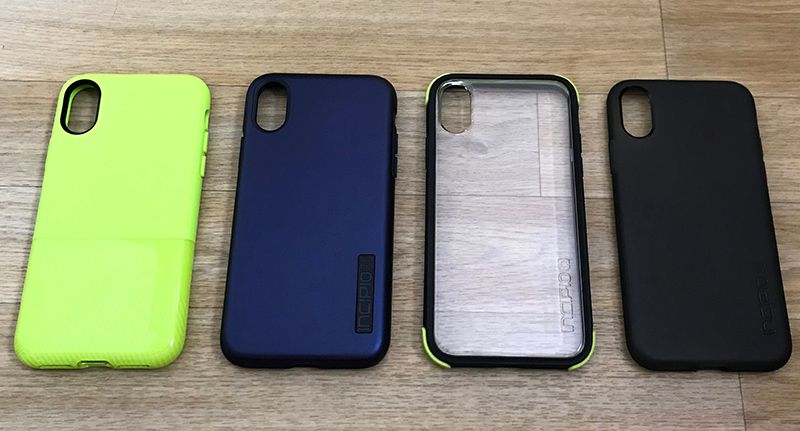 From left to right: NGP Sport, DualPro, Reprieve Sport, and NGP
The
NGP Sport
($29.99) is made from a soft, malleable material available in several bright colors. I much prefer soft cases to hard shell cases because they're easier to get off and feel better able to absorb shock when dropped on the ground. The NGP Sport has nice soft buttons that are easy to press. It's a bit thicker than the Apple Silicone case (as a point of reference) but it's not adding too much bulk to the phone, and it has a nice two-texture design. The material it's made from is smooth and untextured for the most part, so it's a bit hard to grip.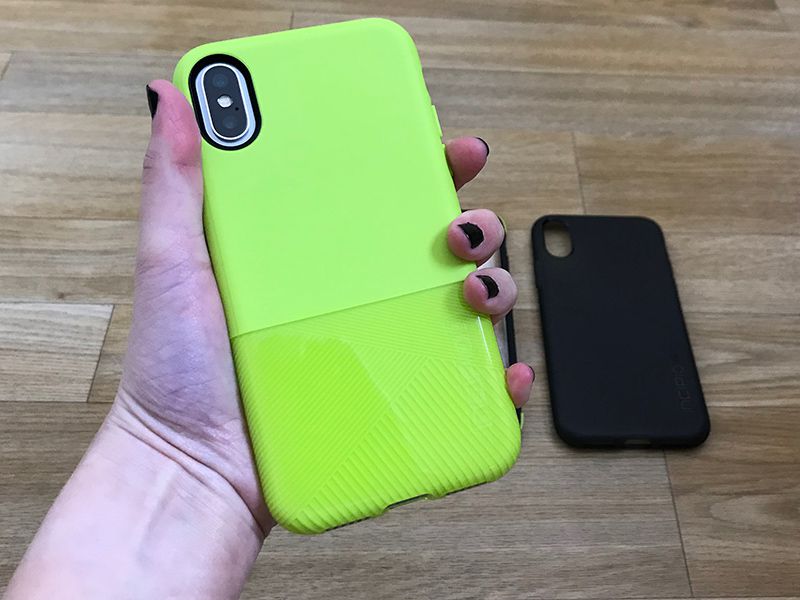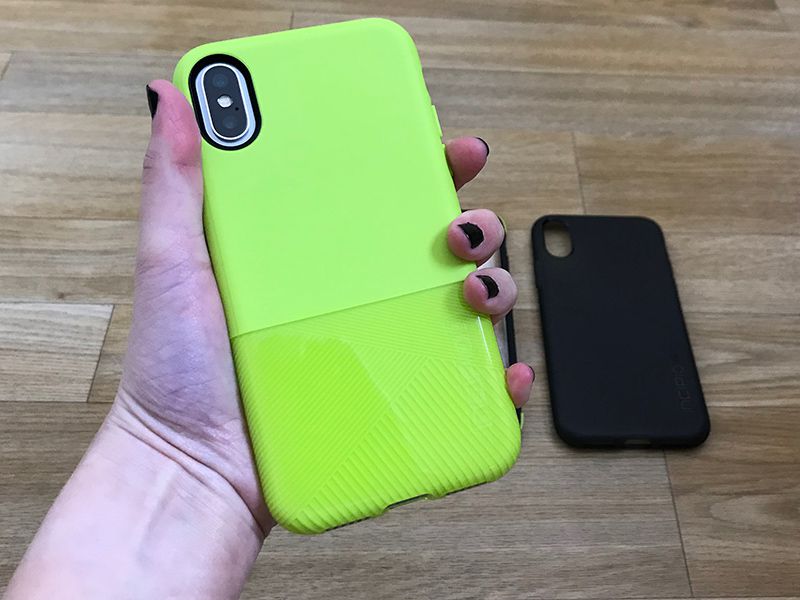 The Reprieve Sport ($39.99) is a hard plastic clear case with rubber that wraps around the sides and extra reinforcement at the corners. It's about as thick as the NGP Sport, but the clear back is nice because it lets the design of the iPhone X shine through. I like the reinforced corners paired with an extra thick lip around the display, as both make this case feel more protective than the average iPhone case. I'm not a huge fan of the color combo, but Incipio offers several options.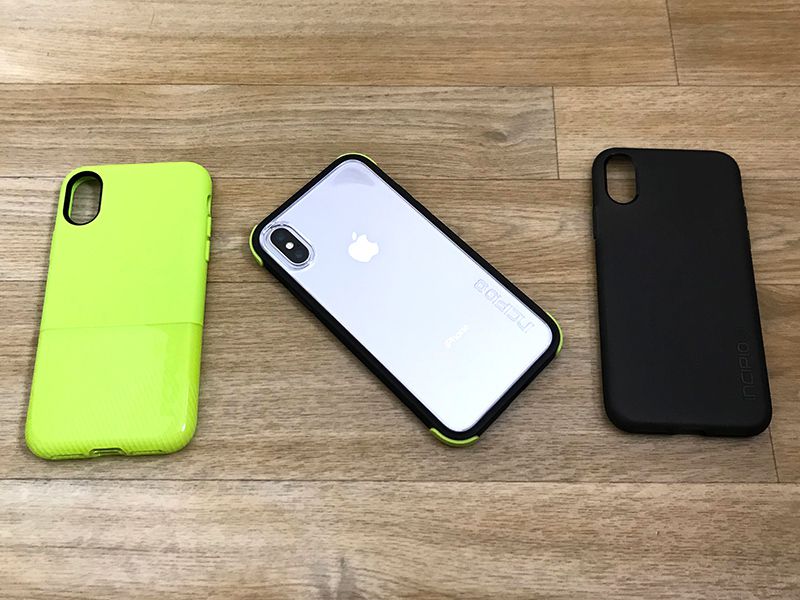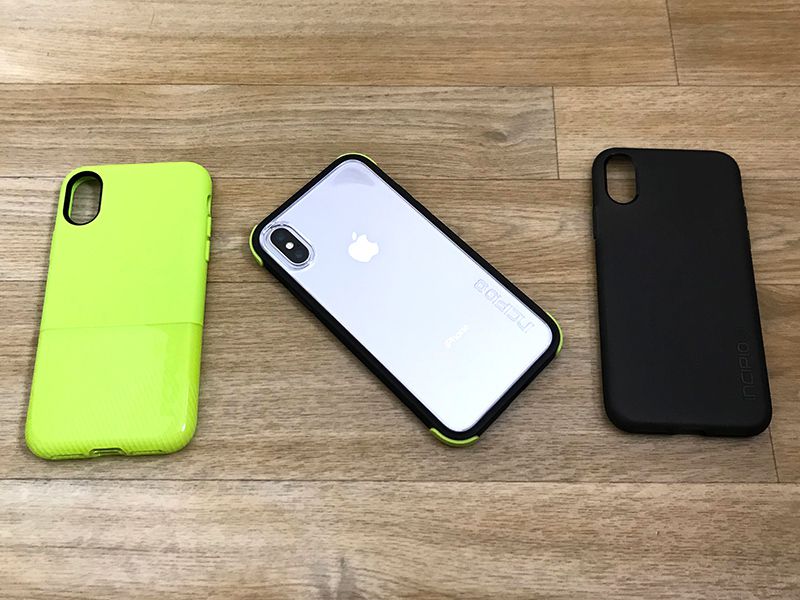 From left to right: NGP Sport, Reprieve Sport, NGP
The
NGP
($19.99) may be my favorite case from Incipio. It's made from a malleable rubber material that's thin but still offers some light protection. It's not going to be as protective as something like the Reprieve Sport, but it's almost unnoticeable on the phone, adds a good amount of grip, is designed in such a way to leave the buttons easy to press, and is just plain nice to hold.
The DualPro ($29.99) is one of the most protective cases that Incipio makes. It has a two layered design that pairs a thin, flexible internal case with a hard outer shell, which is nice because it's versatile. If you want, you can remove the outer shell to have a thinner case, snapping it back on when you need additional protection. The inner case is not quite as slim as the NGP, but it's close, and paired with the outer shell, it's the thickest of Incipio's offerings.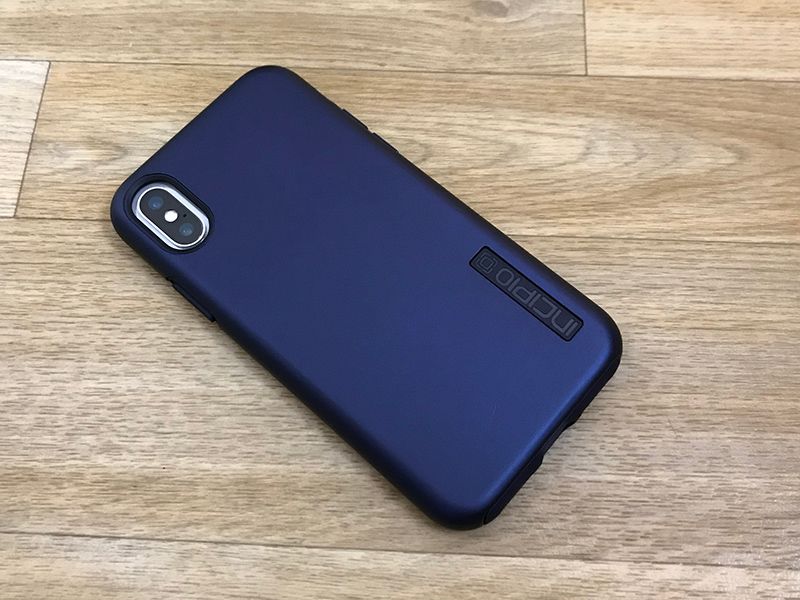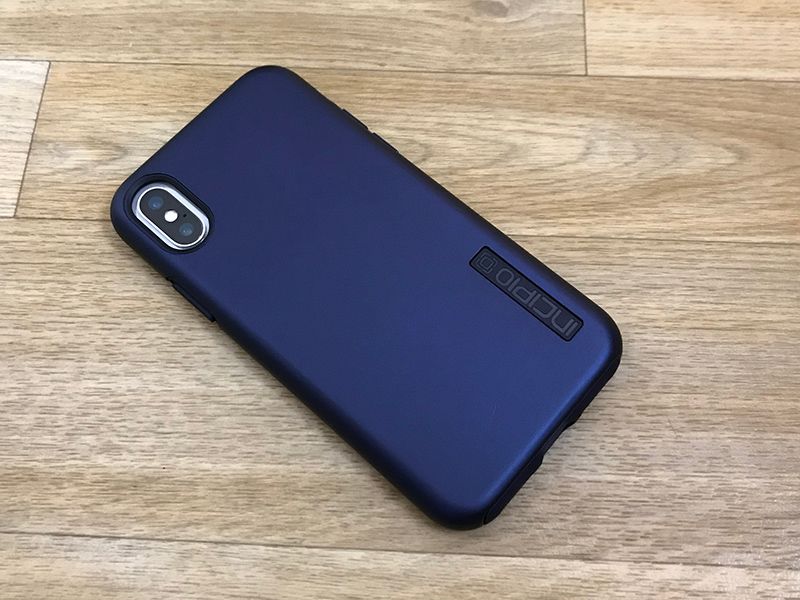 When I say thick, though, it's still worth noting that it's fairly slim – this doesn't add a huge amount of bulk and seems to be a nice compromise between thickness and protection. Buttons are a little bit harder to press because they're covered, and I do wish the material offered more grip, but it's a nice case.
Caudabe
Caudabe seems to specialize in cases with a minimal design, something that will appeal to people looking for slim cases with muted colors and nearly invisible branding.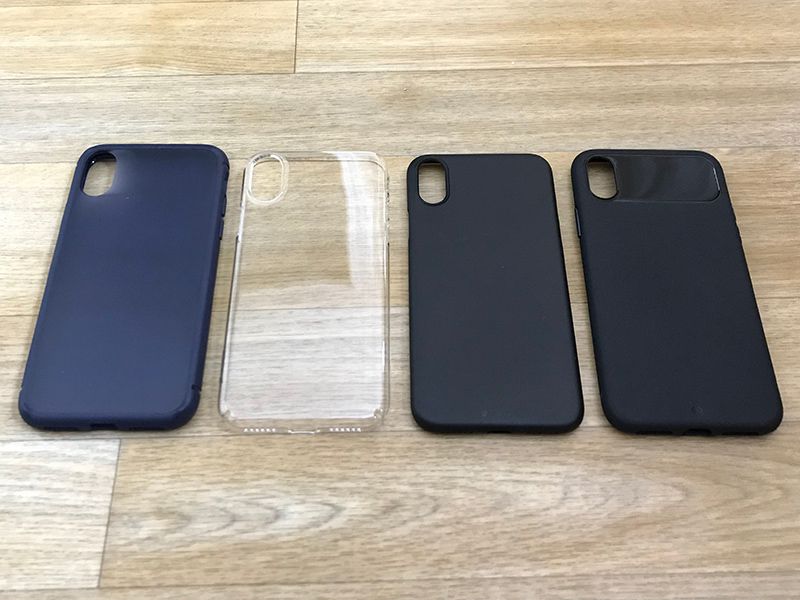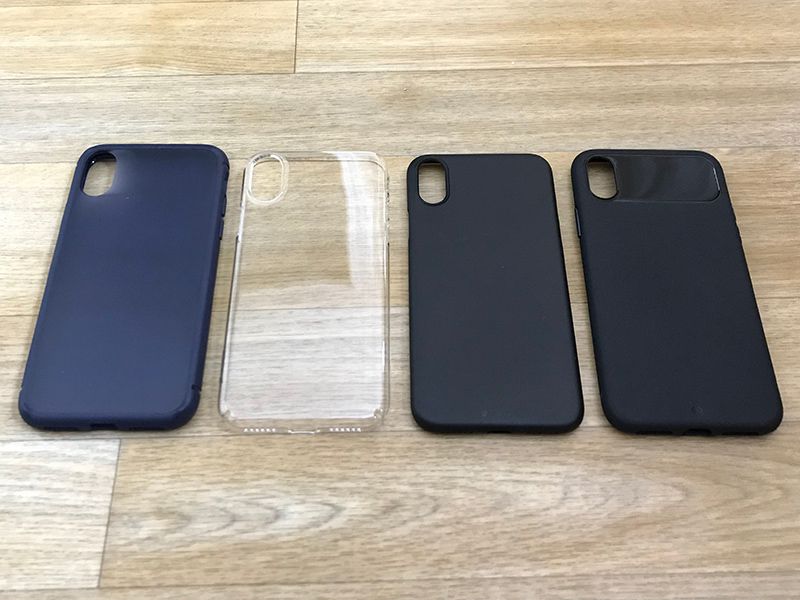 From left to right: Synthesis, Lucid Clear, Veil XT, and Sheath
The
Lucid Clear
($24.99) is a plain, slim clear case made of hard plastic that's the best option I've seen if you want something unobtrusive that's going to offer a small amount of protection without obscuring the design of the iPhone X. It has a raised lip to keep the display of the iPhone X from touching a surface when face down, and it leaves buttons exposed so they're easy to press.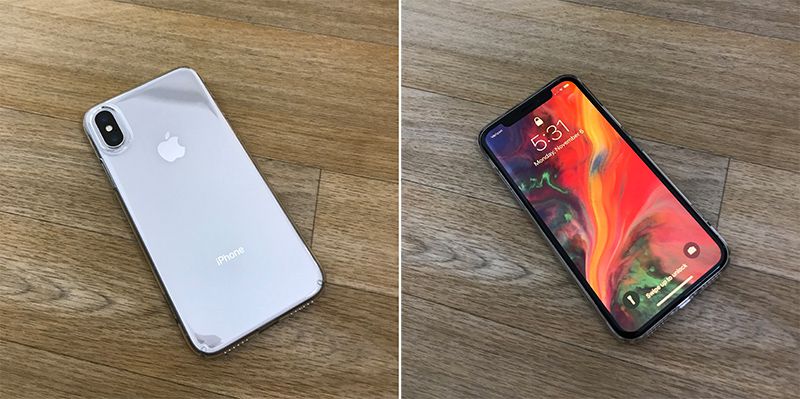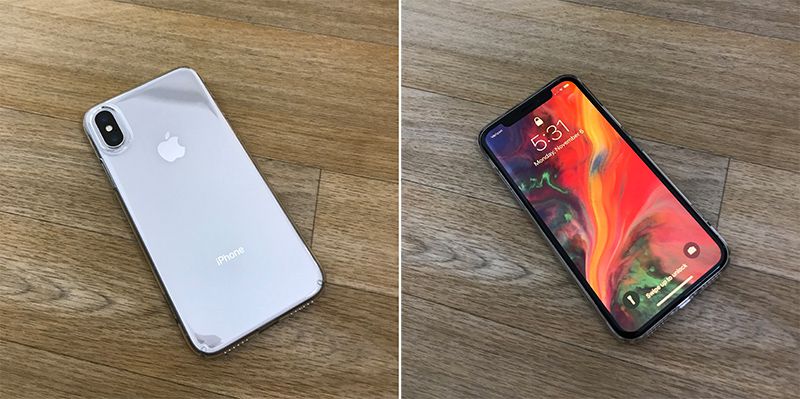 The Veil XT ($19.95) is a super slim 0.35mm plastic case that's going to protect from scratches but not drops. It's identical to the Essential Skin from Casetify, but cheaper, and it's worth noting that several other companies also make cases like this. These types of cases are the absolute thinnest you'll find because they're made of plastic not much thicker than a sheet of paper.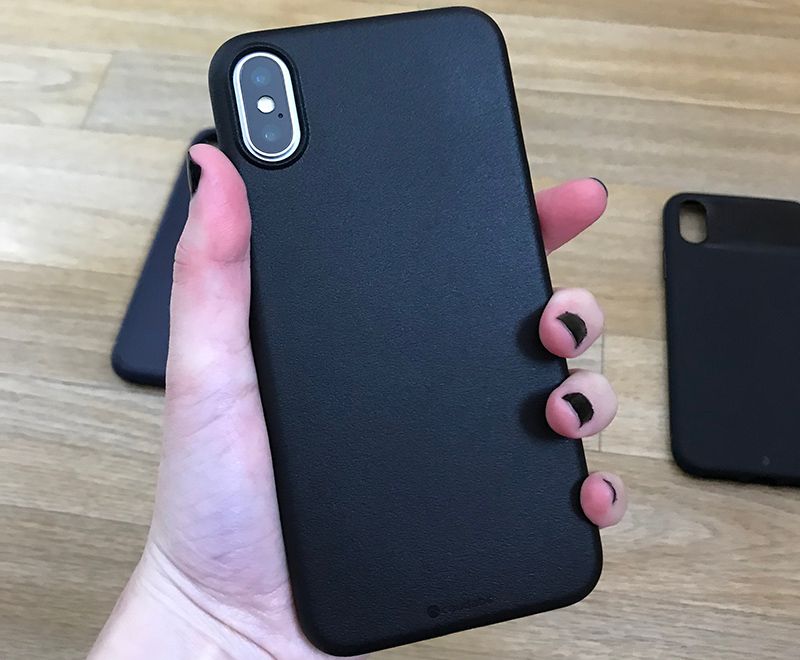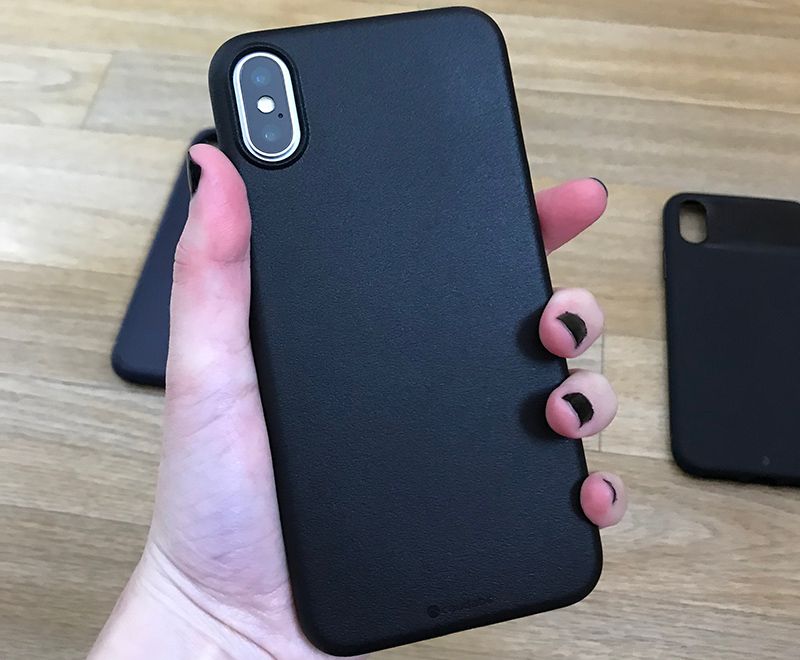 The Sheath ($24.95) is a plain black case that's made from a flexible rubber material. It covers the volume and power buttons, but since it's such a malleable material, it doesn't impede their functionality. It has a little bit of a raised lip and offers protection all the way around the phone, and it's actually not too much thicker than the Veil XT. This is a good compromise if you want thin but with a little more protection than you'll get with the ultra thin cases. This is one of my favorite cases of the bunch because it's thin without being so thin that it offers no benefits.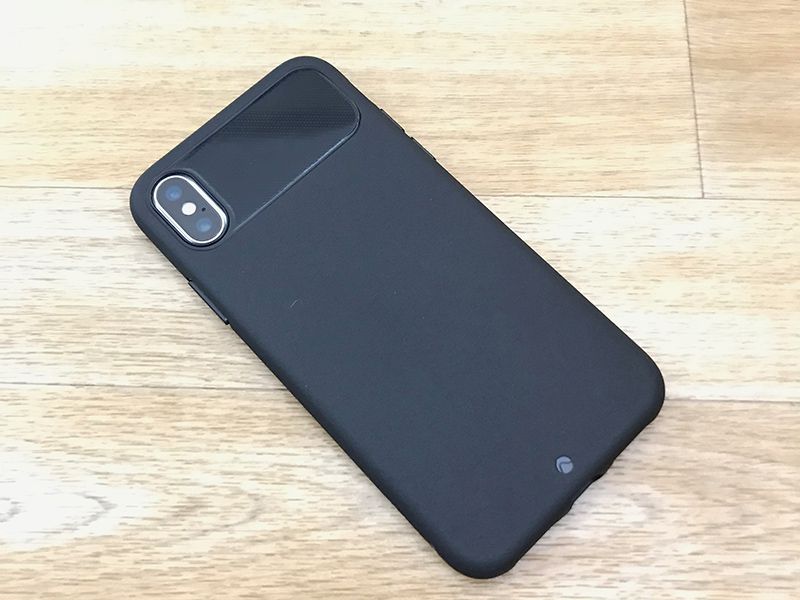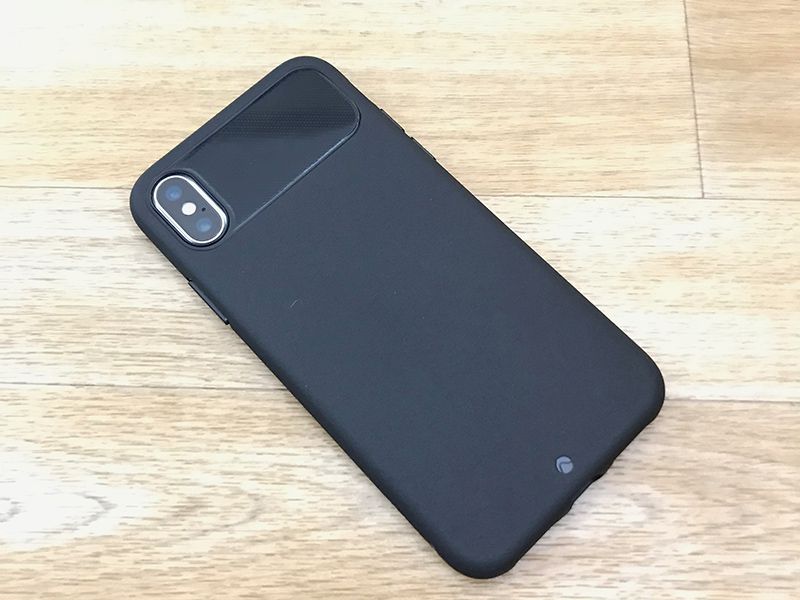 The Synthesis ($29.95) is Caudabe's thickest, most expensive case. Comparatively, I'd say this is about the same thickness as the Apple Silicone case. It's still fairly slim, as far as cases go, and the hard plastic material it's made from wraps around the iPhone X and covers the buttons. This case suffers from a problem that plagues many cases with hard plastic — the buttons are hard to press. It doesn't have much shock absorption, but the hard back and the plastic lip seem like they'll offer decent protection from minor drops. The hard plastic material is, however, hard to hold onto because it has no texturing.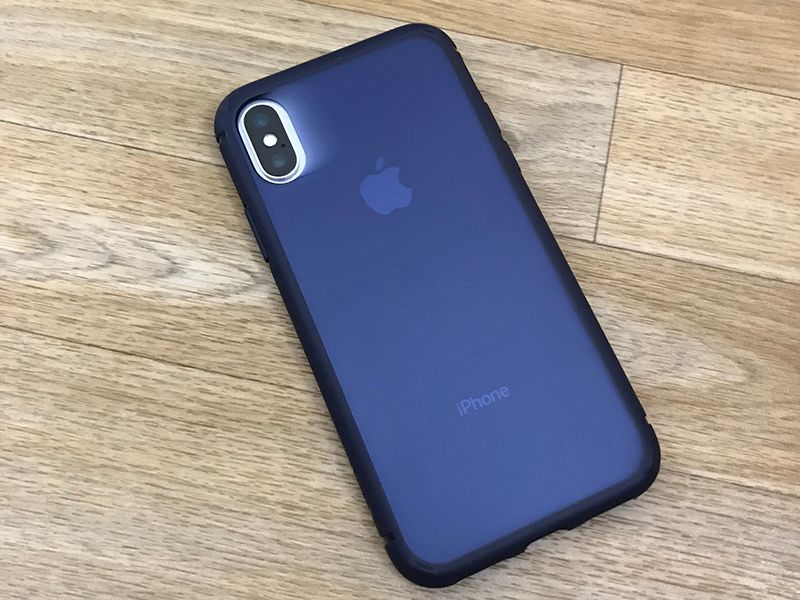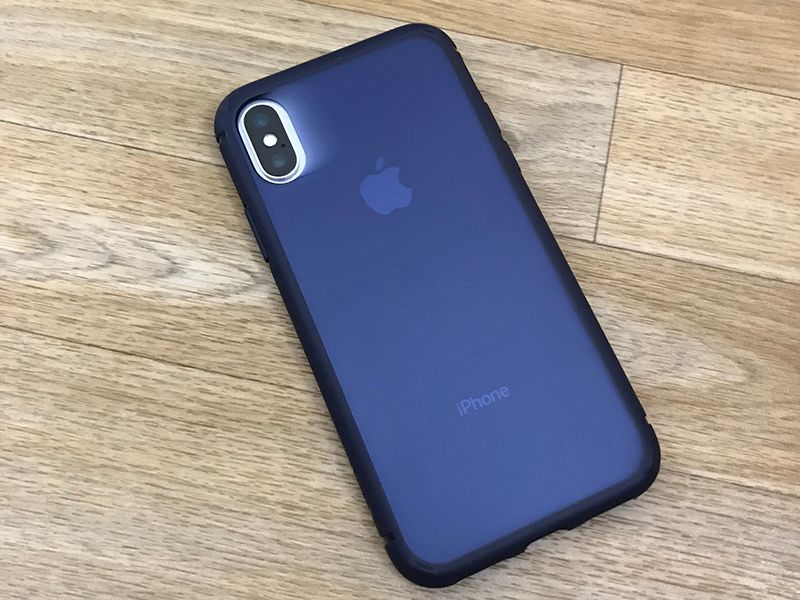 Bottom Line
These manufacturers all produce cases that are fairly minimal, and I was a fan of a lot of these. I've never dropped a phone, so I tend to prefer cases that are thin and lightly protective, and if you're the same way, give Caudabe's Sheath and Incipio's NGP a look. I loved both of these.
If you only need scratch protection, Casetify's Essential Skin and Caudabe's Veil XT are some of the thinnest iPhone cases on the market, but there's no real protection from drops. The most stylish of this bunch definitely goes to Casetify's Essential Snap, which is as slim as the NGP but made from a more rigid, textured material that looks sharp and is easy to grip.
For thicker cases that offer more protection without being overly bulky, Incipio's Sport XT and Caudabe's Synthesis are worth checking out, and for customization, Casetify is a must.
Since this was a brief look at the cases available from several different companies, I'm happy to provide additional photos and answer questions about any of the cases listed down in the forums. I'll be covering additional cases from companies like Nodus, X-Doria, MagBak, Spigen, Otterbox, Peel, and more in roundups that will be shared later this week and next week.
Note: Caudabe, Casetify, and Incipio provided MacRumors with iPhone X cases for the purpose of this review. No other compensation was received.