With the launch of the iPhone X, 8, and 8 Plus last September, Apple finally embraced wireless smartphone charging, and as of the release of iOS 11.2 in December, the devices became able to support faster 7.5-watt charging.
Belkin and Mophie were Apple's launch partners for wireless charging, with their optimized charging bases launching alongside the new phones and supporting the 7.5-watt power targeted by Apple. While Belkin and Mophie's chargers had Apple's early seal of approval, plenty of other manufacturers already had wireless chargers rated at 5 watts and higher on the market. Pretty much all of them work just fine with iPhones, and in fact in our testing we found not much difference in iPhone charging speed between 5-watt and 7.5-watt chargers.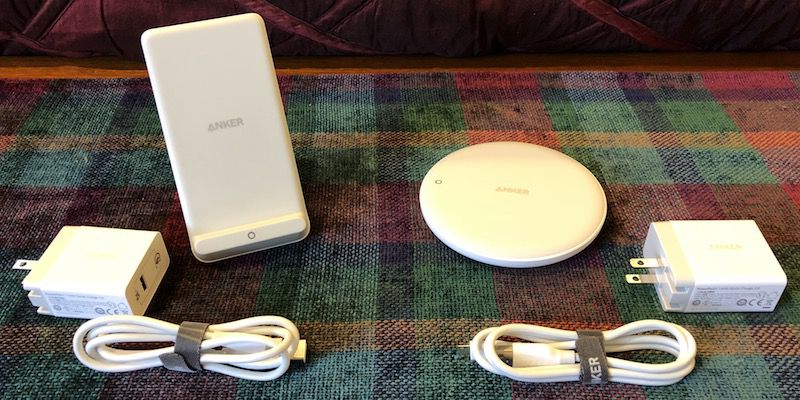 Now that Apple's 7.5-watt charging spec has been available for a while, we're starting to see more accessory manufacturers launching new chargers optimized to work with the new iPhones. One of the first major brands out of the gate in this wave is Anker, which has long been very popular with consumers for offering solid charging accessories at good prices with excellent customer service.
I profiled some of Anker's previous wireless chargers back in December as part of my early wireless charger roundup, and several of those models have been strong sellers. With Apple's specs for 7.5-watt charging now available, Anker today is releasing two new wireless chargers optimized to work with the iPhone. The new chargers, arriving under the "PowerWave" marketing name, feature built-in fans to help keep things cool and maintain high charging speeds at both 7.5 watts for iPhones and 10 watts for compatible Android phones. According to Anker, the fans help charge iPhones up to an hour faster than other chargers on the market.
"After testing most of the chargers on the market, we discovered that they shared a major flaw: the wireless coils gradually heat up and this prevents the chargers from dispensing 7.5W for long periods of time," explained Steven Yang, CEO of Anker Innovations. "By adding a fan underneath the coil, we manage to regulate temperature and therefore allow the device to output consistent 7.5W power, resulting in the fastest wireless charge for the new iPhones."
Anker certainly isn't the first company to incorporate fans into its chargers, as the feature has been important for some of the 10-watt and even 15-watt chargers compatible with some Android phones. But pairing a fan-based cooling system with optimizations for Apple's 7.5-watt spec has enabled Anker to charge iPhones even faster.
I've spent some time with both of Anker's new PowerWave offerings, which include a stand model and a pad model. Anker's previous 5-watt stand model has been my charger of choice on my office desk for the past several months, so I was eager to try out that style of PowerWave charger in particular.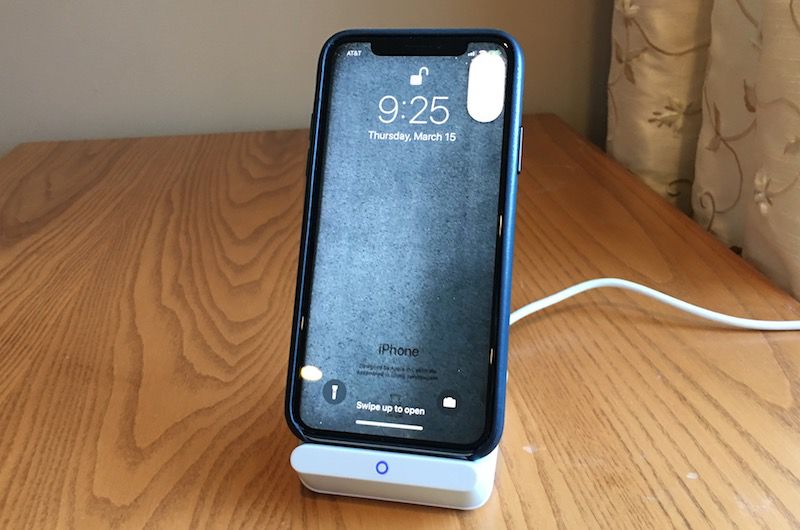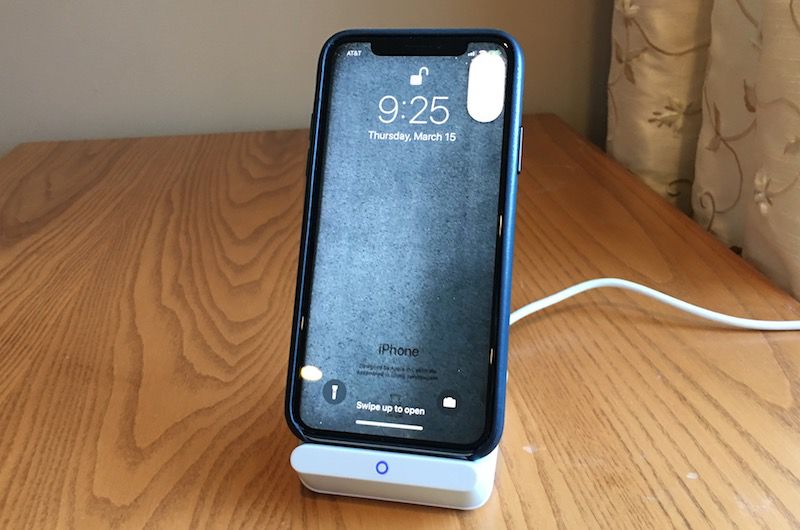 Anker PowerWave 7.5W Stand
The
PowerWave 7.5W Stand
is normally priced at $49.99 and has a similar molded plastic design to the earlier 5-watt model, but comes in white instead of black. The white certainly attracts some attention, which can be a positive or a negative depending on the environment it's placed in. I happen to like the look. The other design difference compared to the 5-watt model is that the base is much thicker in order to incorporate the fan. With the micro-USB port for the stand over to one side of the base, there's room for a relatively large fan grille to help keep air moving.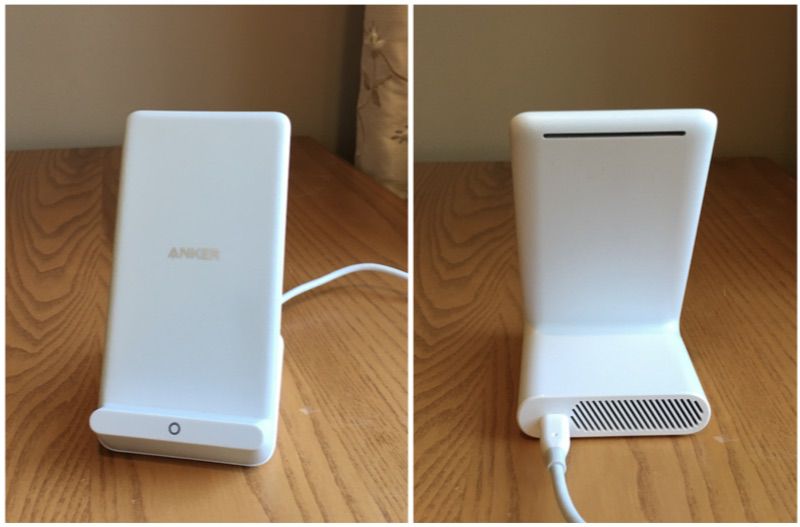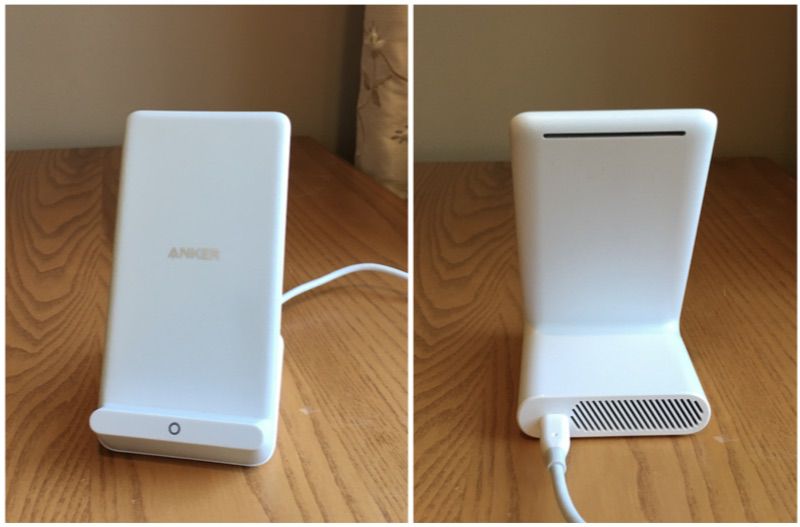 Anker PowerWave 7.5W Stand
In my testing, the PowerWave 7.5W Stand certainly lived up to Anker's claims of charging speed, as it was able to charge my iPhone X battery from 10 percent to 56 percent in just one hour. Nearly all of the over two dozen other chargers I've tested have only been able to reach between 38 and 43 percent over that time period. Whether charging speed is important depends on your individual use patterns, and some users have concerns over fast charging having a negative impact on long-term battery health, which is also part of the reason for having a fan to keep things cooler. But for many people, the risk to long-term battery health is worth it if they can top off their phones more quickly when they're dropped onto a charger.
While the fan helps keep things cool and lets the charger maintain optimal charging speed for longer, it does make some noise. The stand generates an audible whirring sound that can be heard even from across a quiet room. For that reason, you might want to think twice about using this charger on a nightstand or in other quiet environments. But in a busy office setting with noise around or if you typically have music or other sounds playing while your phone is charging, it may not be noticeable.
I also tested out the $45.99 PowerWave 7.5W Pad, and interestingly, it didn't charge my iPhone X quite as quickly as the stand did, but it was still able to outperform nearly every other charger I've tested, boosting my battery from 10 percent to 49 percent in an hour. Otherwise, this is a pretty typical pad-style charger, although it does have a similar eye-catching white color to the stand and is a little bulkier than some other pads due to the fan underneath the pad.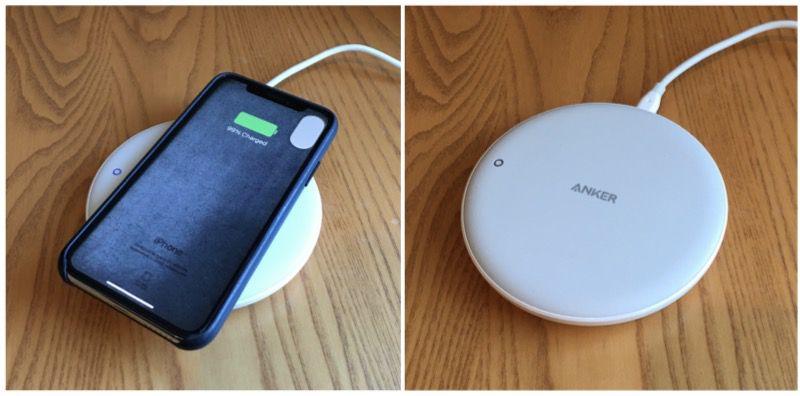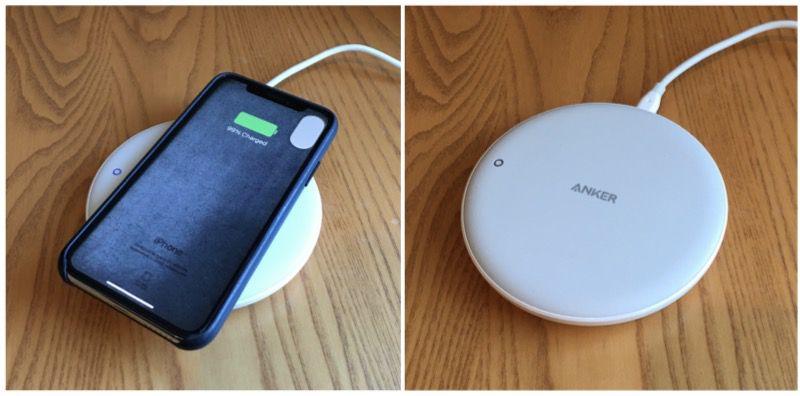 Anker PowerWave 7.5W Pad
Both the stand and the charger have distinctive small, circular, blue LEDs that light up while charging and flash to let you know if there'a problem. The LEDs are subtle enough that they're not distracting even in dark rooms. The pad's fan is audible, although it sounds significantly quieter than the stand.
Beyond Apple's strict requirements, there's another reason these PowerWave chargers are priced a bit higher than some of Anker's other offerings, and that's the fact that not only do you get a micro-USB cable but also a compact 18-watt Quick Charge 3.0 power adapter with folding prongs and a single USB-A port. The inclusion of the power adapter is important, as these chargers require a Quick Charge 3.0 adapter in order to work at all. If you plug the charger into another power adapter like one of Apple's iPhone or iPad adapters, or even a standard USB port on a hub, the charger will not charge your phone. That's something to keep in mind depending on how you're planning to use the chargers.
Anker's new PowerWave chargers are launching today on Amazon, and the company is submitting them to the Wireless Power Consortium for official Qi certification. The PowerWave stand is normally priced at $49.99 and the PowerWave pad at $45.99, but for a limited time Anker is offering a special deal through Amazon that gives you 15 percent off one charger (promo code POWER752) or 20 percent off two or more (promo code POWER753).
Note: Anker provided the wireless chargers to MacRumors free of charge for the purposes onovodasoftwaref this review. No other compensation was received. MacRumors is an affiliate partner with Amazon and may earn commissions on purchases made through links in this article.