The Bento Stack, a new project being funded on Indiegogo, takes the concept of a Bento lunch box and applies it to iPhone and iPad accessories.
Available in three colors (silver, space gray, and rose gold) for $38, the Bento Stack is a container that offers up several sections that can hold a variety of accessories like cables, Apple Watch bands, an Apple Pencil, and more. I was able to go hands-on with the Bento Stack, and I thought it was a nifty organizational tool, if a bit bulky.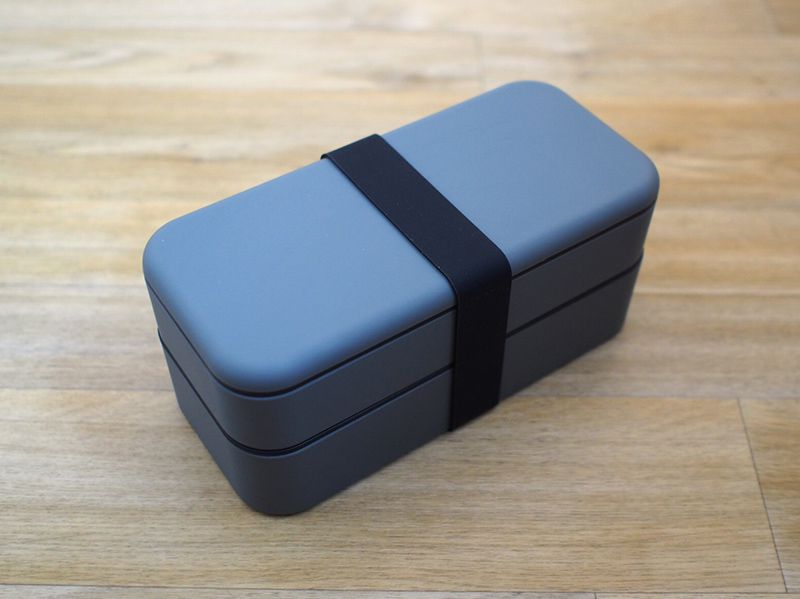 I have the Bento Stack in gray, and it seems to match well with Apple's space gray devices. It's covered in a soft, rubbery material that's nice to touch, and it has a slight sheen to it, making it visually appealing for a simple plastic organization box.
Bento Stack measures in at 7.48 inches long, 3.35 inches tall, and 3.22 inches deep, so it's not really going to fit well in a smaller purse or bag.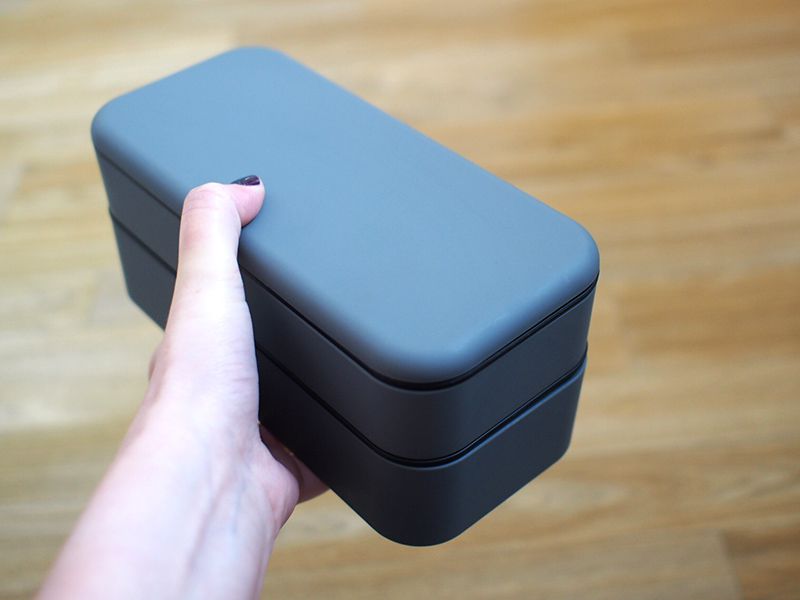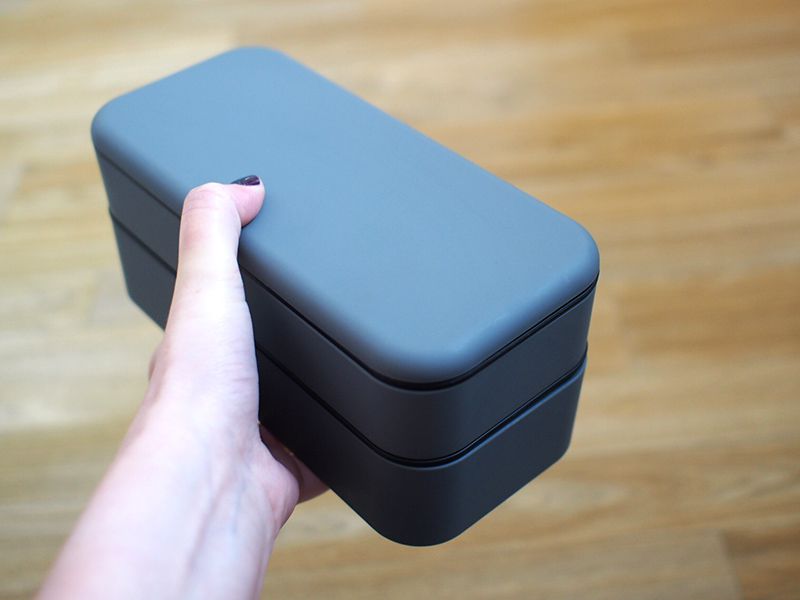 Aside from some customizations like an Apple Pencil holder and a place to store Apple Watch bands, the Bento Stack isn't much different from the Bento lunch boxes. It has four storage components, a lid, and a silicone strap to hold it all together.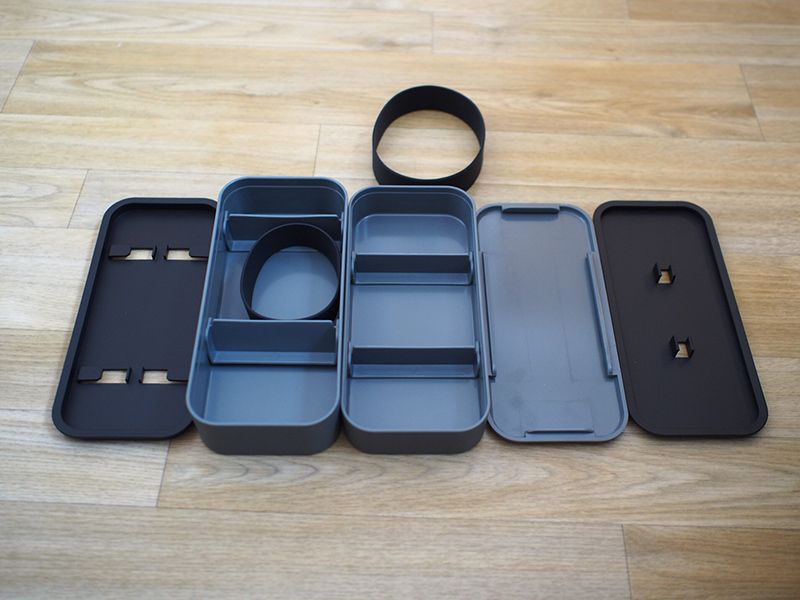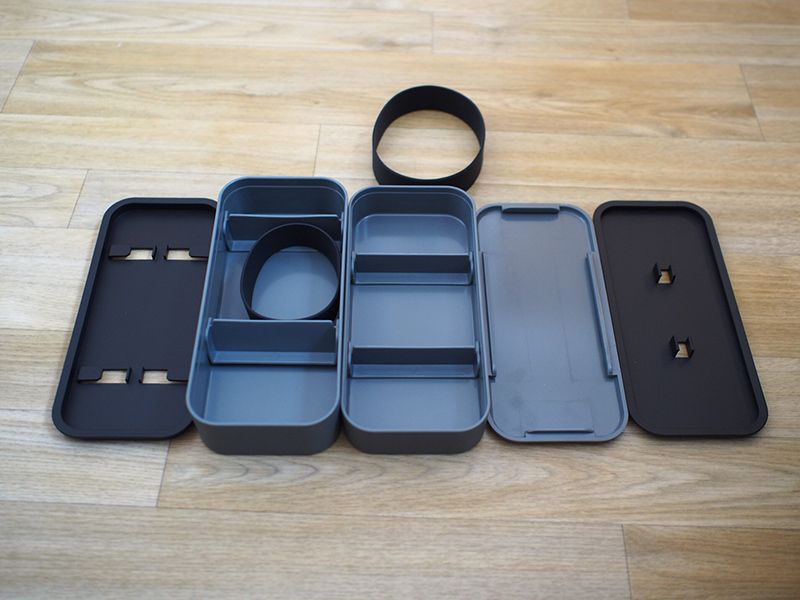 The top lid, which attaches to the cover, is designed to hold an Apple Pencil or a similarly sized pen. You can also remove the Apple Pencil from the lid and use the lid as an iPhone stand for watching videos.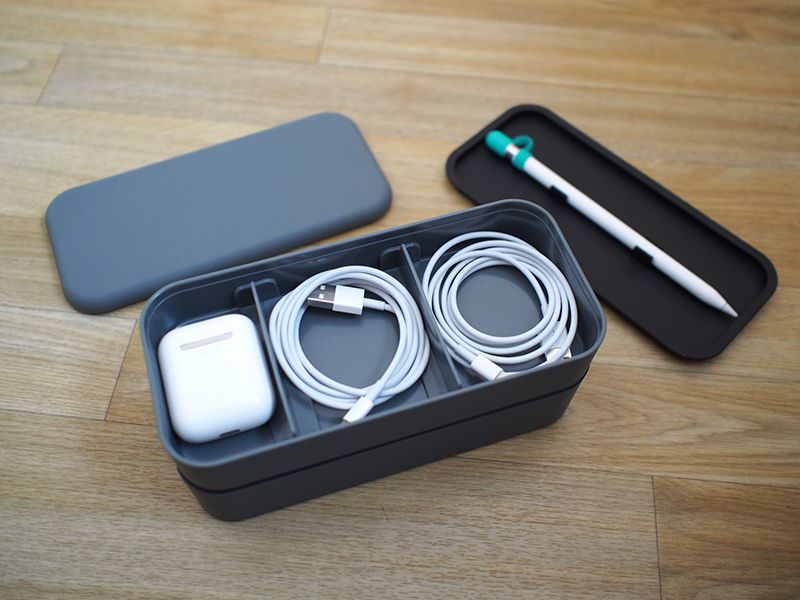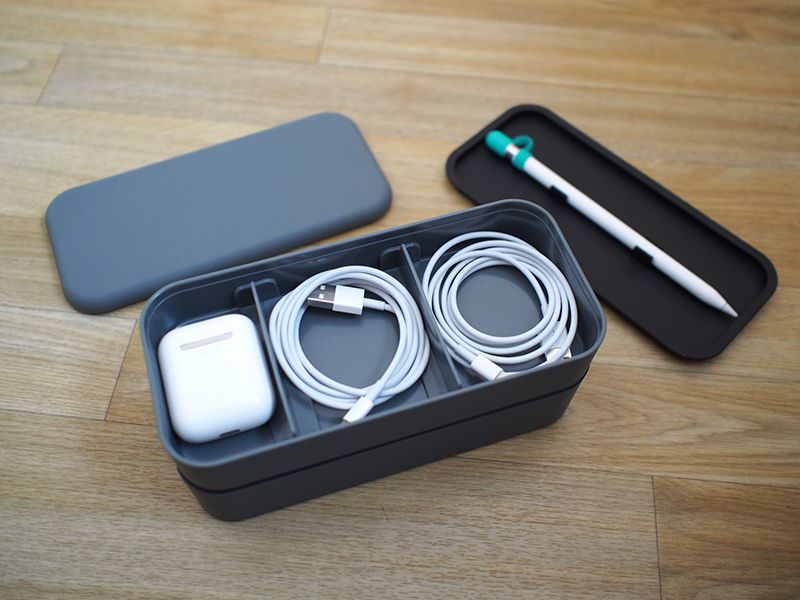 Bento Stack's top compartment can hold an AirPods case or wound up iPhone cables, and the bottom lid holds two Apple Watch bands in little plastic slots. It can only hold two — no more.
The bottom compartment is the deepest and can be adjusted to hold a MacBook Pro-sized charger along with additional cables and accessories. All of the dividers in the top and bottom compartments can be removed and repositioned as necessary to fit all of your accessories. You'll need to remove dividers if you want to store things like dongles and adapters, as those can't generally be wound up and shoved in like a cable.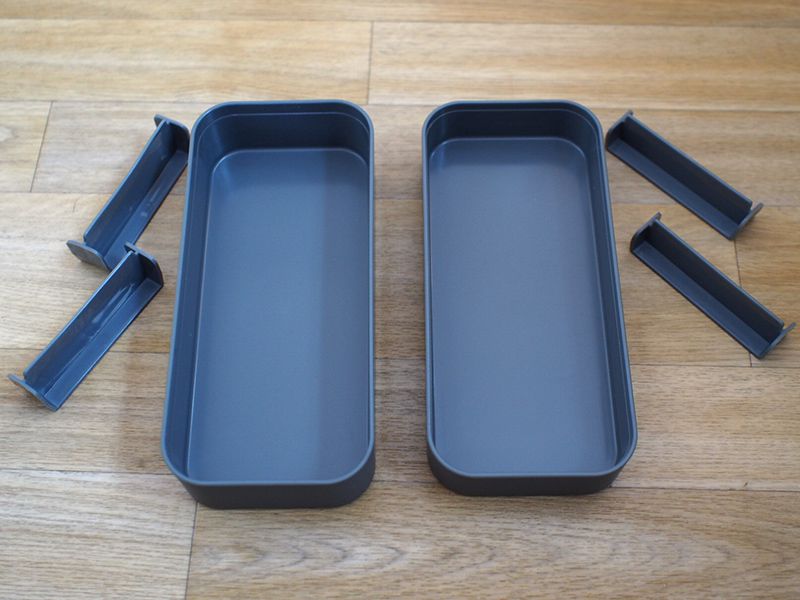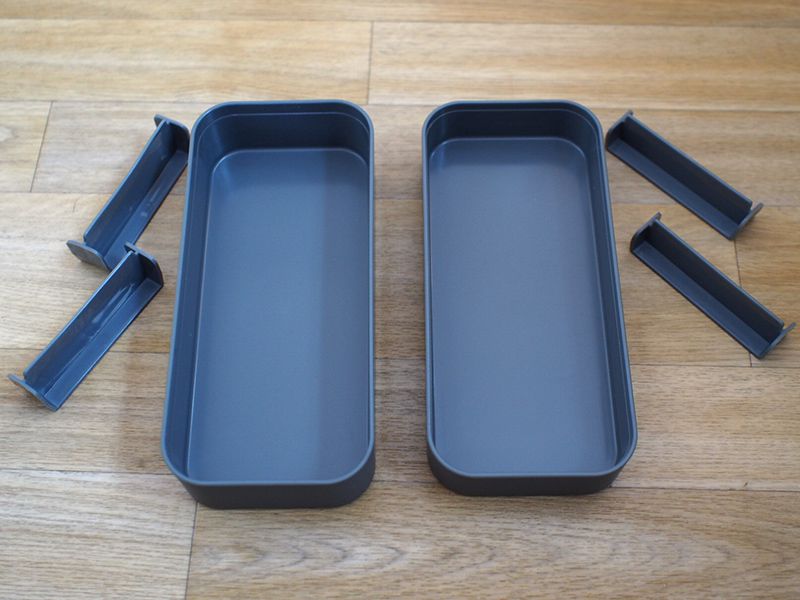 When packing the Bento Stack, cables need to be wound carefully and nothing can be too tall or the components won't fit together. I had a hard time getting an Apple Watch with band inside, for example, because it was too tall.
The Bento Stack Indiegogo page says the top compartment and the bottom compartments can hold 3 to 5 Apple accessories. I can get four in the bottom compartment if I really try, but I'm not sure which five accessories fit all together in any of the compartments.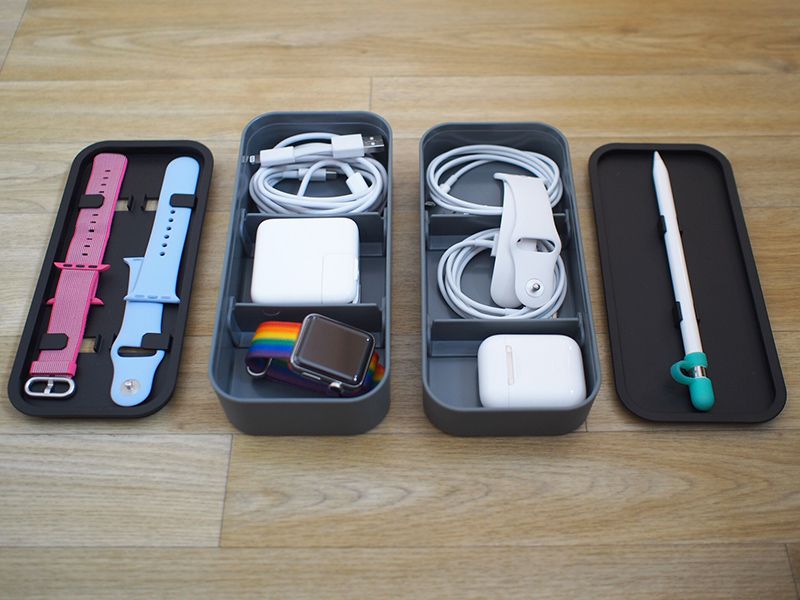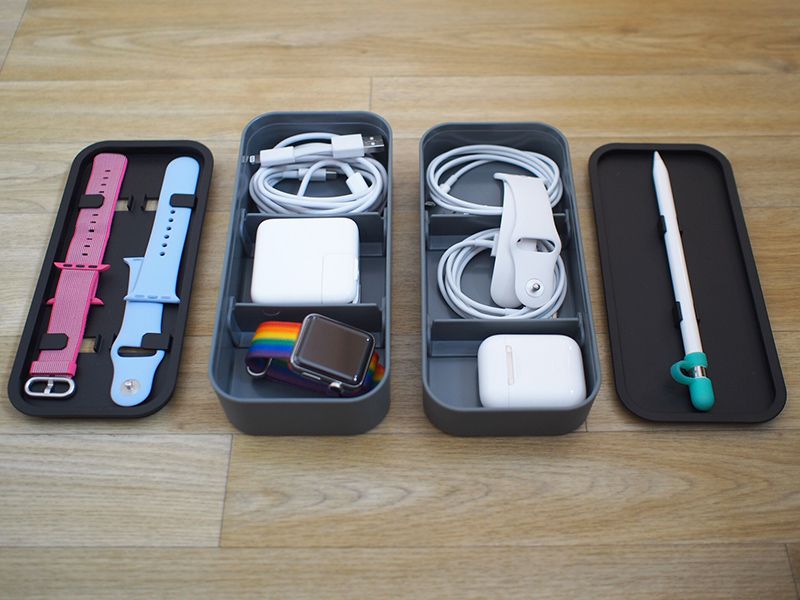 As you can see below, I fit my Apple Pencil, two Apple Watch bands, my AirPods, a USB-C power adapter, a USB-C cable, an Apple Watch with additional band, and two Lightning cables into the Bento Stack and it was about at capacity.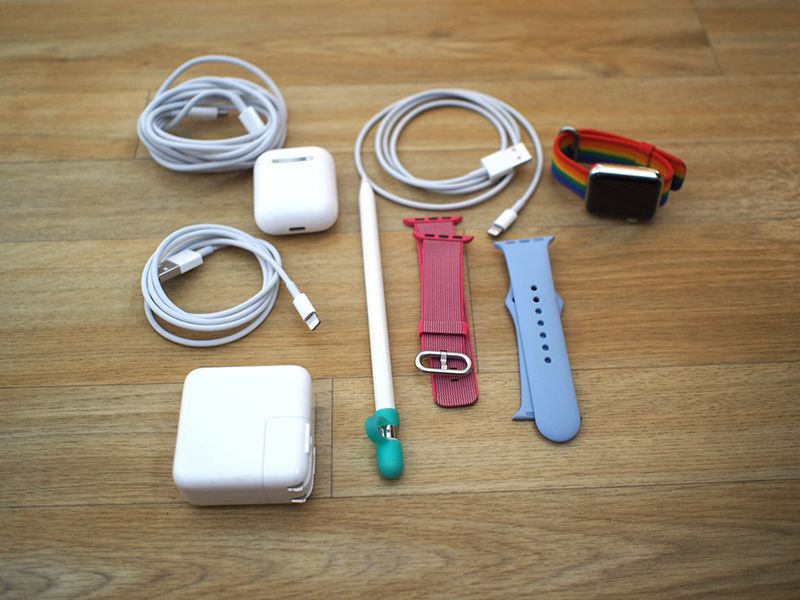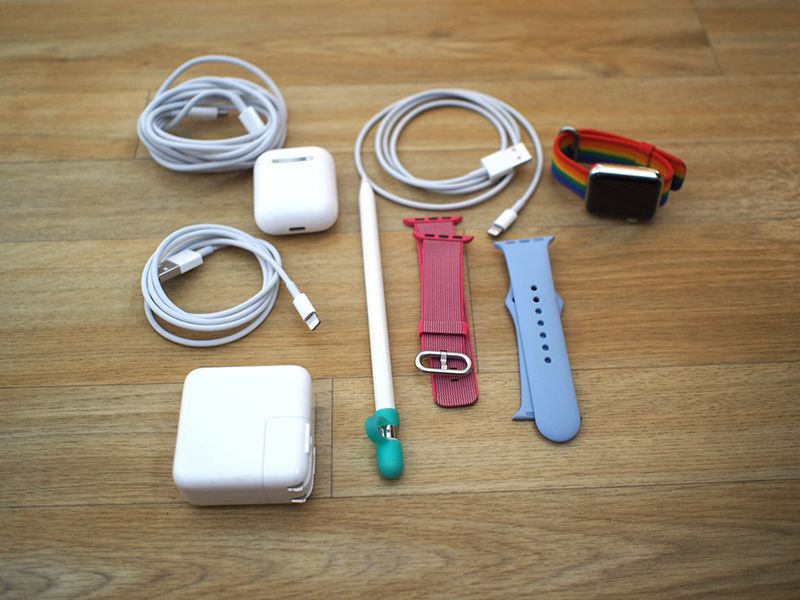 That's just about what I take when going on a short trip, but it doesn't fit some larger accessories like a mouse.
None of the components of the Bento Stack snap together or stay attached without an included silicone strap that holds everything in place, so this is something that needs to be put on and removed each time you use the Bento Stack.
Bottom Line
I like the Bento Stack, but I don't know how practical it is in day to day usage yet. You need to take the time to carefully wind up the cords and place all of the components in the proper spots to get the right fit, and then you need to add the elastic band if you're traveling, which can be irritating if you need to get into the box multiple times a day while on the go.
Size wise, it's bulky because of its rectangular shape, but it will fit in a backpack, large bag, or suitcase for travel. I was a little disappointed at how little it was able to hold for the price, but at the same time, I don't think I'd want it to be any bigger because it'd be unwieldy for travel.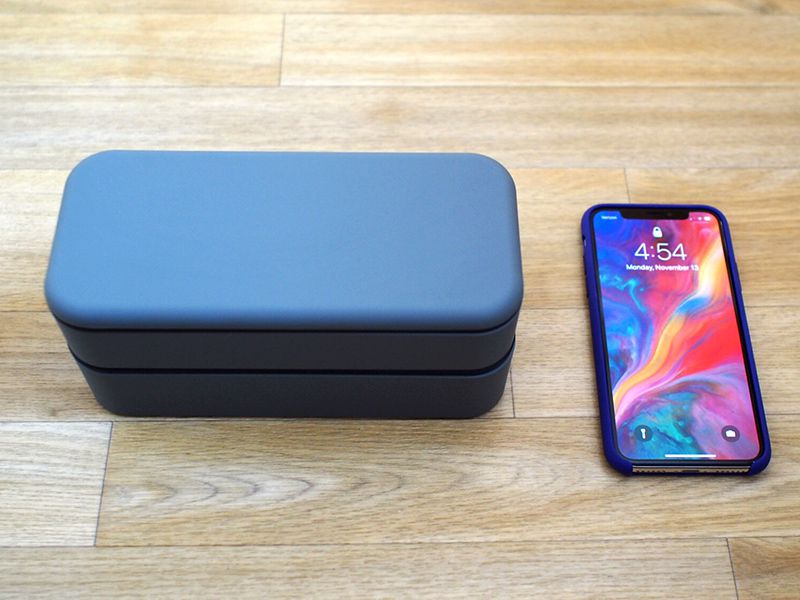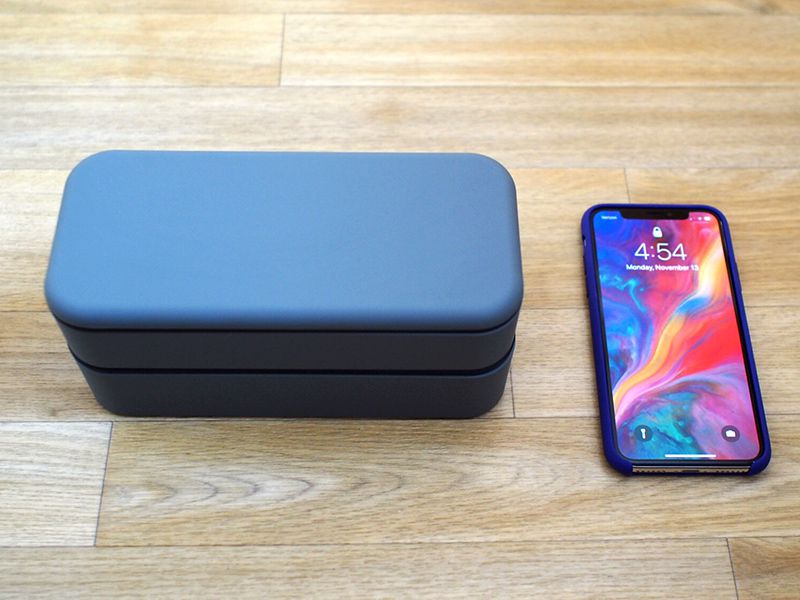 What would be nice, though, is if there were a Bento Stack XL with more storage that's designed to be a desktop companion. I could see using that as an organizational tool more often than the standard Bento Stack. In its current incarnation, I find it a bit big for travel but too small to hold all of my accessories at home.
It's worth noting that some of the Bento Stack components are device specific. For example, I'm not sure what else you could use the Apple Watch band section for.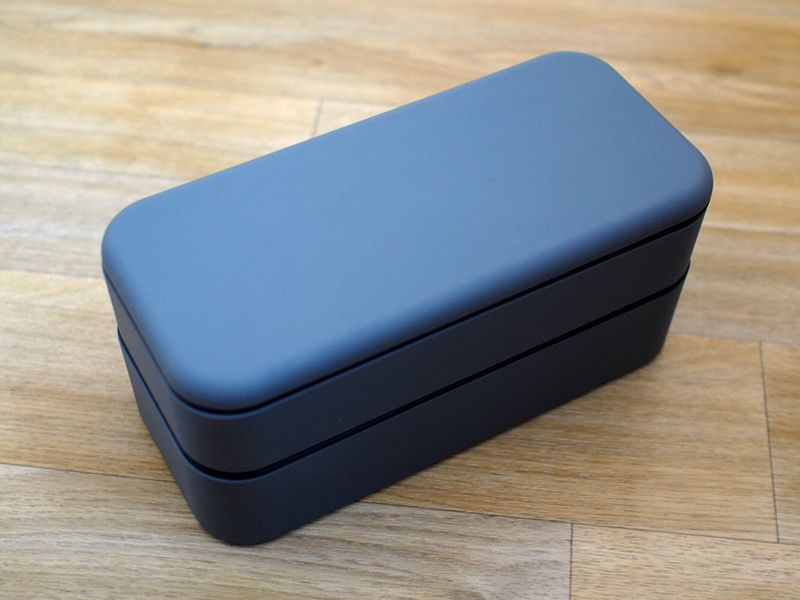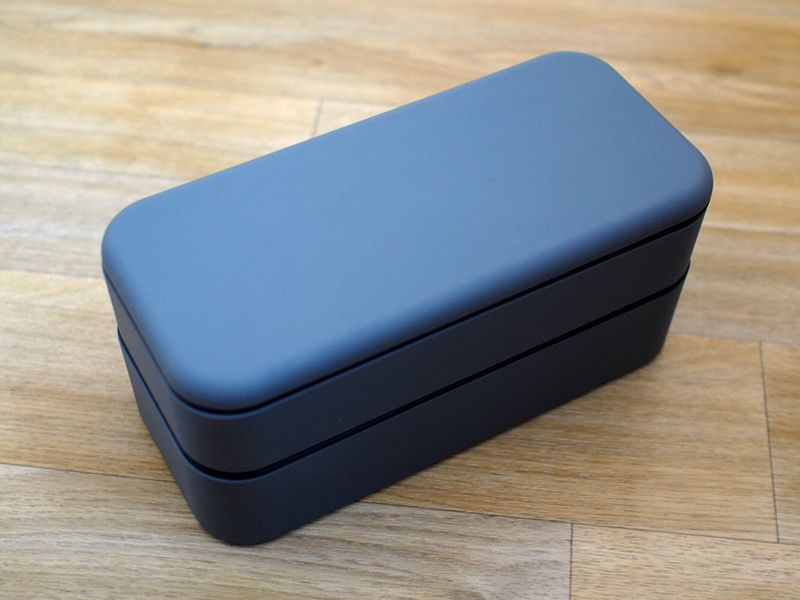 You can break the Bento Stack down and only take one half of it with you if you only need a few cables while traveling, which is nice, and you can also lay out the components if necessanovodasoftwarery so you can get to all of your accessories easily.
There are hundreds of accessory organizing tools available on Amazon and other sites, but surprisingly, I didn't see anything that's quite like the Bento Stack. Most Bento boxes have been reserved for food, with nothing specifically dedicated to organization.
If you don't mind the bulk of the Bento Stack when traveling, or if you need a minimal desktop solution for cable/accessory storage, Bento Stack is potentially worth checking out.
How to Buy
The Bento Stack can be "backed" on Indiegogo for the next two days. For a single Bento Stack, which consists of all of the pieces, four dividers, and two silicone straps, it's $38. Estimated delivery for the Bento Stack is December 2017, and production appears to be already underway.
Note: Function 101 provided MacRumors with a Bento Stack for the purpose of this review. No other compensation was received.