While Apple's latest MacBook Pro with support for Thunderbolt 3 has been out for over six months, the first full-featured Thunderbolt 3 docks are only just now starting to hit the market. Last month we took a look at OWC's Thunderbolt 3 Dock that should begin shipping out very shortly, and today we're taking a look at a pair of similar docks from CalDigit that help expand the capabilities of the MacBook Pro.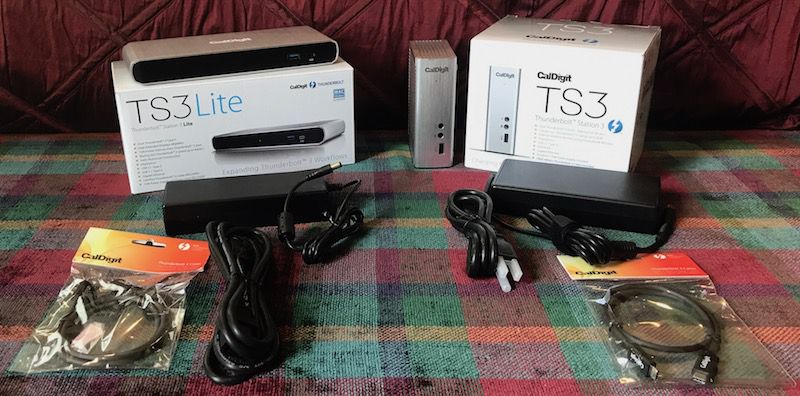 CalDigit actually has a pair of Thunderbolt 3 docks, the $200 TS3 Lite that has been available for a few months now and the upcoming $300 TS3 that is just about ready to begin shipping.
TS3
As the more expensive of the two, the TS3 is the flagship dock in CalDigit's lineup, carrying a nearly identical block-like design to the previous TS2 based around Thunderbolt 2, although in a lighter silver color compared to the TS2's gray finish. The TS3 can be oriented either vertically sitting on the soft rubber pad on the end of the dock or horizontally using a pair of rubber runners that snap onto the ribbed enclosure.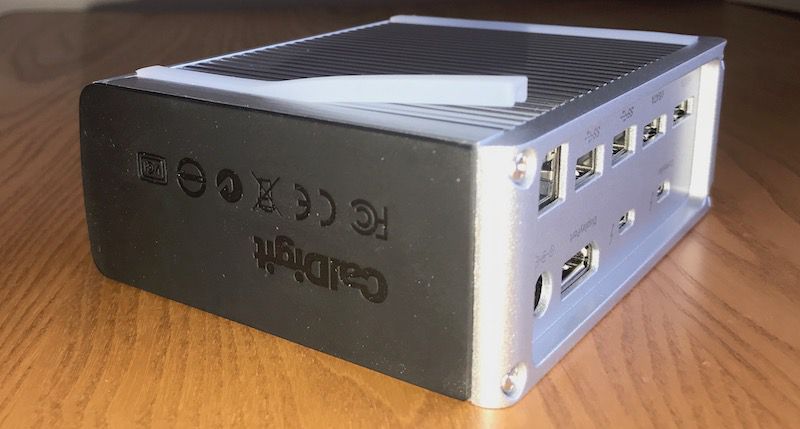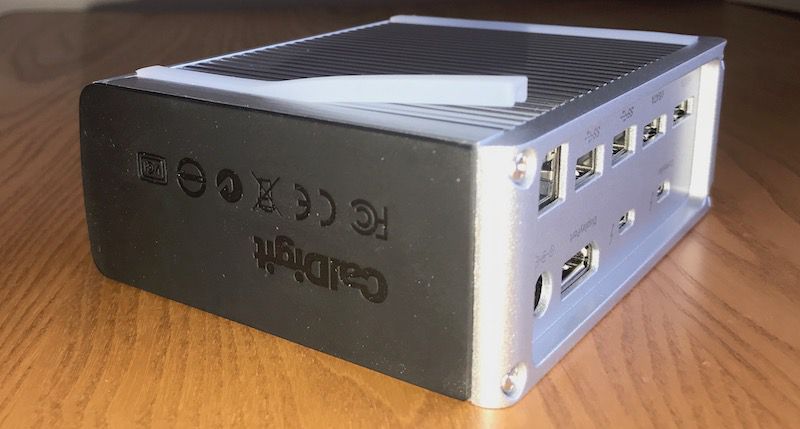 View of rubber pad for vertical orientation and runners (one partially removed) for horizontal orientation
At 5.2 inches high (or wide) by 3.88 inches deep by 1.71 inches thick and 1.34 pounds, it's not especially heavy, but its block-like shape and ribbed all-aluminum enclosure do give a premium feel with a little bit of heft in the hand. The vertical and horizontal orientation options are nice to help the dock fit into a variety of desk setups, although I prefer the flatter horizontal design of the TS3 Lite and some other brands.
A single blue LED on the front of the TS3 makes it easy to tell at a glance that the dock is powered on and connected to a computer.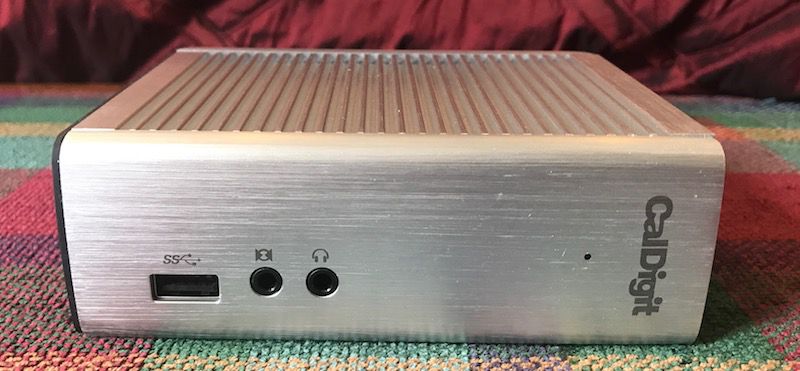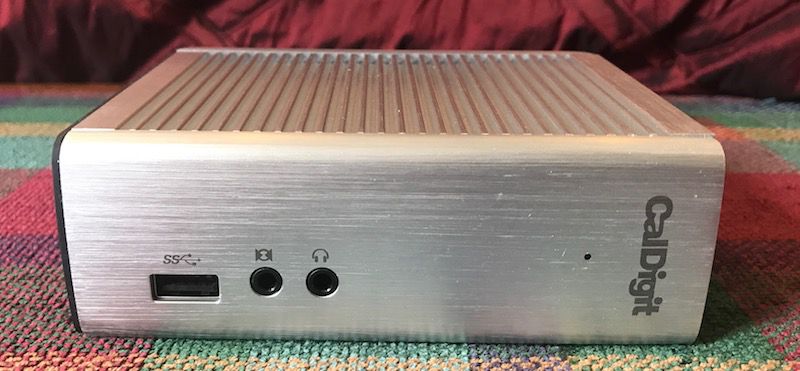 One major plus for the TS3 is its ability to deliver up to 85 watts over its Thunderbolt 3/USB-C connection, enough to power even the 15-inch MacBook Pro. In addition to Macs, CalDigit has also ensured that the TS3 can charge Windows computers over Thunderbolt 3.
As for its other ports, the TS3 features a front USB 3.1 Gen 1 Type-A port that remains powered even when the dock is not connected to a computer, as well as separate audio in and out ports.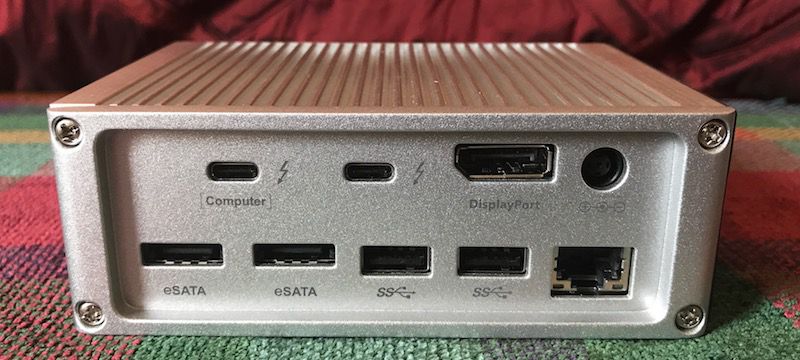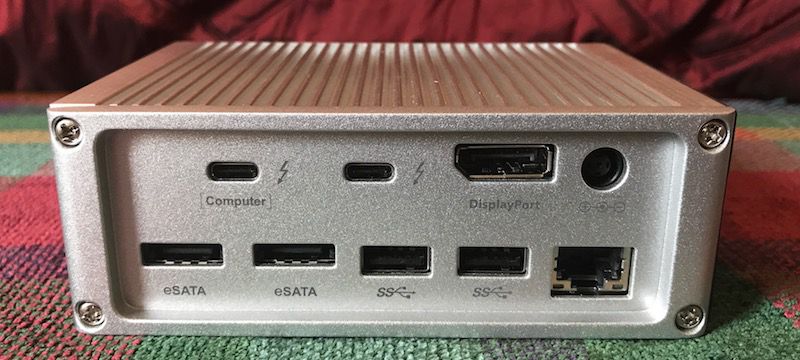 On the rear of the TS3 are two additional USB 3.1 Gen 1 Type-A ports, a Gigabit Ethernet port with wake-on-LAN support, a DisplayPort port, and the dual Thunderbolt 3 ports to allow for daisychaining a Thunderbolt 3 or USB-C display or other peripherals directly from the dock. Finally, a pair of eSATA 6G ports offer great expandability options for pro-level users. An external power brick and 0.5-meter Thunderbolt 3 cable are also included, but CalDigit is currently offering a promo upgrading the cable to two meters.
The TS3 supports either a single 5K display or dual displays at up to 4K resolution. For those looking to connect dual displays through the TS3, CalDigit has a dedicated page outlining various configuration options using both the DisplayPort and Thunderbolt 3/USB-C ports and any necessary adapters.
CalDigit offers a downloadable driver for all of its Thunderbolt docks to increase USB charging speeds and support Apple's external SuperDrive and wired keyboard. A separate menu bar utility also makes it easy to eject drives connected to the docks. Both the driver and menu bar utility are optional downloads.
Overall Impressions
On the USB side, three USB 3.1 Gen 1 ports is a decent number to have available for connecting an iPhone or iPad, an Apple Watch charger, and another peripheral such as an external hard drive. I prefer the five ports offered on OWC's dock for maximum flexibility, but I can get by with the three on the TS3. The eSATA ports are a great inclusion for pro-level users and something that's unique to the TS3 among the major Thunderbolt 3 docks coming out in the first wave. If, like many users, you don't have any eSATA peripherals, these ports won't have any value for you.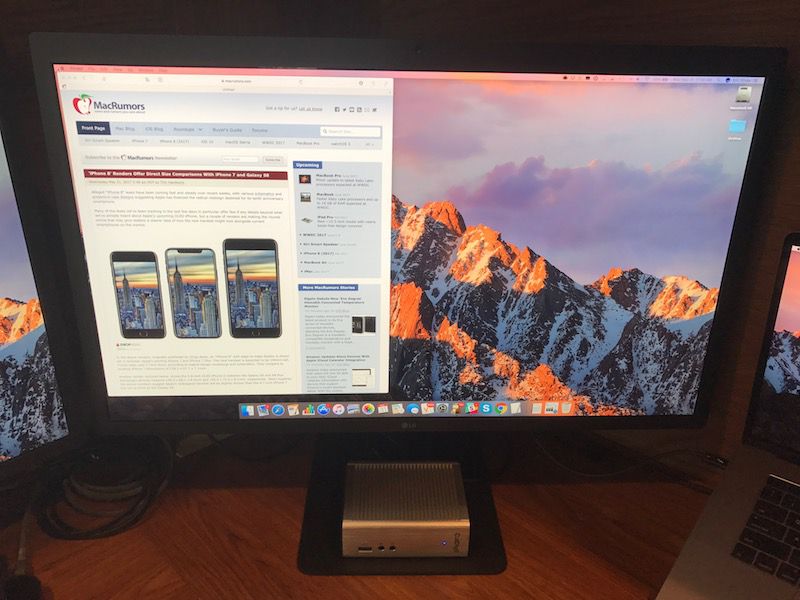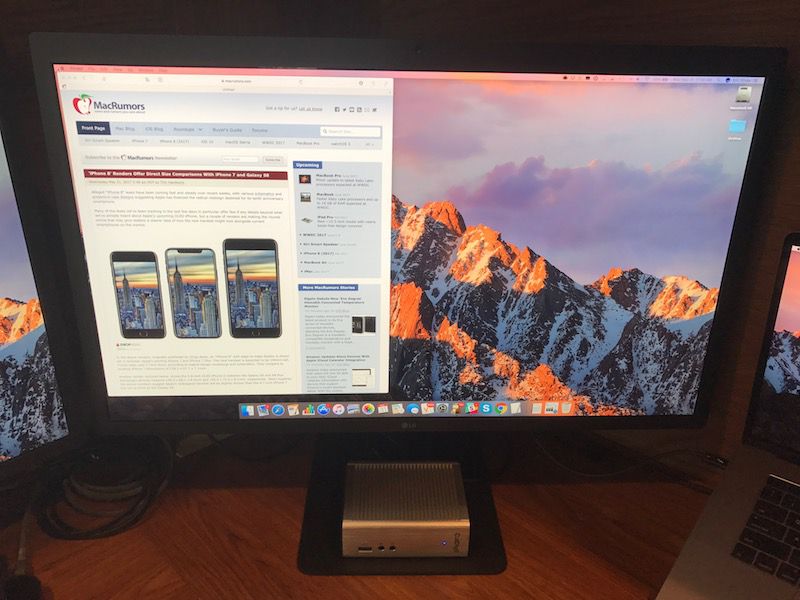 I do miss the SD card slot found on OWC's dock, a feature that should appeal to a large number of users, so it's disappointing CalDigit opted not to include one. On the plus side, the separate audio in/out ports of the TS3 are a nice upgrade over OWC's single combined port.
Overall, this is a great, compact Thunderbolt 3 dock that offers a good balance of features, especially if you've got some eSATA peripherals that need connecting.
TS3 Lite
For those who don't need the full capabilities of the TS3, CalDigit's TS3 Lite saves you $100 at the expense of a few features. The TS3 has a flatter, horizontal design very similar to that of OWC's dock, coming in at 8.78 inches wide, 3.15 inches deep, and 1.06 inches high.




The TS3 Lite's sleek form factor sits unobtrusively at the foot of an external display, with a single blue LED indicating when the dock is powered on and connected to a computer. The brushed aluminum casing is attractive, with the matte black plastic front and rear panels contrasting nicely with the aluminum.
A decently large white CalDigit word mark is printed on the top of the dock, which is a bit unfortunate but unsurprising. It can be fairly easily concealed by placing another item on top of the dock if desired. At just under a pound, the TS3 Lite is by no means hefty, but its small rubber feet help it sit fairly firmly on a desk and resist sliding.
On the performance side, one of the most significant considerations is that it can only deliver 15 watts of power over Thunderbolt 3, so it won't be enough to charge your MacBook Pro over the single-cable connection. If you're okay with also using your MacBook Pro's power brick or if like me you run a dual UltraFine 5K or similar setup that can already charge the notebook through the directly connected display, then the lower wattage on this dock may work for you. The TS3 Lite also omits the two eSATA ports seen on its more expensive sibling, but essentially the entire remainder of the TS3's ports are present here.
The front has not only a USB 3.1 Gen 1 Type-A port but also a USB 3.1 Gen 1 Type-C port that supports both data and charging functions, offering good flexibility for connecting accessories and devices needing frequent access.




The audio in and out ports move to the rear on the TS3 Lite, and they are accompanied by a Gigabit Ethernet port with wake-on-LAN support, a DisplayPort port, dual Thunderbolt 3 ports, and a single USB 3.1 Gen 1 Type-A port. Both Type-A ports allow for stand alone charging of connected devices even if the dock is not connected to a computer. As with the TS3, the TS3 Lite comes standard with both a 0.5-meter Thunderbolt 3 cable and an external power brick, but a current promotion upgrades the cable to two meters.
The TS3 Lite supports the same display connectivity options as the TS3 at a single 5K display or dual displays at up to 4K.
Overall Impressions
At $200, the TS3 Lite offers some nice savings compared to more full-featured Thunderbolt 3 docks, and for many users it may still be good enough for their needs. The 15-watt charging capacity is likely the major limiting factor here for most users. It's not an issue for me since I already have up to 85 watts coming into my MacBook Pro from my second UltraFine 5K display.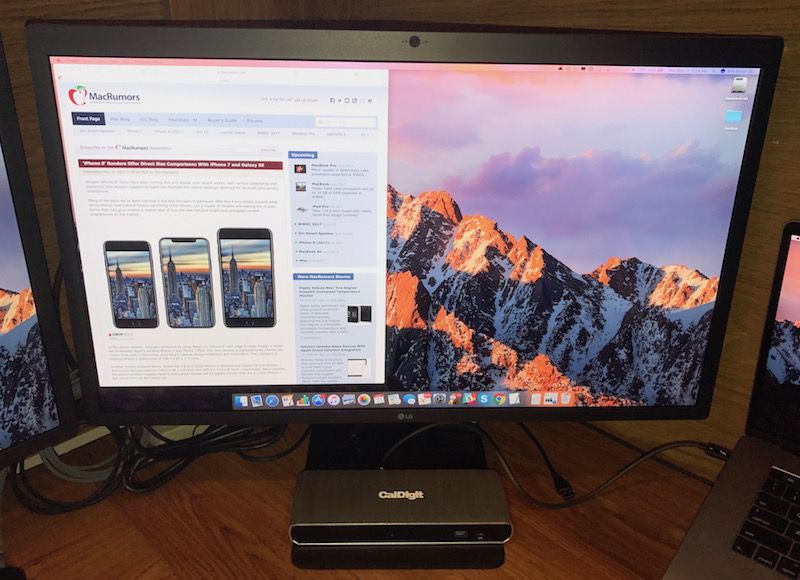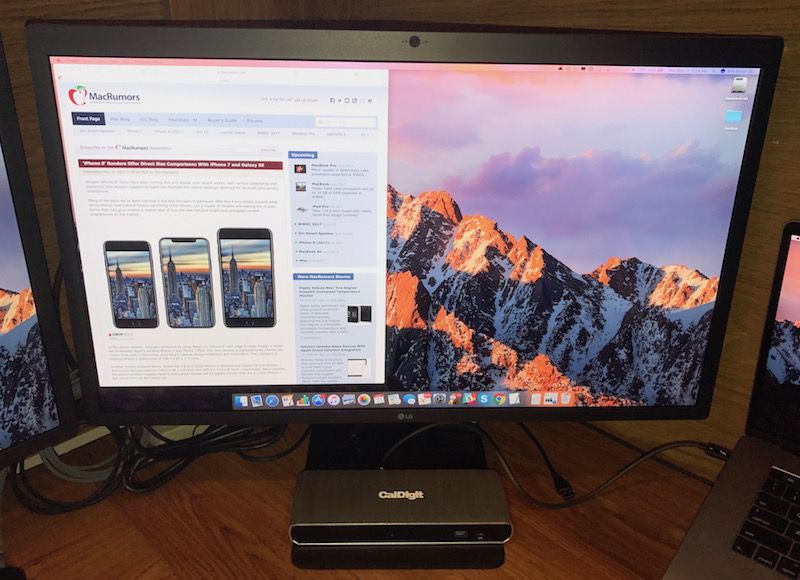 Only having 2 Type-A USB ports is a bit limiting, but with an extra Type-C port available and cables and peripherals starting to move in that direction, the TS3 Lite's combination of USB ports may actually be more useful than the TS3's trio of Type-A ports. As with the TS3, separate in and out audio ports are a nice inclusion compared to OWC's single combined audio port.
The TS3 Lite is a solid basic hub for a MacBook Pro setup, making it easy to have accessories, Ethernet, and even a display or two all ready to be connected to your computer with a single cable. It lacks some of the more advanced connectivity options seen on other docks like eSATA, FireWire, or an SD card slot, but for what it does offer at its price point it performs well.
Wrap-up
Among CalDigit, OWC, Belkin, and Elgato, there are a variety of Thunderbolt 3 dock options coming to market all right around the same time. So far they all seem pretty similar in function, but each offers a slightly different set of features, so in that respect it largely comes down to personal preference in finding the right dock for your needs.
CalDigit's docks will certainly fit the bill for many people, with the TS3 and TS3 Lite providing a pair of options at different price points and feature sets. Power users may like the eSATA ports on the TS3, while the extra USB-C port and lower price tag of the TS3 Lite might be appealing options for more mainstream users.
How to Buy
Both the TS3 ($300) and TS3 Lite ($200) are available to order through CalDigit's website. The TS3 Lite is shipping now, while new pre-orders for the TS3 should ship at the end of June or early July. Those who previously pre-ordered the TS3 should expect their orders very shortly, with CalDigit telling us the entire first wave of pre-orders will ship out a week from now. Amazon is currently offering a $20 discount on the TS3 Lite, so that's another good purchasing option.
The TS3 Lite comes with a one-year warranty, and while the TS3 box also specifies a one-year warranty, CalDigit tells us it has decided to expand the warranty on the more expensive dock to two years.
Note: CalDigit provided the TS3 and TS3 Lite docks to MacRumors free of charge for the purposes of this review. No other compensation was received.