CalDigit's Tuff line of rugged USB-C external drives have been a great option for those looking to take extra storage or backups on the go for a while now, but in addition to the existing 2 TB model using a 5400 rpm spinning hard drive, the company recently expanded the line to include a 1 TB solid-state drive option.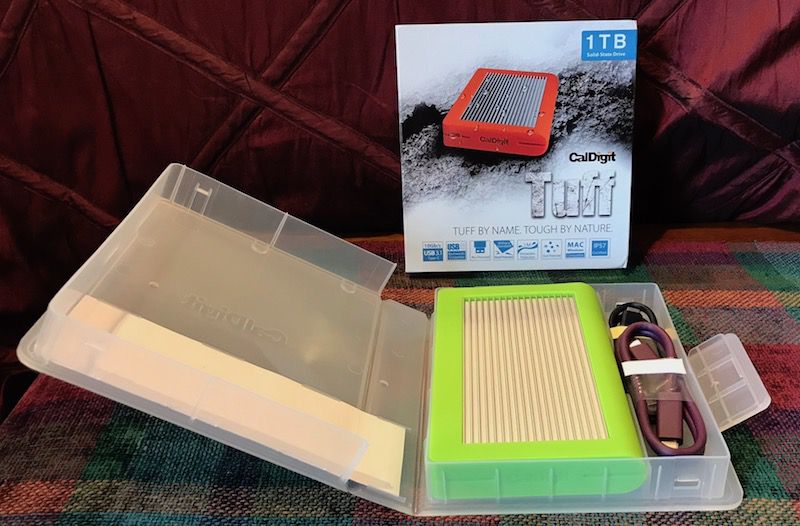 At a list price of $499, the solid-state drive version is not cheap, but if you want fast storage on the go, combining an SSD with the Tuff's 10 Gbps USB 3.1 Gen 2 support gives some of Apple's latest Macs the ability to move data quickly. The MacBook Pro and brand-new iMac with their Thunderbolt 3 ports supporting full 10 Gbps USB are the best partners for the Tuff, and it's easy to see how useful it would be for moving data back and forth between notebook and desktop machines.
Overview
As a portable drive, the Tuff is bus-powered, which means it draws all of the power it needs from the host computer over USB and doesn't need to be plugged into power separately. The Tuff arrives pre-formatted in Journaled HFS+ to work with macOS, and CalDigit provides easy step-by-step instructions for re-formatting the drive for Windows if necessary.
The Tuff itself comes in a sturdy aluminum enclosure with ribbing on the top and bottom for additional strength and heat dissipation. The whole thing is then wrapped in a silicone bumper that protects the edges. The SSD version of the Tuff comes with a bright green bumper, while the spinning hard drive models are available with a choice of green, orange, black, blue, or gray bumper.




Bumpers can be purchased separately for $15 each if you like to switch up your colors or if you have multiple Tuff drives and want to make it easy to tell at a glance which is which. With the bumper on, the Tuff measures 5.31 inches by 3.52 inches by 0.83 inches and weighs 0.60 pounds, so it's quite portable and easy to toss into a bag for transport.
Ruggedness
Beyond providing solid shock protection for the Tuff, the bumper also includes a plug for the drive's USB-C port to prevent dust and water from getting into the port. The design gives the Tuff an IP57 rating, meaning it has sufficient dust protection to ensure continued operation of the device, as well as water protection that ensures the drive can remain functional after being immersed in water for up to 30 minutes at a depth of up to one meter, provided the silicone port plug is in place.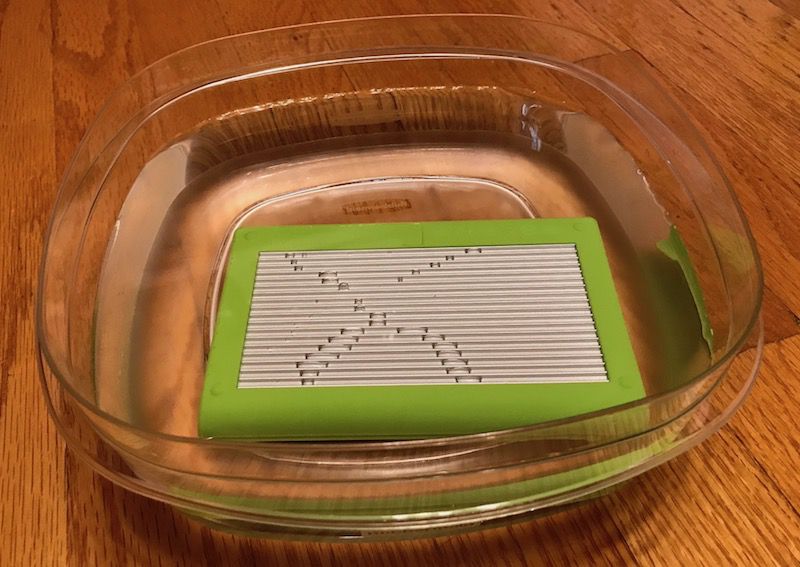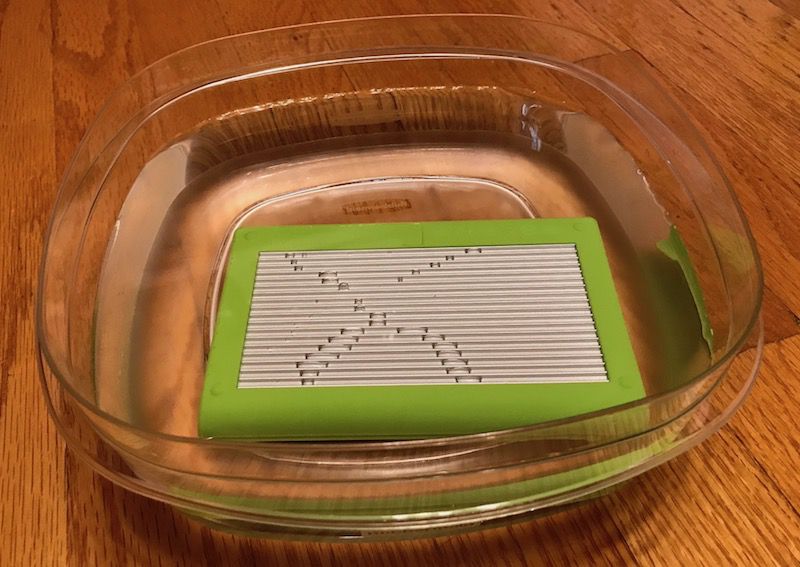 We tested the water and shock resistance of the Tuff, submerging it in water for 30 minutes and dropping it from a height of approximately five feet onto several different surfaces, and the drive continued to function normally. The ribbed design does, however, make it a little difficult to wipe the Tuff dry after exposure to water.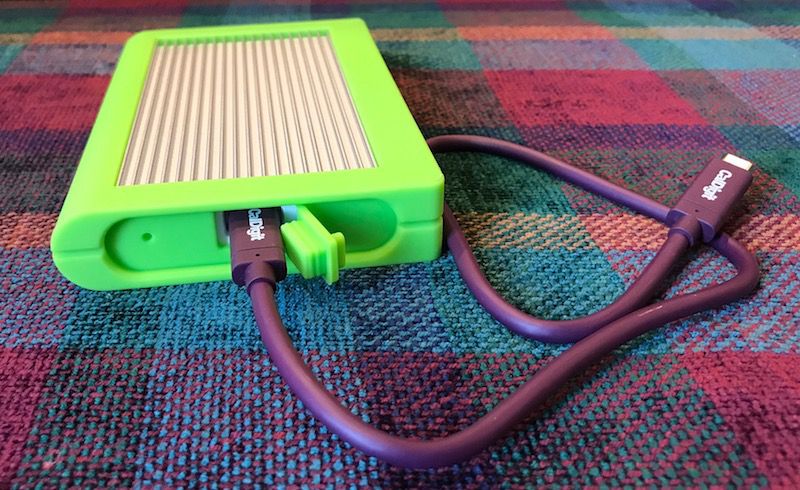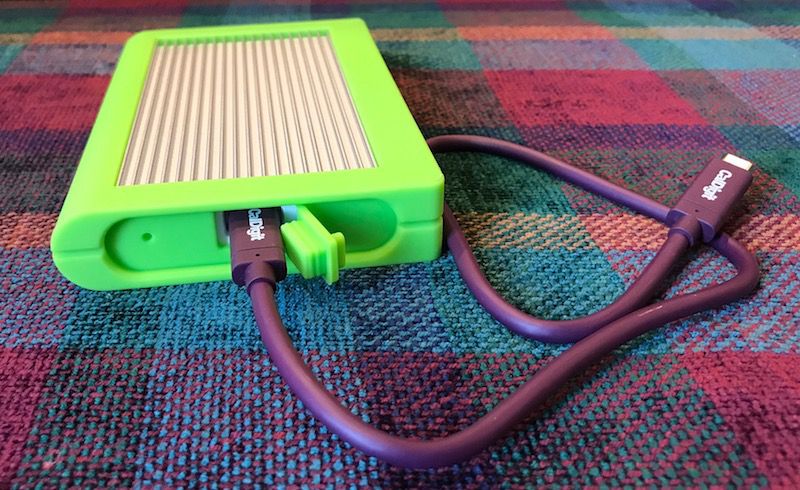 A small hole in the the silicone bumper next to the USB port lets you see the white status light that shines solid when passively connected to a host computer and blinks when data is being written to or read from the drive.
Connectivity
By opting for a Type-C USB 3.1 Gen 2 port on the Tuff, CalDigit is aiming to provide maximum flexibility for connecting via not only the latest 10 Gbps standard but with backwards compatibility all the way back to USB 1.0. CalDigit includes a Type-C to Type-C cable and a Type-C to Type-A cable, both in 0.5-meter lengths.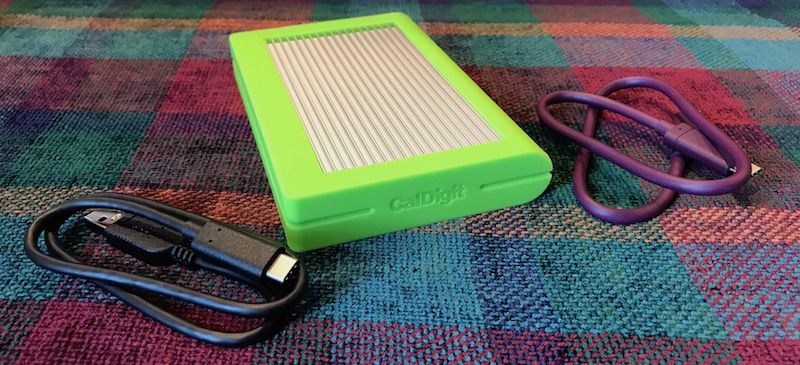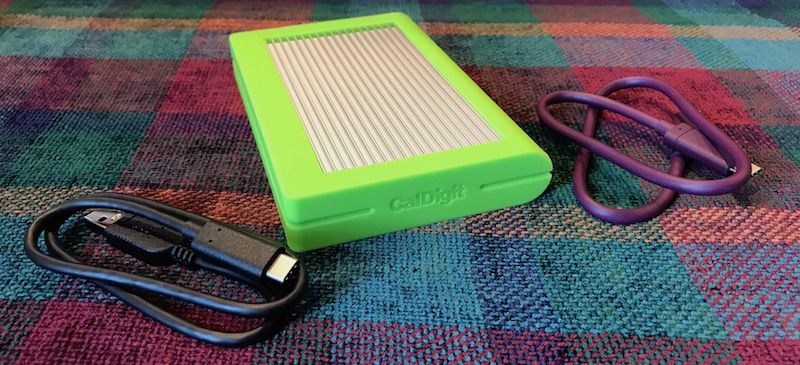 The Tuff also comes with an Archive Box for additional protection, to keep the Tuff's USB cables close by, and to aid in keeping multiple drives organized and labeled for easy access.
Performance
CalDigit promises speeds of up to 540 MB/s on the SSD version of the Tuff when connecting over Thunderbolt 3/USB-C 3.1 Gen 2, and in our testing it came reasonably close to hitting those numbers, with Blackmagic Disk Speed Test registering write speeds in excess of 480 MB/s and read speeds of over 505 MB/s when connected to a 2016 MacBook Pro.




Performance unsurprisingly falls back a bit when using slower USB interfaces, but still remains impressive. Routing to the MacBook Pro through a Type-A USB 3.1 Gen 1 (5 Gbps) port on Belkin's Thunderbolt 3 dock dropped write speeds to around 320 MB/s, while read speeds came in around 350 MB/s. Connecting directly to a 2016 MacBook via Type-C USB 3.1 Gen 1 yielded write and read speeds of around 410 MB/s and 420 MB/s respectively.
Wrap-up and How to Buy
Solid-state drives still carry a significant premium compared to traditional hard drives, so it's no surprise the Tuff SSD is fairly expensive. But if you need the speed and ruggedness you can get with an SSD, the Tuff is a great option.
It combines the fastest USB and drive speeds with a sturdy enclosure that can handle the bumps and spills that come with being out on the road, and the extra touches such as both Type-C and Type-A cables and the plastic Archive Box give you everything you need to stay organized and connected.
The 1 TB SSD Tuff carries a list price of $499.99 and CalDigit is currently offering a $50 discount through its online store, although supplies novodasoftwareare currently sold out. CalDigit has a few units available through its Amazon storefront at the same $449.99 pricing, and the company tells us more stock is on the way.
The 2 TB traditional hard drive Tuff is priced at $179.99 in all colors, while extra bumpers in all colors are priced at $14.95.
Note: CalDigit provided the Tuff SSD to MacRumors free of charge for the purposes of this review. No other compensation was received.