As more and more smartphones ditch the 3.5mm headphone jack, the market for true wireless Bluetooth earphones has become increasingly flooded with numerous options for customers to buy. Apple has its own first-party earphones with the AirPods, which fit conveniently in the Apple ecosystem thanks to the W2 chip's simple device pairing and a straightforward charging solution with the included carrying case.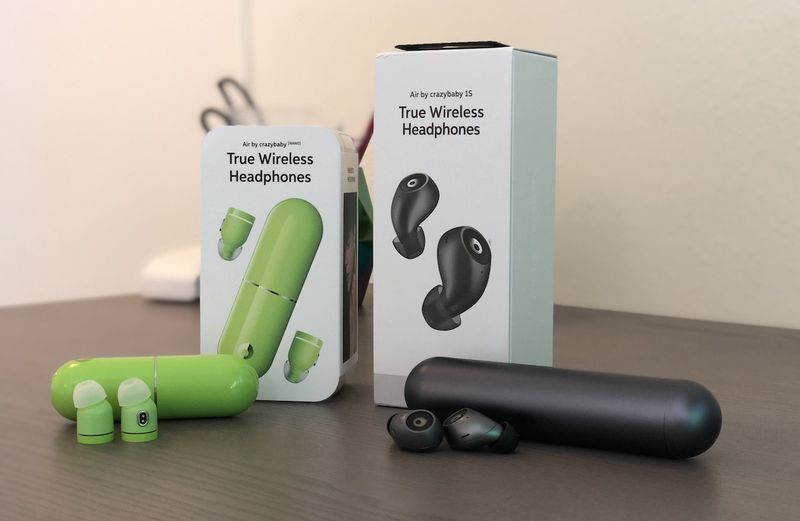 Sony, Jabra, Bang & Olufsen, Anker, and more all provide similar true wireless earphones (a term that means there is no wire at all between each earbud), usually priced anywhere between $80 to $200. Now, wireless accessory company Crazybaby — which first made a splash with the introduction of a "levitating" Mars Bluetooth home speaker — has introduced a few AirPods-like products of its own with the Air Nano ($79 for MacRumors readers using code RUMORSNANO, $99 normally) and Air 1S ($129 for MacRumors readers using code RUMORS1S, $159 normally).
Air Nano
Starting with the cheaper Air Nano model, Crazybaby sells this pair of earphones in 10 bright colors and the company sent me the Volt Green option. While I typically enjoy having an array of colors to choose from for most products, I personally prefer something a bit more subdued for headphones. Air Nano definitely stands out when in your ear, and they pulse with a white glow in a breathing rhythm (red when charging in the case), drawing more attention to them.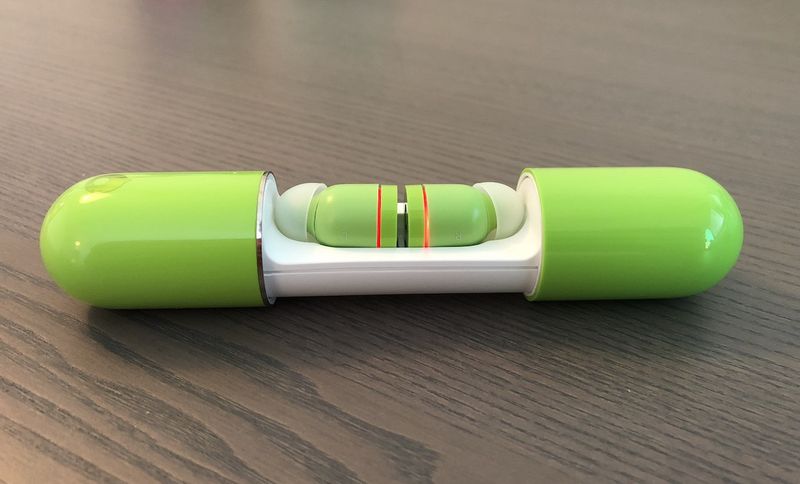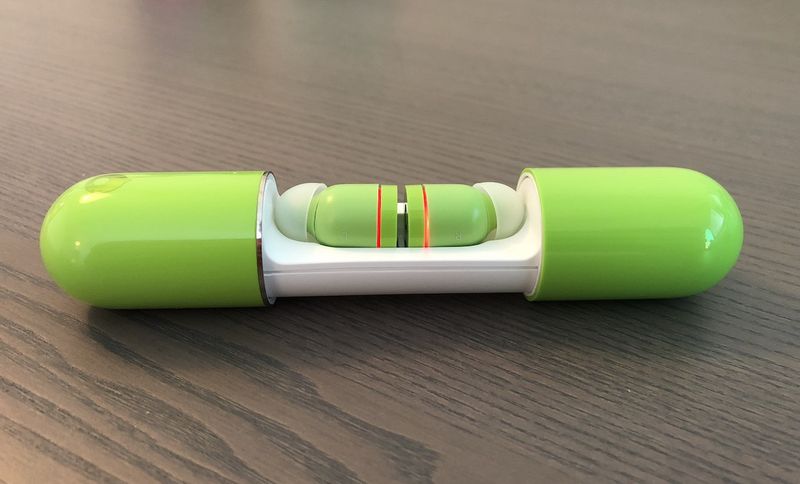 Overall, the Air Nano earphones lack a feel of quality in day-to-day use. While the pill-shaped charging case is svelte, when it's fully open the caps dangle off the sides. There is a helpful magnetic click once the case is closed, but it doesn't seem like the case will stay completely closed in a purse or backpack since it doesn't take much force to open it. On the outside of the charging case, you'll find a very minuscule charging status light and a USB-C port, which I definitely appreciated since I charge my MacBook nearby and could easily swap out the cable for the Air Nano without digging for another cord.
When open, you'll find the earphones themselves, charging inductively in tiny grooves carved out in the center of the case. Crazybaby says the Air Nano charging case supports eight to 12 hours of charge on the earphones, which themselves last for around three hours of listening time. I found this to be largely on point, but the information that Crazybaby feeds to the battery widget on iOS was far from helpful. The earphones stuck to percentage estimates before updating, so it would only notify me when it hit 80 percent, 60 percent, 40 percent, etc, with nothing in between.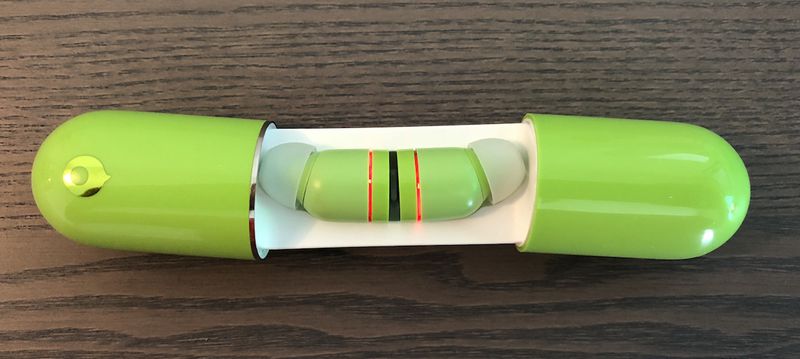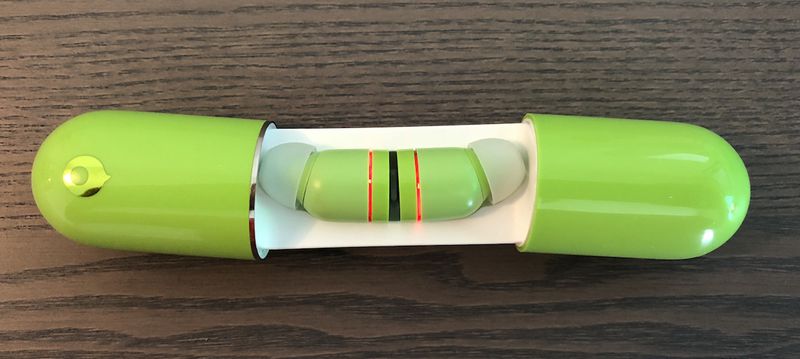 As a major bonus to Crazybaby's Air Nano earphones, I found them to have really solid in-ear stability, which has been a problem for me with past true wireless earphones, including AirPods. The device comes with a multitude of different sized ear tips for working out and running, and I found the sports-focused wing tips to be mostly favorable running companions, as long as my workouts remained around 30 minutes or shorter. With these on, however, the buds don't fit in the charging case.
But that's not to say the Air Nano earphones are particularly comfortable. Each earphone has a tiny "L" or "R" on it to know which ear to put them in, but even with that the buds can be a hassle to figure out the exact right positioning for in your ear. Once they are in, the circular outer edges of the earphones always hit the rim of my ear in a frustrating way, and any time I'd take one earphone out to fiddle with the positioning, when I put it back in I'd consistently activate one of the tap controls that reside on the outside of each bud.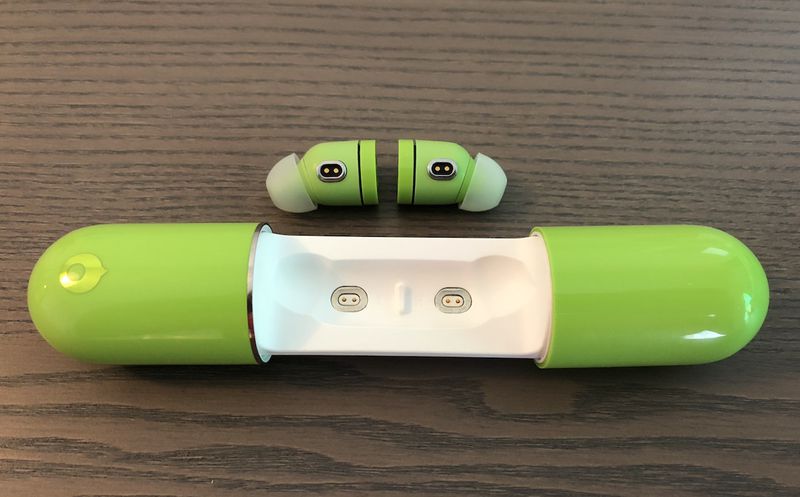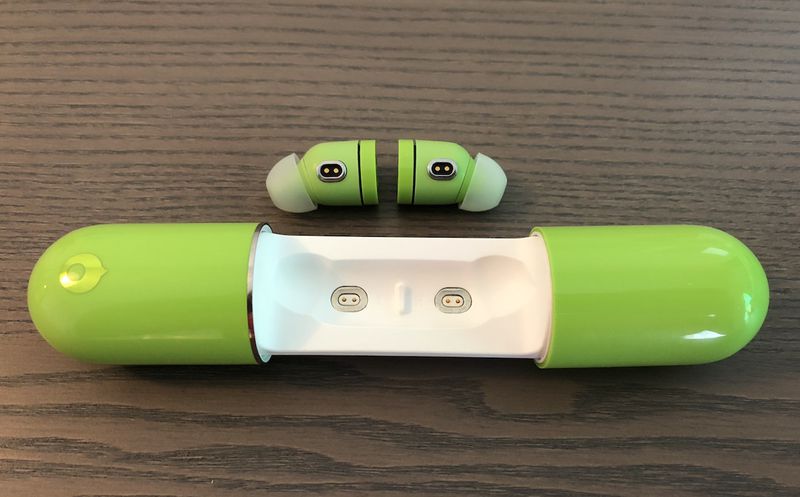 In terms of power controls, the Air Nano definitely takes some getting used to. You turn on the earphones by holding each bud's button for two seconds, and turn them off by holding the left bud for three seconds. Sometimes I'd only press the left bud for two seconds thinking this will activate both buds simultaneously, but this input instead activates a Bluetooth search for new connected devices. In terms of pairing with my iPhone X, I had no trouble finding the Air Nano for the first Bluetooth search, and they automatically paired each time after the initial setup.
Thankfully, playback controls are more straightforward: when music is playing, one tap on the right bud plays/pause the song, two taps skips the track, and three taps skips backwards in the tracklist. On the left bud, one tap answers or hangs up phone calls, and two taps brings up Siri — which responds well to voice requests, novodasoftwarebut oddly I only heard Siri's voice in my left ear. You can't control volume directly from the buds, so you will have to ask Siri or pick up your iPhone/Apple Watch for that — something that hindered the Air Nano's usefulness when working out.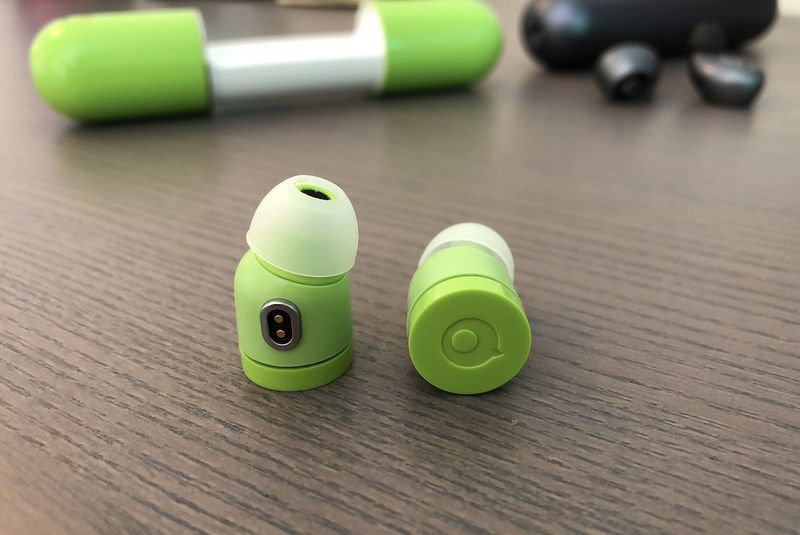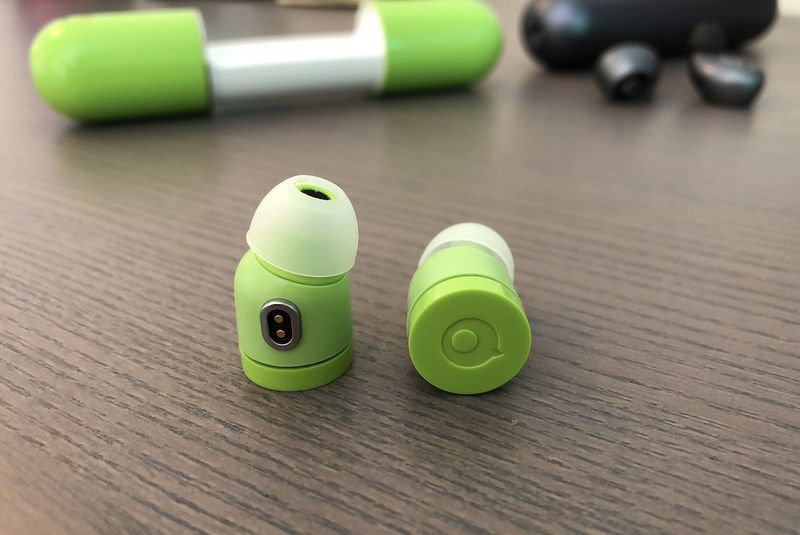 Most of the Air Nano's negatives would be easier to overlook if the audio quality was good, but I also ran into issues here. The best aspect was the range, which stretched through about two rooms in my apartment before one of the buds began popping in and out. Unfortunately, problems emerged over longer periods of listening, when Air Nano's connection to my iPhone would waver in one bud before fixing itself. I also found that songs playing from my iPhone sounded more tinny with Air Nano than the headphones I most often use (like BeatsX), and had difficulty adjusting the volume to hit a more comfortable level.
As it stands, the Air Nano are not the earphones you're looking for if you enjoy deep bass. Even trying out the alternative ear tips didn't much improve the experience. I live next to a relatively busy street, and for all of the tips provided with the Air Nano, a faint trace of low rumbling came through my music when it was at a safe and manageable volume. The workout-focused wing tips were also the most uncomfortable of the bunch, so even if they had helped a lot I probably wouldn't have been able to listen for very long.
Air 1S
In essence, the Crazybaby Air 1S are the Air Nano earphones with a slightly more premium feel and enclosure. Instead of plastic, the Air 1S have an aluminum finish that only comes in Star Gray (which is the color I received) and Space Silver. Apple's influence is apparent in the Air 1S, from the all-white packaging that has a subtle outline of the product on its top, to the use of the "S" terminology marking this version as the update to Crazybaby's original Air earphones.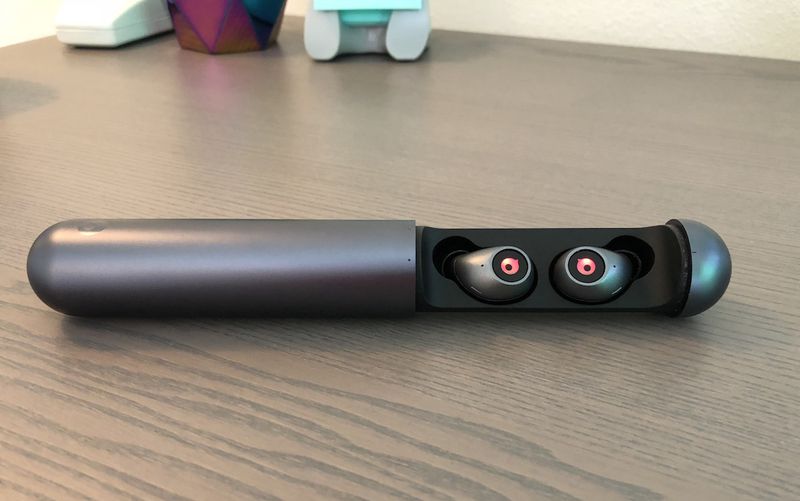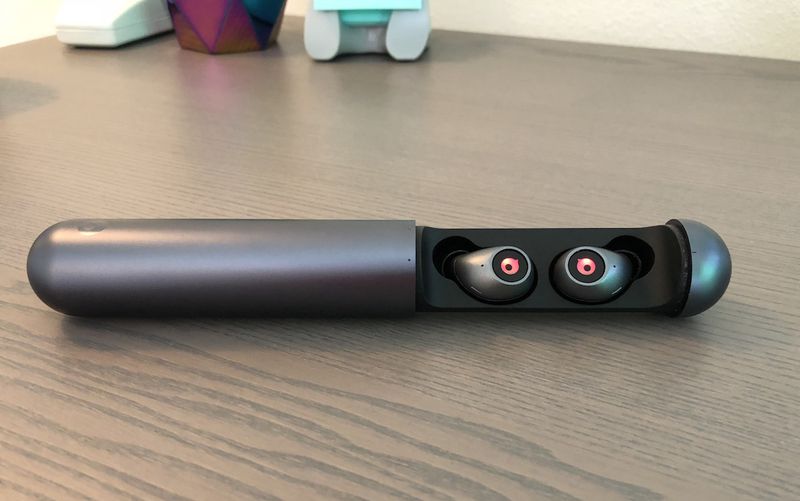 I found the Air 1S to perform better and feel better than the Air Nano in all categories, but in some areas it was only nominal improvements. The charging case feels sturdier, and it has a useful (if somewhat finicky) locking mechanism to ensure that the ear buds won't escape into a bag.
The stainless steel finish of the case and the buds themselves is quite nice, coming in as a darker shade when compared to the Space Gray finish of a 2015 12-inch MacBook. The Crazybaby logo also blends in better than it does on the Air Nano case.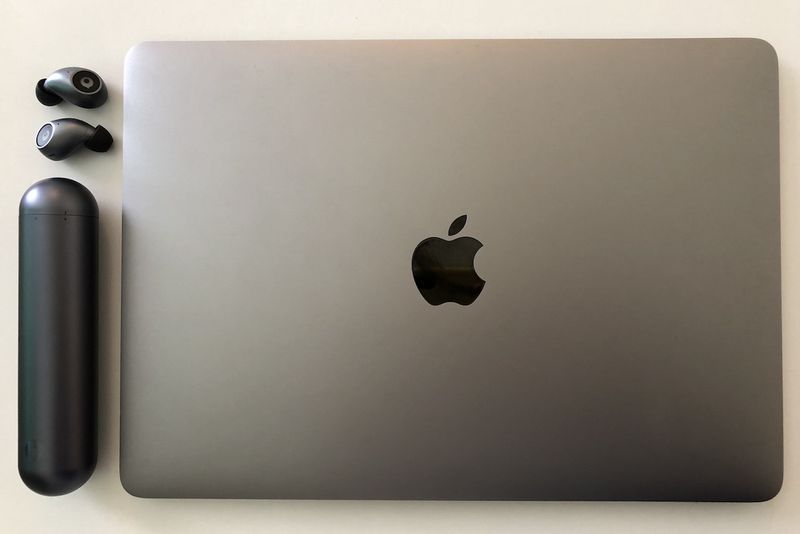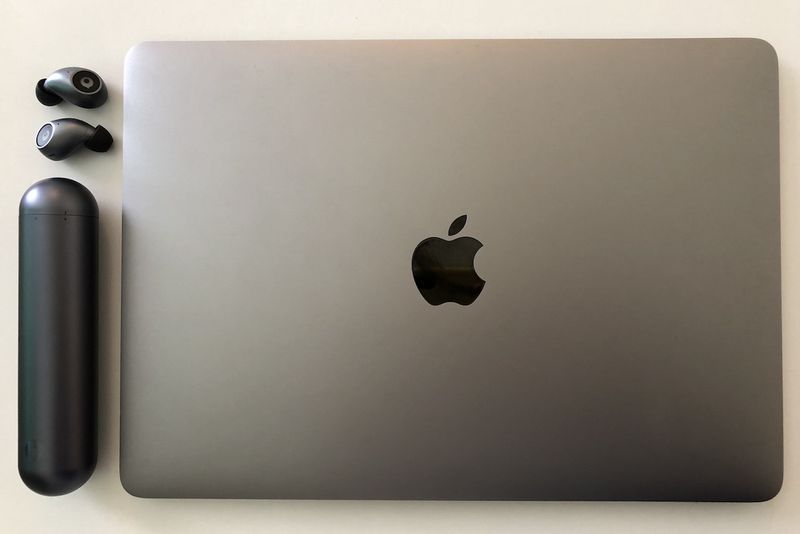 Continuing the theme, Air 1S fit better in my ear than the Air Nano and were more comfortable for longer periods of time, which appears to be because the buds have a far more comfortable oblong shape that molds into your ear better than the Air Nano's awkward circular build. You also get the same array of different-sized ear tips if the ones they come with don't work for you.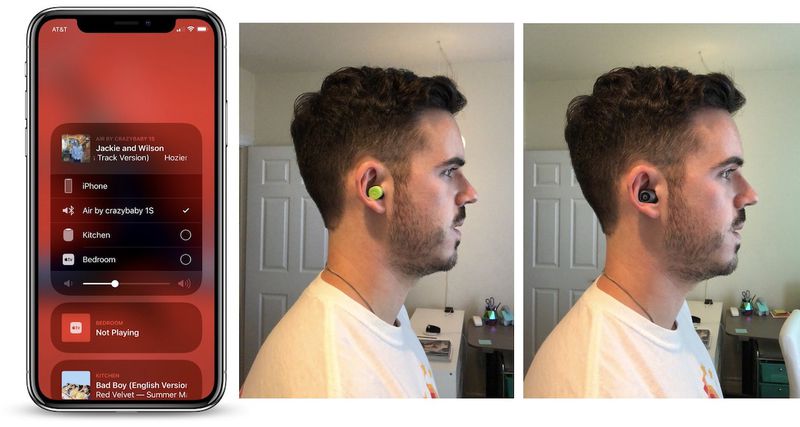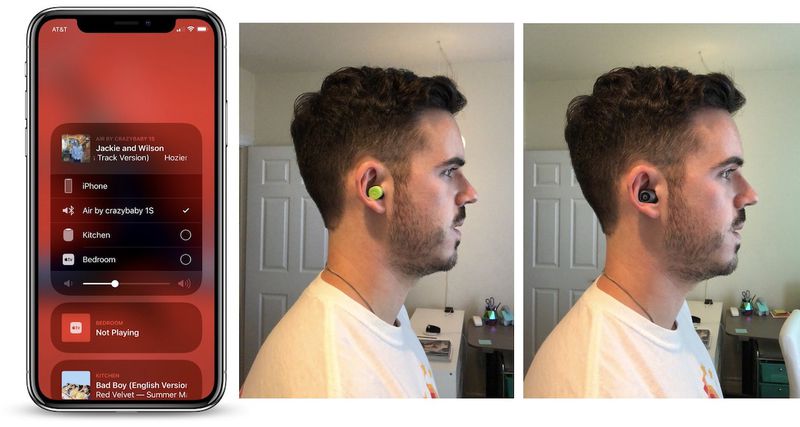 Similar to Air Nano, you'll get three hours of listening time on one charge of Air 1S, and the case can provide up to 12 hours of backup time. I'd average about 30 minutes of listening time on the earphones per day for the few weeks I tested them, and one thing I never had an issue with was battery life (save for the ongoing iOS battery widget annoyance). With average use you can easily get three to four days of charge out of the Air 1S before you would need to place the buds back in the charging case.
One problem that remains with Air 1S is the poor user controls while you're wearing them. The buttons on the side of the earphones require so much force to press them that it can be downright painful in certain positions. There are also still a few leftover connectivity hiccups that Crazybaby hasn't ironed out, resulting in only one bud waking up when you turn the devices on.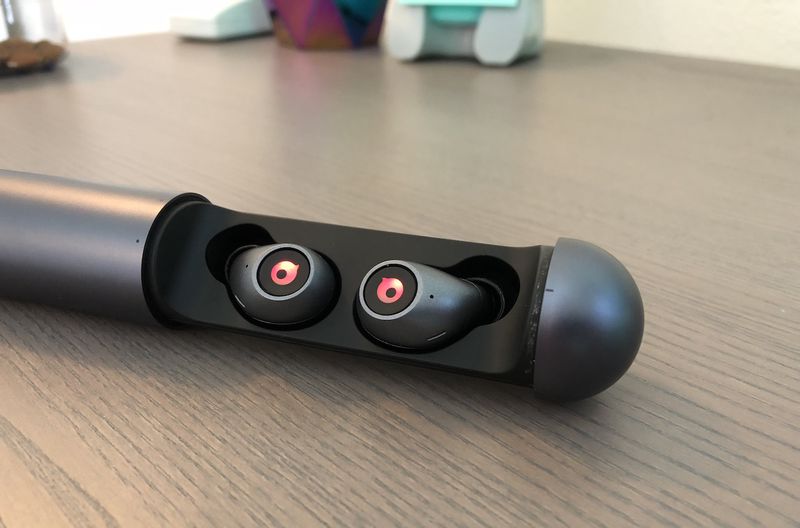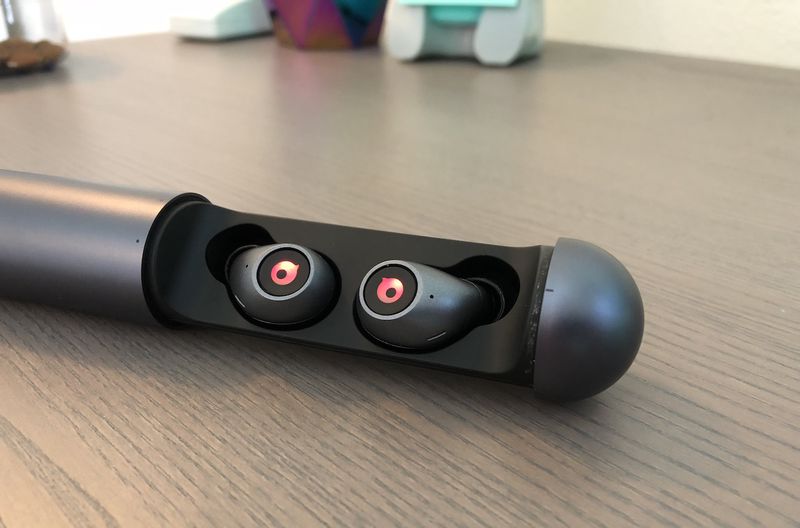 Fortunately, the Air 1S sound better than the Air Nano, solving the annoying tinniness of the cheaper headphones with deeper bass and a clearer soundstage. I still wouldn't put these earphones up to task against competitors in the market, but their improvements upon the Air Nano were definitely welcome.
Final Thoughts
If you're on the hunt for true wireless earphones, Crazybaby has a bit of a mixed bag to offer customers with the Air Nano and Air 1S, one that turns up enough negatives that I couldn't recommend the former device. My overall experience with the $79 Air Nano was fraught with uncomfortable listening sessions and poor quality music playback, so even though they stayed in my ear I never quite enjoyed my experience with them.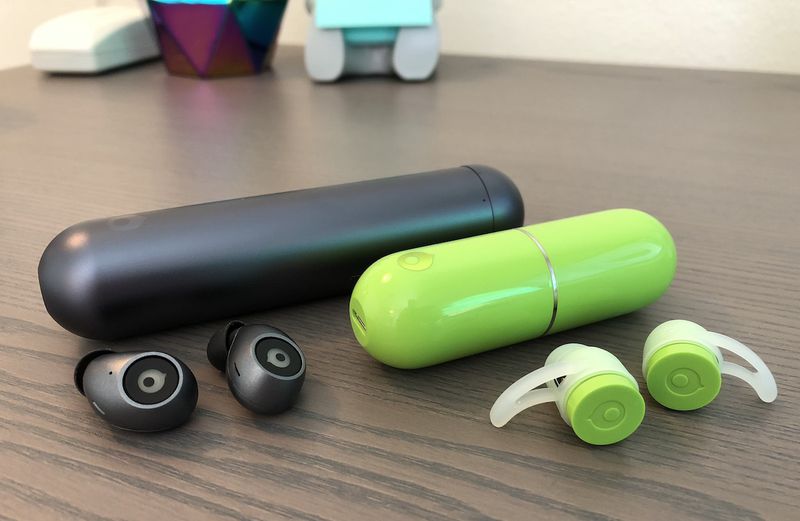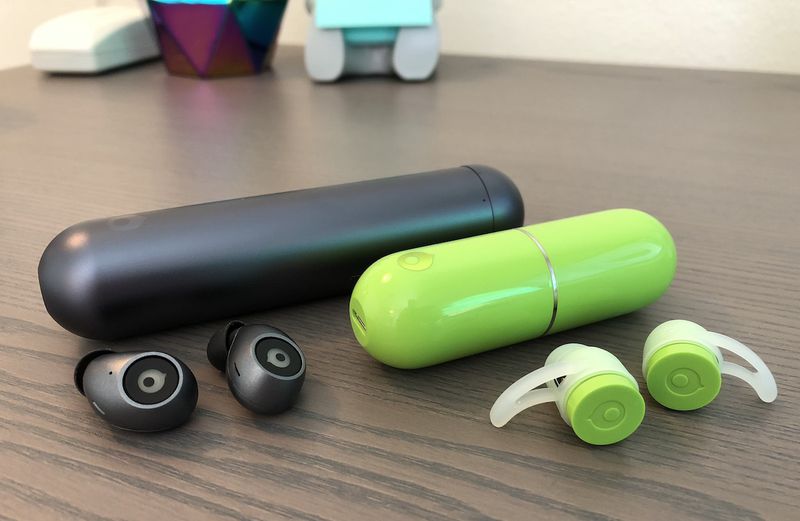 The $129 Air 1S fared better, staying in my ear as well as Air Nano, but feeling more comfortable and with better sound while doing so. Because of this, the Air 1S could be positioned as a decent entry-level pair of earphones for anyone who wants to try out true wireless earphones for the first time, as long as they're okay with a few concessions in the overall user experience.
Still, the price causes some apprehension. At $129 for the Air 1S, you're about $15 under the average sale price of Apple's own AirPods, and Crazybaby's price is even slightly more expensive than the AirPods can be in certain sitewide sales at Rakuten, when they've been priced at $127. It's obvious Crazybaby wanted to be seen as a potential competitor in the true wireless earphones market, but with this generation at least the company still has a ways to go.
Note: Crazybaby provided MacRumors with a pair of Air Nano and Air 1S earphones for this review. No other compensation was received.