Robotics company Sphero skyrocketed to popularity in 2015 with the release of BB-8, a miniature iPhone-controlled toy droid modeled after the BB-8 character in Star Wars: The Force Awakens.
As the release of the The Last Jedi approaches this December, Sphero has introduced two new Star Wars-themed robotic toys, BB-9E and R2-D2.
R2-D2 is a well-known classic droid that's starred in Star Wars movies since the original trilogy in the 1970s, while BB-9E, an Astromech droid that serves in the First Order (aka evil BB-8), is a newcomer that will appear in
The Last Jedi
.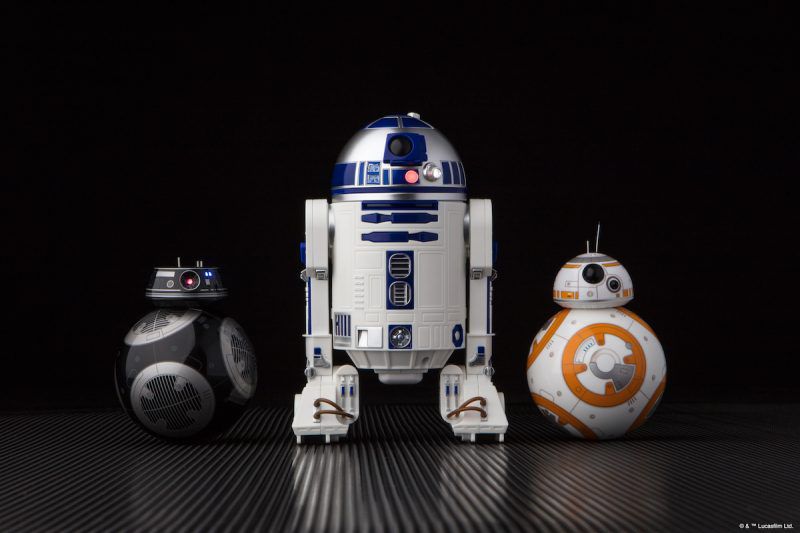 Like BB-8, both of Sphero's new droids are exquisitely accurate in design compared to the movie versions, and they come to life when paired with the Sphero app.
Design
BB-9E shares a design with BB-8, and BB-8 was based on Sphero's original robotic ball technology. BB-9E's body is a plastic sphere that houses a motor, a gyroscope that keeps BB-9E upright, counterweights for balance, internal wheels, magnets, and other electronic components.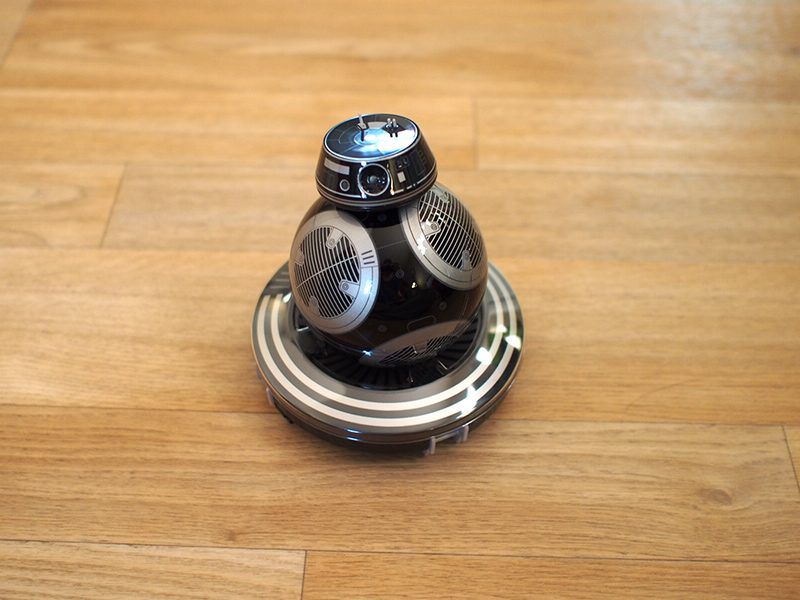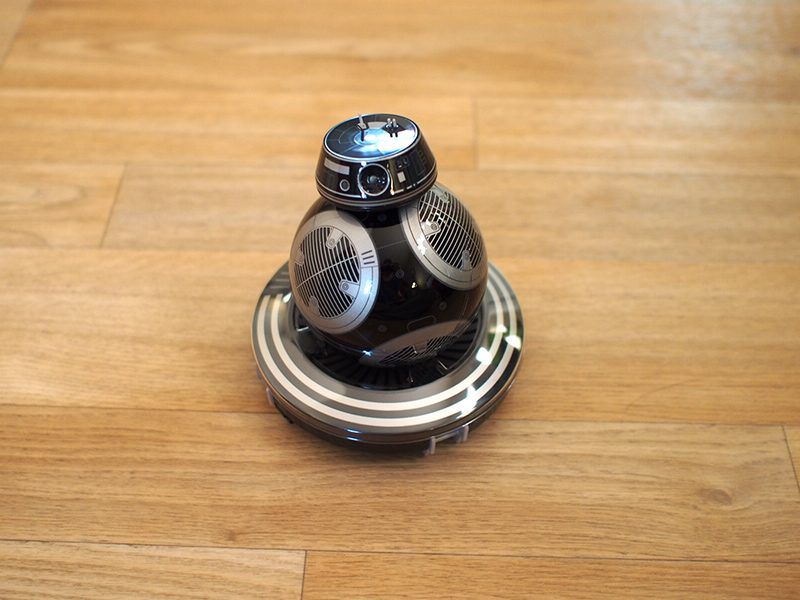 BB-9E's head attaches to the ball-shaped body using magnets, and a set of wheels underneath the head to allow it to move in around in stay in place on the body while BB-9E is in motion. Instead of a round head like BB-8, BB-9E has a flatter head that fits in better with the First Order aesthetic.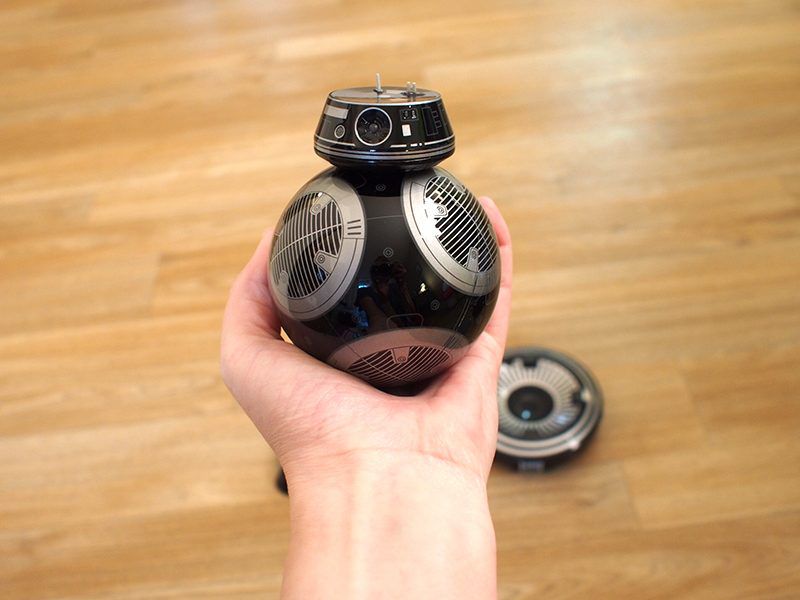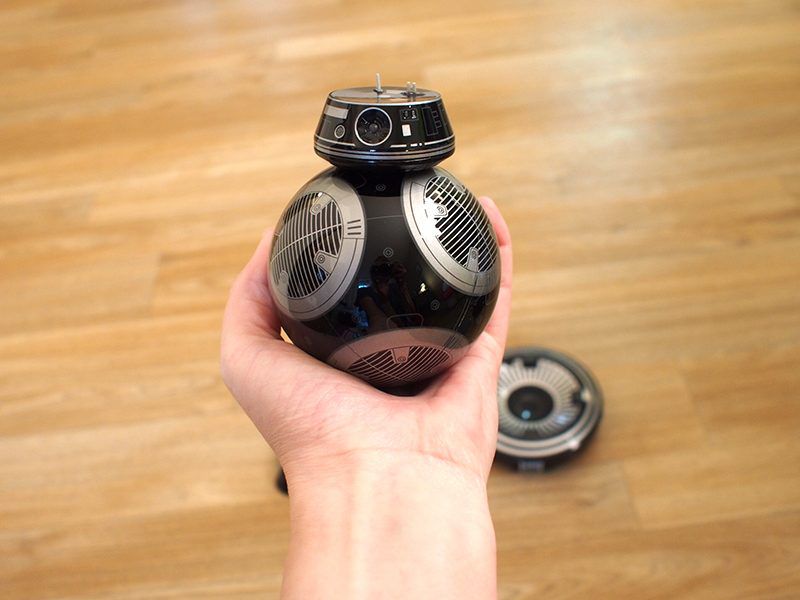 Size wise, BB-9E fits in the palm of a hand, and if you own BB-8, BB-9E is the same size. In contrast to BB-8's white and orange design, BB-9E is black with gray accents and red and blue lights (on the head) when in operation. BB-9E is made from a durable plastic that holds up to rough use — even when the droid is slammed into walls or other obstacles, it comes away unscathed.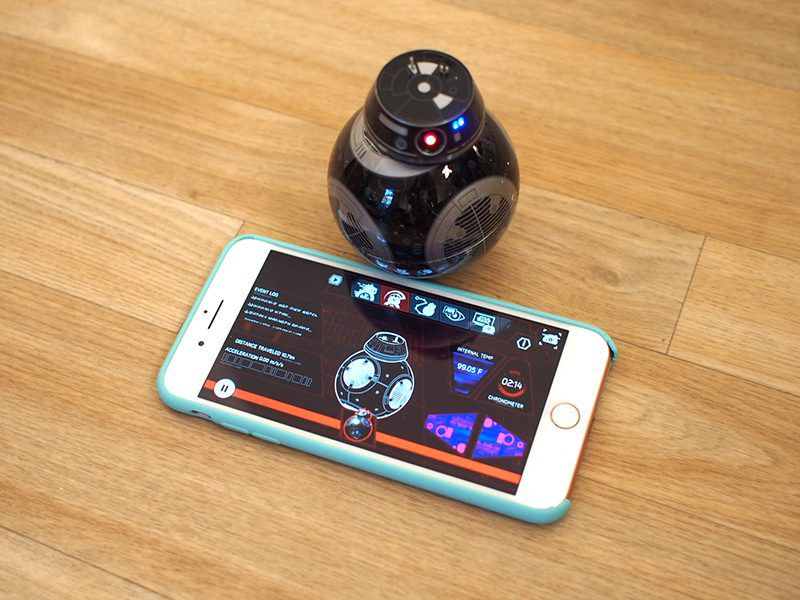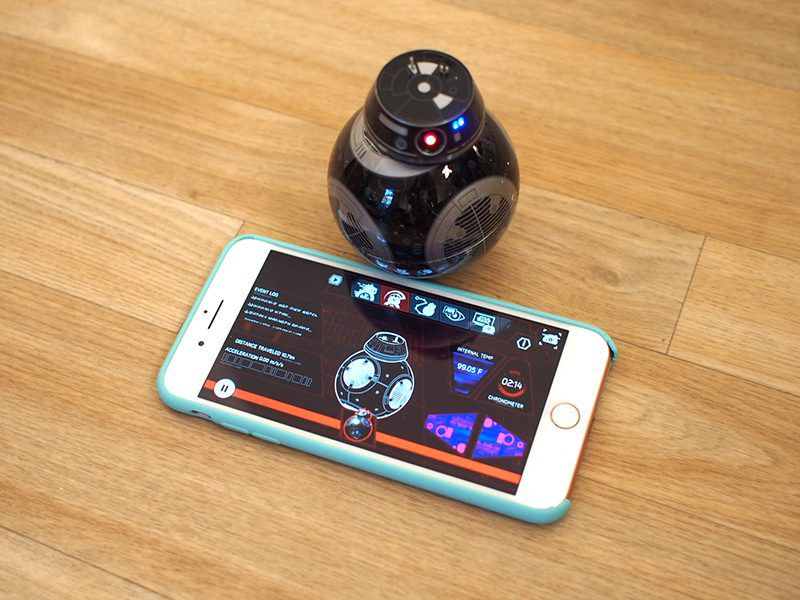 R2-D2 is a different kind of robot than BB-9E and BB-8, and so Sphero's come up with a new design that doesn't use underlying robotic ball technology. Instead, R2-D2 features two legs with tank-like treads for movement and a third stabilizing leg that comes down when R2-D2 is in motion.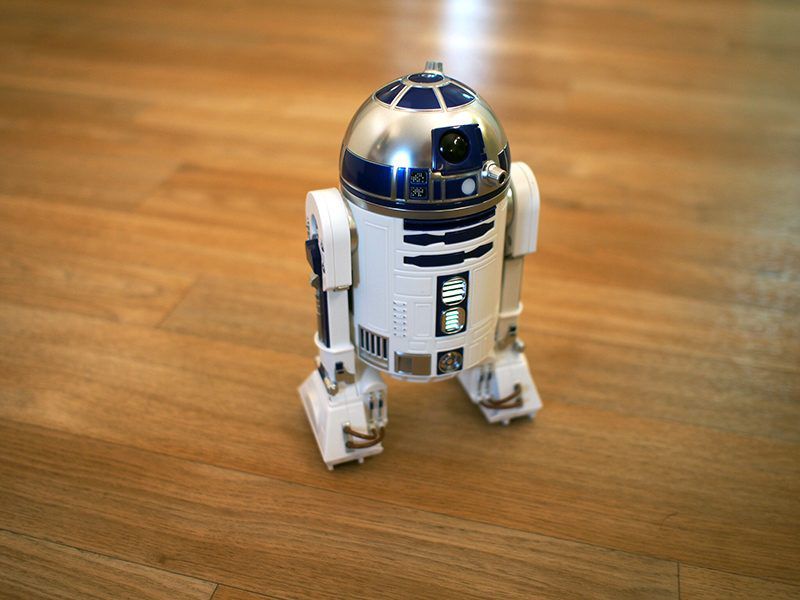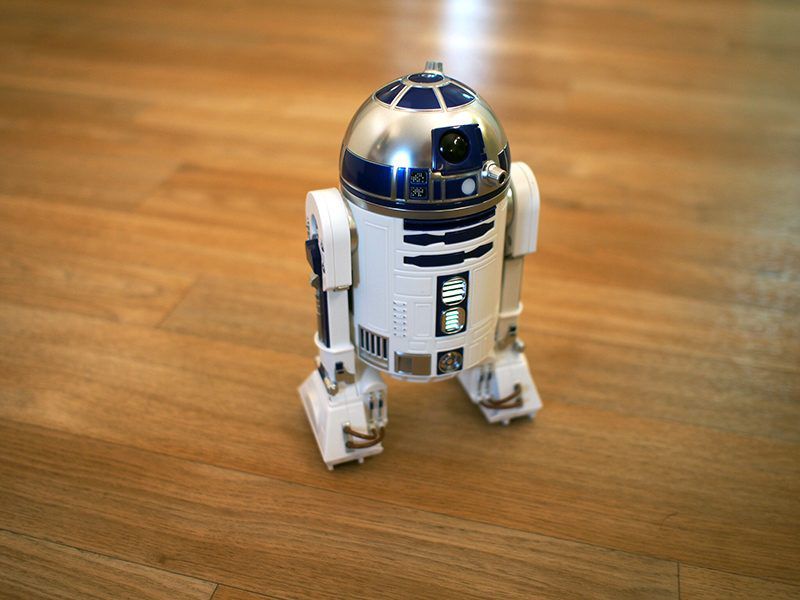 R2-D2's head, which houses speakers and several lights, can rotate left and right to enable the kinds of movements that R2-D2 is known for in the Star Wars movies. R2-D2 is a larger robot (~7 inches), almost twice the size of BB-9E, and is constructed from a plastic material.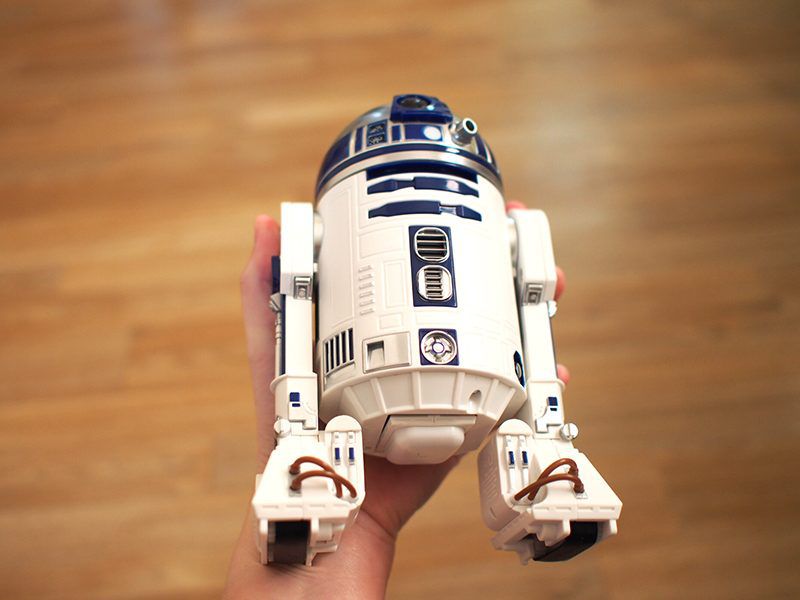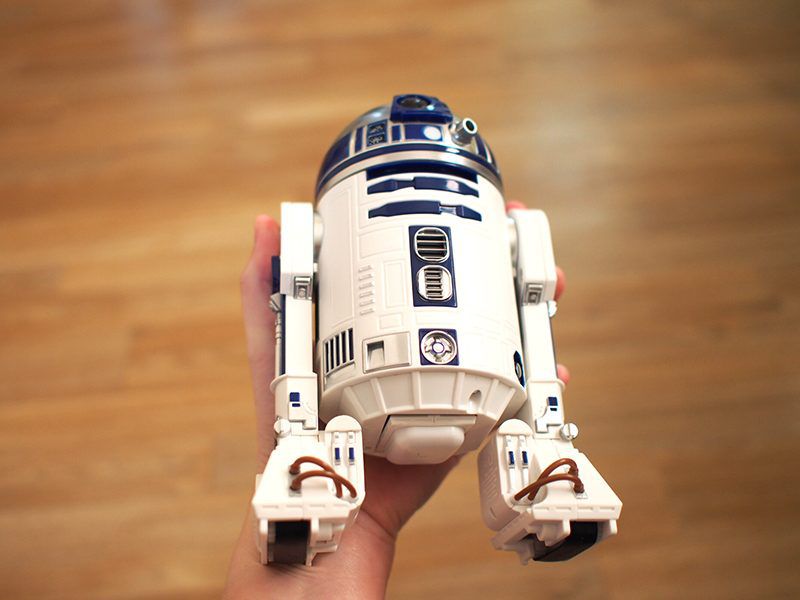 The plastic feels a little bit cheaper and less sturdy than the plastic BB-9E is made from, but the design detailing is well done, from the lights on the top of the head down to the cables at R2-D2's feet. R2-D2 does not feel as durable as BB-9E and I would hesitate to treat it as roughly because of the paint work and the more fragile feel of the legs and other moving parts.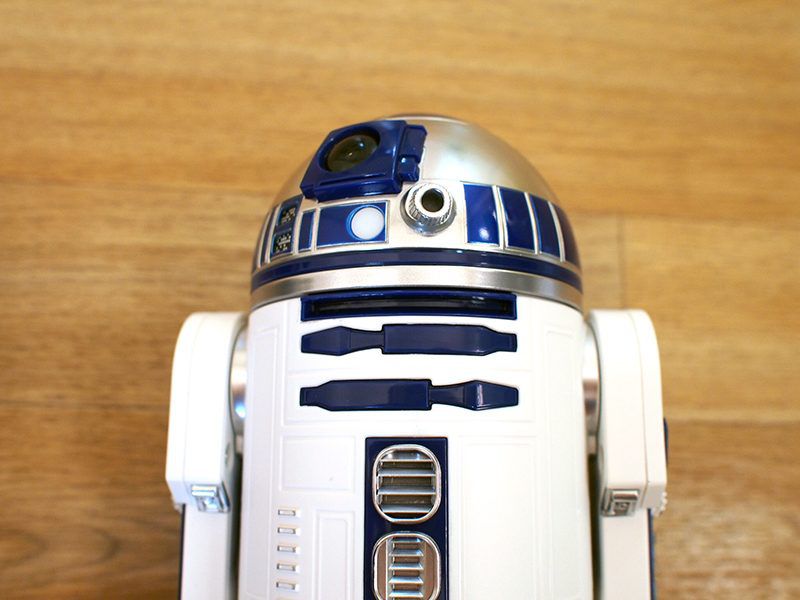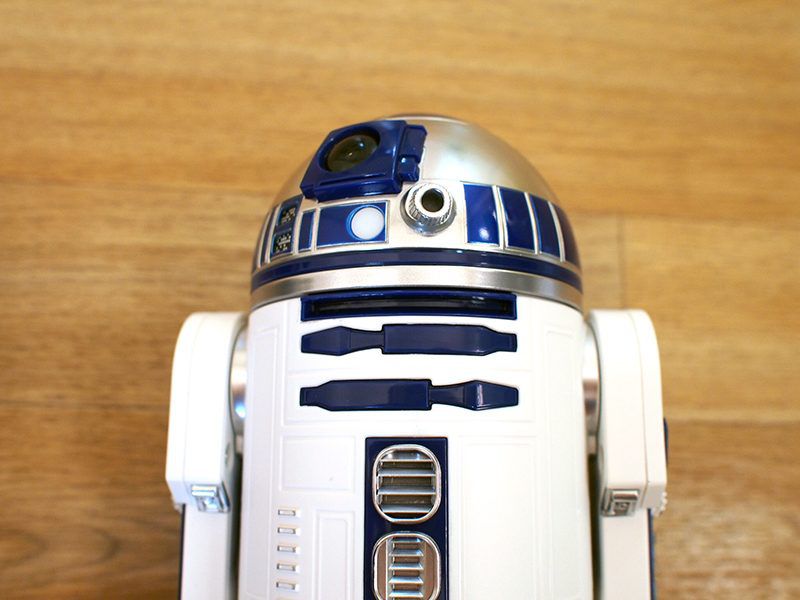 BB-9E is basically just a ball, so it's tough to damage, but there's a lot more going on with R2-D2. My R2-D2 has a little scuff on the head even though I don't remember it running into anything.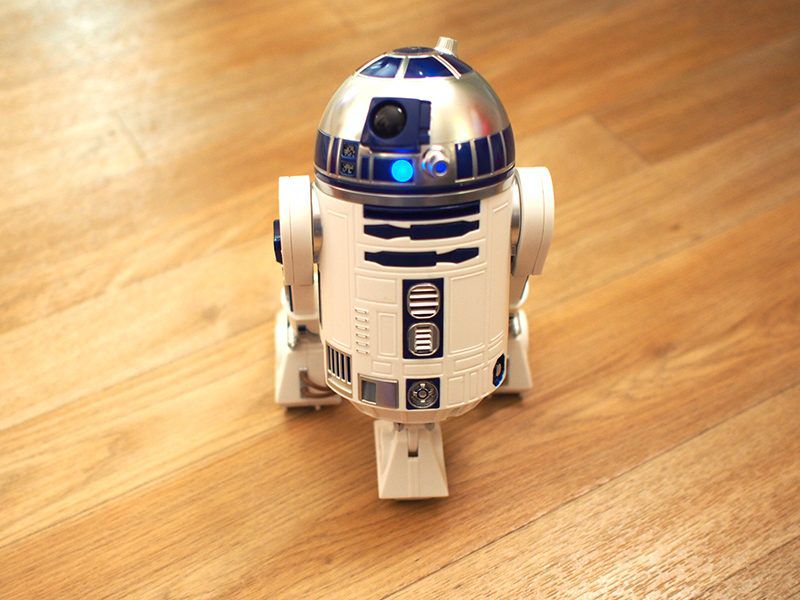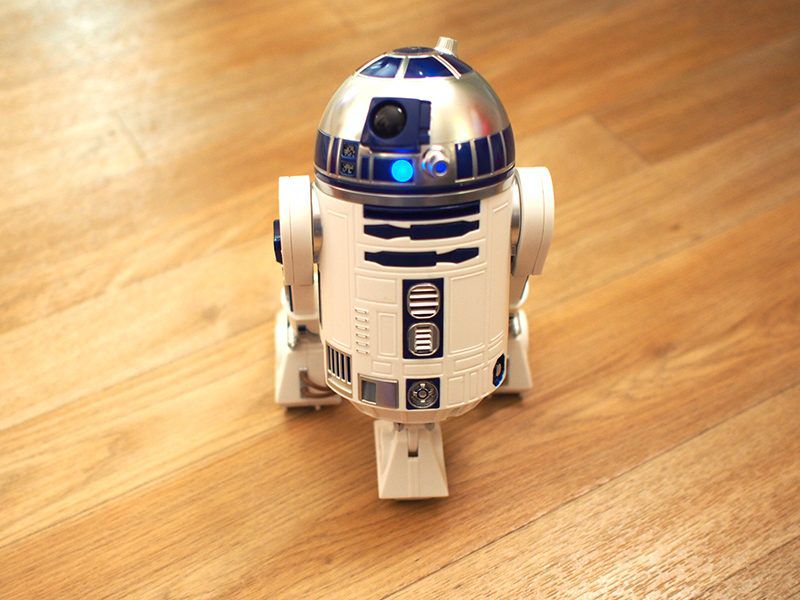 When it comes to movement, BB-9E is a robotic ball that can easily overcome obstacles, roll over rugs, smash into walls, zip around corners, and gain some serious speed. R2-D2's movement is more like a robotic car or tank — slower and more controlled. Both are fun to play with, but R2-D2 is a tamer play experience.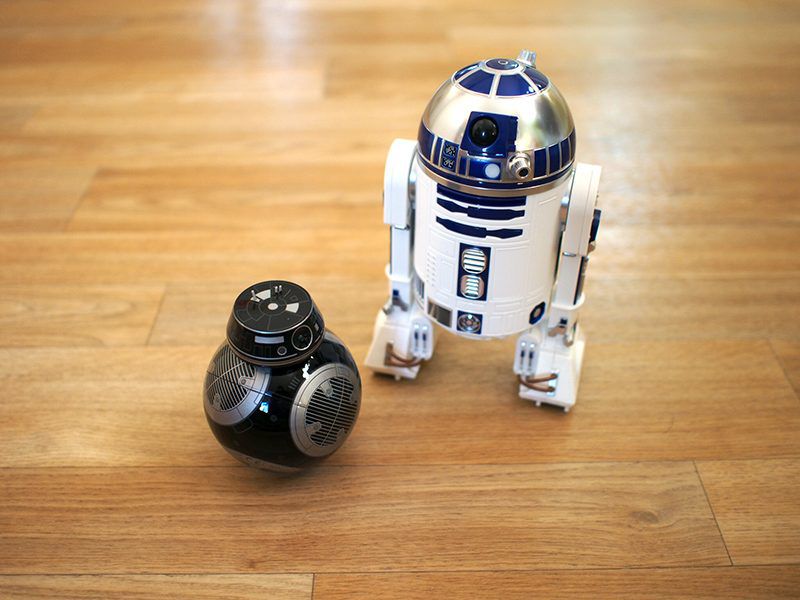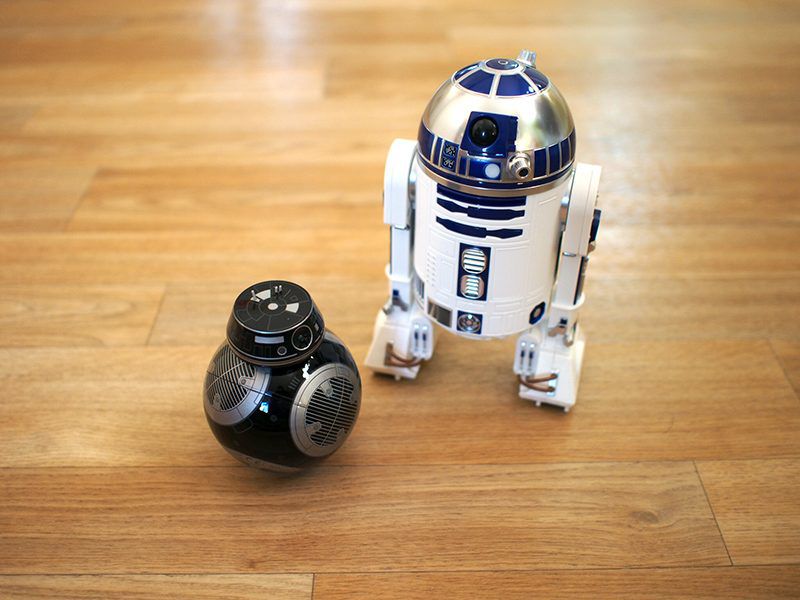 I don't have carpet, but both BB-9E and R2-D2 worked on rugs, though R2-D2 has trouble navigating from a hardwood floor over the edge of a rug. BB-9E can gain more momentum and is better at overcoming those kind of obstacles.
If you have dust, pet hair, dirt, or anything else on the floor, BB-9E and R2-D2 will pick it up. Even if the floor looks clean and you just vacuumed, these droids are going to get a little messy. BB-9E will get dust and/or fur in the wheels of the head, while R2-D2's treads can pick it up. It's easy enough to wipe away debris on BB-9E, but R2-D2's treads are a little trickier.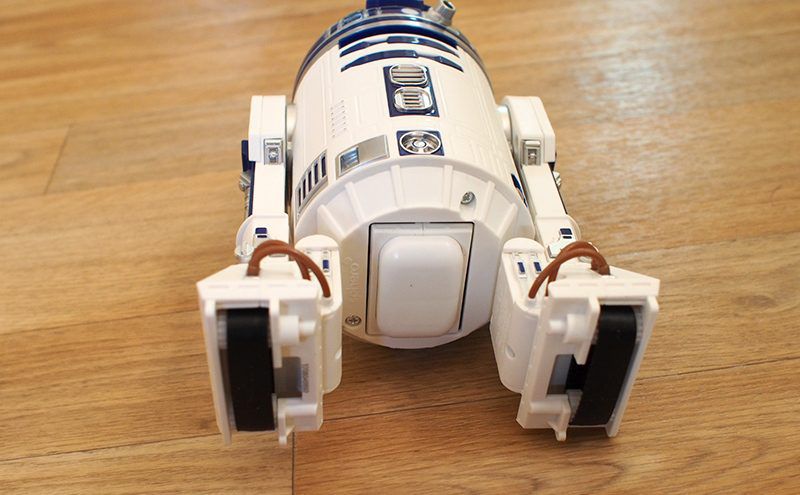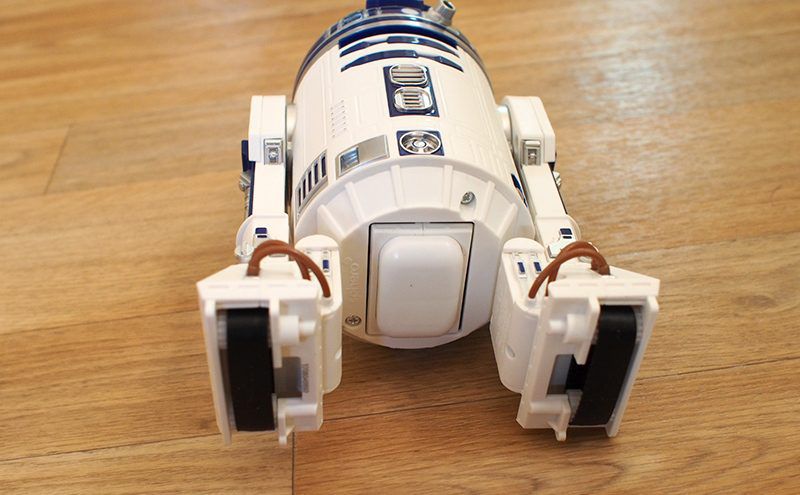 During my testing, I was concerned that R2-D2's rather delicate treads would be damaged or gummed up, so I was careful to check on them every few minutes. I didn't run into problems, but it's something to be aware of.
There is no speaker in the BB-9E, so all of the sounds come from the app, as was the case with BB-8. R2-D2 does have a speaker, so the sounds are coming from the droid itself, for a more realistic interactive experience.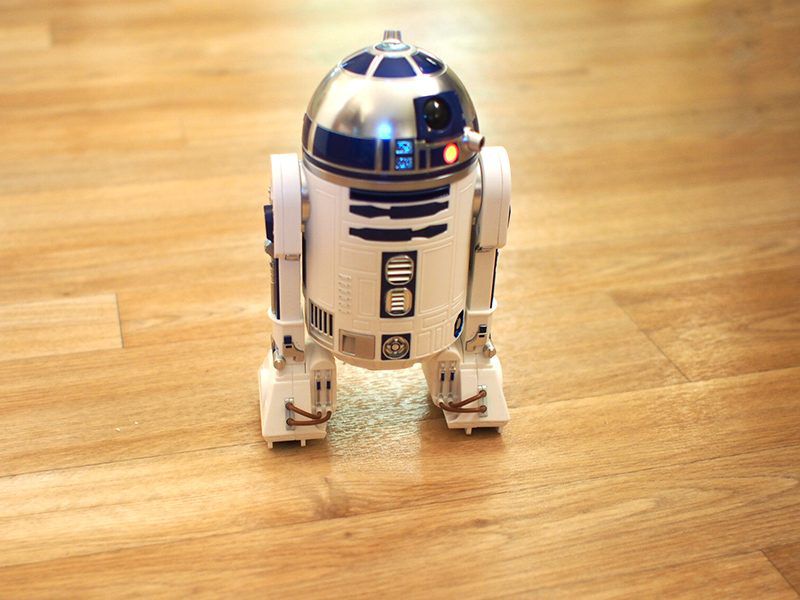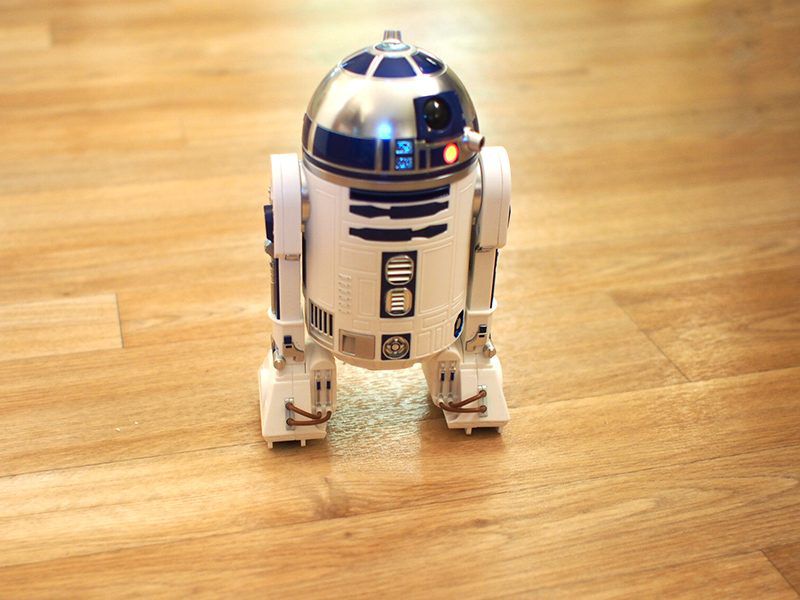 BB-9E charges inductively through an included charging dock (which has a micro-USB port) that ships with it, while R2-D2 has a built-in micro-USB port at the back of the droid for charging purposes. Both R2-D2 and BB-9E will last for sixty minutes of play before needing to be recharged, and both will flash red when the battery is low. I didn't tend to play with these guys for more than 15 minutes at a time, so the battery life wasn't a problem.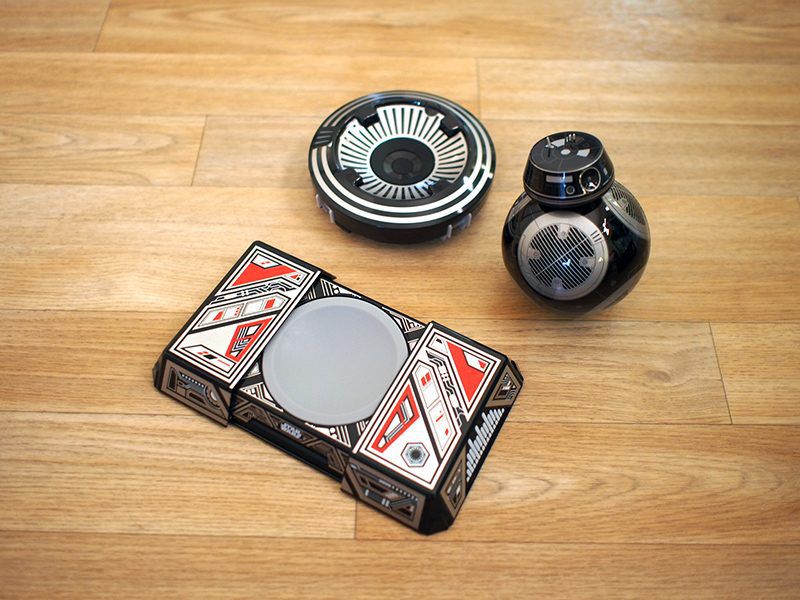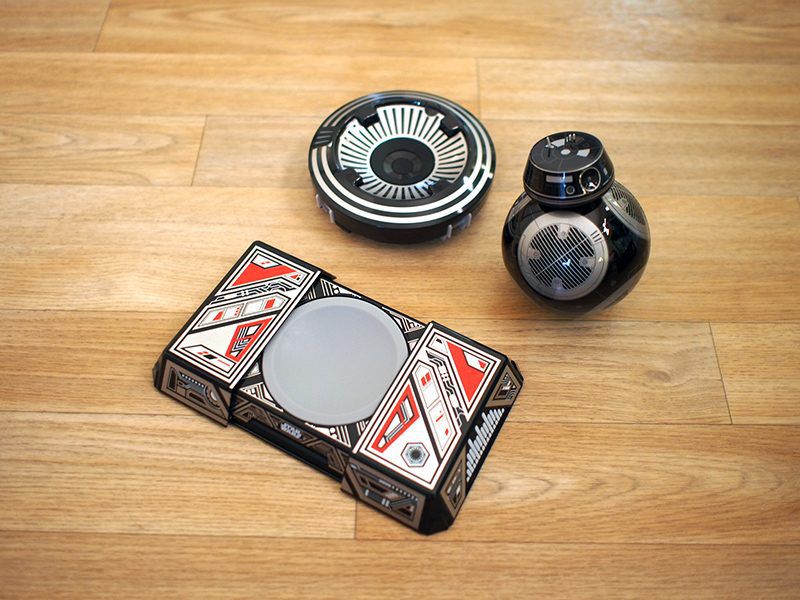 BB-9E also ships with a second platform that's designed for holographic simulations (aka AR) with the Sphero app.
App and Features
Both BB-9E and R2-D2 require Sphero's app to function, and neither one of the droids does much when not engaged with the app.
Syncing to a droid is as simple as opening the app, because it scans for nearby droids automatically. The iPhone connects to a droid via Bluetooth, and the whole connection process happens in app and takes just seconds.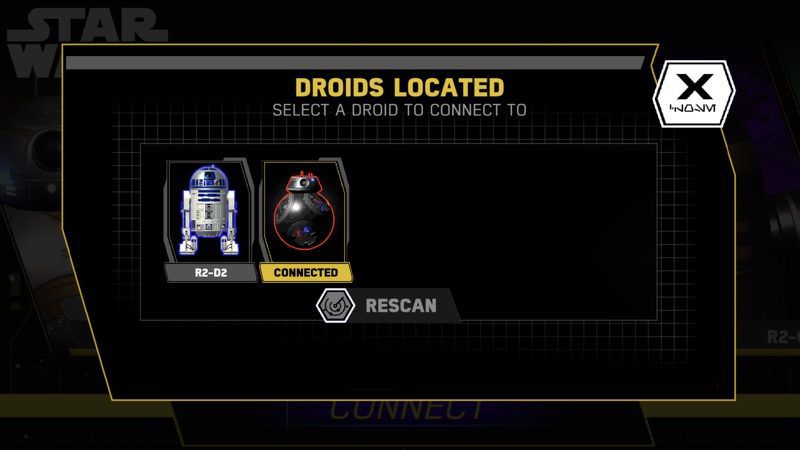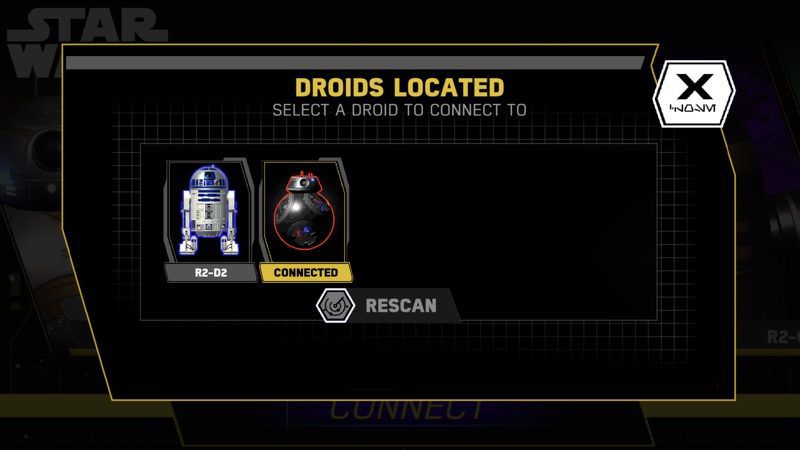 Droids are controlled through the main Droid Control interface, which adds a virtual joystick to the iPhone's display. Orient the droid in the correct position as instructed by the app and then use a thumb to move the joystick to drive it in a given direction. Speed can be controlled by how far you press the virtual joystick, and movement is controlled by moving the joystick around on the iPhone's display.
The virtual joystick mechanism is simple and accurate enough that even a child can control a droid with little to no problem . With BB-9E, only body movement can be controlled, but with R2-D2, there's also a separate control for moving the head of the droid.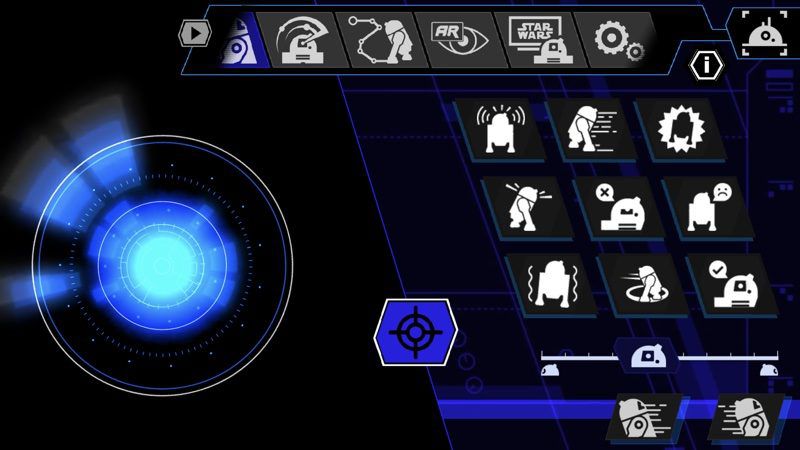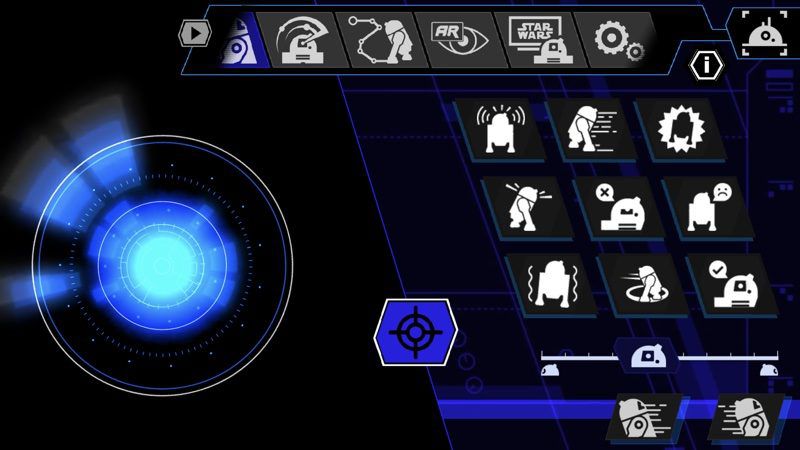 Along with a virtual joystick, the main Droid Control interface offers boost buttons for temporarily making R2-D2 or BB-9E go faster and several action buttons that range from funny to cute.
There are responses for yes and no, and interactions like alarmed, scared, sad, and confused, each with a unique animation and sound. R2-D2, for example, will rock back and forth and then fall over with the scared animation, and another similar animation causes R2-D2 to wobble before racing off with an alarmed scream. Both sounds and movement are used together to convey emotion and thought, and this goes a long way towards adding personality to each droid.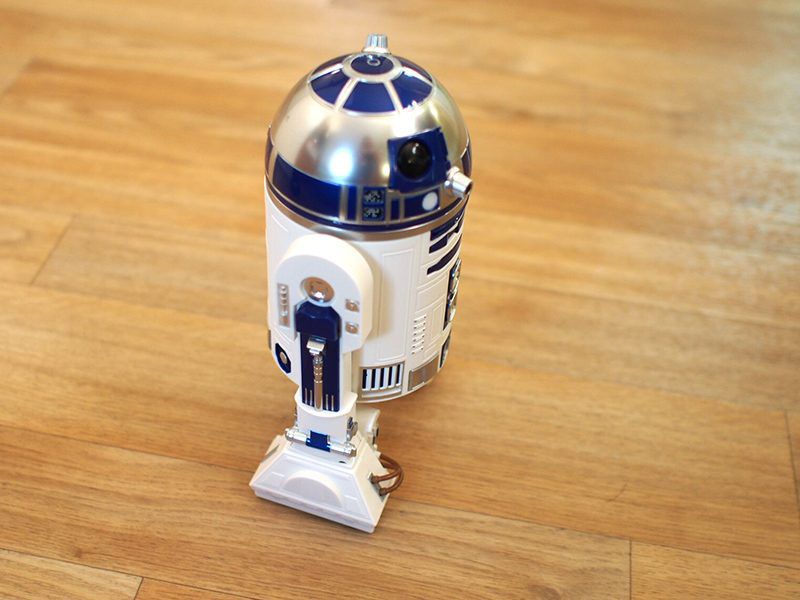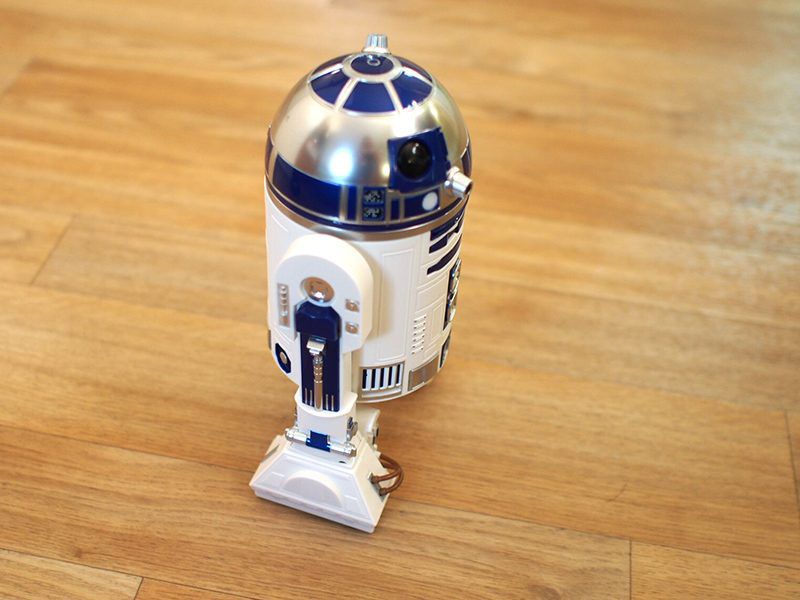 A Patrol feature in the app lets a droid roam anovodasoftwareround on its own without manual control, navigating away from obstacles when encountered and generally exploring a room. R2-D2 and BB-9E are both able to turn around after hitting an obstacle to move on, but they're also fairly prone to getting stuck so you need to keep an eye on them. This mode keeps track of acceleration and distance traveled.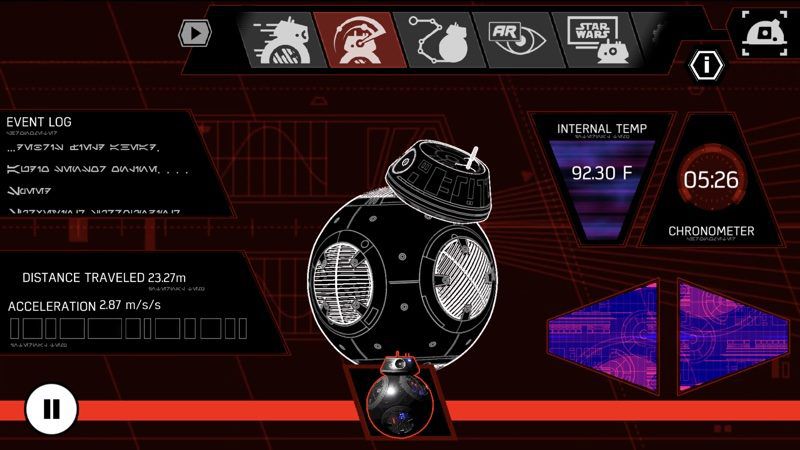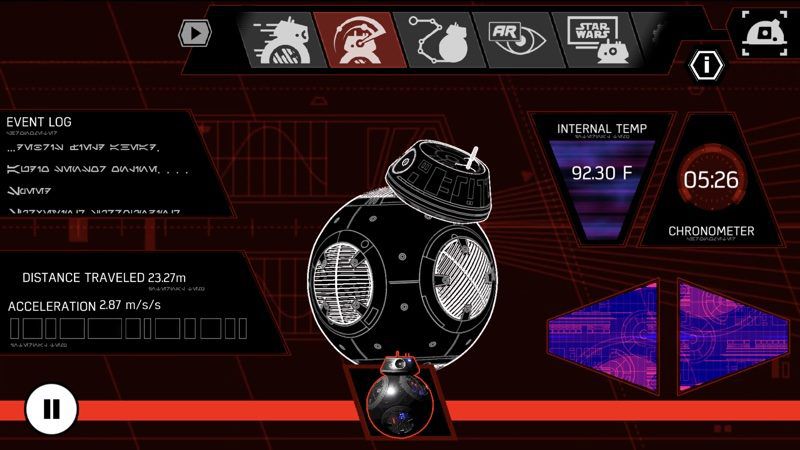 Draw and Drive lets you draw a path on the iPhone's display that a droid will follow in real life. This works best in an area with a lot of open space, but the droid will accurately follow the path of what you draw, whether it's a line, a circle, or a squiggle.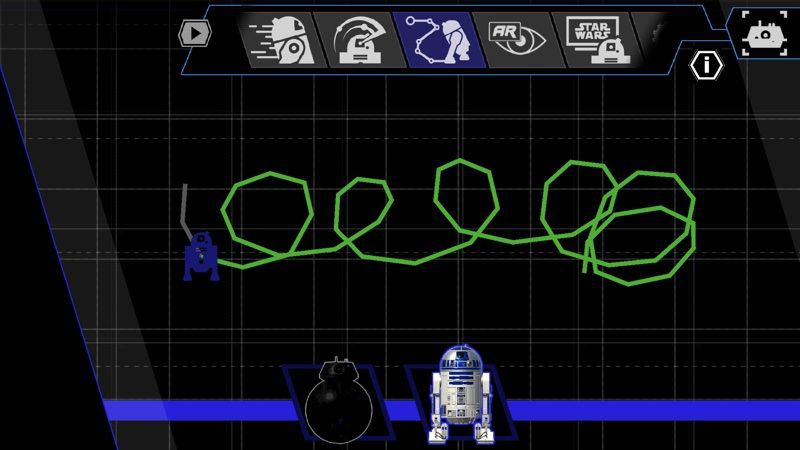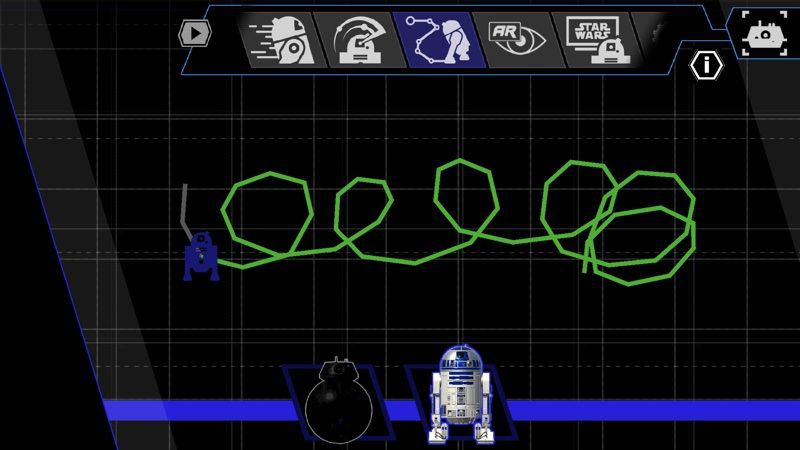 AR Mode lets you explore different ships in the Star Wars universe. With R2-D2, for example, you can take a look around the Millennium Falcon as your droid using your iPhone as a navigation tool. There's no real interaction with the droids in this mode – R2-D2 is still and BB-9E is placed in a base that prevents it from moving.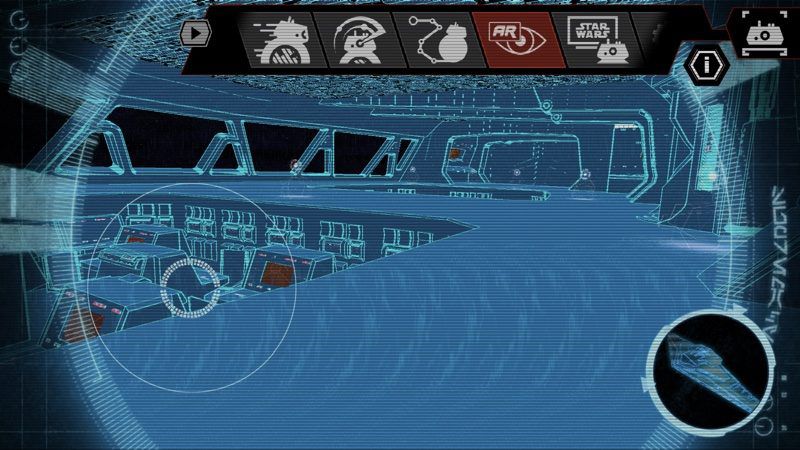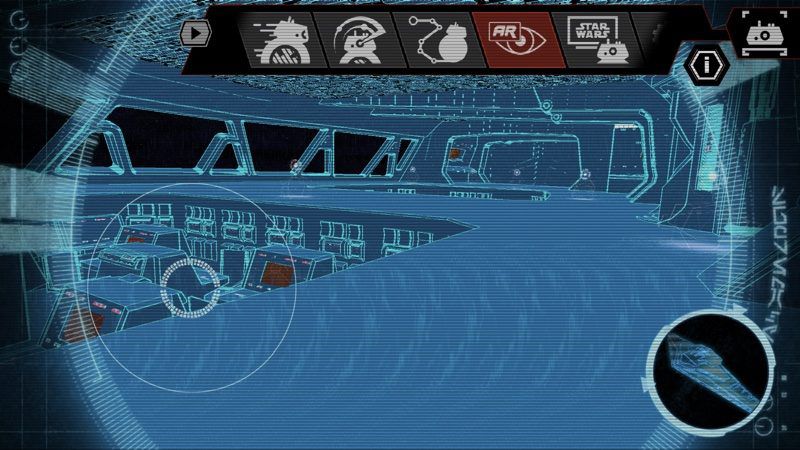 I thought AR Mode was boring. You're basically just looking around the ship and getting Star Wars facts by tapping on glowing areas, with nothing else do to in the mode. I used it for about five minutes and gave up, but it is worth noting that AR Mode is different for each droid.
Patrol, Draw and Drive, and the standard driving controls are all fun to use for short spurts of time as an adult, and it can be fun to interact with pets and people in the room using the droids. I'm able to keep myself amused for about 10 minutes at a time when playing with the droids, and sometimes longer if my cats are interested, but there's ultimately not a lot to do with these.
I suspect kids will find them more amusing for longer periods of time, though, since they can be incorporated into play with other Star Wars toys and there's such a wealth of personality to the droids.
The final feature available in the app is "Watch With Me," which works with The Force Awakens, Rogue One, and A New Hope. When Watch With Me is activated, the Sphero app can detect the audio from a Star Wars movie, allowing the droids to react to scenes in real time.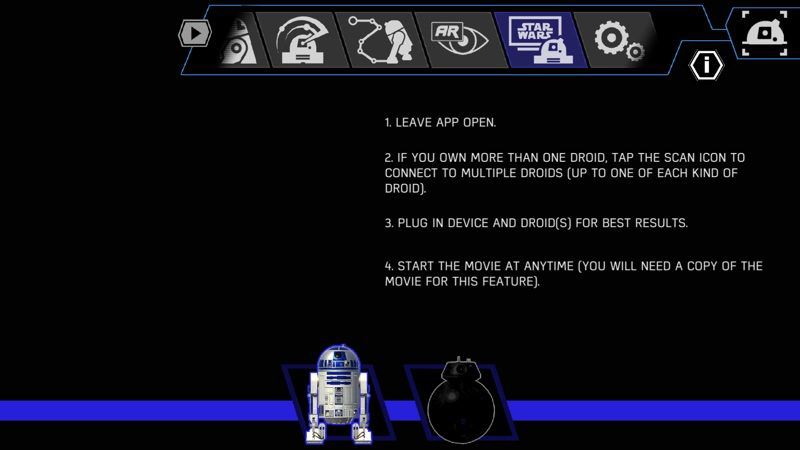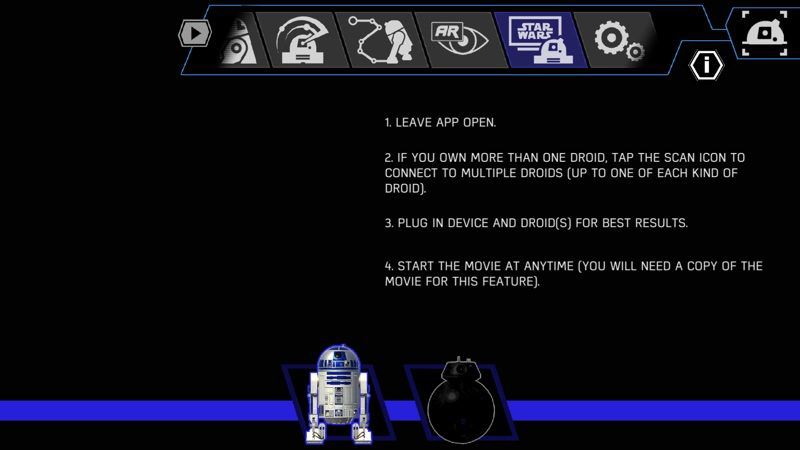 I watched Rogue One with R2-D2 and BB-9E and thought it was fun to see what the droids reacted to (R2-D2 gets excited when a hero is in danger, while BB-9E gets alarmed when the Empire is in trouble), but they're noisy, so it can be distracting if you just want to watch the movie. The droids react to the movie with the same sounds and animations that are available in Drive Control mode.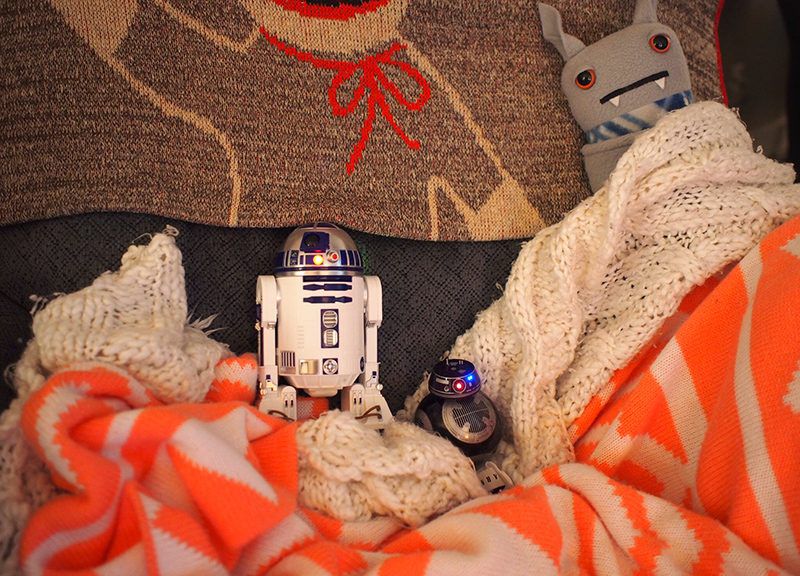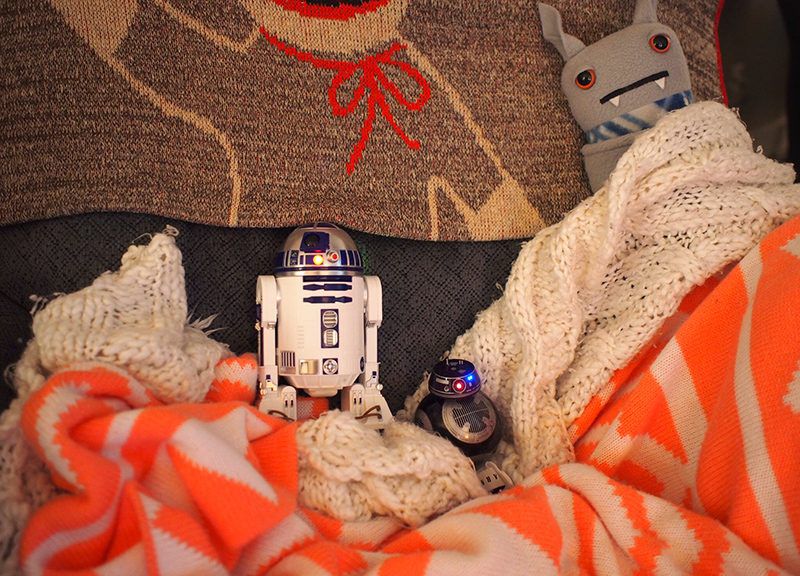 Both BB-9E and R2-D2 are compatible with the Sphero EDU app and Apple's Swift Playgrounds app, so in addition to being fun, they're also educational since they can be programmed using these apps. BB-9E is also compatible with Sphero's Force Band, which was originally created for BB-8, but R2-D2 support is not yet available.
Bottom Line
The way Sphero makes classic Star Wars droids come to life is nothing short of amazing, considering just a few years ago, this was a company that focused solely on robotic balls. Sphero is making some of the coolest toys on the market now.
R2-D2 and BB-9E look and feel like real little droids pulled right out of the Star Wars universe, complete with the appropriate sounds, reactions, and movement styles.
These are a must have for Star Wars fans who like to collect Star Wars-related merchandise, and I also think kids that are getting into Star Wars for the first time thanks to the new movies are going to absolutely love BB-9E and R2-D2.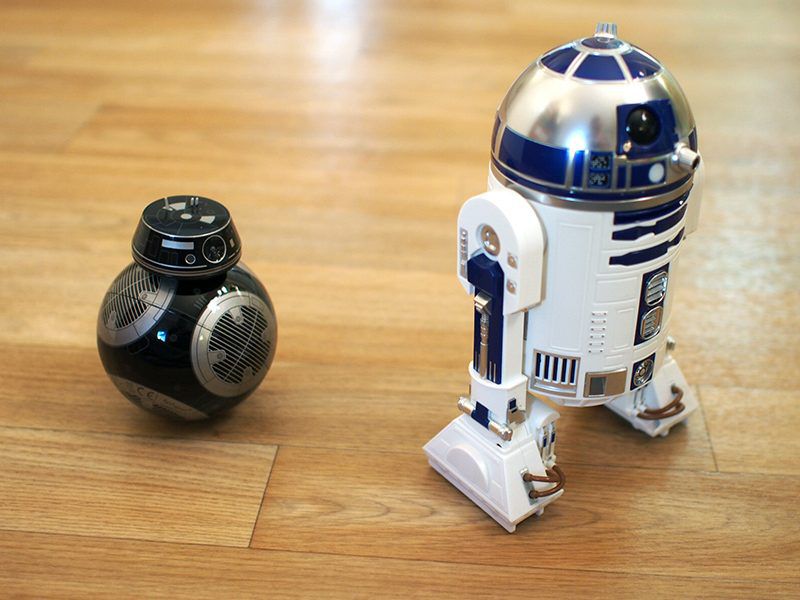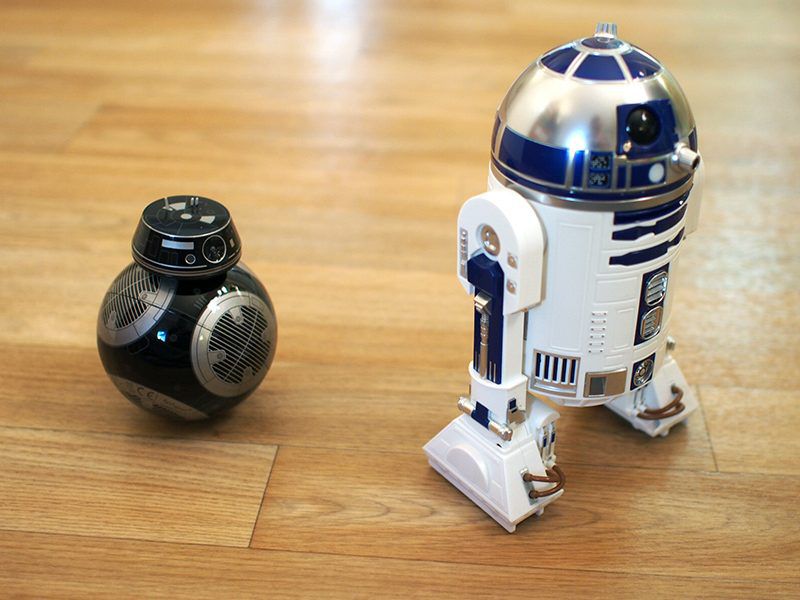 I like Star Wars okay and enjoy the movies, but I'm by no means a fan. Still, even as a non-fan, it took me all of about 10 minutes to fall in love with R2-D2 thanks to his lifelike sounds and all the animation options in the app.
Adults probably aren't going to get a whole lot out of these droids beyond a few minutes of play here and there, but they look great on a desk and it's fun to pull them out after a long day for a few spins around the room. Kids, though, will likely enjoy all of the augmented reality experiences and driving/exploring modes. Beyond play, these can be used with the Sphero EDU app and Swift Playgrounds for coding practice.
BB-9E and R2-D2 don't come cheap at $150 and $180, respectively, but Sphero's instilled so much personality in these guys that they're worth the price for collectors and parents who want to indulge their kids.
How to Buy
Both R2-D2 and BB-9E are available for purchase from the Sphero website. BB-9E is priced at $150, the same price as the original BB-8 Droid, while R2-D2 is priced at $180.
Note: Sphero provided MacRumors with BB-9E and R2-D2 droids for the purpose of this review, which were returned to Sphero following the conclusion of testing. No other compensation was received.