Thunderbolt 3 docks continue to flood the market, and today I'm taking a look at IOGEAR's Thunderbolt 3 Quantum Docking Station. IOGEAR's dock offers many of the same features typically seen on other Thunderbolt 3 docks, including multiple USB ports, a Gigabit Ethernet port, headphone and microphone jacks, a DisplayPort port, and a pair of Thunderbolt 3 ports to allow for daisy chaining, all in a familiar horizontal design used by many other docks.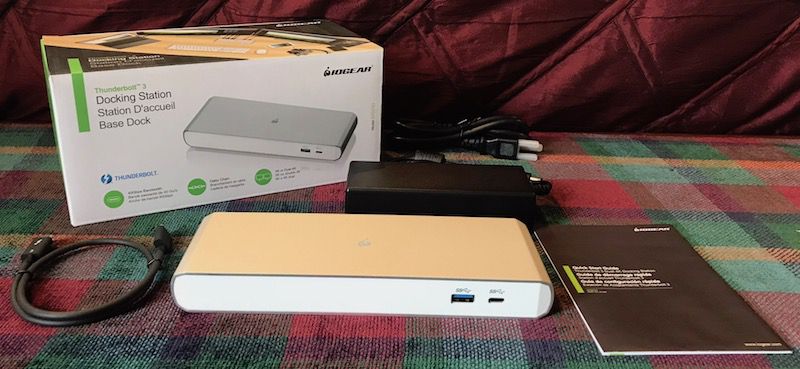 Most notably, the IOGEAR Thunderbolt 3 Quantum Docking Station looks identical to CalDigit's TS3 Lite that I reviewed a few months ago, with the exception of color and finish. While CalDigit's dock has an enclosure of brushed aluminum and black matte plastic, IOGEAR's has more of a satin matte finish that's slightly lighter in color, paired with white matte plastic. In size, shape, and port layout, however, these two docks are identical.



Caldigit's TS3 Lite (left) vs. IOGEAR's Thunderbolt 3 Quantum Docking Station (right)
The IOGEAR dock looks decent, with its aluminum finish coming close to the silver color Apple uses on its notebooks. A fairly unobtrusive IOGEAR logo is printed on the top of the dock, and it comes with an external power brick and a 0.5-meter Thunderbolt 3 cable for connecting to a host computer at maximum speeds.
Meeting the standard for Thunderbolt 3 docks, IOGEAR's version supports up to a single 5K display over Thunderbolt 3 or dual 4K displays over a combination of Thunderbolt 3 and DisplayPort. I experienced no hiccups connecting an LG UltraFine 5K display at up to 60 Hz through one of the dock's Thunderbolt 3 ports.




In line with every other dock I've reviewed with the exception of OWC's Thunderbolt 3 Dock, IOGEAR's dock includes three USB ports, with IOGEAR opting to go with one Type-A on the rear and one each of Type-A and Type-C on the front for easy access.




All three ports run at 5 Gbps USB 3.1 Gen 1 speeds, and the inclusion of a Type-C port is a nice benefit as peripherals start to move in that direction. The USB ports operate at expected speeds once overhead is accounted for, with a CalDigit Tuff SSD running at 325 MB/s write and 350 MB/s read over both Type-A and Type-C, in line with other Thunderbolt 3 docks featuring 5 Gbps USB ports.




As with the TS3 Lite, one of the main limitations with IOGEAR's dock is that it only supports up to 15 watts of charging power over Thunderbolt 3/USB-C, meaning it won't be able to power your MacBook Pro over the same cable used for data and video and you'll need to hook up your computer's power brick.
Attempting to power my 2016 15-inch MacBook Pro solely through the dock merely slowed the rate of battery life decrease, even under light usage. Depending on your setup such as willingness to use your Mac's power brick or having another monitor with higher charging power already connected, this might not be a deal breaker, but with many other Thunderbolt 3 novodasoftwaredocks offering 60 or even 85 watts of charging power it's an unfortunate limitation.
The real deal breaker, however, is price, unless you're very careful in shopping around. IOGEAR's dock carries a list price of $299.95, in the same range as docks with better features such as higher charging power, and a full $100 more than the essentially identical TS3 Lite from CalDigit. You can certainly find cheaper prices on IOGEAR's dock such as current $225 pricing at Amazon, but even that is still higher than the TS3 Lite.
Authorized reseller Provantage currently has it for $178, but with shipping starting at $27, the deal isn't quite as good as it first appears. Even with those deals, it's disappointing how much hunting you need to do to try find a good price on this dock.
As a result, it's hard to recommend the Thunderbolt 3 Quantum Docking Station unless you can find it at a really great price. The TS3 Lite is generally cheaper for identical features, while other docks like OWC's Thunderbolt 3 Dock with more USB ports and an SD card slot or Elgato's dock or CalDigit's TS3 with more features at the same list price offer better values.
Note: IOGEAR provided the Thunderbolt 3 Quantum Docking Station to MacRumors free of charge for the purposes of this review. No other compensation was received. MacRumors is an affiliate partner with Amazon and may earn commissions on purchases made through links in this article.