Jaybird, known for its line of headphones aimed at runners and fitness enthusiasts, recently introduced the RUN, its first wire-free headphones designed to compete with the wide range of wire-free headphones that are now on the market, like Apple's AirPods.
I went hands-on with the RUN to see how they compare to the AirPods and other Jaybird products like the new Freedom 2 headphones, also announced at the same time. There's no denying the convenience of wire-free earbuds, but as I learned with the RUN, there are still kinks that need to be worked out with the technology.
Design
Like Apple's AirPods, Jaybird RUN headphones are separate standalone earbuds that have no wire connecting them to one another, for a freer, hassle-free listening experience. Design wise, the RUN headphones look more like the Bragi Dash than the AirPods, with an in-ear tip connected to a circular earbud that nestles into the outer part of the ear.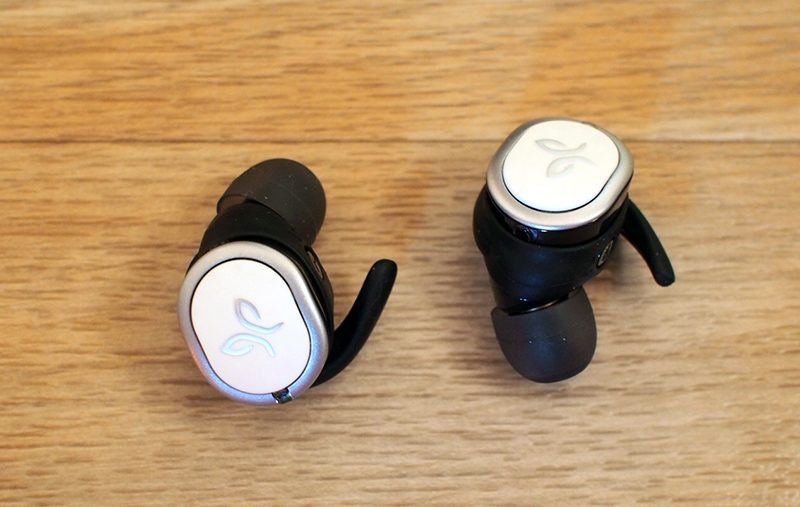 A soft silicone tip fits over the speaker portion of the RUN, while a soft, highly flexible fin secures it in the ear. White aluminum-rimmed buttons are at the top of the earbuds, embossed with the Jaybird logo, and there are small green LEDs on each one that serve as indicator lights.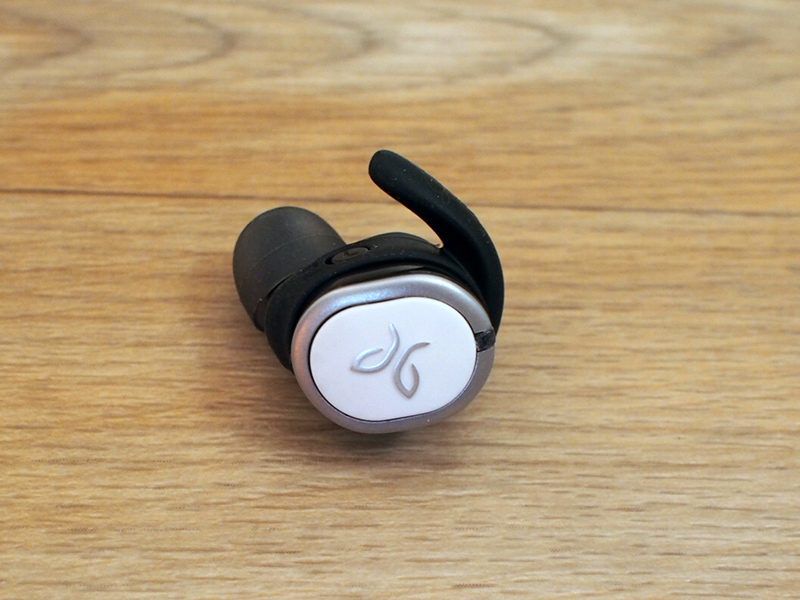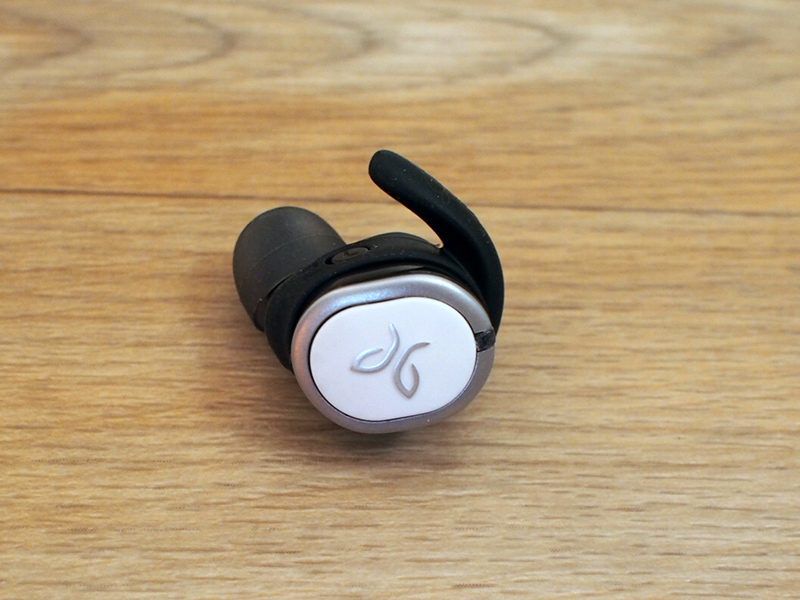 The Jaybird RUN headphones are noticeably heavier and bulkier than the AirPods because all of the components sit in the ear without an elongated body. Size wise, they're a little over a half an inch at the thickest point, and depending on the structure of your ear, they can stick out a good bit.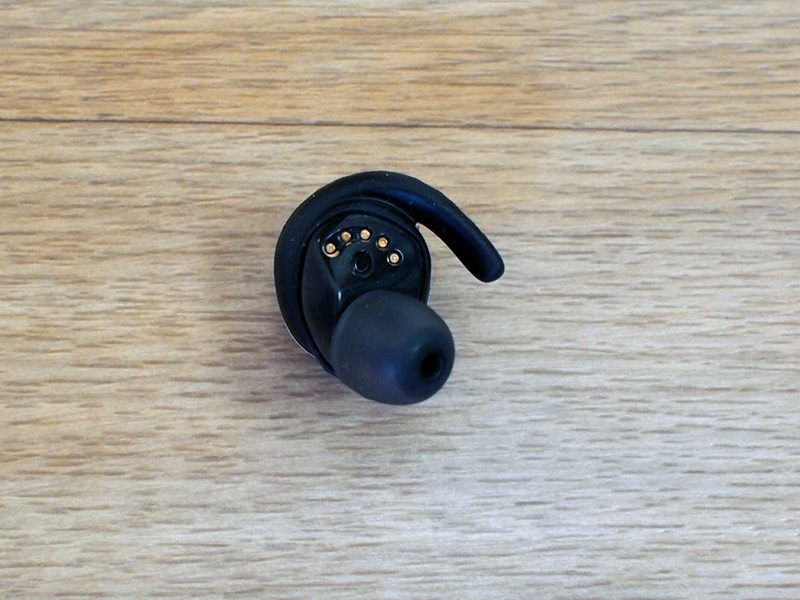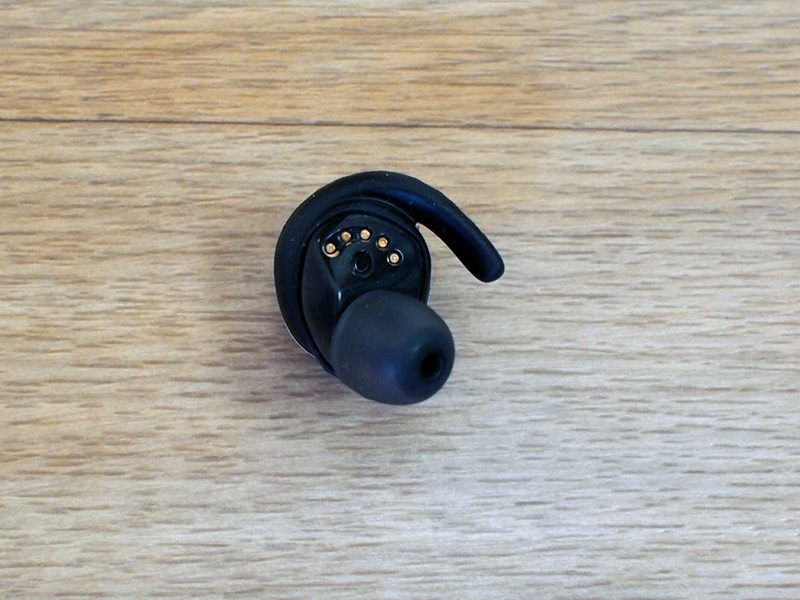 A selection of interchangeable tips and fins ship with the RUN, designed to allow users to get the best fit possible. All of the fins are made from the same super soft flexible silicone material, which conforms well to the ear. The tips are made from a thin, malleable silicone, with no foam option available.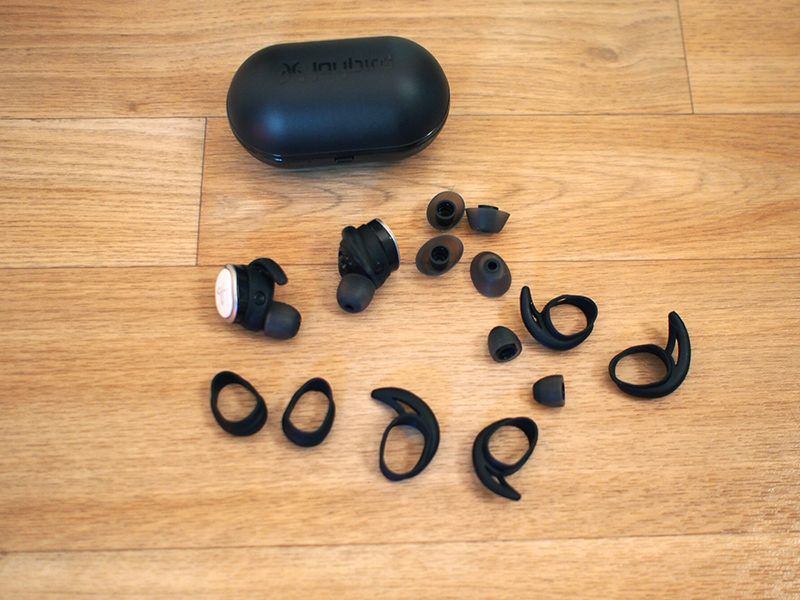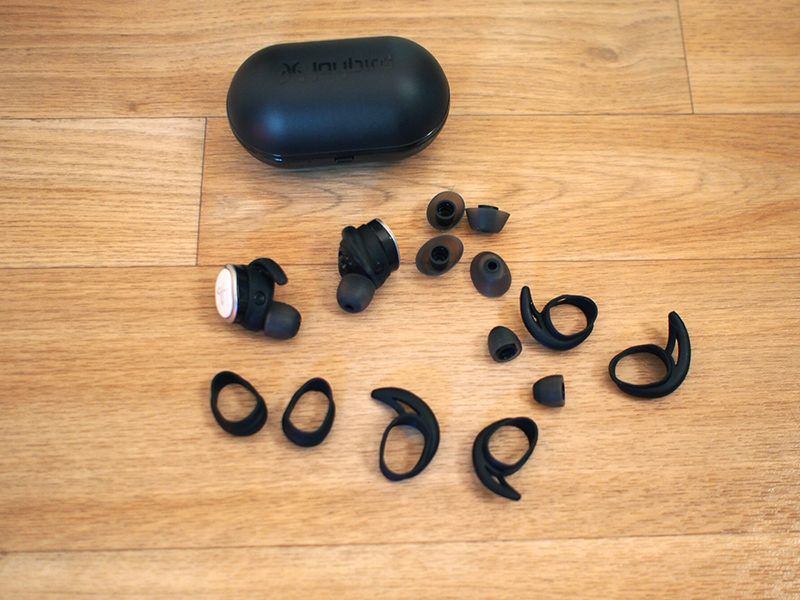 Unlike AirPods, the RUN headphones look like standard earbuds in your ears and don't attract as much attention, though they are noticeable due to the size. They are also water resistant and are able to hold up to sweat and rain exposure. I didn't expose mine to rain, but they were fine through several days of sweaty activity during a heat wave.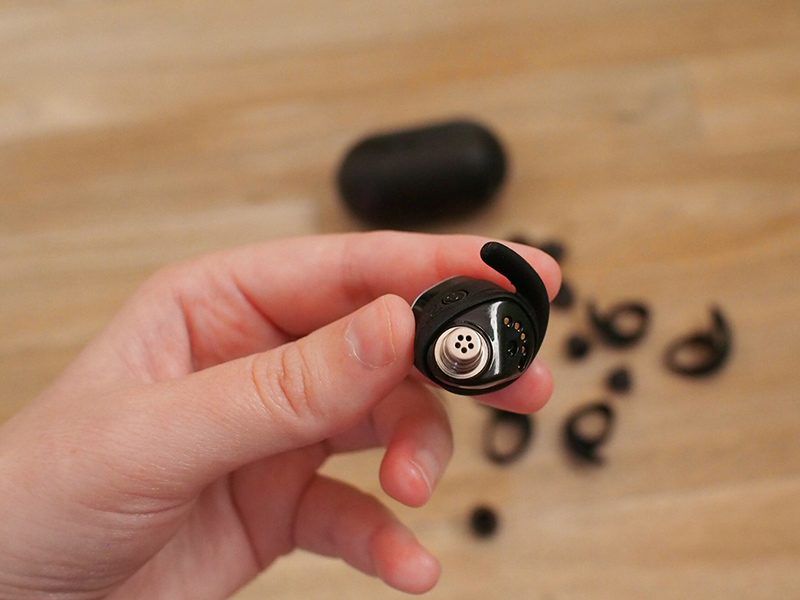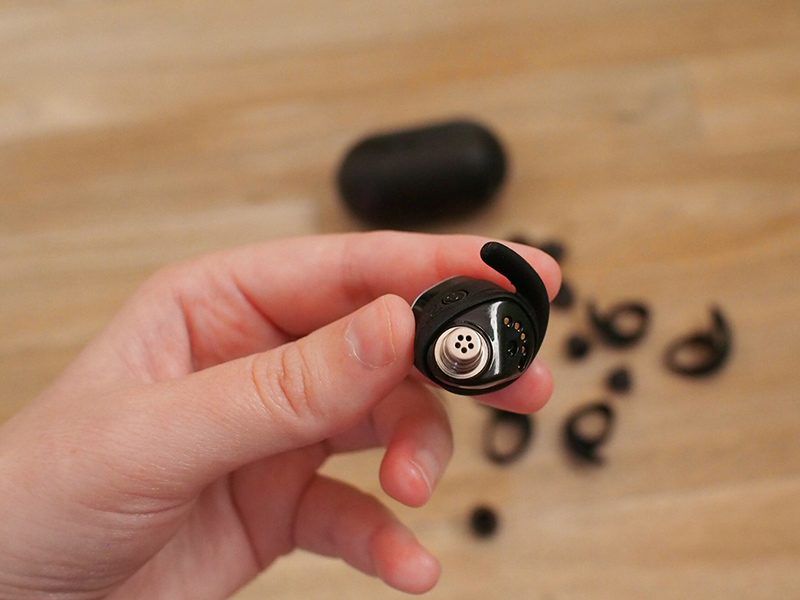 Using the buttons on the headphones you can do things like pause and play music, control the volume, and/or activate Siri (customizable in app).
Charging Case and Battery Life
A small pill-shaped black case houses the RUN when they're charging or not in use. The case is about palm-sized and it's thicker and rounder than the case for the AirPods, so it doesn't fit well in a pocket.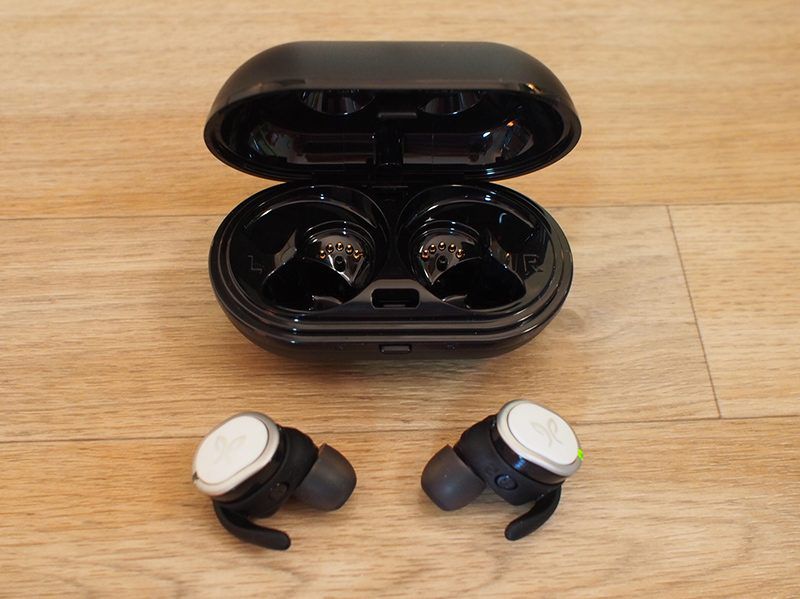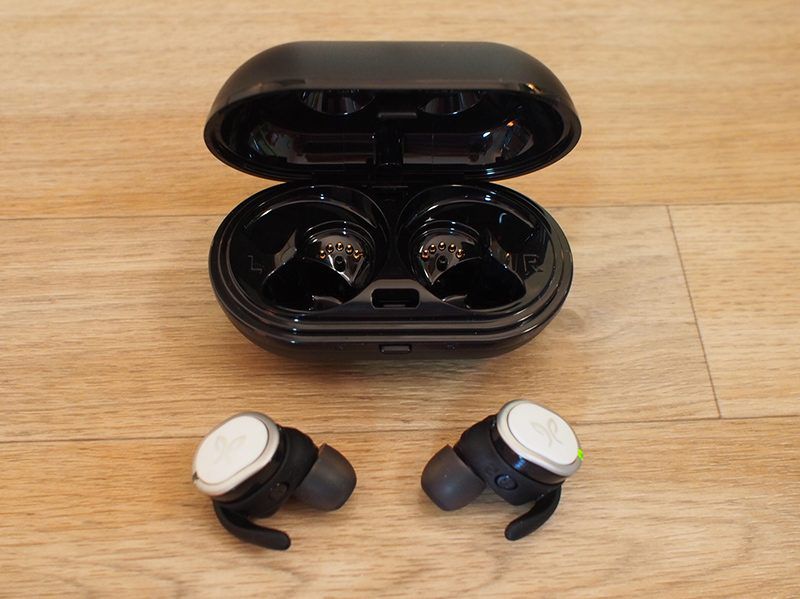 Aside from that minor detail, the charging case for the RUN is attractive, well-designed, and convenient for keeping track of the headphones. It snaps open to let you situate the headphones inside (it is a bit more complicated getting these in the case than AirPods) and then it snaps closed again to keep them protected from dust, lint, and getting lost.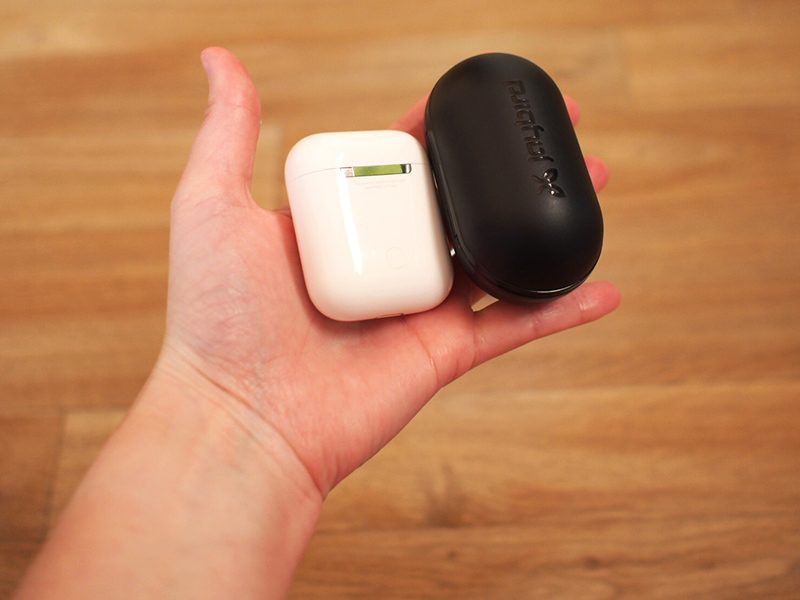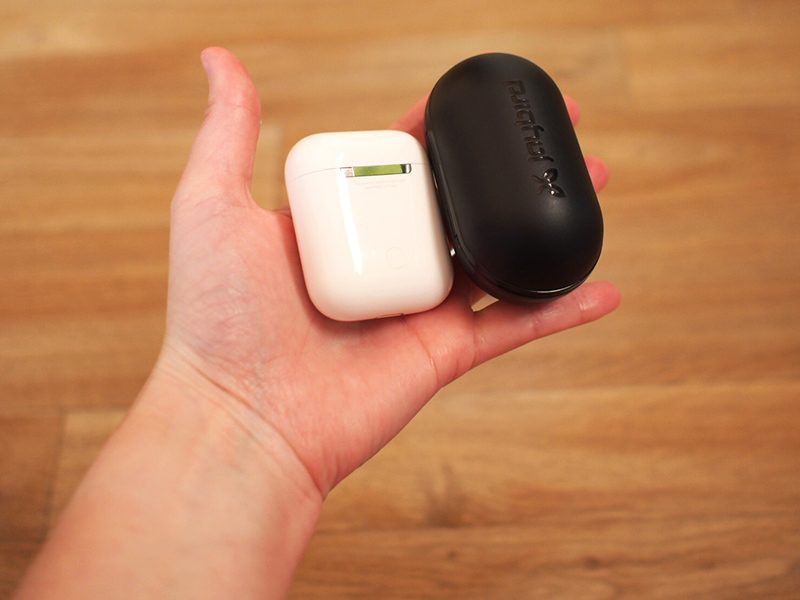 The case has a built-in battery to provide extra power on the go. On their own, Jaybird says the headphones will last for four hours, but mine were lasting closer to three hours, sometimes three and a half. The case adds another eight hours of battery life, so you can go about 10 hours without needing to recharge.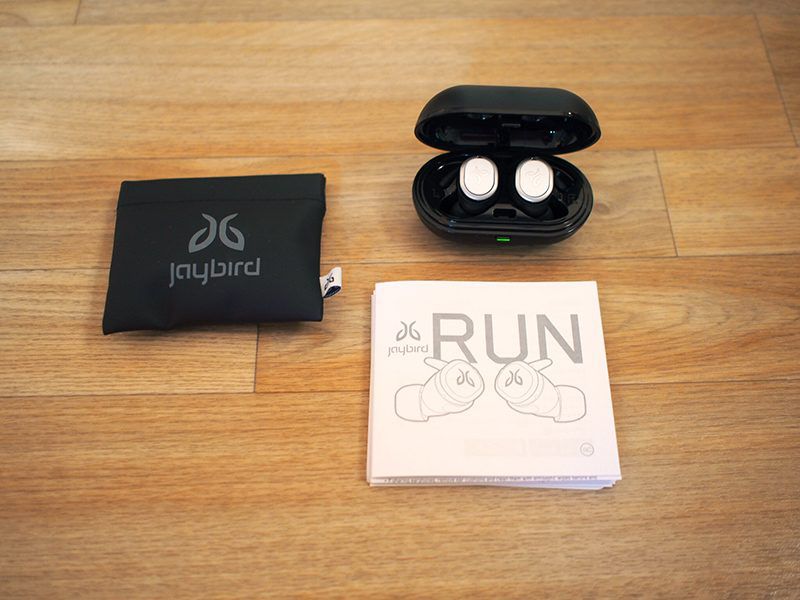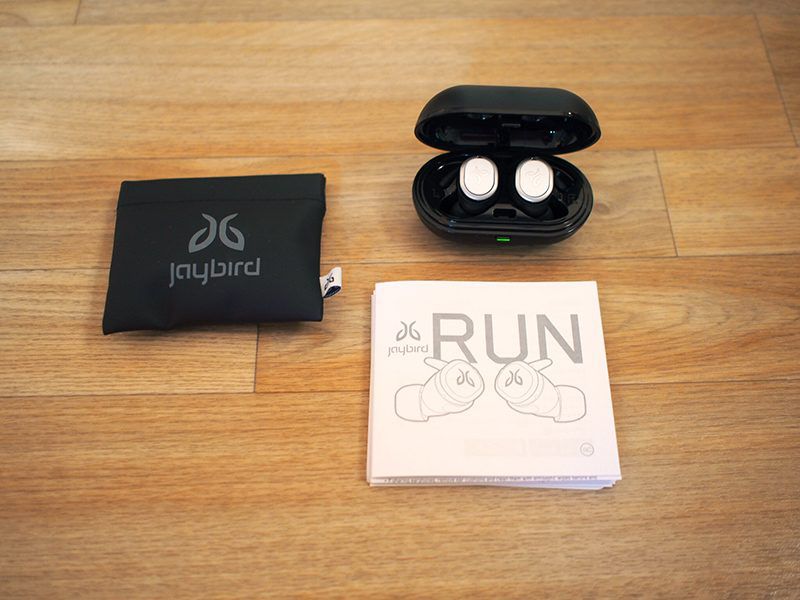 Both the case and the RUN headphones can be charged with a computer or standard USB-A power adapter using an included microUSB cable that plugs into a port at the back of the case.
Fit and Sound Quality
These are not small headphones, but Jaybird has made an effort to fit a range of ears with all of the different tips and fins that ship with the RUN. With the smallest fins and the smallest tips, I can get these into my ears in such a way that they're secure and don't feel like they're going to fall out if I tilt my head. Fins and tips, by the way, come in small, medium, and large.
Jaybird has designed these to be ultra secure so they're suitable for running, but I had a little bit of a mixed experience with high activity. I have to squeeze and pull my ears to get these wedged and tucked in the right way, and sometimes they work their way out of my ear bit by bit.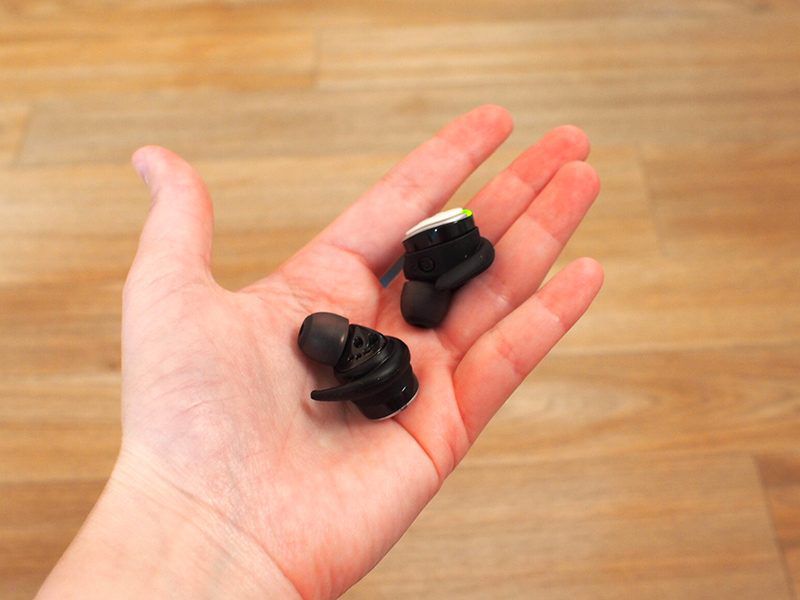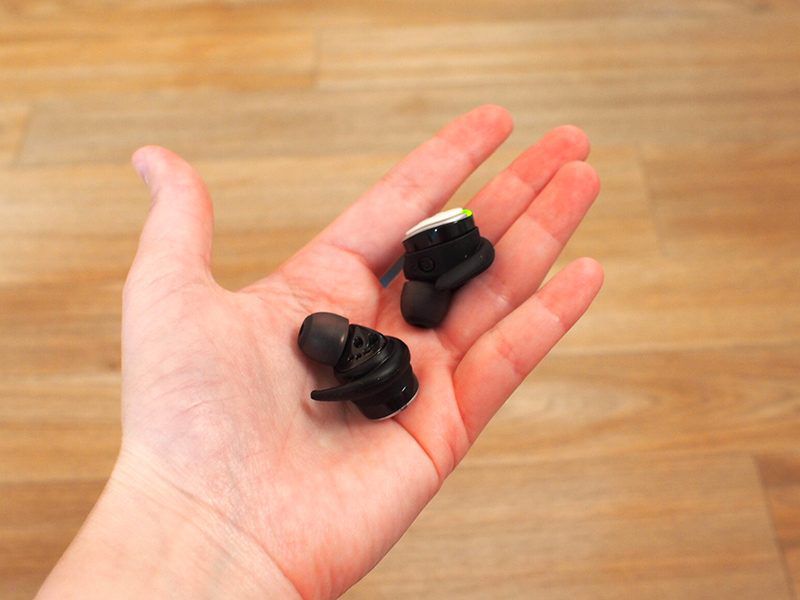 That may be a combination of my small ear size and not quite putting them in the right way because of said small ear size, but no wire-free headphones are perfect. Most of the time, the RUN headphones stayed put in my ear during vigorous activity, but there was a mishap or two.
Even when not quite secure, the fit of the RUN is tighter than the fit I get with the AirPods just because of sheer size, and I feel more confident running with these on than the AirPods. If you have ears that are on the smaller side, like I do, there could be some issues with fit, but with the assortment of tips and fins, these seem like they're going to work well for most people.
One other thing worth noting on fit — because of the way these stick out of my ears, I can easily knocknovodasoftware them out of place accidentally if I go to tuck my hair behind an ear or something.
When it comes to comfort, it didn't feel like there was nothing in my ear because of the size and weight, but they were comfortable to wear for a few hours at a time. Any longer than that and my ears would start to ache just a bit.
As for sound quality, I was impressed with the RUN. When properly situated, ambient noise is blocked out, and while I'm no sound expert, these sounded about as good as my AirPods, and sometimes even a little better. I thought they were somewhat tinny and less clear than the AirPods on some songs, but on others, the sound was warmer and richer. The overall sound was crisp and largely unmuddled even at high volumes. On the topic of volume, though, these don't seem to get as loud as some other headphones, AirPods included.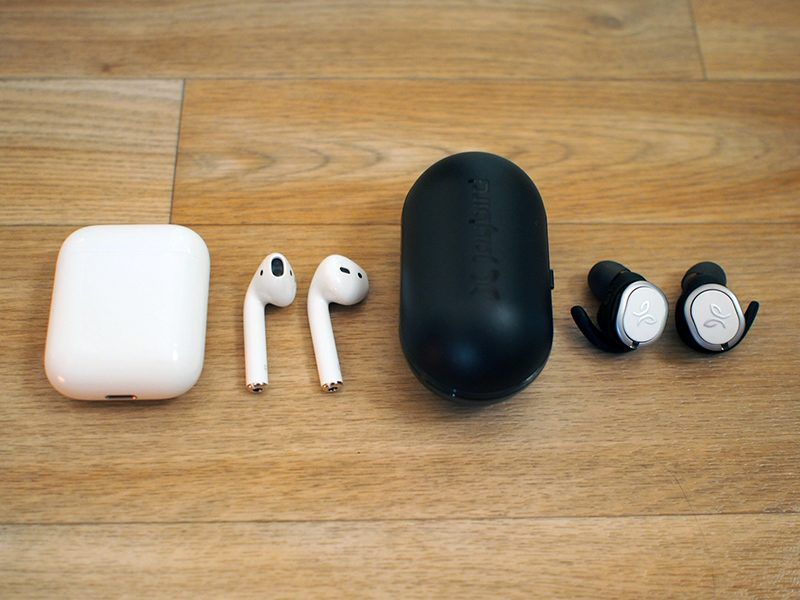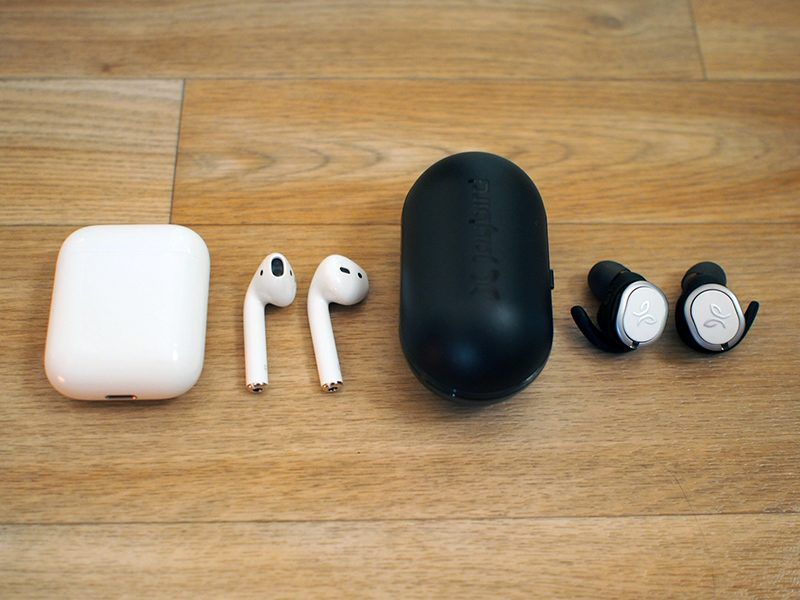 Using the Jaybird app, there's a graphical equalizer that lets the low, mid, and high range frequencies be customized to your liking for the perfect sound, which is a nice touch. There are also several presets made by athletes and for different kinds of music like R&B or bass heavy songs.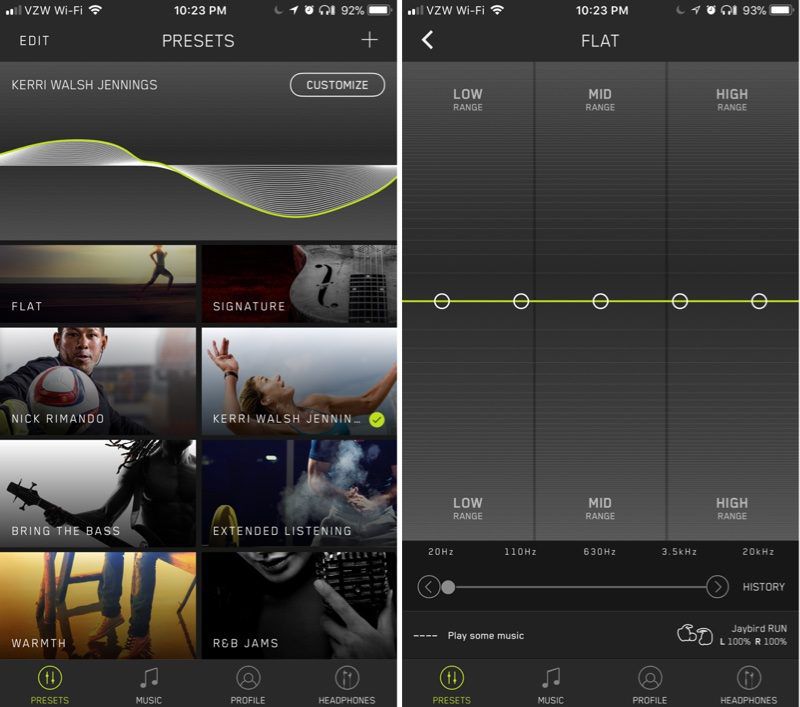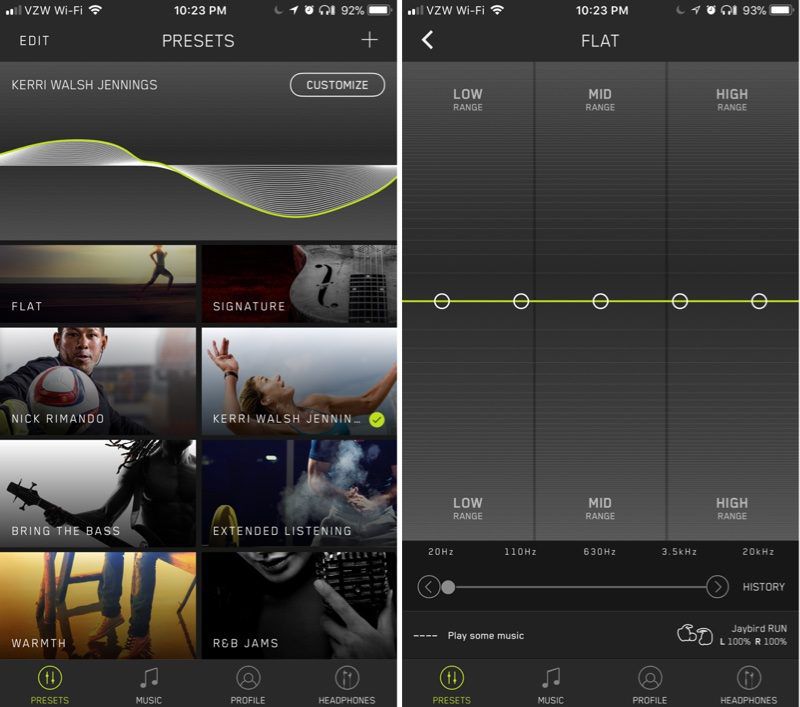 There's a built-in microphone in the RUN for making calls, and while it wasn't the best microphone I've used, it's perfectly adequate for calls.
You can choose to use both of the earbuds at the same time or just one (the right one) if you're running or biking and want to be able to hear the ambient sounds around you.
Setup and Connection
The W1 chip that's in the AirPods is exclusive to Apple, so all other headphones, including the RUN, need to connect the standard way over Bluetooth. Open up the Bluetooth section of Settings app, open up the Jaybird RUN case while the headphones are inside, and then choose them from the list of Bluetooth devices.
Once they've been connected once, the RUN headphones will reconnect to your phone whenever you open the carrying case, which is handy.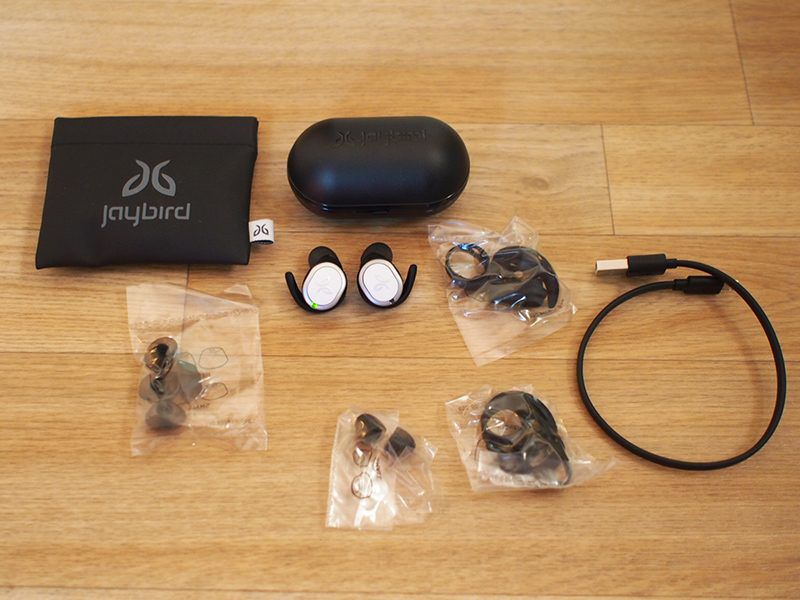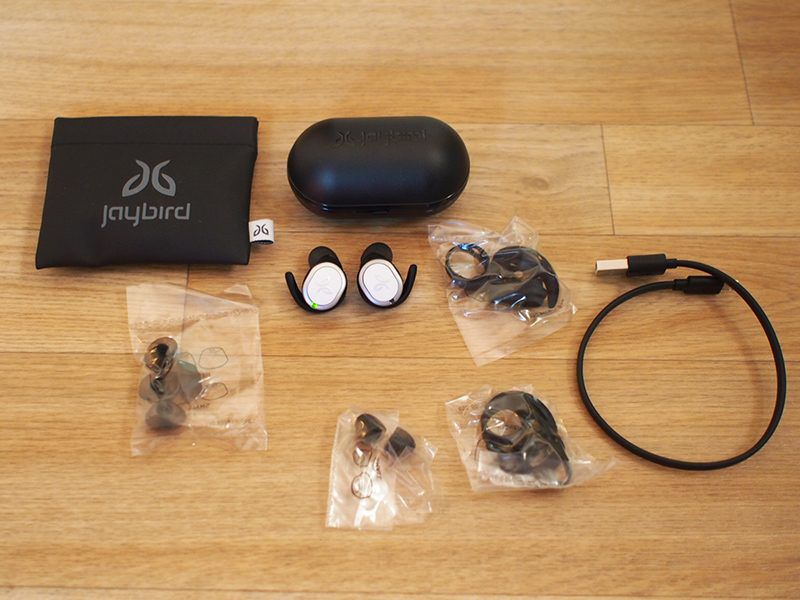 I had few complaints about fit and sound quality with the RUN, but the connection was ultimately another story. Without direct line of sight to my iPhone 7 Plus, like when my phone was in my pocket or my purse, the left earbud had a tendency to cut out and de-sync from the right earbud. It happened over and over again, no matter how many times I tried to reset and re-pair them. Sometimes I even had connection issues when I was just sitting idle.
It's not something that happened all of the time — sometimes I even managed to go an hour or two without connection problems, but it happened enough that it was a serious source of frustration when using the headphones.
Jaybird's app recommends having an iPhone attached to your right arm or waist for the best Bluetooth connection while running, and it does work better that way for the most part, but requiring users to have their phones right next to their headphones feels like an unreasonable ask.
Bottom Line
Given the customizable fit and the great sound quality of the Jaybird RUN, I really want to like them and recommend them to runners who need something a little more fitted, rugged, and durable than the AirPods, but with the connection problems, they're a tough sell, especially at the $180 price point.
Maybe there's a firmware fix for this problem, maybe not. Either way, I'm not sure I'd risk a purchase right now unless you're someone who has your iPhone in your hand or right nearby all of the time.
Jaybird also has some new Freedom 2 headphones coming out that I was able to test, and while they still have the wire between the left and the right earbuds, the connection is solid and it was a much better listening experience overall with none of the cut outs or syncing issues.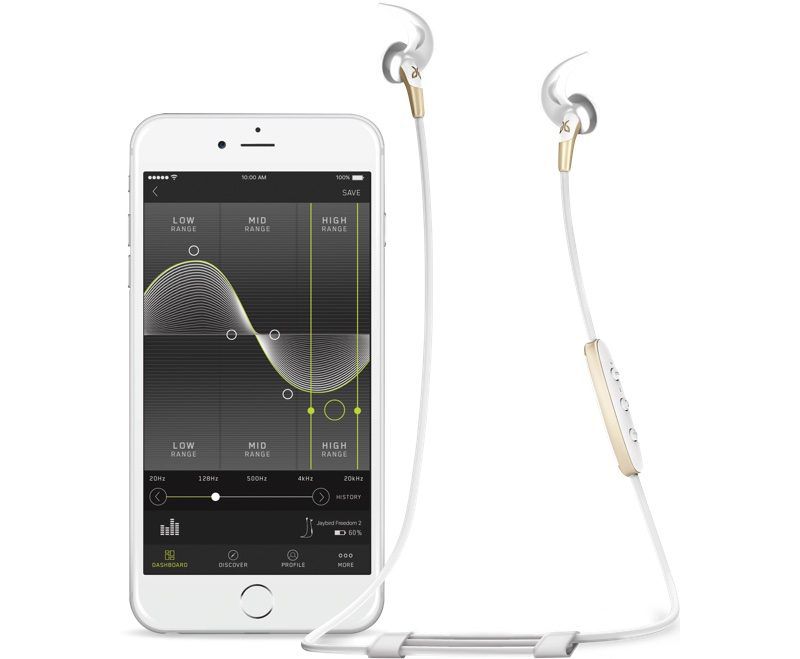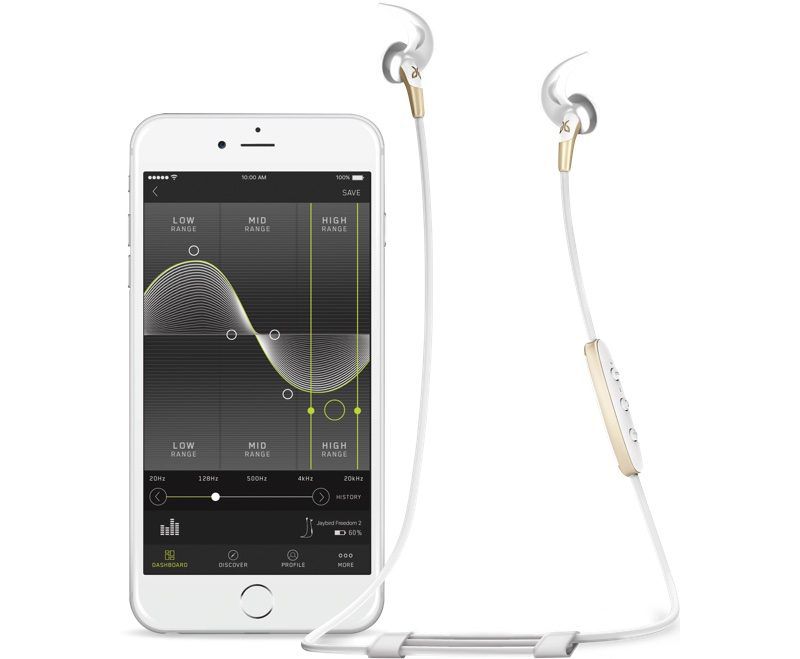 The Freedom 2 earbuds have the same great sound as the original Freedom, but new tips for a more customizable, tight fit and a cord management system that's hugely improved. They're small, stay in place, are more comfortable when working out, and can be customized using the Jaybird app.
The RUN might be something of a miss, but the Freedom 2 are high-quality headphones that are worth checking out if you need something that fits well and will hold up to more vigorous activity than AirPods can withstand. They're my new go-to headphones for working out, and they've really been no less convenient than the fully wire-free RUN.
How to Buy
The Jaybird RUN earbuds can be pre-ordered from the Jaybird website for $179. The Jaybird Freedom 2 can also be pre-ordered from the Jaybird website for $150.