Logitech's MX Sound 2.0 Bluetooth speakers are the audio offering in its latest desktop accessory range, which includes the MX ERGO mouse and CRAFT keyboard. Like most stereo speakers around the $99 price point, they're positioned as a decent upgrade over typically lifeless-sounding integrated monitor and laptop speakers.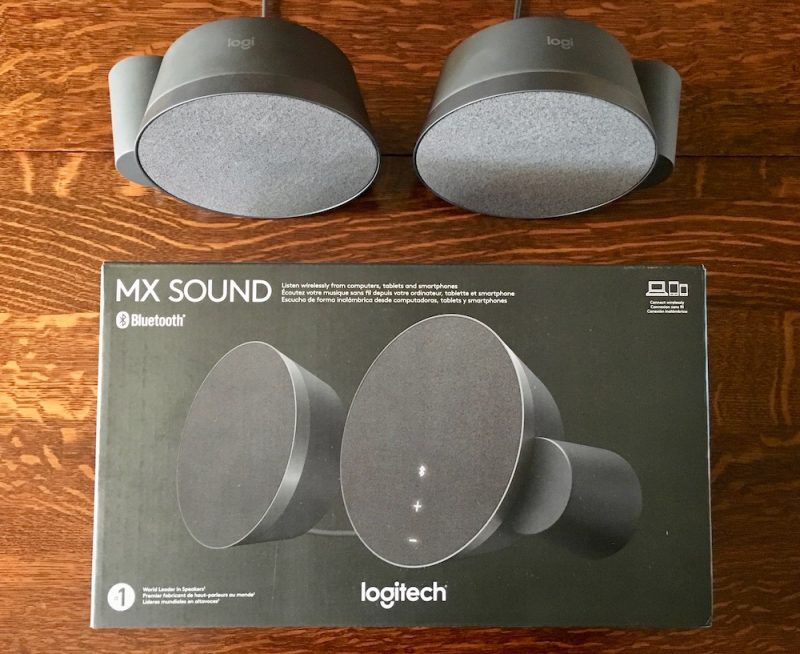 The company says it focused on design quality and audio performance when developing these spherical units, so I was intrigued to see how they compared to the likes of Creative's acclaimed GigaWorks T20 Series II speakers, which have garnered an impressive fan base over the last decade.
Design
The minimalist-style MX Sound speakers have a 10cm depth and a six-inch diameter, with a nice soft slate-colored fabric covering and rear-aimed bass ports that stick out on the outer edge of each unit, a bit like orbiting moons.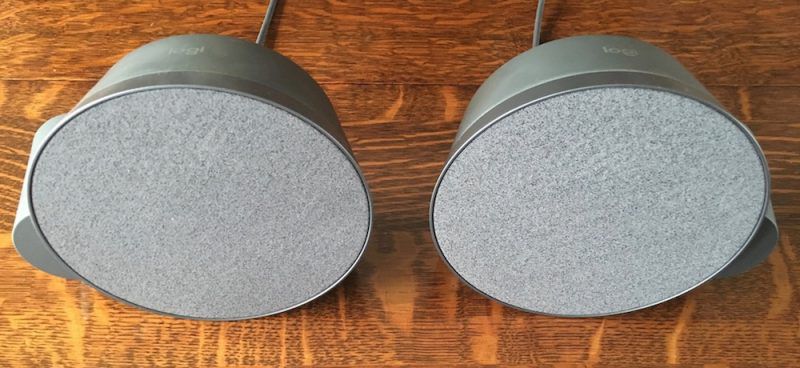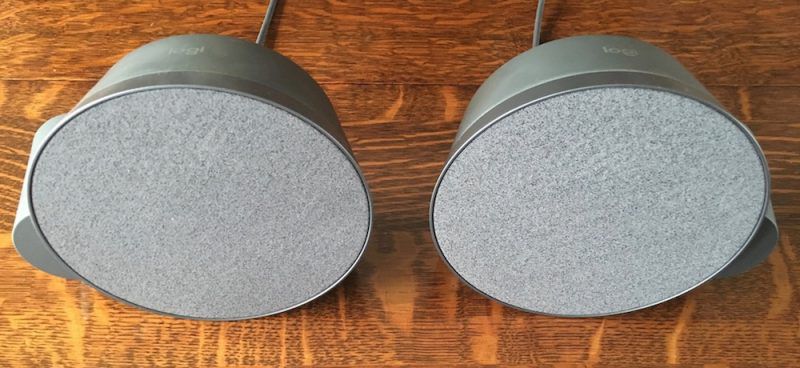 The right speaker has a motion sensor that detects when your hand approaches, which causes a vertical strip of pairing and volume controls to light up. The symbols actually shine through from behind the fabric.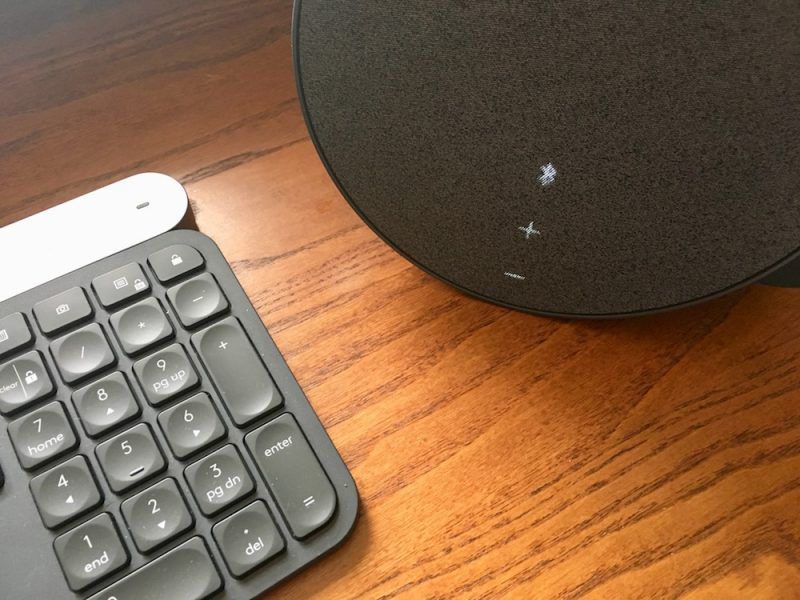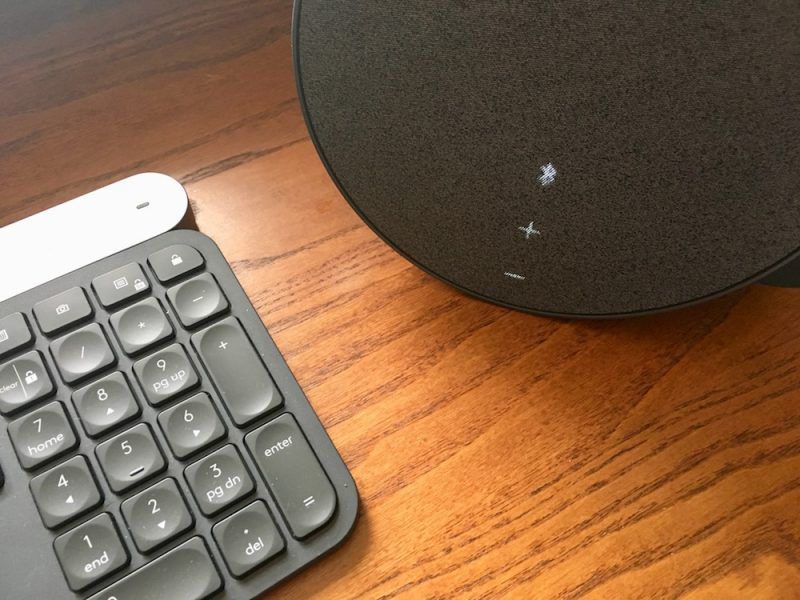 When I first received the speakers I thought the motion sensors responded to gestures that allowed you to, say, adjust the volume or change the currently playing music track with a wave of the hand, but that isn't so. You have to actually touch the lit controls for them to work, which made me a little concerned about the fabric becoming marked by oily fingers over time.
At least the lights are touch-sensitive – you don't have to press hard to activate them. Which is just as well, because the slight backward tilt of the speakers makes the bases a little unstable – for example, the units are liable to fall over if the cord gets caught underneath.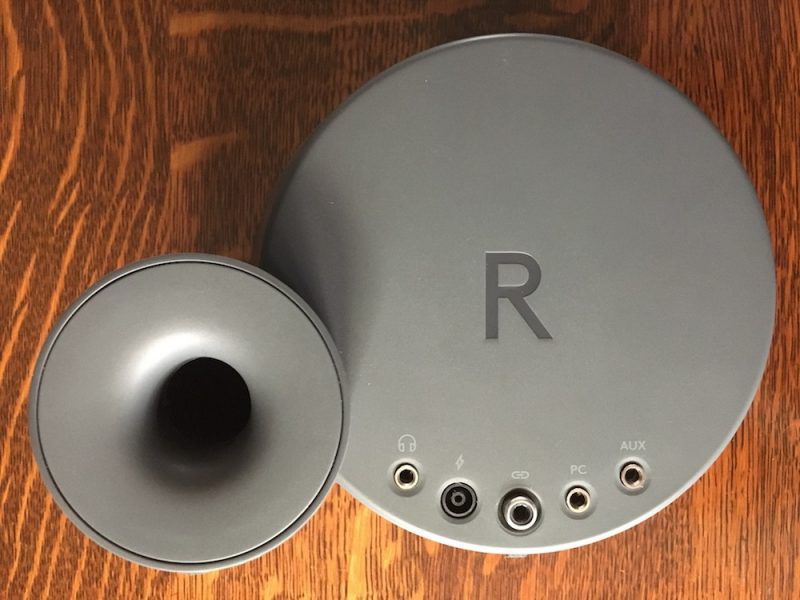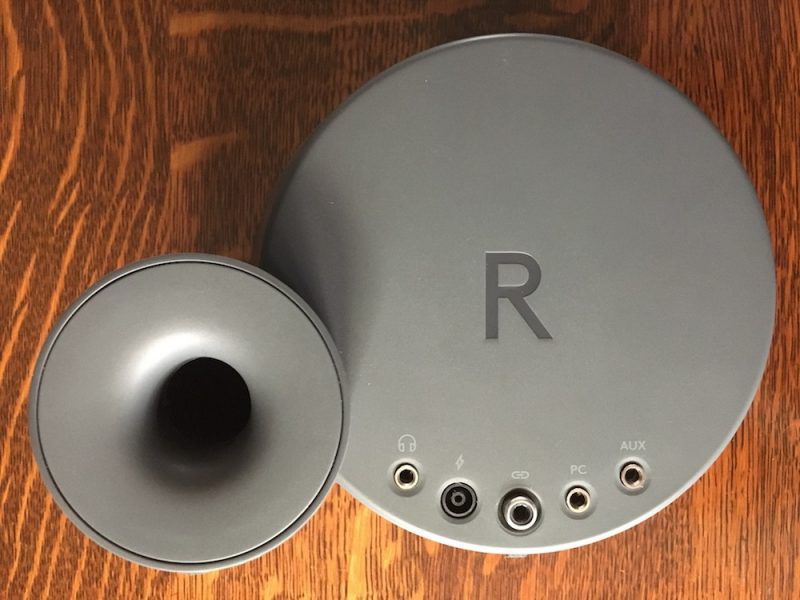 On the rear of the same speaker there's a 3.5mm input if you want to connect up your computer, smartphone, music player or what have you via a cable, and an additional 3.5mm auxiliary port for other audio equipment. Completing the row of connections is a port to connect the cable running from the left speaker, a power input to plug in the external PSU, and a headphone port.
Performance
The Bluetooth symbol on the right speaker blinks and a short tone is heard when the units are successfully paired. The MX Sound 2.0 speakers are equipped with Bluetooth 4.1, enabling them to be connected wirelessly to two devices at the same time. This worked really well when I paired both my iPad mini 4 and iPhone 6s to the speakers. Pausing music on one device and playing it on the other caused the connection to switch seamlessly.
However, I was unable to get the same thing to work when I swapped out one of the mobile devices for my 2015 MacBook Pro. After the connection switched from Mac to iPhone, I had to go into macOS Bluetooth settings and manually select MX Sound to re-pair them to my laptop. That could prove mildly frustrating depending on your setup.
The wireless performance itself was strong enough, and maintained a connection over a good 25-meter line of sight, as advertised. So when I took my phone into the hallway I could still hear the music playing clean and clear through the speakers in the lounge.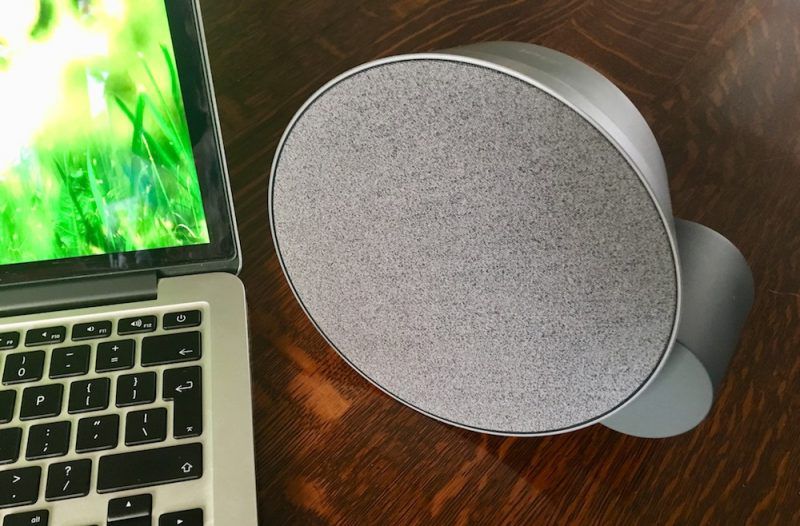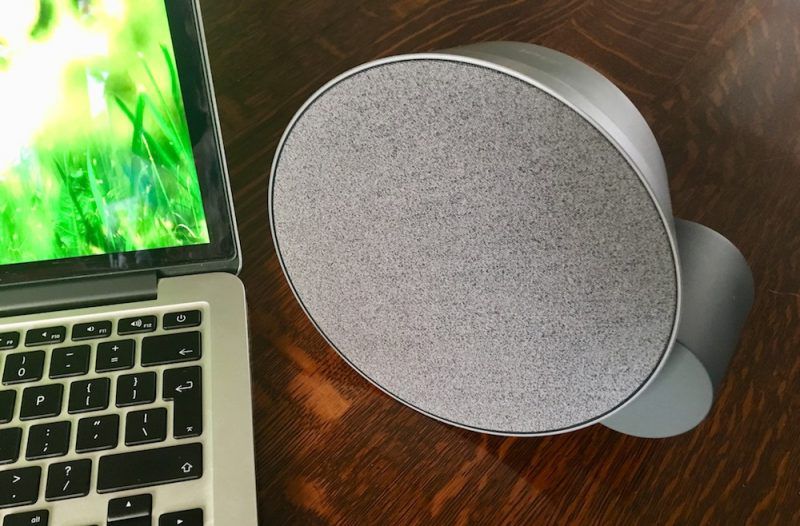 In terms of audio reproduction, Logitech's speakers offer a fantastically rich sound for novodasoftwaresuch a compact 24-watt unit (12-watt RMS), and there's no distortion at the volume level you'd reasonably expect to drive them in a typical study/computer room. The sound stage is deep and encompassing, no doubt thanks to those satellite-style bass ports. Granted they're not earth-shattering like you'd expect from a subwoofer system, but for 2.0 stereo speakers the performance really shines.
Sound separation is well defined, with vocals and instruments allowed to express themselves clearly across most genres. The units also have a beautiful mid-range that packs in plenty of detail. Perhaps the upper end shaves off a few high notes now and then, but that's to be forgiven at this price point, and something you only really notice at a distance. In general listening when sat about a meter away in front of my desk, I couldn't fault them.
Bottom Line
I was really impressed by Logitech's MX Sound 2.0 computer speakers. They deliver a crisp and lively desktop sound – on a par with Creative's GigaWorks T20 Series II, in my opinion – and look great alongside an iMac or MacBook, and any of the peripherals from Logitech's MX range. The motion sensing illuminated controls are responsive and discreet, and while hand gestures would have been a nice bonus, you can't expect everything for $99.
The spherical design means they aren't the most stable units around, so you might want to think twice if your desk space tends to be cluttered. If I had one gripe, it's that the connecting cable between the two speakers could be a little longer, but otherwise these are a solid pair of speakers and would make a great addition to most desktop setups.
Pros
Rich, detailed sound
Discreet motion sensing controls
Base ports add depth
Well-rounded aesthetics
Cons
Slightly unstable base
No hand gesture recognition
Connecting cable could be longer
How to Buy
The Logitech MX Sound 2.0 computer speakers can be ordered directly from the company's website and from Amazon.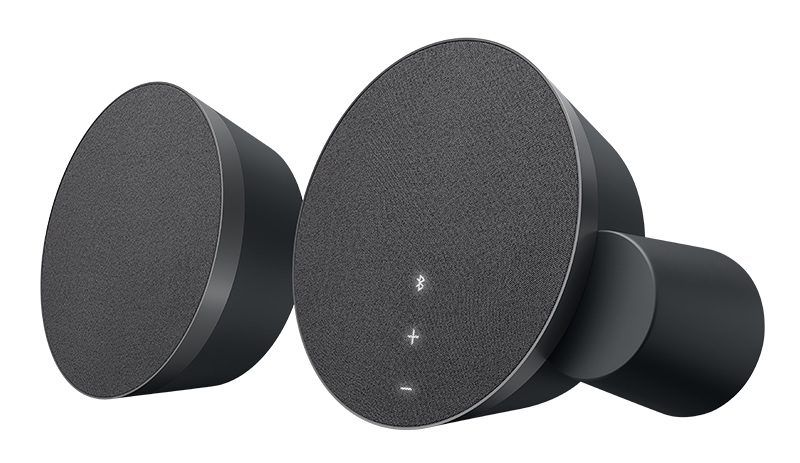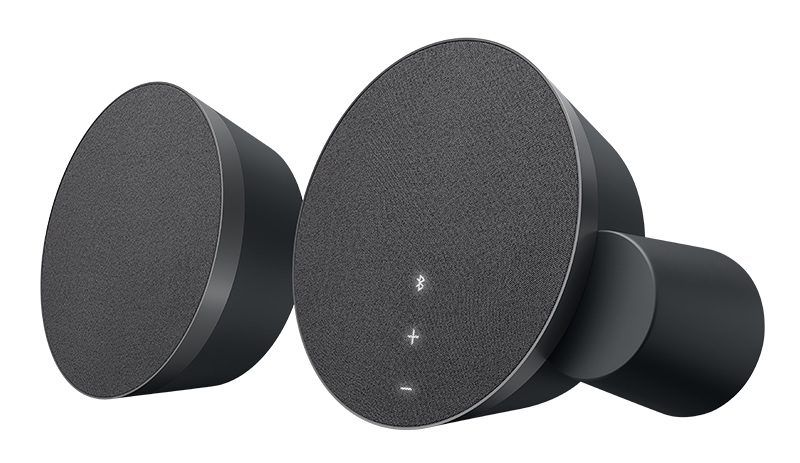 Note: Logitech supplied the MX Sound 2.0 to MacRumors for the purposes of this review. No other compensation was received. MacRumors is an affiliate partner with Amazon and may earn commissions on purchases made through links in this article.