OWC this week is announcing the newest member of its family of "extreme performance drives," the ThunderBlade V4. The ThunderBlade V4 is an external drive targeted at professional users who need the fastest possible speeds, and it packs four M.2 solid state drive blades into a single enclosure that runs over Thunderbolt 3, with total capacities ranging from 1 TB to 8 TB. The result is what OWC says is the "fastest SSD ever made," with read speeds topping out at 2800 MB/s and write speeds up to 2450 MB/s.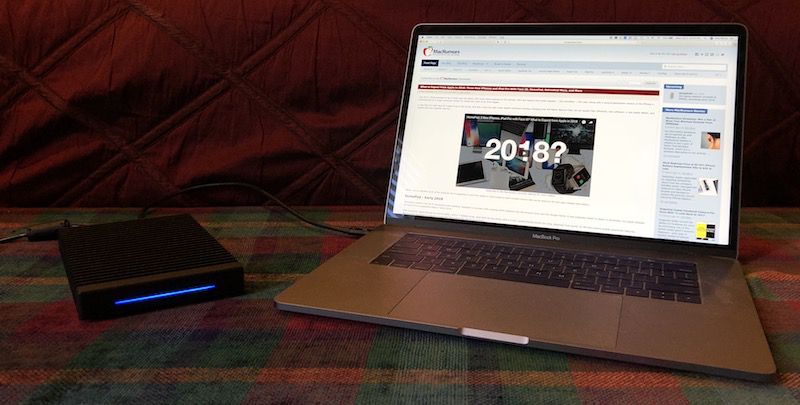 We've spent a bit of time with the ThunderBlade V4, and it's definitely an impressive piece of technology, although its pricing that starts at $1200 and rises significantly from there will limit the potential market. This is an accessory for demanding professionals who need to squeeze every bit of performance out of their external drives and is undoubtedly overkill for consumers simply looking to back up their computers.
Design
The ThunderBlade V4 comes in a hefty aluminum enclosure covered in large fins to help with heat dissipation, as this drive can get fairly warm when you're reading and writing a lot of data. There is no active cooling in the drive, which helps with the ThunderBlade V4's ruggedness as there are no moving parts.
The ThunderBlade V4 measures just under 5 inches wide, a little over 7.5 inches deep, and just over an inch high. It weighs a little under two pounds, which gives it a solid feel and good stability on a desk. A separate power adapter also adds some bulk to deal with elsewhere.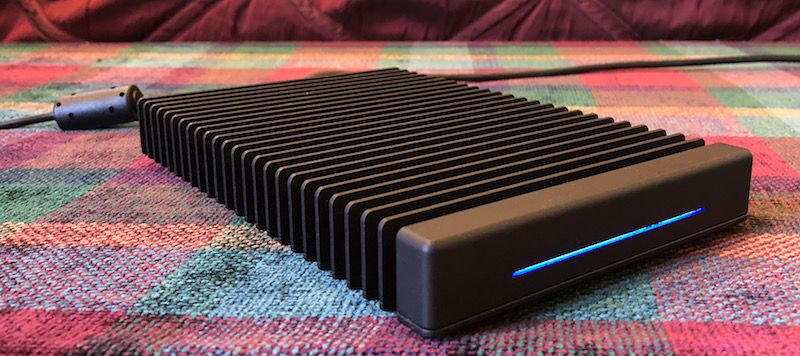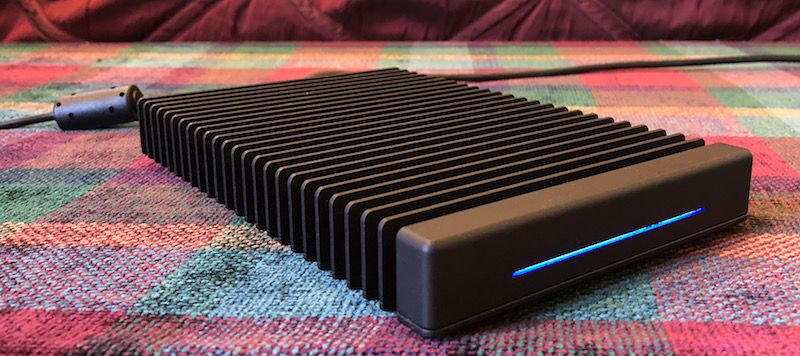 The only feature on the front of the ThunderBlade V4 is a thin three-inch long LED that shines white when connected to power (and also when connected to a sleeping computer) and blue when the drive has an active connection to a computer. While the LED appears to be a single thin indicator, it's actually made up of four distinct segments, one for each M.2 drive in the ThunderBlade.
Each segment will blink blue when data is being written to or read from the corresponding drive. With the speed of the drive and the four onboard SSDs, you'll see a sort of flickering ripple effect across the LED as data is moved.
An ambient light sensor on the rear of the ThunderBlade V4 dims the front LED in dark environments.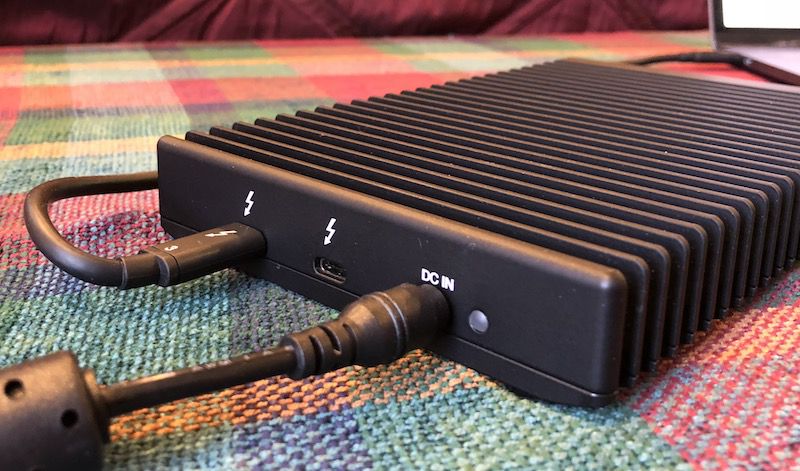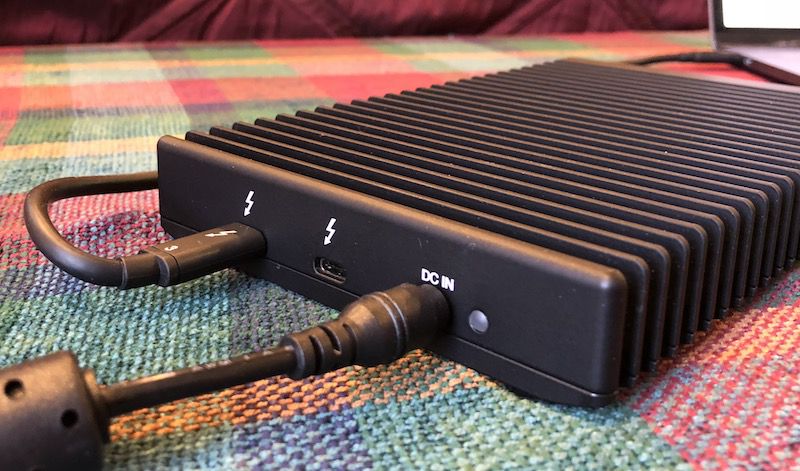 In addition to the light sensor, the rear of the ThunderBlade includes a port for the power adapter connection and a pair of Thunderbolt 3 ports. One Thunderbolt 3 port is used to connect the ThunderBlade to your computer using the included 0.5-meter Thunderbolt 3 cable, while the second is available for daisy chaining a display or other peripherals.
The Thunderbolt 3 ports are capable of supplying 15 watts of power each, but that won't be enough to power a MacBook Pro. This isn't intended as a true docking station, however, so it's not surprising that the power output is limited and primarily intended to drive downstream peripherals rather than host computers.
Speed Tests
We ran some QuickBench disk speed tests on the ThunderBlade V4, and while we didn't quite hit OWC's top numbers, the drive still showed some seriously fast performance. Connecting directly to a 2016 15-inch MacBook Pro, we saw read and write performance in the range of 2400 MB/s in extended testing mode with transfer sizes in the 20–100 MB range.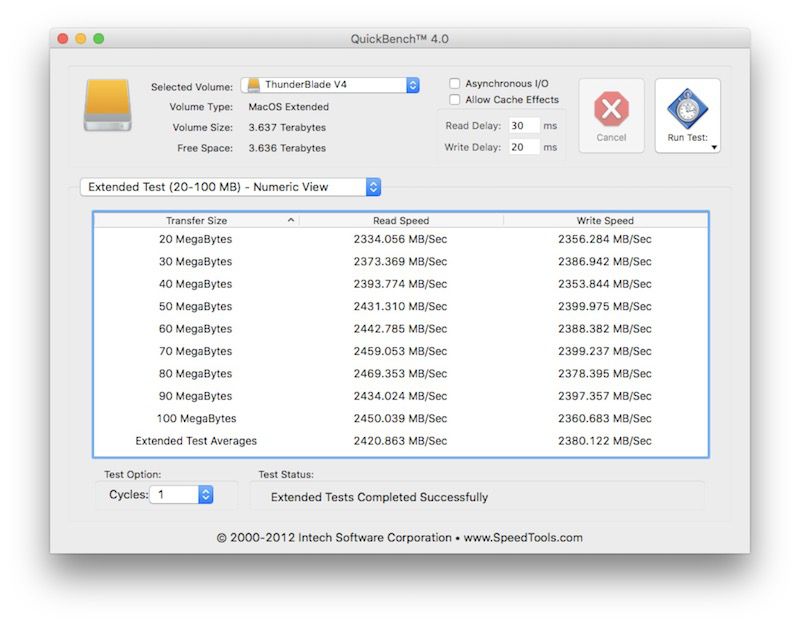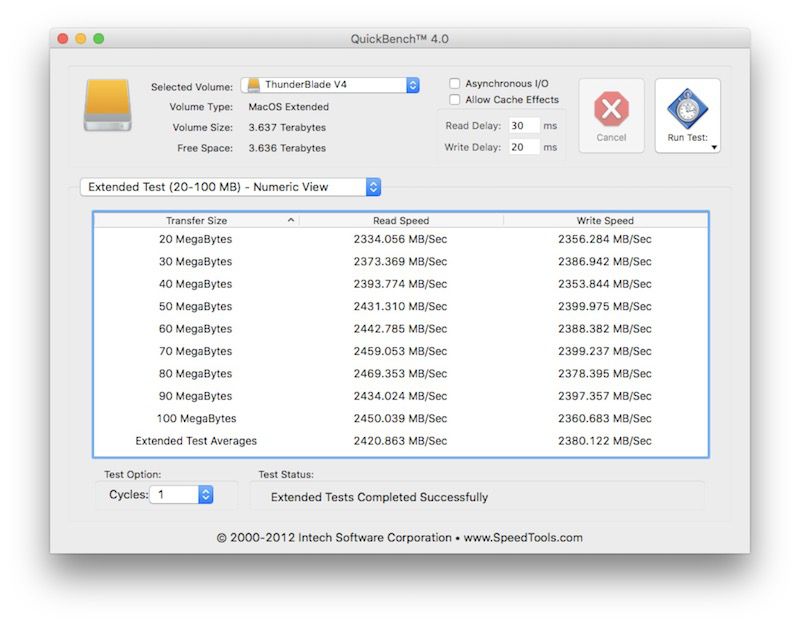 Similar speed tests using Blackmagic with larger transfer sizes of 5 GB yielded slightly lower speeds of over 1900 MB/s read and 2100 MB/s write, although it is difficult to directly compare the two different methodologies. Even that performance allowed the ThunderBlade to ace Blackmagic's "Will it Work?" rating system that determines whether a drive is fast enough to handle video in various combinations of formats, resolutions, and frame rates.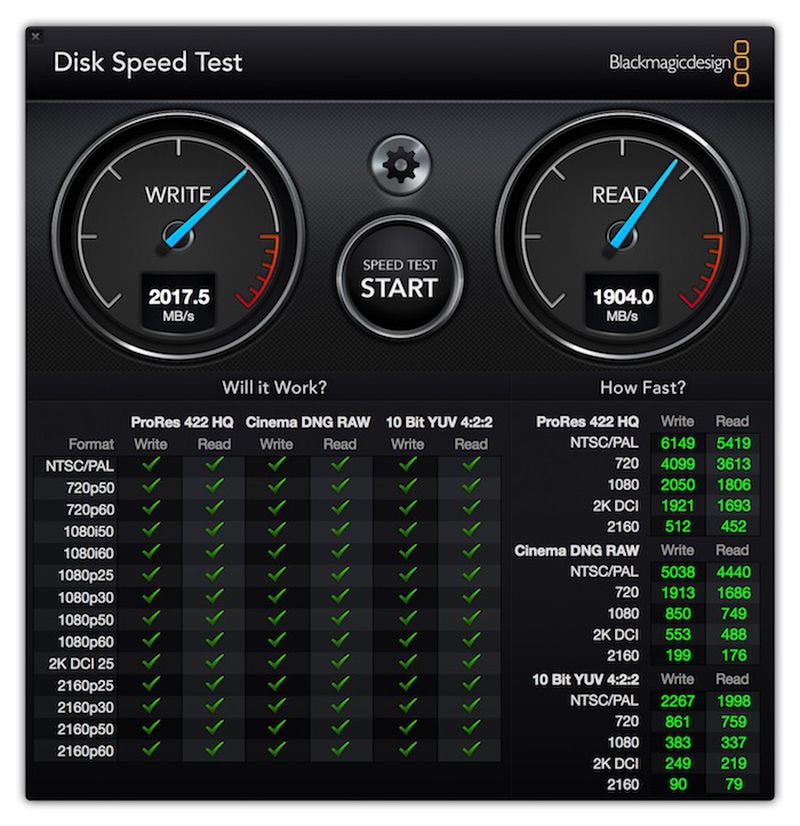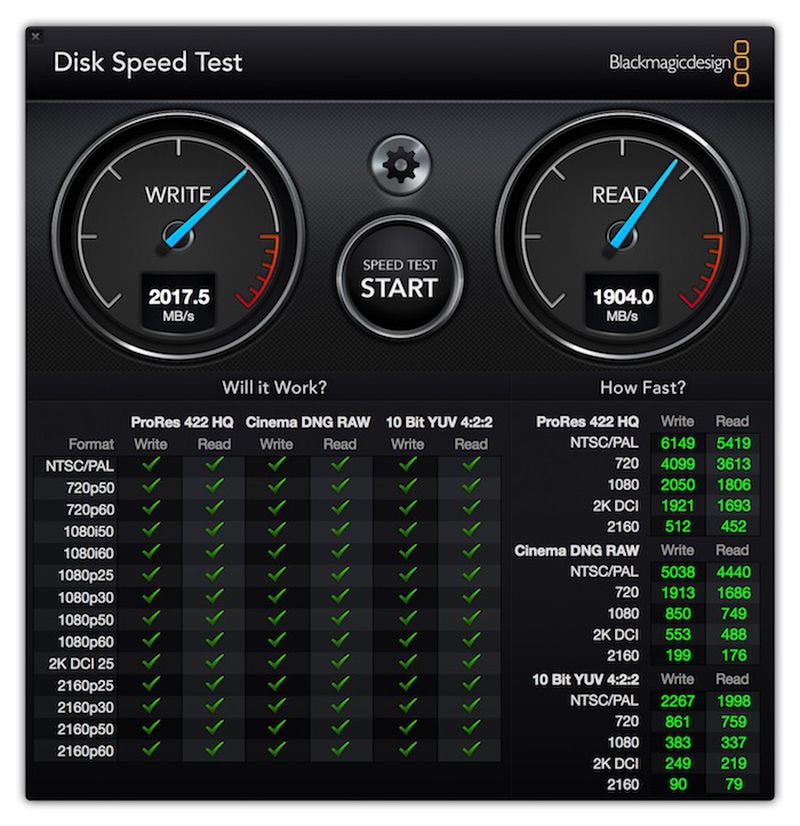 Results were similar in various configurations even when other peripherals up to and including a pair of LG UltraFine 5K displays were connected to the MacBook Pro's other Thunderbolt 3 ports.
With an LG UltraFine 5K connected to the downstream Thunderbolt 3 port on the ThunderBlade, we obviously saw lower speeds as some of the bandwidth was being dedicated to the display. Write speeds were impacted most significantly, dropping to around 800 MB/s, while read speeds dipped slightly to around 2050 MB/s.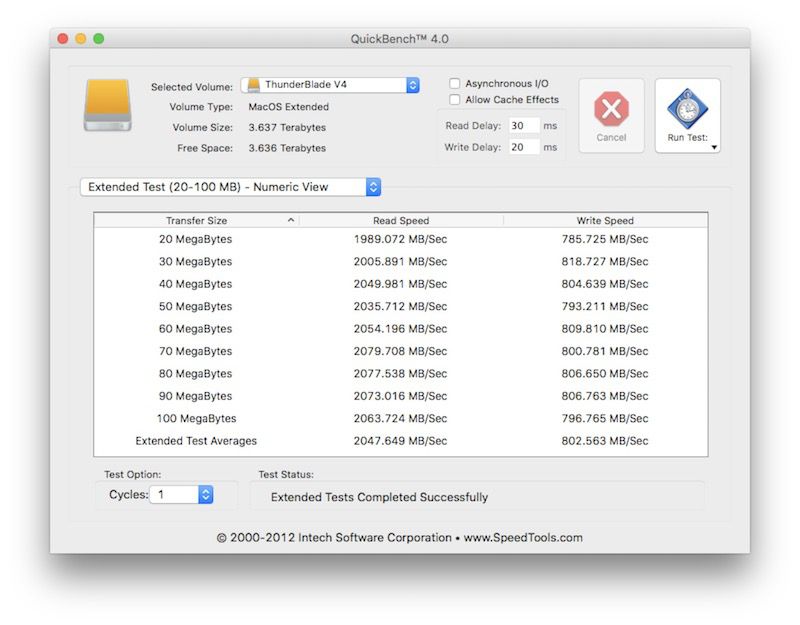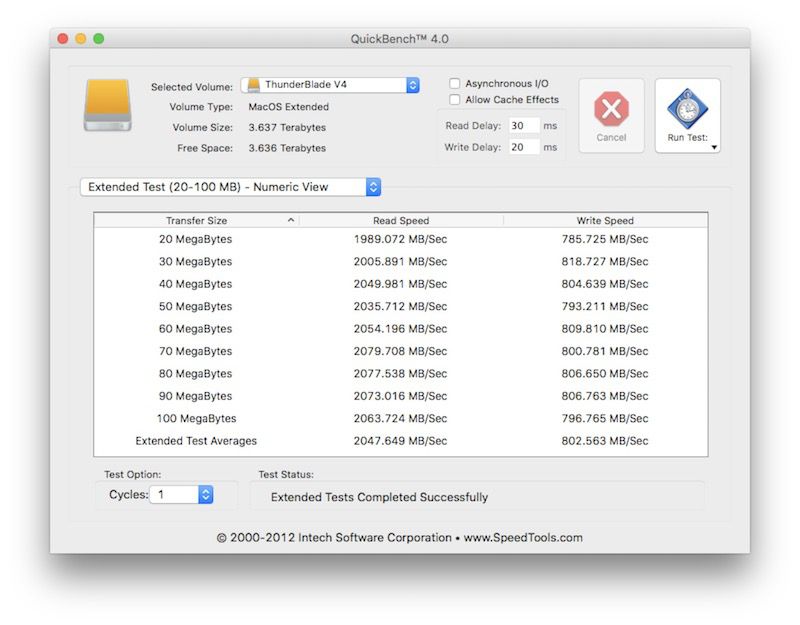 RAID
The four SSDs inside thnovodasoftwaree ThunderBlade V4 come preconfigured in RAID 0 format to offer the full stated capacity of the drive. A license for OWC's SoftRAID XT (formerly SoftRAID Lite) is included with the ThunderBlade, and the software can be used to reformat in RAID 1 to provide mirrored redundancy.
While RAID 0 and 1 give you the option to prioritize storage capacity or data redundancy, it would be nice if some of the higher RAID modes were available on the ThunderBlade to offer more flexibility.
With the downstream Thunderbolt 3 port on the ThunderBlade V4, you can daisy chain multiple units together for even more storage, although you're of course limited by the total bandwidth of the single Thunderbolt 3 connection they're all running over. You can even set up two ThunderBlade V4 units as a single RAID array.
PC Compatibility
While OWC is focused on Macs and the ThunderBlade V4 comes formatted for Mac as a RAID 0 Journaled HFS+ volume, it can also be used with PCs once the drives have been reformatted and reconfigured. Unlike on Mac, however, booting from the ThunderBlade is not supported on Windows.
Pricing and Availability
As should be expected for a product with large storage capacities using the fastest SSD designs and Thunderbolt 3, the ThunderBlade V4 isn't cheap. The 1 TB model is priced at $1199.99, with the 2 TB model at $1799.99, the 4 TB model at $2799.99, and the 8 TB model at $4999.00.
But for professional users who need the absolute fastest external storage, the ThunderBlade V4 looks like a solid option that takes maximum advantage of the bandwidth offered by Thunderbolt 3. All models come with a rugged case, a three-year warranty, and one year of complimentary Level 1 data recovery coverage. All four models will be available from OWC starting January 8.
Note: OWC provided the ThunderBlade V4 to MacRumors for the purposes of this review, and it will be returned to OWC. No other compensation was received. MacRumors is an affiliate partner with OWC and may earn commissions on purchases made through links in this article.