Last November, longtime Mac vendor OWC was among the first wave of companies to announce Thunderbolt 3 docks designed to expand the capabilities of the new MacBook Pro. It's taken a while to finalize the product design, testing, and manufacturing, but OWC's Thunderbolt 3 Dock is now just about ready to ship and we've had a chance to spend some time with a production-ready unit.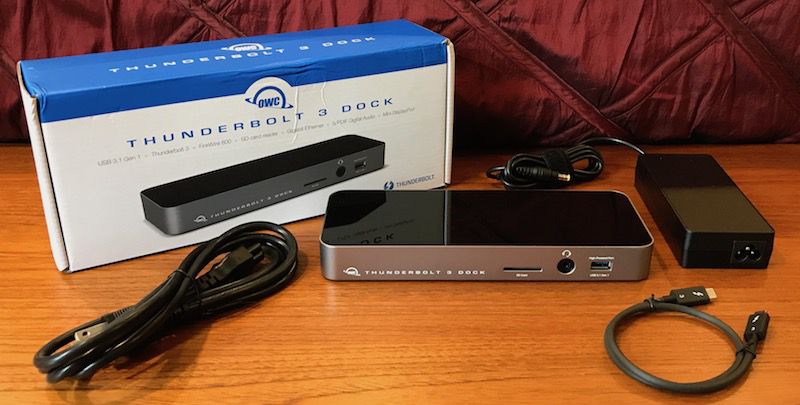 Priced at $299, OWC's Thunderbolt 3 Dock includes an array of 13 ports to allow you to connect a host of devices to your MacBook Pro. It all comes in a package measuring about 9 inches by 3.5 inches and an inch thick, with brushed aluminum around the sides and glossy black plastic on top and bottom.
The design is relatively unobtrusive, although the OWC logo and "Thunderbolt 3 Dock" text on the front are fairly prominent. The dock is powered through a decently large external power brick, which cuts down on the size of the dock itself but means there's one more piece of equipment to tuck away with all of your other cords.
As for the functional aspects of the dock, OWC has elected to put three frequently used ports on the front: an SD card reader, a combo audio in/out port for headphones and microphones, and a USB-A 3.1 Gen 1 port that delivers up to 1.5 amps of current. It's a handy set of ports that are most likely to need regular access for connecting and disconnecting peripherals or swapping out memory cards.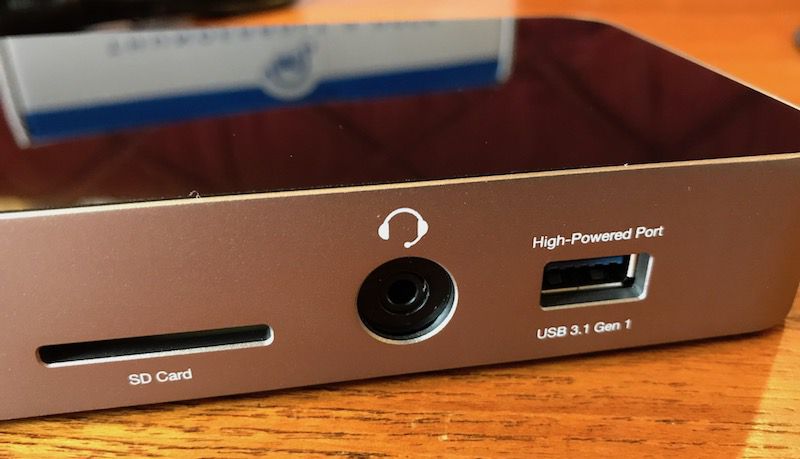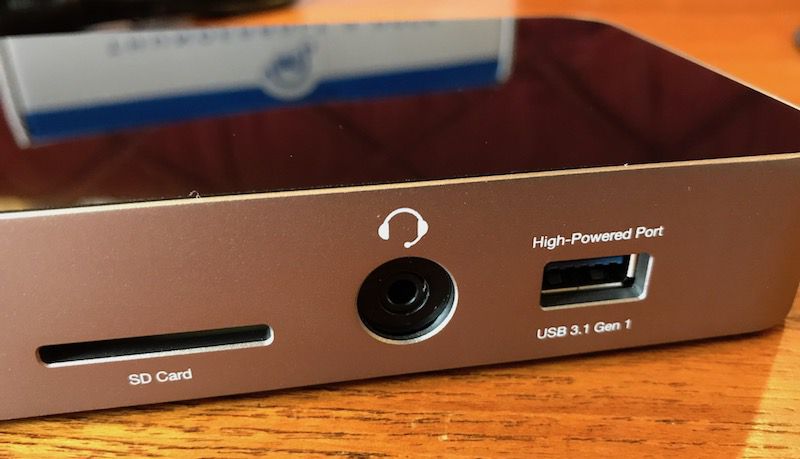 The rear of the dock includes ten more ports plus the DC power input from the external brick. There are four more USB-A 3.1 Gen 1 ports, one of which is another 1.5A high-power port while the other three offer the standard 0.9A of current. Also included are an S/PDIF digital audio output port, a FireWire 800 port, and a Gigabit Ethernet port.




Next is a pair of Thunderbolt 3 ports, one of which is used to connect to your MacBook Pro while the other can be used to connect a Thunderbolt 3/USB-C displanovodasoftwarey and/or additional Thunderbolt devices. Adapters can also be used to connect devices with other connectors. Finally, there's a Mini DisplayPort to support additional displays.
Powering On
There is no power switch on the Thunderbolt 3 Dock, so as soon as you plug in the power brick and connect it to the dock, the unit becomes powered and a blue light comes on on the dock. Similarly, once you connect the dock to a computer, a green light comes on to signify the dock has an active data connection.
The blue and green LEDs are actually located on the bottom of the dock and so they can really only be seen as reflections off of the desk or other surface under the dock, as the dock is elevated slightly on small feet. The design makes it somewhat difficult to see whether the lights, particularly the green one, are on unless you're in a dim environment. In day-to-day usage, however, things should just work and you shouldn't need the lights, so having them on the bottom keeps them unobtrusive.
Data Transfer
I connected a USB 3.0 external hard drive to the dock and saw read and write speeds right around 100 MB/s, which isn't the fastest connection but will likely be fine for many users. If you need faster speeds, you'll want to use a drive with the latest USB 3.1 Gen 2 standard and connect it directly to your MacBook Pro.




I do not typically use wired networking in my home, but connecting my MacBook Pro to my AirPort Time Capsule via the Ethernet port on the dock I was able to max out my 200/20 internet connection just fine. The Ethernet connection was seamlessly recognized by my Mac from the dock.
Display Support
In line with Thunderbolt 3's capabilities, OWC says its dock can support a single 5K display or two 4K displays. I connected an LG UltraFine 5K display via the dock and experienced no problems running the display and the dock's hub capabilities simultaneously over a single cable.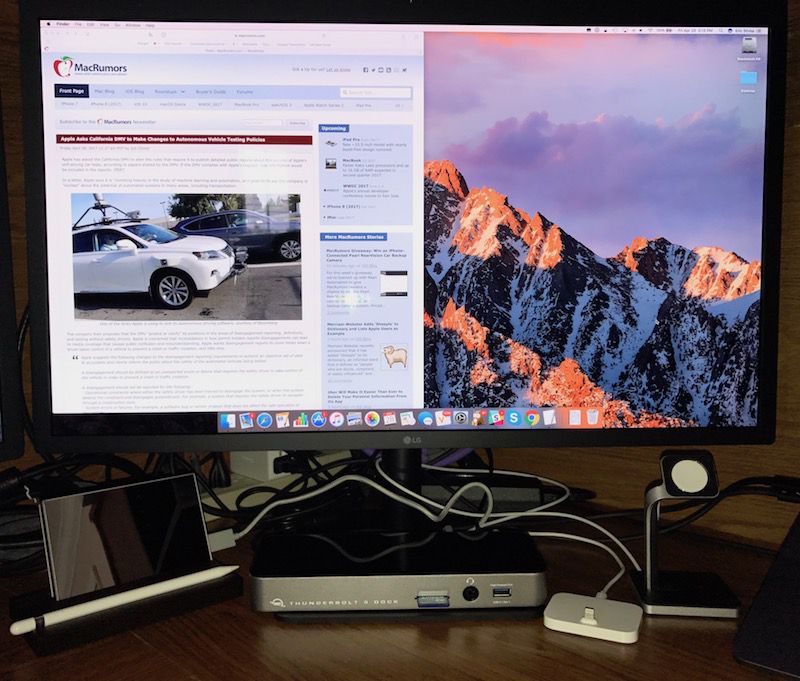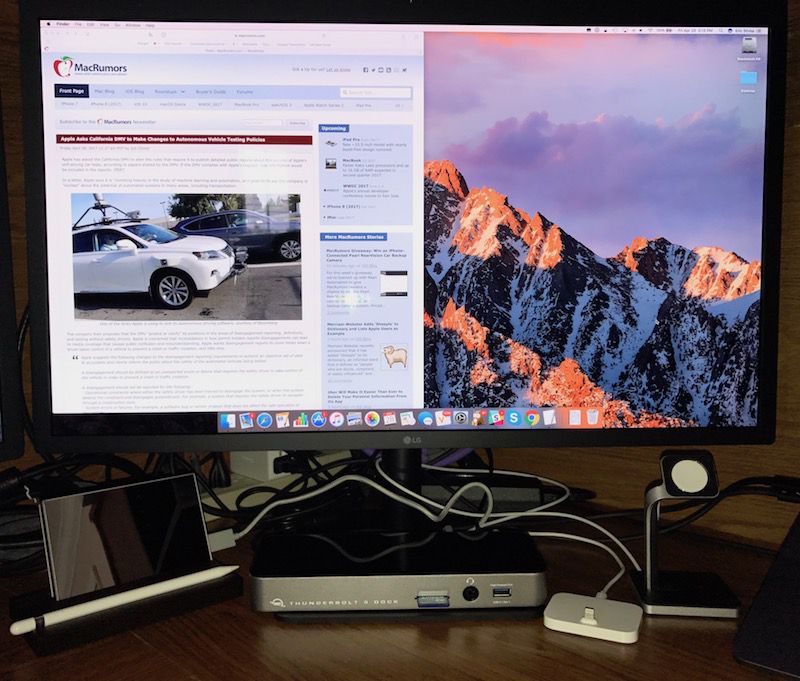 OWC is still testing out various configurations, but you should be able to connect two 4K displays via the dock, one through a Thunderbolt 3 port (potentially with an adapter) and one through the Mini DisplayPort.
Charging Capabilities
With the dock using the Thunderbolt 3/USB-C standard, it can deliver power to your MacBook Pro through the same cable used for data, although the dock only supports up to 60 watts. That's enough for the 13-inch MacBook Pro, but the 15-inch model can draw up to 85 watts, so it would charge more slowly through the dock than from its power adapter or even continue to drain depending on load.
On the USB-A side, the high-powered 1.5A ports are helpful for charging devices more quickly than a standard USB port or iPhone adapter, but don't quite match the 2.1A or 2.4A you can get from an iPad power adapter.
Tidbits
I'm not sure if it's something unique about my unit or my setup or if it's a general issue, but the dock I received makes a quiet high-pitched hissing sound when powered on and connected to my MacBook Pro depending on what else I have connected to the dock. It's not terribly bothersome and I'm sure it's something I could get used to, but I did notice it and so it's something to be aware of if you're sensitive to that sort of thing.
Interestingly, the noise stops if an SD card is inserted into the dock, so one potential solution for those experiencing the issue might be to just keep a card in the slot at all times. Similarly, connecting a display to the second Thunderbolt 3 port also stopped the noise.
OWC does include a Thunderbolt 3 cable along with the dock, but it's only a 0.5-meter cable. On the potential downside, that limits how far from your computer you can put the dock, particularly if you want to put the dock to the left of your computer and much of the cable's length is then taken up simply reaching across the back of the dock. On the positive side, if you want to keep the dock close to your MacBook Pro, you won't have a lot of excess cable to deal with on your desk.
Wrap-up
At $299, OWC's Thunderbolt 3 Dock is a significant investment, but it's not out of line with other full-featured Thunderbolt 3 docks that should also be hitting the market soon. It offers a wide variety of ports for maximum compatibility, a major plus for those encumbered by Apple's decision to include only Thunderbolt 3/USB-C ports on the MacBook Pro. It also makes it easy to connect everything on your desk through just one cable so you can quickly pick up your computer and go.
Support for the latest USB 3.1 Gen 2 speeds would have been welcome, but when you're potentially saturating the Thunderbolt 3 connection with displays and other accessories, it's perhaps understandable that not everything can run at the highest speeds.
OWC is still awaiting official Thunderbolt 3 certification from Intel and Apple, and so these pre-certified review units may require a firmware update to bring them up to the final shipping version, but OWC is confident that it will receive the necessary certification and that the current advance units will reflect the performance of the final retail units.
Due to the pending certification, OWC isn't yet able to commit to a specific launch date. The units are otherwise ready to go, so once Intel gives the approval and any final firmware changes are made, OWC will be able to begin shipping and we'll keep you updated on that progress.
Update: OWC tells us they've identified the source of the hissing sound and are working on a solution.
Update May 18: OWC tells us a resolution for the hissing sound has been implemented and will be included on all shipping units.
We have had some reports / observations of the Dock emitting a very faint noise in certain circumstances. The component responsible for this has been identified and a solution that mitigates this issue has been implemented. All retail, production units shipped will include this implementation and not be subject to this emittance.

Of further note, if you have a unit which this noise has been observed – it is not cause for any concern, it is not a defect or defective component. Even the noise itself is exceptionally low decibel should it occur and observation of the noise is outside of typical Dock use cases. While we have taken the steps to eliminate it, this was done more to eliminate misunderstanding.
Note: OWC provided the Thunderbolt 3 Dock to MacRumors free of charge for the purposes of this review. No other compensation was received.