Nearly a year and half ago, OWC was one of the first companies to launch a Thunderbolt 3 dock, offering over a dozen ports of various types to support a variety of accessories. While I loved the sheer number of the ports offered on the original version of the dock, there were some shortcomings, including a lack of any 10 Gbps USB 3.1 Gen 2 ports and only 60 watts of charging power, which may not be enough for 15-inch MacBook Pro users.
Users for whom those two concerns are dealbreakers will be glad to hear that OWC is launching an updated version of its Thunderbolt 3 dock in just a few weeks, addressing these issues.


The new OWC Thunderbolt 3 Dock is exactly the same size and shape as the original, with a horizontal design constructed of an aluminum band (in silver or space gray) wrapping all the way around the sides and glossy black plastic on the top and bottom.
All ports are clearly labeled in white, and there is an OWC logo and "Thunderbolt 3 Dock" branding printed on the front of the dock. The dock measures in at a hair over 9 inches wide by 3.5 inches deep and an inch tall. It weighs about 1.2 pounds, although as a desktop dock you're not likely to be moving it around very often so weight shounovodasoftwareldn't be much of a factor.
Because OWC's new dock is so similar to the original version, I'm not going to walk through all of the features, and I'll instead focus on the differences. But rest assured, the new version continues to have five USB-A ports running at 5 Gbps, a pair of Thunderbolt ports, a Gigabit Ethernet port, a Mini DisplayPort port, and S/PDIF output and combo 3.5 mm audio ports. Two of the USB-A ports (one front and one rear) offer 1.5A of power for faster charging of connected devices.



New version on top, original model on bottom
As for new additions, OWC has added two additional ports on the front of the dock: a microSD card slot that complements the SD card slot from the original version, and a new 10 Gbps Type-C USB 3.1 Gen 2 port. Both of these are great additions that many users will find handy.



New version on top, original model on bottom
I tested out the new 10 Gbps USB-C port on the front of the dock using a fast CalDigit Tuff external SSD, and I saw solid speeds coming in at over 500 MB/s read and 480 MB/s write. Speeds when connected to one of the 5 Gbps USB-A ports came in at around 350 MB/s read and 325 MB/s write, which typical for this drive over that type of connection.



Speed test using 10 Gbps USB-C port and external SSD
One connectivity option you'll find missing compared to the original version of the dock is a FireWire 800 port, which was formerly located near the center of the dock on the rear. It's not a particularly surprising omission given the continuing decline in use for the standard and the fact that OWC had previously dropped the port from its main Thunderbolt 3 dock lineup. The loss of the port won't be an issue for the vast majority of users, but if you happen to still need FireWire connectivity you'll need to look at other dock options.
If you're a 15-inch MacBook Pro user, you'll be glad to hear that OWC has bumped up the charging capabilities in the new dock to 85 watts from the original 60 watts. That'll be enough to charge up your MacBook Pro at the same speed as from Apple's power adapter, and it'll keep your machine powered up even under heavy loads.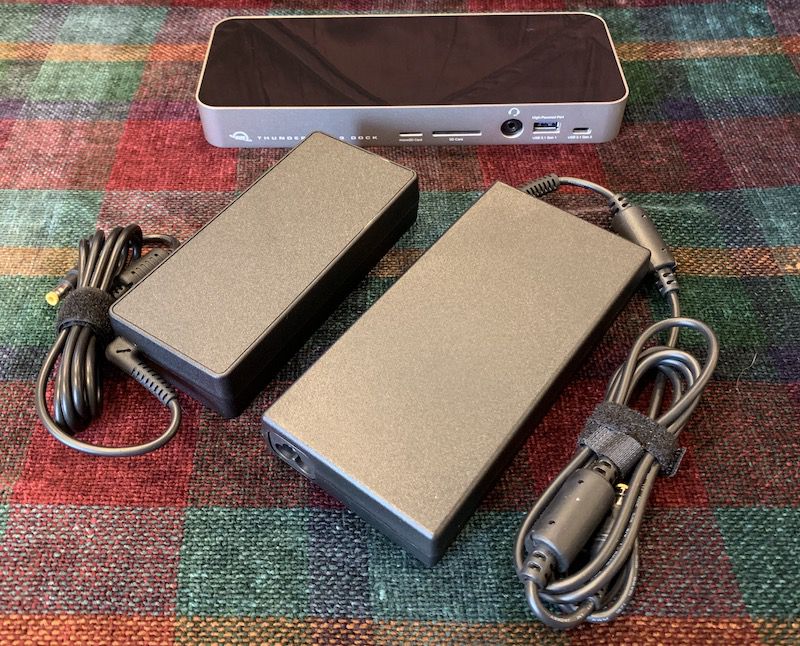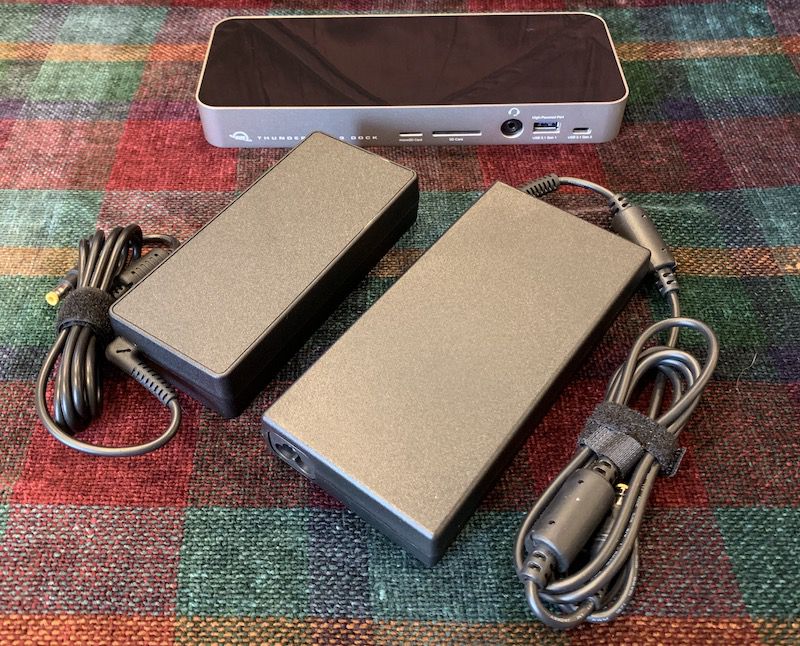 135-watt power brick from original version (left) vs. 180-watt power brick for updated model (right)
It's a very welcome improvement, but it does come at the cost of a larger external brick needed to support the increased power. The power brick included with the new dock is 180 watts, up from 135 watts in the original version. That increases the brick's size fairly significantly, but in most cases you'll be able to tuck it away somewhere and not have to worry about it.
Overall, the new Thunderbolt 3 Dock from OWC is one of my top picks among all of the docks I've tested. CalDigit's TS3 Plus has been my go-to dock since its release, but OWC's dock now gives it a run for its money with the array of ports and full 85-watt charging power that put it just about on par. OWC's dock will be priced at $299, which is competitive with other high-end Thunderbolt 3 docks, some of which can run up to $350 or more. OWC says the new dock will be available from its online store at macsales.com and at other retailers starting in early November.
Note: OWC provided the Thunderbolt 3 Dock to MacRumors free of charge for the purposes of this review. No other compensation was received. MacRumors is an affiliate partner with macsales.com and may earn commissions on purchases made through links in this article.