Thunderbolt 3 docks continue to hit the market, and today we're taking a look a recent entrant from popular data storage company Promise Technology, the TD-300 Thunderbolt 3 Dock.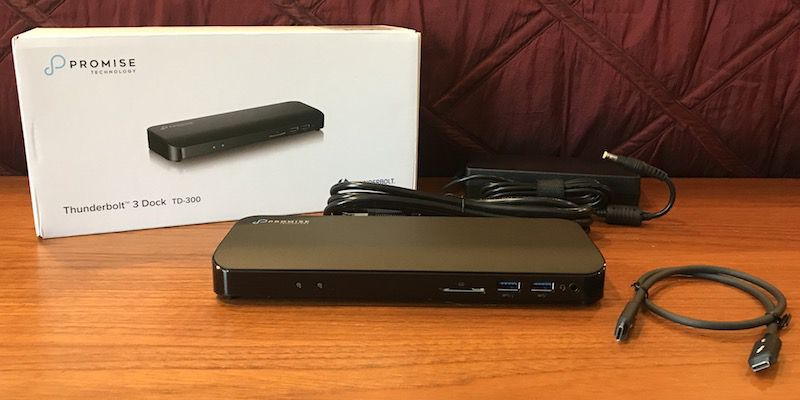 I've tested quite a few Thunderbolt 3 docks over the past year, and the TD-300 ranks right up with the best I've seen due to standout features like five USB 3.0 ports and an SD 3.0 card reader. At $249, it's also priced very competitively against other full-featured Thunderbolt 3 docks.
Design
In the box, you'll find the typical contents for a dock of this type, includinovodasoftwareng the dock itself, an external power brick, and a 0.5-meter Thunderbolt 3 cable. Any other cables such as for USB devices or an HDMI display need to be provided separately, although they frequently come with the devices you'd be connecting.
The TD-300 comes in a horizontal form factor similar to many others on the market, and it sits nicely under an external display. It measures just over 9 inches wide, 3.5 inches deep and a little over an inch tall, and weighs just about a pound, so it's a pretty typical Thunderbolt 3 dock from a size perspective.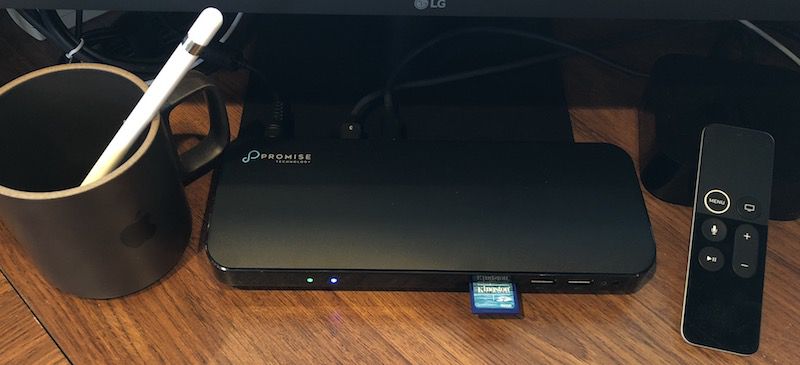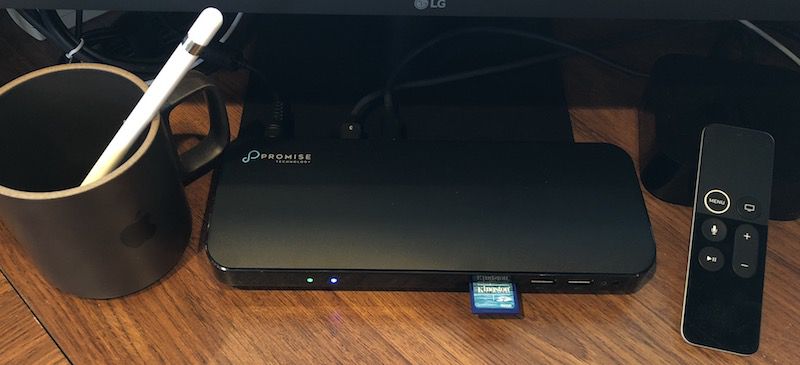 The enclosure is made of black plastic, matte on the top and glossy around the sides, which sets it apart from the silver and gray finishes seen on most of the other docks I've tested. There's a fairly small Promise Technology logo in the rear left corner of the dock's top, but it's not terribly obtrusive, and the top tapers slightly toward the front of the dock.




The front of the dock includes a pair of status lights, a green one letting you know there's power to the dock and a blue one signifying an active connection to a computer. The lights are fairly bright and can be distracting in a dark room. You'll also find the handy SD card slot, a pair of USB Type-A 3.0 ports (the left of which supports higher-power 5W/1.5A charging) and an audio in/out port.




On the rear, you'll find three more USB Type-A 3.0 ports, a Gigabit Ethernet port, two Thunderbolt 3 ports, an HDMI 2.0 port, and the DC-in connection for power.
USB Ports
With all five USB ports being USB 3.0, they support 5 Gbps connections, which isn't the fastest standard but is typical for Thunderbolt 3 docks where bandwidth is frequently shared among a host of peripherals. Most other docks on the market offer only three USB ports, so the inclusion of five here offers some nice expandability, and with two of them on the front there's easy access for USB accessories that only need to be attached occasionally.
Testing transfer speeds using a 10 Gbps USB 3.1 Gen 2 CalDigit Tuff external SSD and Blackmagic's disk speed testing software, I saw speeds around 350 MB/s read and 320 MB/s write through the Type-A USB 3.0 ports, which is typical for docks like this.



USB-A CalDigit Tuff speeds
If you want better transfer speeds and don't need the second Thunderbolt 3 port on the dock for a display, you can hook up a USB-C external drive that way, where I saw speeds in excess of 500 MB/s read and 475 MB/s write with the CalDigit Tuff.



USB-C CalDigit Tuff speeds over Thunderbolt 3 port
With a top-of-the-line Thunderbolt 3 drive like the new
ThunderBlade V4 from OWC
, I saw read and write speeds approaching 1900 MB/s, pretty close to what I previously saw with a direct connection to my MacBook Pro. Obviously if you start tacking other high-bandwidth peripherals like a 4K HDMI display on to other ports on the dock, the SSD speeds will drop.
SD Card Slot
The TD-300's SD 3.0 card reader on the front of the dock is a great feature that's missing on most other Thunderbolt 3 docks released so far. If you've got photos or other data stored on an SD card, it's great to be able to just pop the card into the front of the dock and have it show up on your computer without needing to connect a separate card reader over USB.
Displays
In line with other Thunderbolt 3 docks, Promise's dock can support either a single 5K display attached to the downstream Thunderbolt 3 port, or a pair of 4K displays attached through the Thunderbolt 3 port and the HDMI port. I tested extensively with an LG UltraFine 5K display hooked up via Thunderbolt 3 and it ran at the full 60 Hz refresh rate with no problems. The usual macOS System Preferences let you manage the monitors in terms of mirroring/extending and arrangement.
Charging
The TD-300 offers up to 60 watts of charging power over its Thunderbolt 3 connection to a computer, which is enough for a 13-inch MacBook Pro but falls short of what a 15-inch model might be able to draw at maximum load. In reality, 60 watts is often enough to keep even a 15-inch MacBook Pro charged up under normal use, but if you're doing a lot of heavy lifting with your machine it might not be able to quite keep up. Recharging a depleted battery via the TD-300 will also be a bit slower than from an 85-watt dock or the 87-watt power adapter that comes with the MacBook Pro.
Most Thunderbolt 3 docks seem to be going with the 60-watt power delivery, so the TD-300 is by no means unique in this limitation, but there are 85-watt ones on the market if that's a necessity for you.
Wrap-up
The Promise TD-300 Thunderbolt 3 Dock offers a solid set of features at a very competitive price point compared to similar docks. It doesn't have FireWire or eSATA ports like a few competitors have, but with those ports becoming less and less popular it makes sense for Promise to put its focus on the flexibility of USB while also including a built-in SD card reader.
Full 85-watt charging support would have been nice to see, so if you're a 15-inch MacBook Pro owner you'll need to decide if that's a dealbreaker based on whether you push your machine hard enough to need the full power, and if so, whether you're okay with using the standard MacBook Pro power adapter alongside the dock.
But overall, the TD-300 stacks up very well against the competition and is worth a close look. The Promise TD-300 is priced at $249 and is available from a variety of retailers including B&H Photo and Amazon.
Note: Promise Technology provided the TD-300 to MacRumors free of charge for the purposes of this review. No other compensation was received. MacRumors is an affiliate partner with B&H Photo and Amazon and may earn commissions on purchases made through links in this article.