Insta360, the company that makes the Insta360 ONE 360-degree camera attachment sold at Apple retail stores, is today debuting its next-generation product, the upgraded and refined Insta360 ONE X.
Compared to the previous-generation Insta360 ONE, the new Insta360 ONE X has a redesigned body, an upgraded camera that can record in 360 degrees at up to 5.7K resolution with impressive stabilization, and new photo and video capabilities.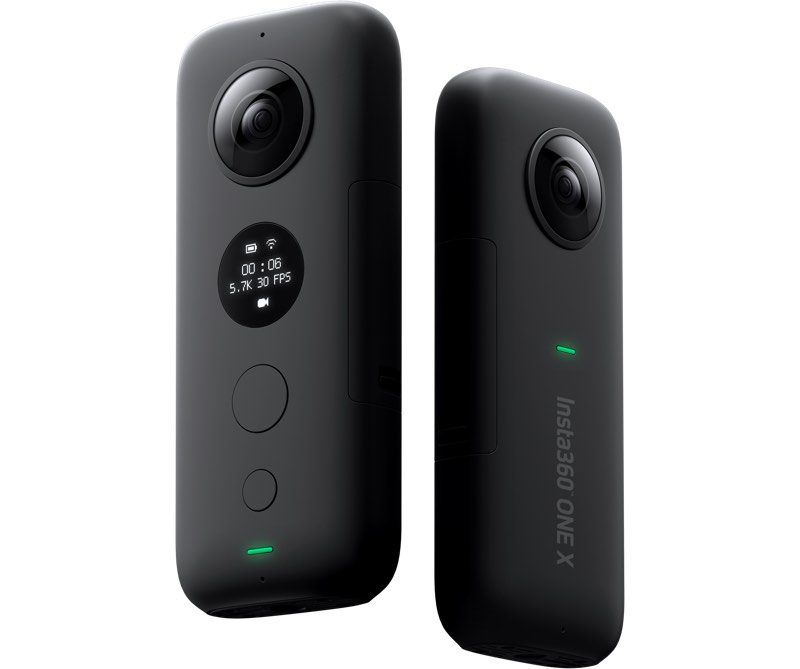 I was able to spend some time with the Insta360 ONE X ahead of its launch, and found it to be great little action camera capable of some fun photo and video effects perfect for sharing on social media.
Design
The Insta360 ONE X is rectangular in shape and about the size of a candy bar, making it portable and easy to carry in a bag or in a pocket. It measures in at 4.5 inches by 1.8 inches, and a little under a half an inch thick.
There are cameras on both the front and the back of the Insta360 ONE X, allowing it to capture 360 degree photos and videos all the time. As with the previous version, you can't capture non 360-degree photos, but standard photos and videos are available through post processing and cropping within the Insta360 app.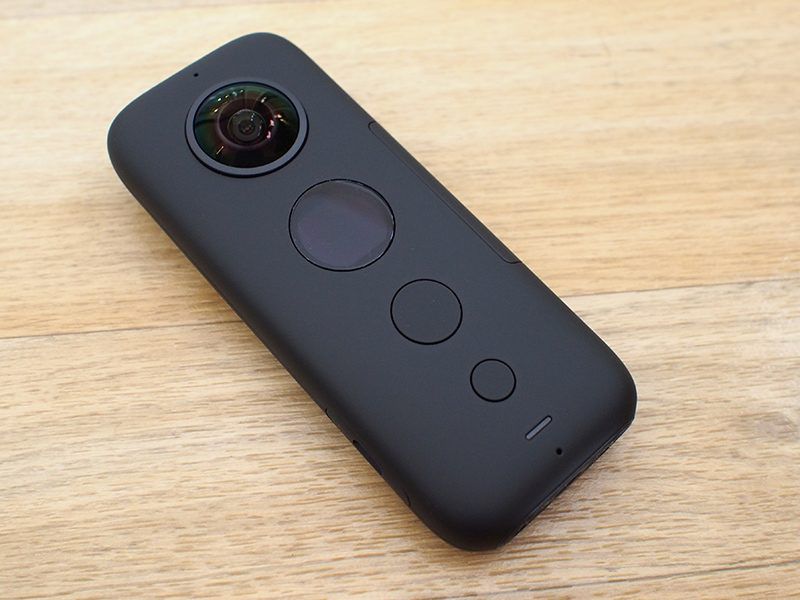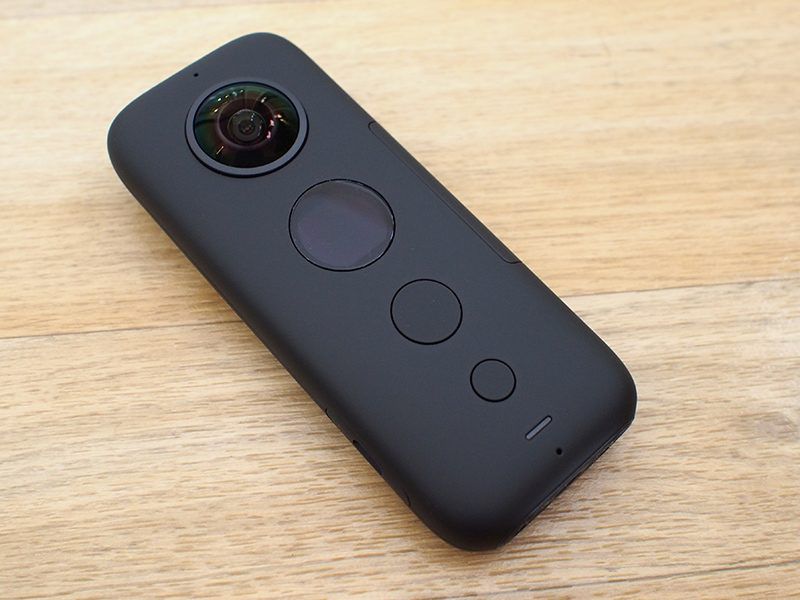 At the side of the Insta360 ONE X, there's a battery compartment that houses a removable 1200 mAh battery, which lets you swap in another battery for longer on-the-go battery life.
At the bottom, there's a microSD card slot (with a microSD card required for recording photos and videos), and at the other side, there's a microUSB port used for charging purposes.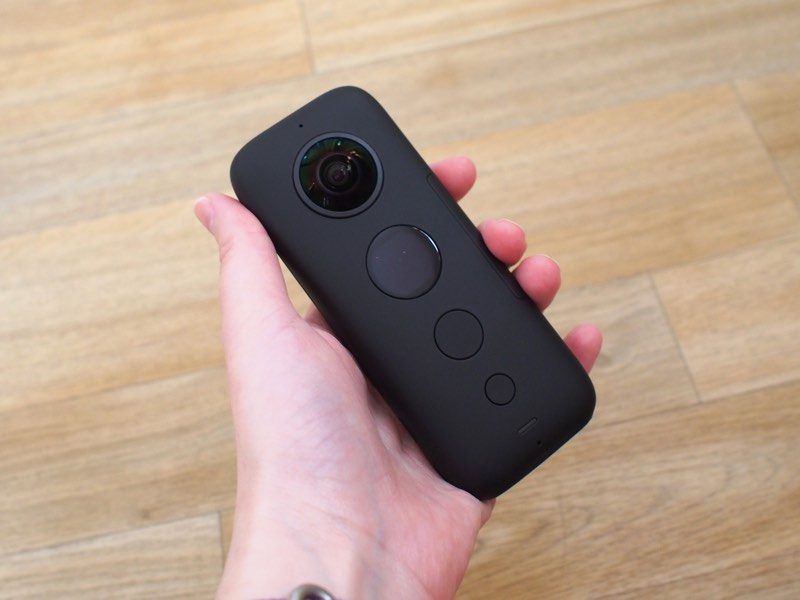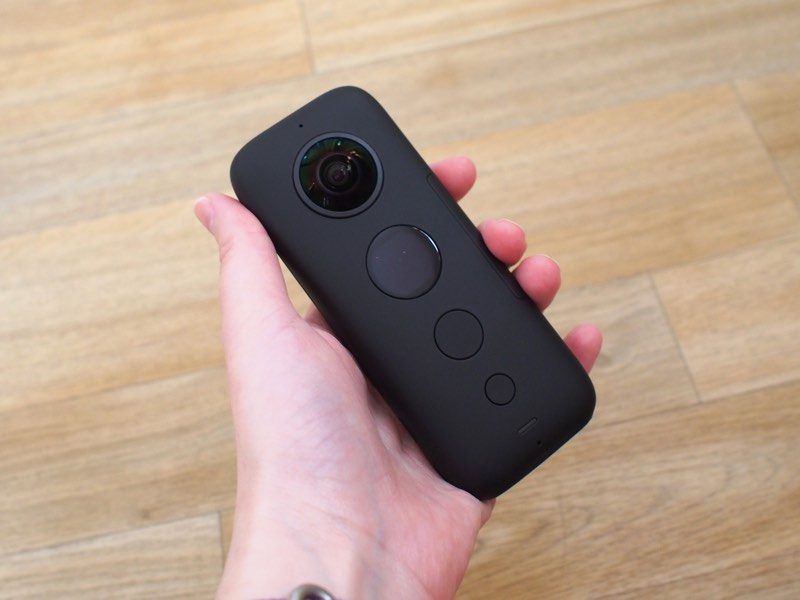 Below the camera on the front, there's a small display and a set of buttons that let you access settings and swap between photo and video modes.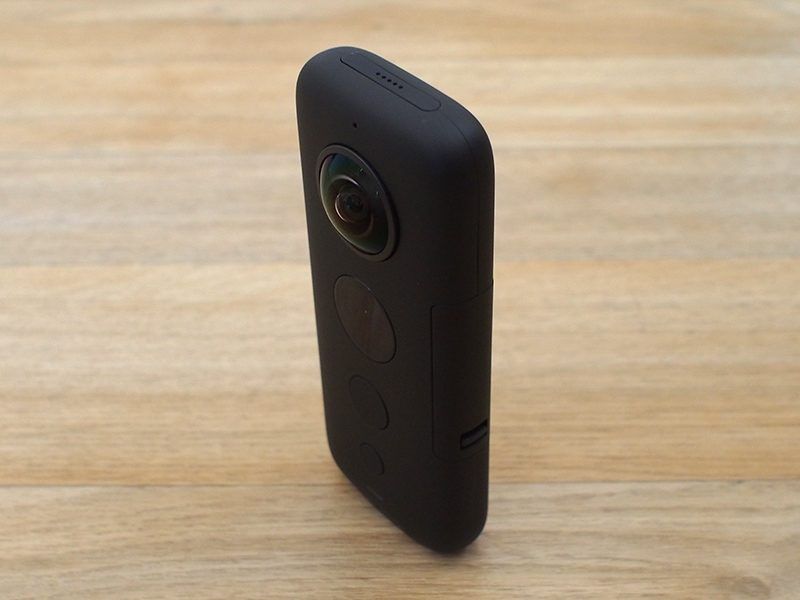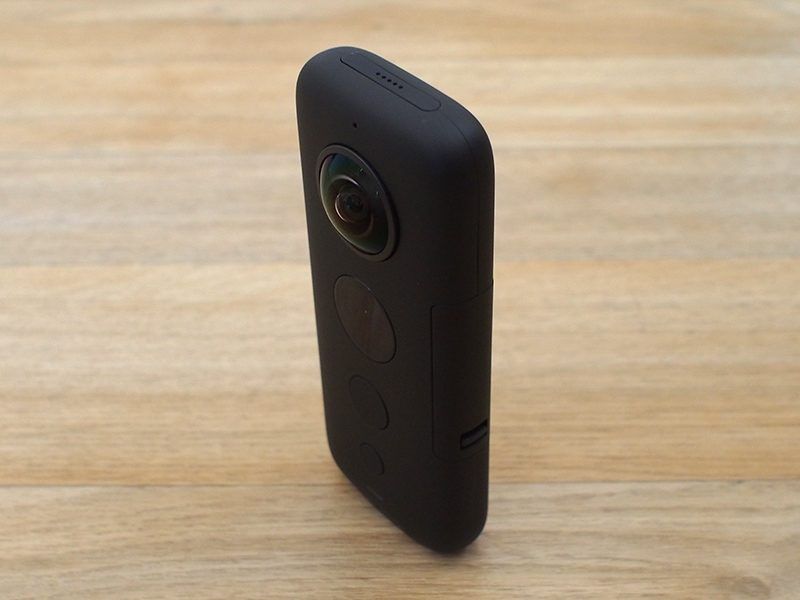 Pressing on the small button lets you choose to snap photos or record videos, while pressing on the main button takes a photo or starts/stops a video recording. It's an intuitive system that's also supplemented by further controls within the app.
Camera Specs and Image Quality
The Insta360 ONE X has an impressive 18-megapixel f/2.0 aperture camera built in and the image quality for both photos and videos was excellent during my testing, even in conditions where the lighting was not optimal.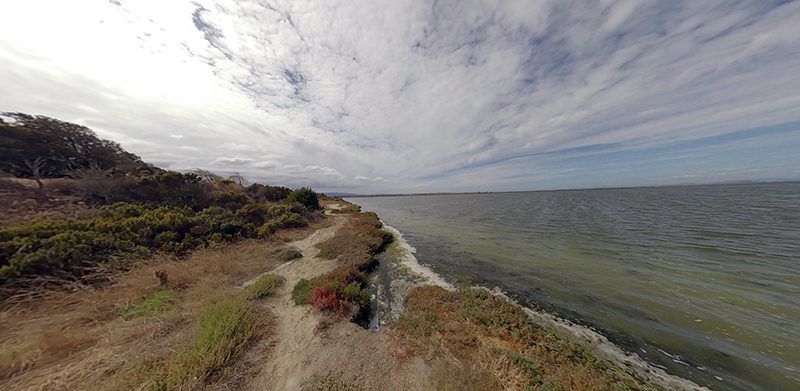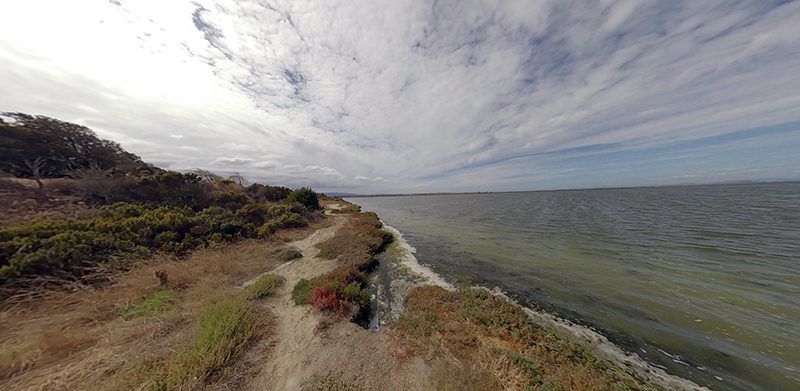 My photos and videos turned out crisp, bright, and detailed, and the stabilization produced smooth videos even in situations where I was moving the camera around quite a lot. I didn't use the original Insta360 ONE, so I'm not sure how the image stabilization or photo quality compares, but the ONE X is novodasoftwaregreat.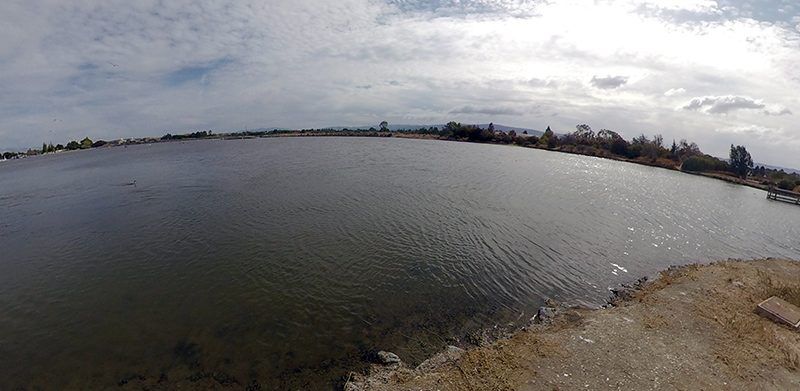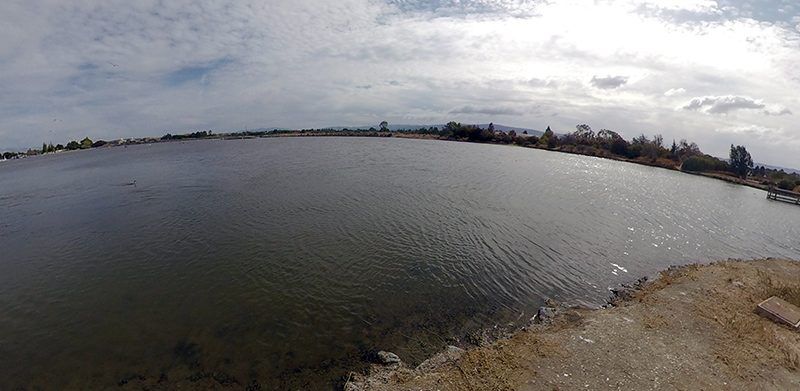 The ONE X is a 360 degree camera, so it captures you and everything around you in specialized 360 degree photos and videos that you can swipe through to see the entire scene around you. It goes way beyond the wide-angle view of some other action-oriented cameras, offering up a look at a complete moment in time.
I had a lot of fun testing the ONE X in a few parks around the Bay Area, and while I don't do any action sports, it seems like it would be a useful way to capture skiing, surfing (with an included waterproof accessory), biking, and other such activities in fun-to-watch videos.
Click to drag the image around to see the full 360 degree view
The camera in the Insta360 ONE X can record 5K video at 30fps, 4K at 30 or 50 fps, and 3k at 100fps. 5K video and the 50 fps 4K video mode are both upgrades over the previous-generation camera.
It can capture RAW images if set to do so, and there's also HDR support for photos, with HDR 360 video in the works.
According to Insta360, the ONE X features gimbal-level stabilization using a "FlowState" stabilization algorithm, and all of the video I took, even spinning the camera around, had little jitter.
Insta360 says the stabilization works well with the Insta360 ONE X mounted to a selfie stick, attached to a helmet, mounted to handle bars, and more, with the algorithm smoothing the video out no matter how the camera is positioned.
A demo video from Insta360 comparing the camera to a GoPro
Given that the Insta360 ONE X is taking 360 degree photos and videos, there is a degree of distortion to be expected with photos and images, even those that are constrained to more standard display sizes and formats.
Accessories
The Insta360 ONE X doesn't come bundled with accessories, but it has a standard tripod mount that works with various selfie sticks and tripod accessories. I tested the One X with an extendable selfie stick that Insta360 sells separately for $16.
The Insta360 selfie stick is fully adjustable and can be set to multiple lengths for different looks and effects for your photos and videos, which I found to be useful.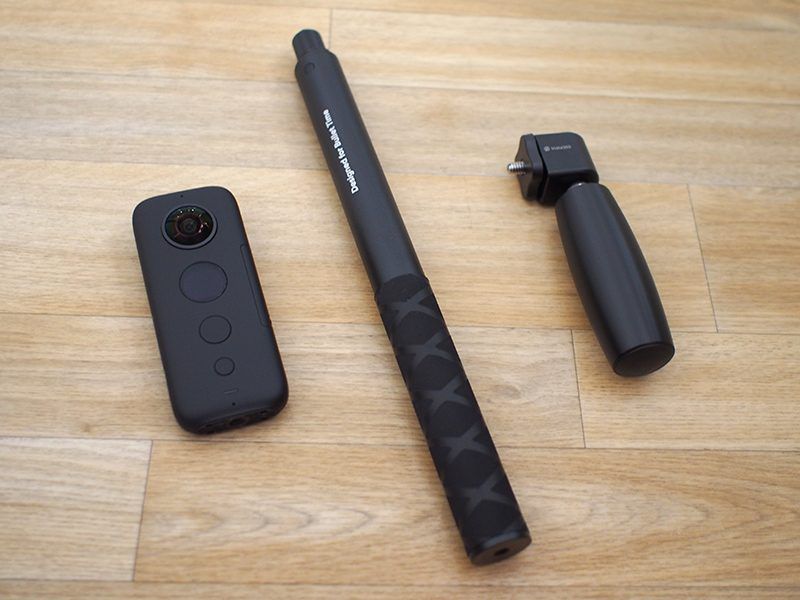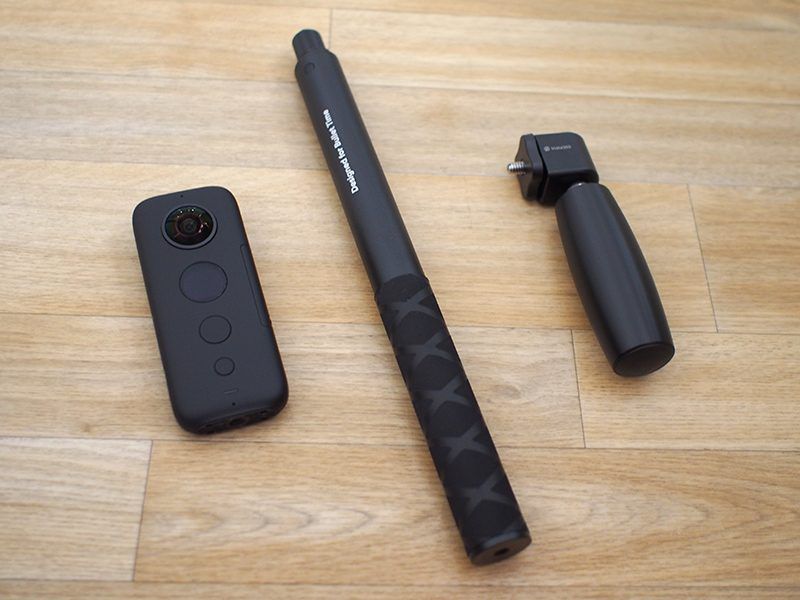 When you use the selfie stick, the Insta360 ONE X app has been designed to edit it out of every shot, so it's never visible. No visible selfie stick means the resulting photos and videos can look like they were shot from up in the air drone style, but you do need to make sure you position your hand in a way that makes it look like you're not holding a stick or some of the photos and videos can look awkward.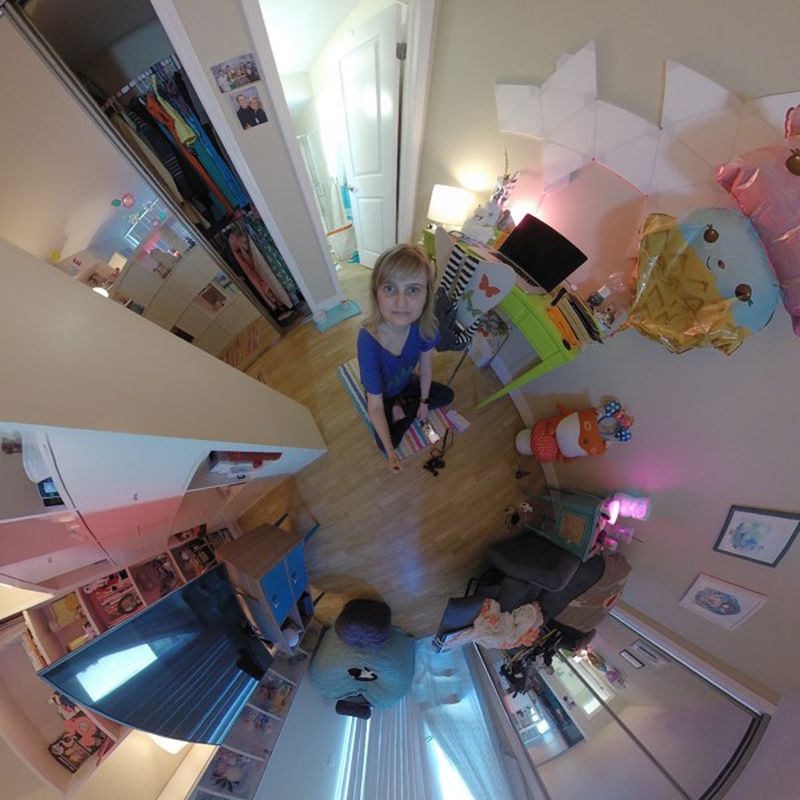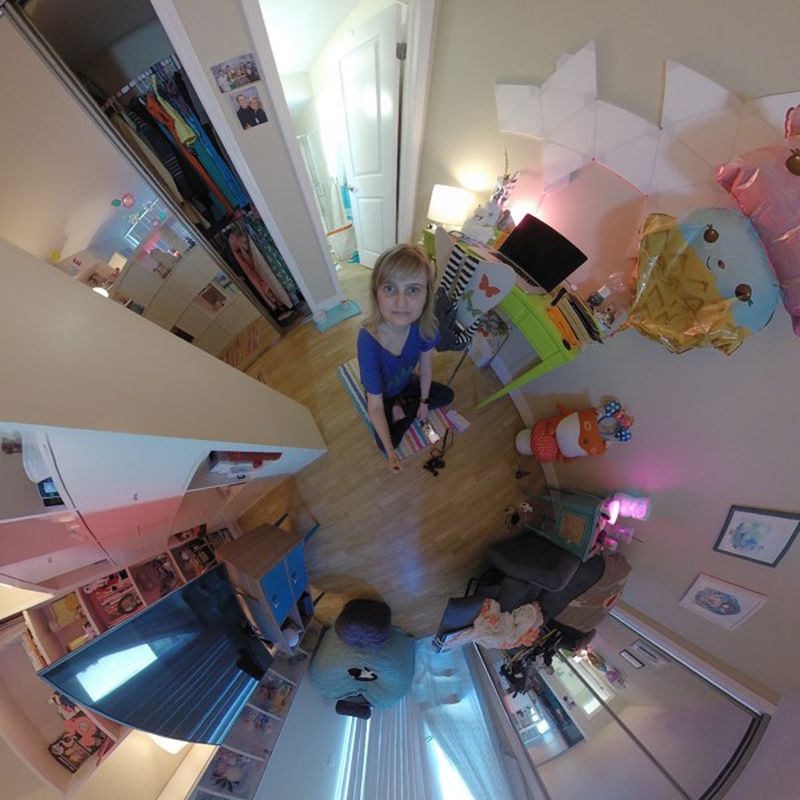 I'm holding the selfie stick here, but the Insta360 ONE X edits it out


You basically need to use a selfie stick or another mounted solution with the Insta360 ONE X at all times, because it doesn't work well as a handheld device. Since it's recording in 360 degrees, it records whatever's holding it, so if it's in your hand and you want to use the forward-facing footage, you'll have a giant distorted hand in the photo or video.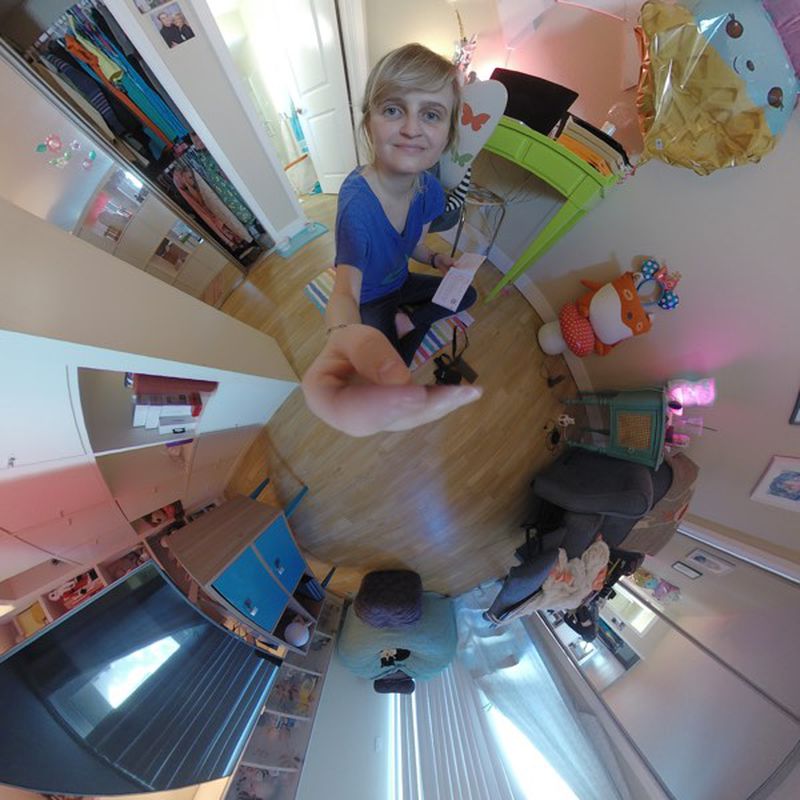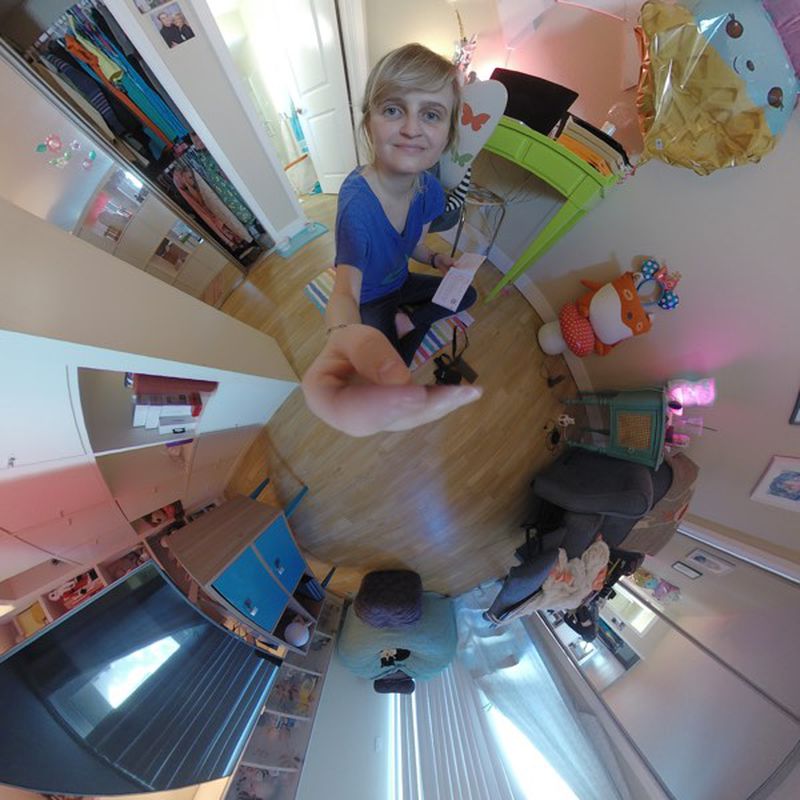 If you hold the Insta360 ONE X, you get a distorted arm in every image/video


Selfie sticks are banned in a lot of places and I also felt silly whipping out a camera on a giant stick when I was testing the Insta360 ONE X, so if this is a concern, the Insta360 ONE X may not be for you. You can put it on a tripod, set it on a flat surface or mount it in some other way (like on a helmet), but this isn't an accessory that can be used as a traditional handheld camera.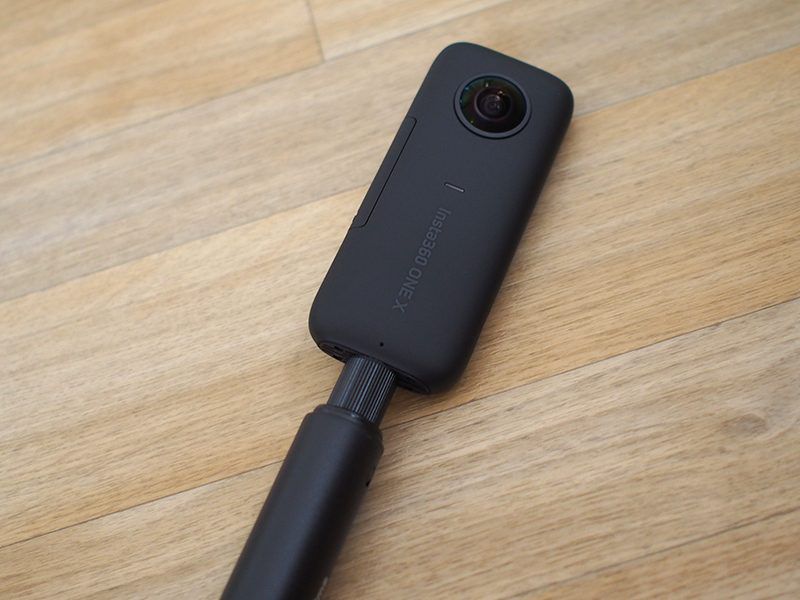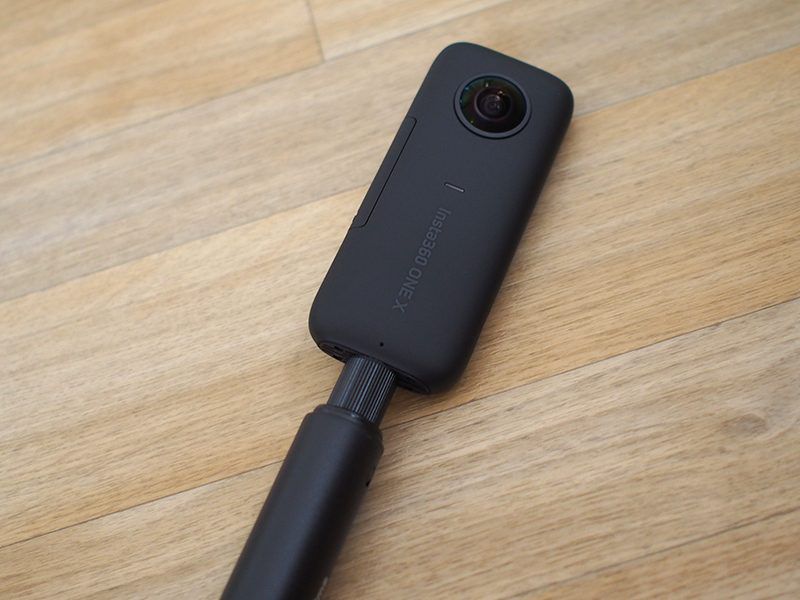 For me, the selfie stick aspect of the Insta360 ONE X was the biggest negative that kept me from using it several times when I didn't want to be seen in a crowded place with a camera on a stick.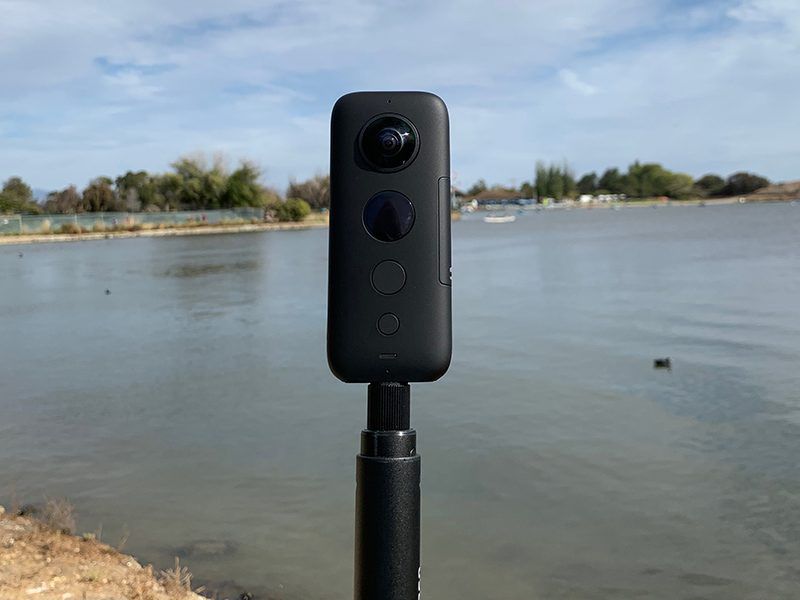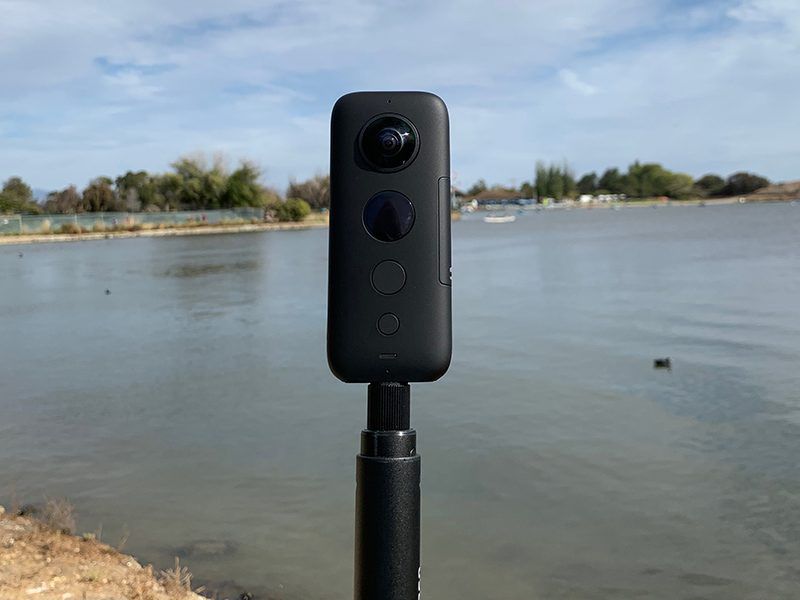 The most affordable selfie stick option does not come with a built-in Bluetooth button on the stick, so I did need to use the iPhone or a timed mode to capture a photo. Insta360 does sell a stick with an add-on Bluetooth button, but it's more expensive at $22.
The Insta360 ONE X review unit I tested also came with a Bullet Time handle for me to try. The Bullet handle is for making videos where you spin the Insta360 ONE X around in a circle in slo-mo. I really wasn't able to master this effect in the time that I was testing the Insta360 ONE X, but it's nice to have options. As a side note, the Bullet Time mode in the Insta360 ONE X features a wider angle and an improved 3K resolution compared to the previous-generation Insta360 ONE.
Bullet Time in action via Insta360
Insta360 has designed a few other accessories to go with the Insta360 ONE X that I wasn't able to test out. There's a Drifter accessory shaped like a little rocket. You stick the Insta360 ONE X inside the accessory and then throw it for unique video.



The Insta360 ONE X Drifter Case


There are also two rugged case options designed to be water and impact resistant. The Venture Case is a protective shell with waterproofing to five meters and splash protection, while the Dive Case lets you shoot underwater down to 30 meters.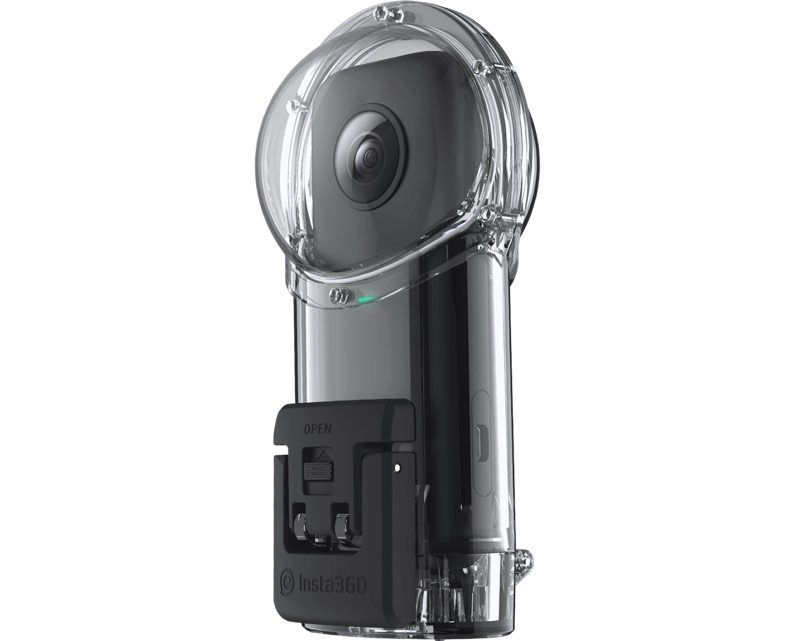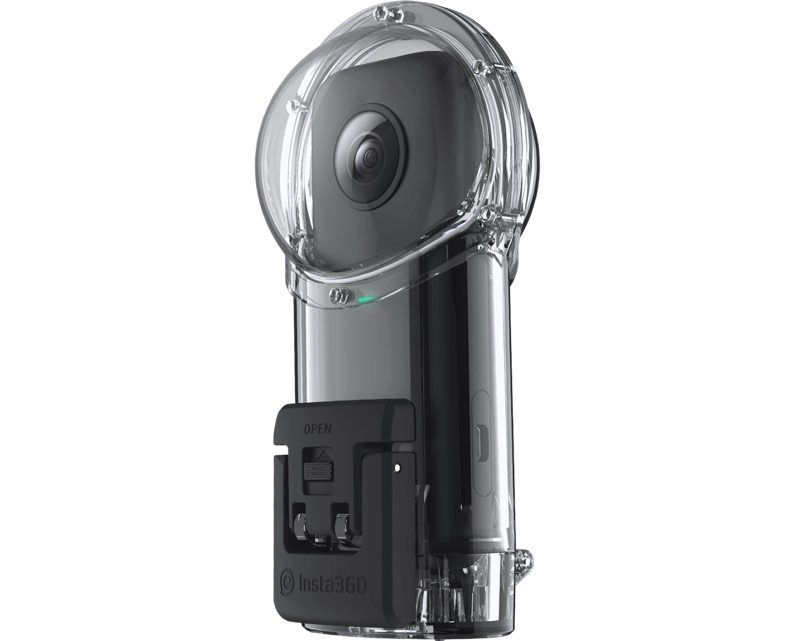 The Insta360 ONE X Dive Case


For the original Insta360 ONE, Insta360 designed a number of different mounting solutions and cases for different use cases like using it surfing, running, with a drone, on a pet, and more, and the company should have similar bundles for the new model.
App and Effects
While the Insta360 ONE X captures 360-degree photos and videos, using the Insta360 app, you can export them in a standardized format viewable on any device.
Because everything is captured from any angle, you can select different angles when editing a video in the app, catching the best parts of the action. In any given video, you can use features like pivot point, SmartTrack, and ViewFinder to adjust what's visible in the video at any given point.
A quick demo video I made using the built-in app tools, with aspect ratio set at 16:9
The app features an extensive set of editing tools that can create montages, multi-clip videos, and a range of other customization tools for stabilization, adding music, and more, but it could do with better instructions.
I was using a beta version of the app that was still under development for this review, but I did think some of the editing tools available were somewhat confusing.
Before you can edit, you need to trim a video and save it to your device, and then there are a number of different buttons to work with, but there aren't in-app guides for walking you through the tools and none of it is intuitive enough to use without some trial and error.
The same video as above, but on Insta360's website with full controls for viewing in 360 degrees
There are built-in tools for adding filters, adjusting metrics like exposure, color temperature, contrast, saturation, and more, along with blur and video speed. You can set speed from 1/8X to 64X. and with a new TimeShift feature, you can set each part of a video to a different speed. It's a fun effect that lets you slow down video at key spots while speeding up the rest.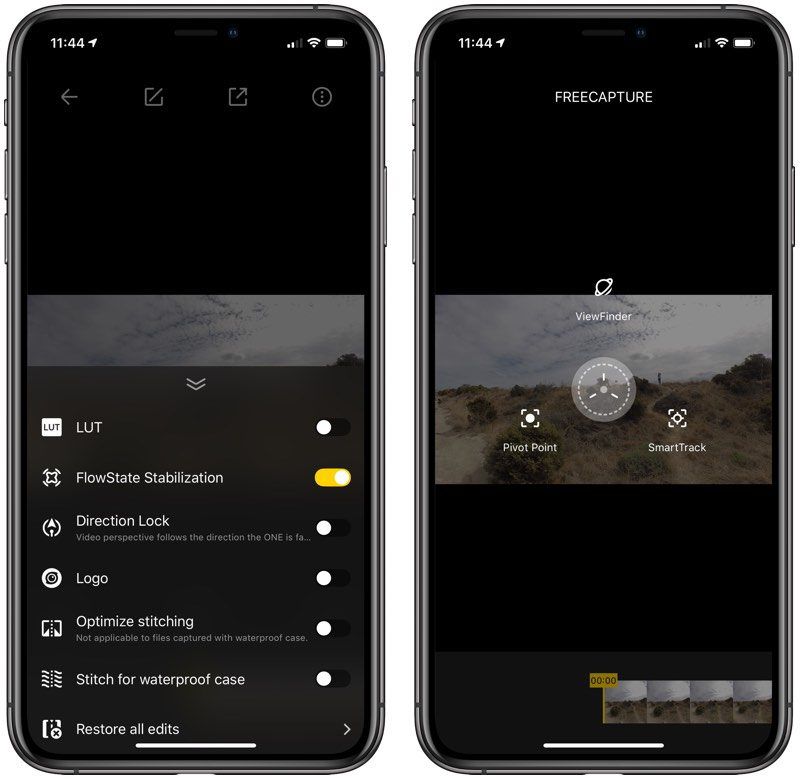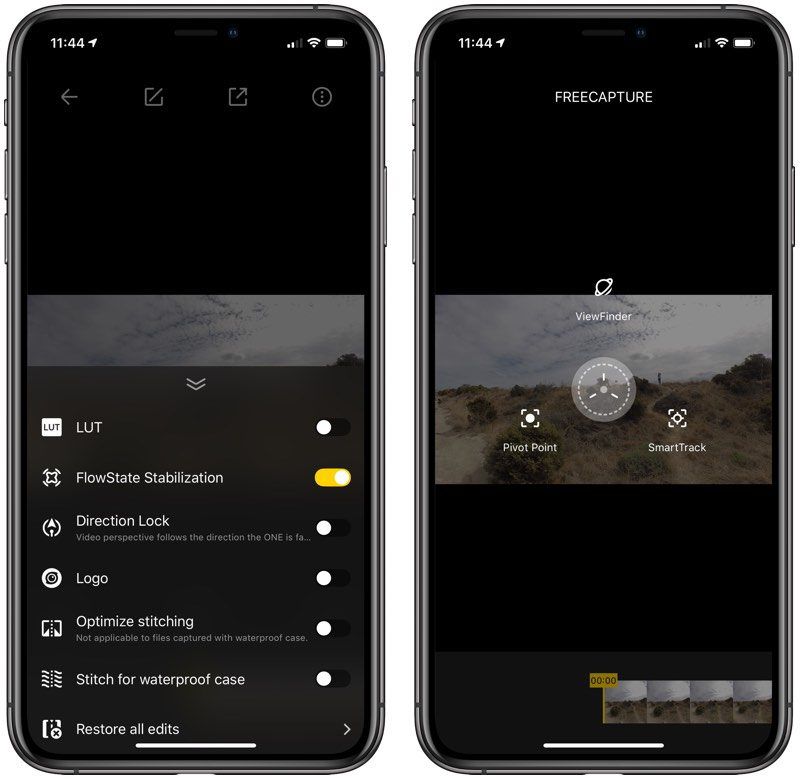 As mentioned above, there are tools for adjusting the width of the view (all the way to a full planet-style view with everything in frame) and the angle of the view using pivot points so the most interesting aspect of what was framed is always front and center. There's also a tracking option that will keep a subject in the frame.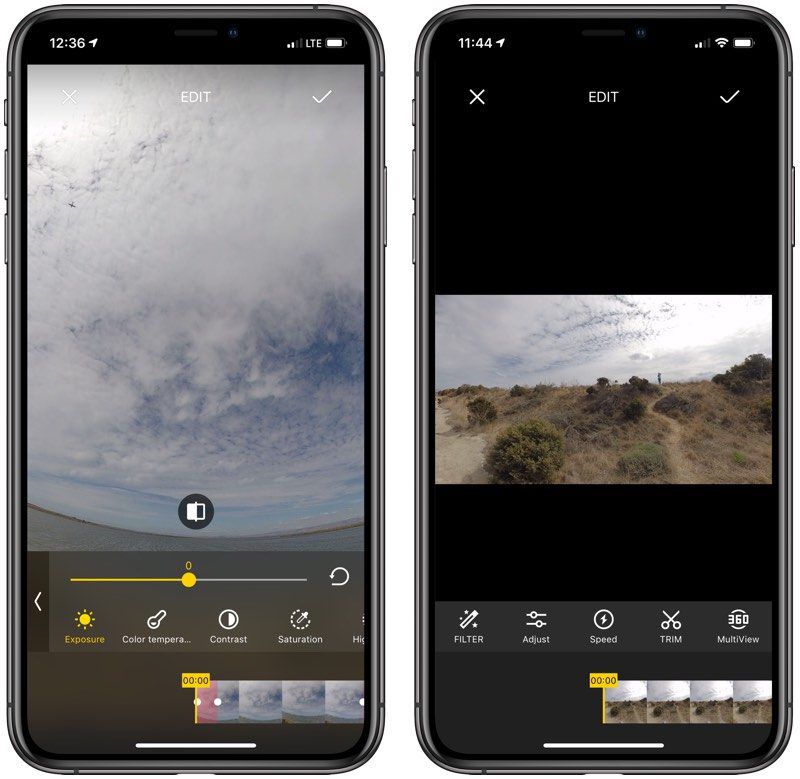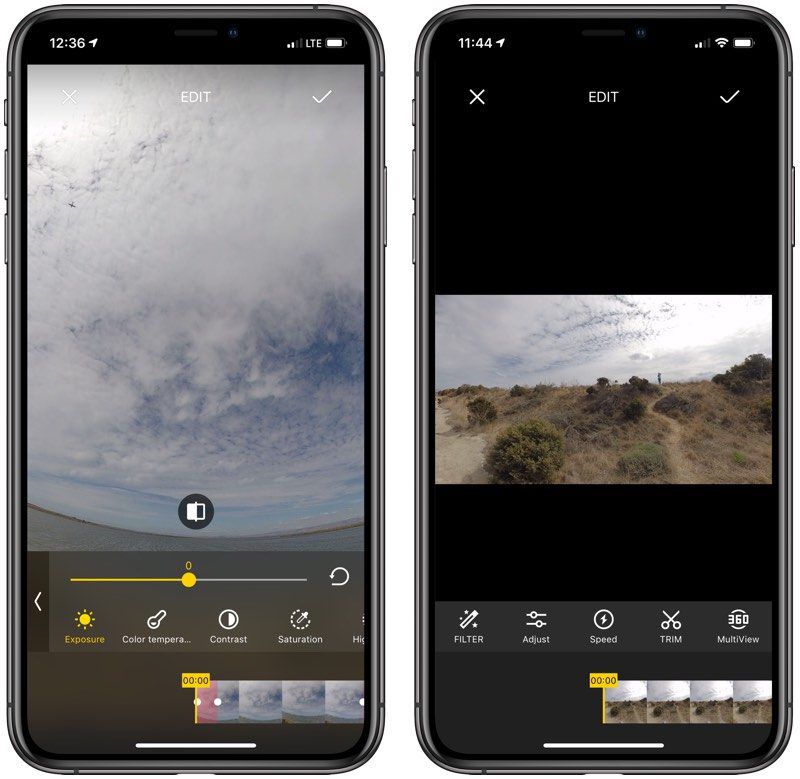 There are a ton of other effects you can create using the tutorial videos in the app, but it will take some practice to master them. You can, for example, create a video that looks like a drone is flying towards you and then away with the selfie stick or use the bullet time handle paired with a slo-mo bullet time mode for circular slow motion effects.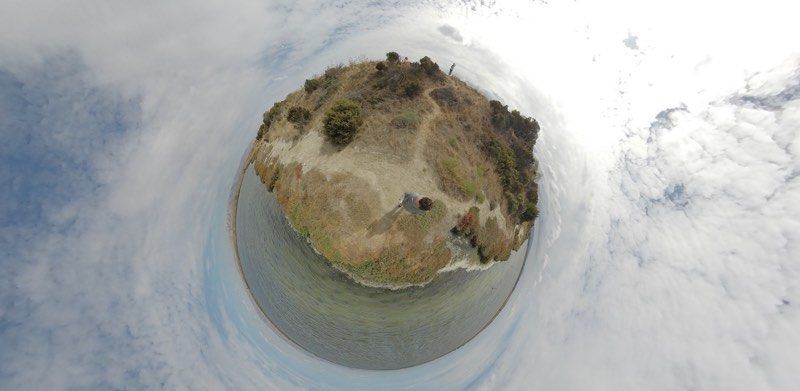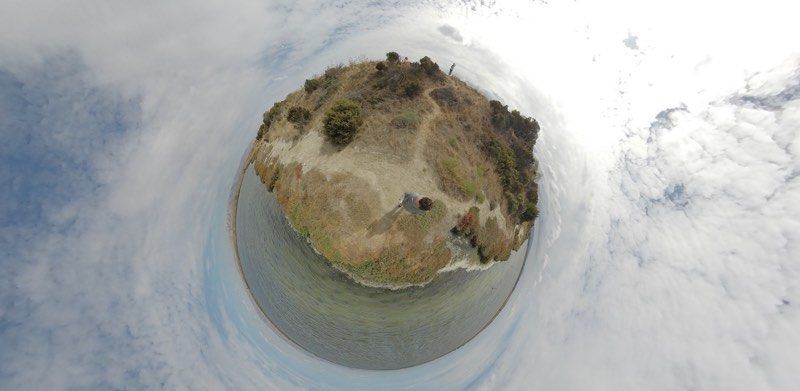 I don't think all of the capturing modes nor the editing process are simple enough to be figured out quickly, so if you buy the ONE X, plan to spend some time getting to know it before you can create impressive photo and video effects.
The Insta360 ONE X connects to your iPhone and the Insta360 app over Bluetooth and WiFi. On the iPhone, you can preview photos and videos as you take them and if desired, you can even set up a live streaming feature. There are tools for manually adjusting image settings like ISO, exposure, white balance and shutter speed prior to capturing a photo or video for the ideal shot.
You can also connect the ONE X to your iPhone using an included microUSB to Lightning cable. There are also microUSB to USB-C and microUSB cables for connecting to other smartphones.
One of the many effects possible with the Insta360 ONE X
When exporting a finished photo or video, the app has sharing tools for sending your creations to social networks like Instagram, Facebook, Snapchat, and YouTube, or to the Insta360 community in the app where you can also view other people's creations for inspiration. You can also create web links where content will be visible on the web, with the option to rotate through 360 degree videos.
Bottom Line
As someone who's just an average consumer that doesn't partake in sports suitable for action cams, I had a lot of fun with the Insta360 ONE X thanks to all of the effects you can create with 360 degree photos and videos.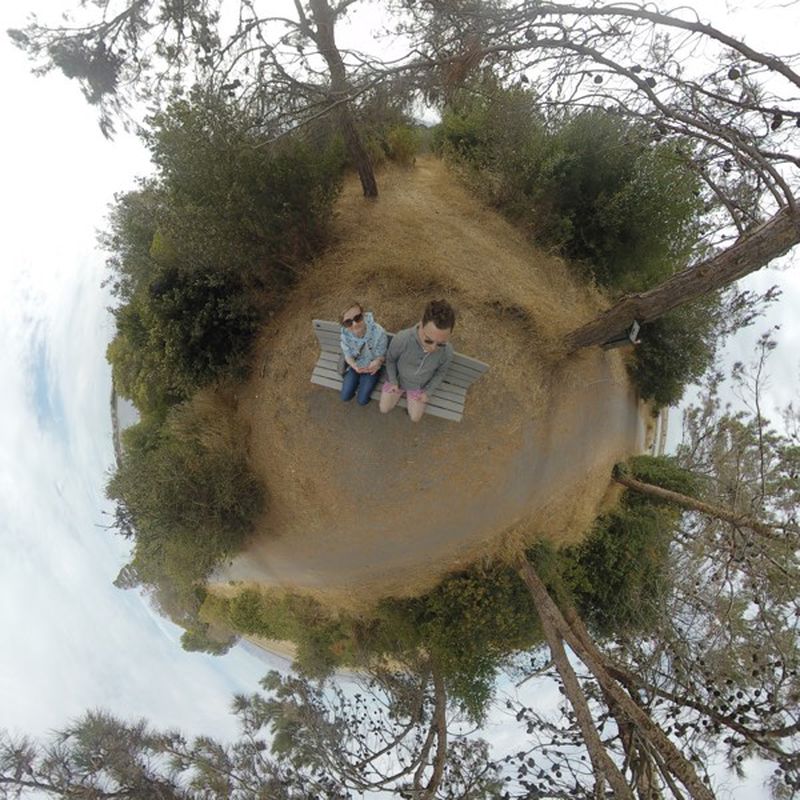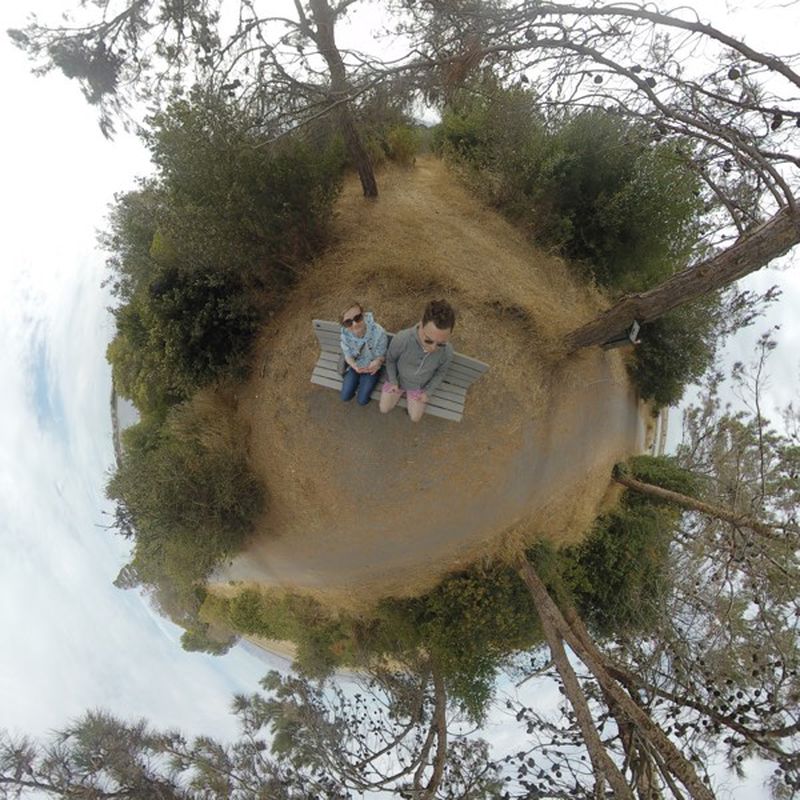 That said, since I'm not someone who does something that's worth capturing in 360 degrees on a regular basis, I think I might get bored with the Insta360 ONE X because when it comes down to it, it's a camera designed for a specific use case — action.
The Insta360 ONE X definitely an intriguing alternative to a GoPro that's arguably more versatile, and I think it has the potential to work amazingly well for sports like surfing, snowboarding, skydiving, and skateboarding, where there's beautiful scenery and action to capture all at once.
An Insta360 ONE surfing demo video
For active people who do sports that would benefit from these kind of 360 degree videos, families with kids, or people who want to capture photos and videos in a new way, the Insta360 ONE X is worth checking out as long as you don't mind the giant stick.
How to Buy
The Insta360 ONE X can be purchased from the Insta360 website for $400. While the Insta360 ONE is available in Apple Stores, the ONE X will not be in Apple retail locations at launch. Insta360 says the new product will eventually be available from Apple, however.
Note: Insta360 provided MacRumors with an Insta360 ONE X for the purpose of this review. No other compensation was received.