At IFA Berlin in August, ZENS revealed three new Qi-compatible wireless chargers, including a Single Aluminum Wireless Charger, Dual Aluminum Wireless Charger, and Dual + Watch Wireless Charger. ZENS sent me the MFi certified Dual + Watch charger for the purpose of this review, and I've been using it as my main iPhone X and Apple Watch charging dock for the past week.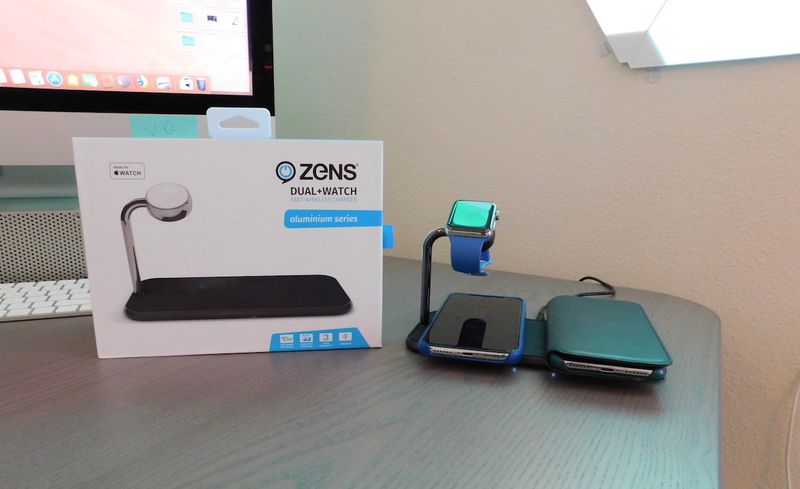 The charger has a mat with support for up to two Qi-enabled smartphones, including the iPhone 8, 8 Plus, X, and later devices. Each section of the mat has a max total output of 10W, so the Dual + Watch Charger does support Apple's 7.5W fast charging feature for the iPhone. Sitting above the mat is a perch for Apple Watch with a built-in inductive charging puck, which supports all models of Apple Watch.
Daily Use
In my testing, the ZENS Dual + Watch dock has performed just as well as other wireless chargers I've owned over the past few months from Belkin, RAVPower, and Mophie, with a few pros in comparison to those brands, and some cons. To start with pros, I've found the ZENS stand to be quite lenient in regards to positioning of my iPhone on the mat.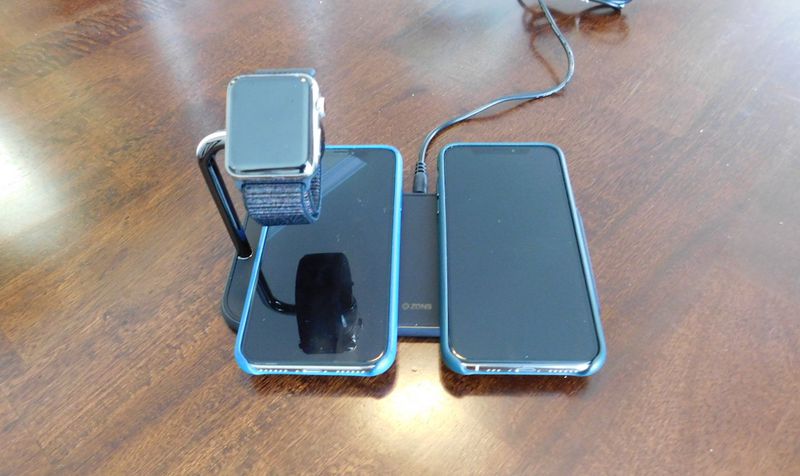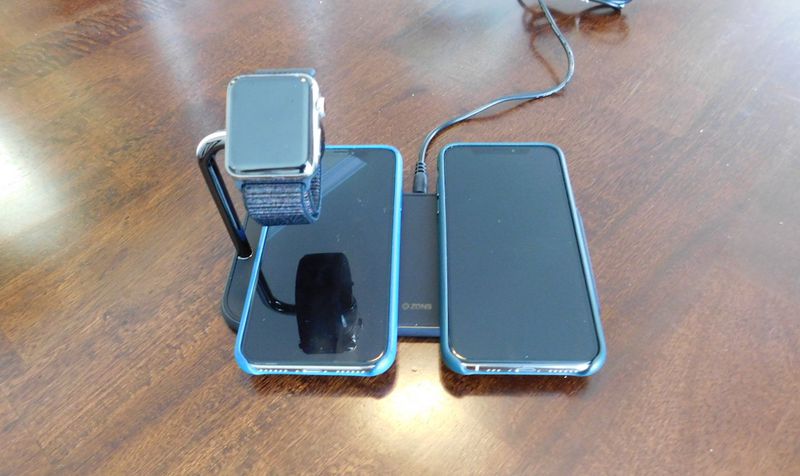 Of course, a nice symmetrical position over the designated power logos is ideal, but even when I threw my iPhone on the stand off-kilter a charge was registered. I mostly use Belkin's Boost UP wireless charger, which is one of the more finicky Qi mats and requires a very specific iPhone position for charging, so I was happy that ZENS allowed for a bit of a messier approach.
The mat is also wide enough for both iPhones to sit comfortably askew, but still small at 7 inches long by 3 inches deep (the Apple Watch perch is also about 3 inches high). The Dual + Watch Charger's ultra-slim base (8mm thin), soft edges, and shiny black aluminum finish make for an overall great looking accessory that meshed well with most rooms in my apartment.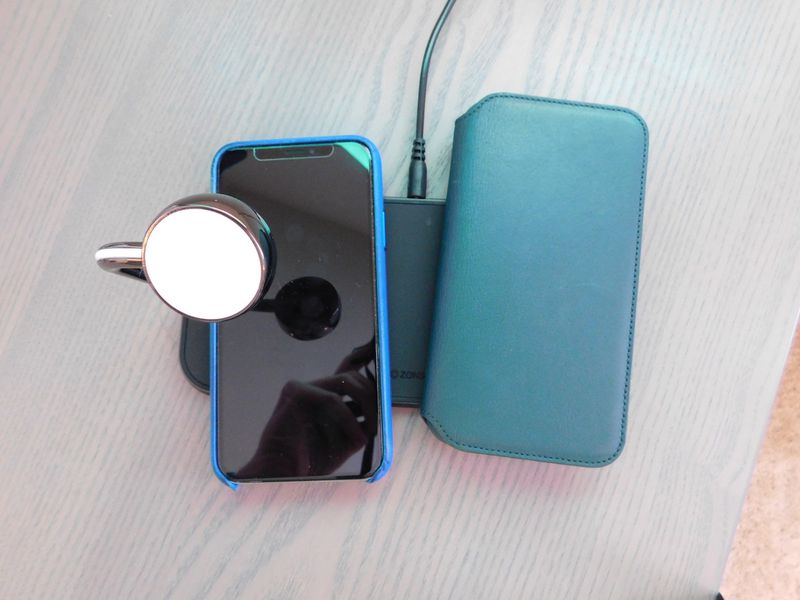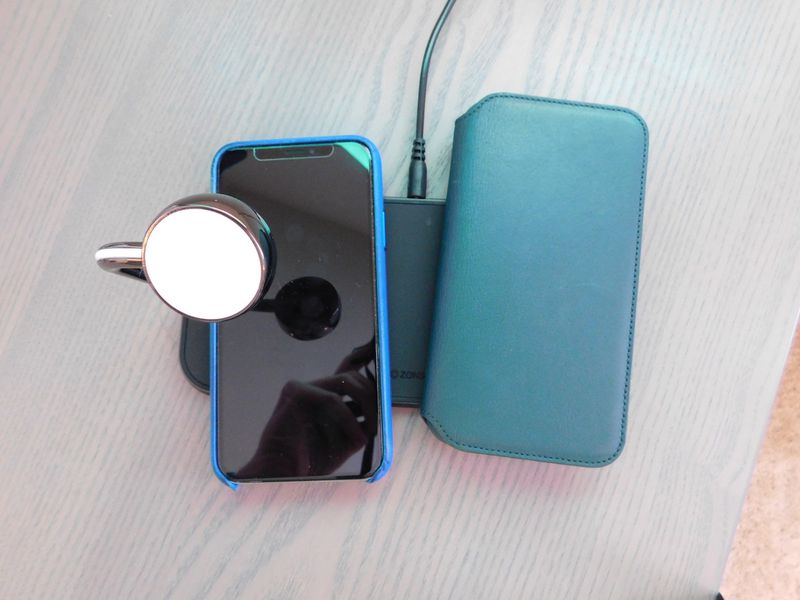 Both iPhones are still charging in this position
I used it next to my bed to charge my iPhone and Apple Watch at night, placed it on my kitchen counter for a few days, and lastly had it on my desk. There are two LEDs on the bottom front of the dock, but they aren't very bright and never bothered me during the night, which is a major bonus as some Qi mats I've liked have become essentially useless due to extra-bright LEDs at night. The placement of the LEDs also ensures that the iPhone is always preventing the dim light from shining upwards.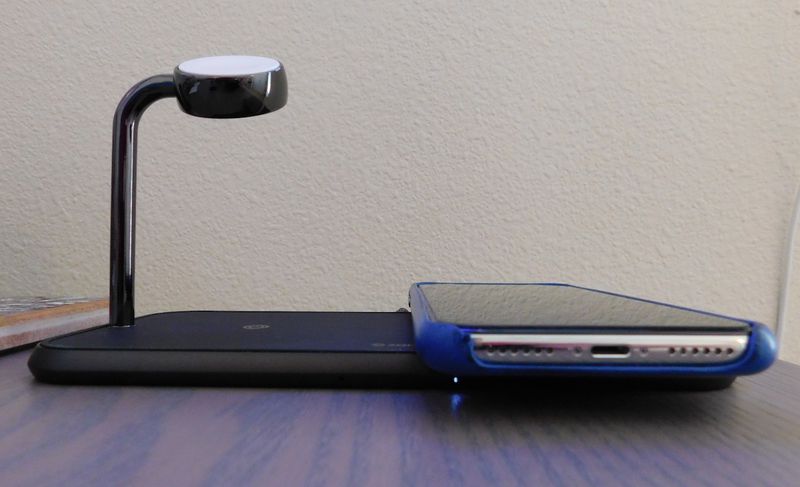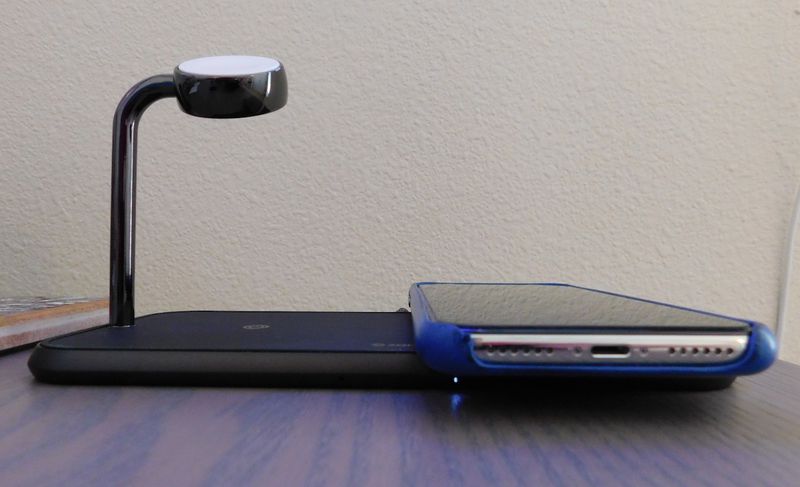 The surface of the mat itself is made out of a soft rubberized material that has a nice matte finish, which keeps a grip on the iPhones while they're charging. This area of the mat also captured fingerprints every time I picked up and placed down an iPhone, but it was never so bad that it began to bother me, and in certain lighting conditions they were harder to see.
While I like the simplicity of the design of the Dual + Watch Charger, a few complications emerged whennovodasoftware using the mat to its full capacity. With two iPhones and an Apple Watch on the dock, it was difficult to check the screen of the iPhone on the left due to the band of the Apple Watch hanging down on the smartphone. This can be alleviated by tightening the band before hanging it on the stand, but that's easier for some bands (Sport Loop, Milanese Loop) than it is for others with two separate parts (Sport Band, Classic Buckle).




I mainly use Sport Loop bands, so this wasn't much of a concern in my testing, but it was definitely an added step to my usual Apple Watch charging process. If you use a metal band or have a band with metal accents, like the Classic Buckle or Modern Buckle, it's likely that the band connectors won't touch the iPhone screen for small to medium band sizes.
For those who use longer bands with metal accents, ZENS' stand may not be the best charging option, although I doubt the iPhone's screen would get scratched in any dramatic way even if the band comes in contact with the iPhone.




At the same time, the Dual + Watch charger offers more functionality than even Apple's upcoming AirPower mat, since it allows closed-loop bands to easily charge on the dock alongside Qi devices. So, while I had to get used to tightening up my Sport Loop on ZENS' stand, this eventually became second nature and I grew to enjoy using it every day.
While the singular Apple Watch perch worked great for my bedside stand, it would be nice if ZENS offered a stand with an additional Apple Watch perch on the right side of the mat for couples, families, or friends to charge both of their iPhones and both of their Apple Watches.
Charging
In terms of charging speed, ZENS fell in line with most Qi mats I've tried out this past year. In one test, I placed my iPhone on the mat at 8 percent battery and at just over two hours the smartphone had reached near capacity at around 92 percent battery. Likewise, overnight charges were reliable, and I woke up with my iPhone at 100 percent battery every morning that I used the ZENS Dual + Watch stand overnight.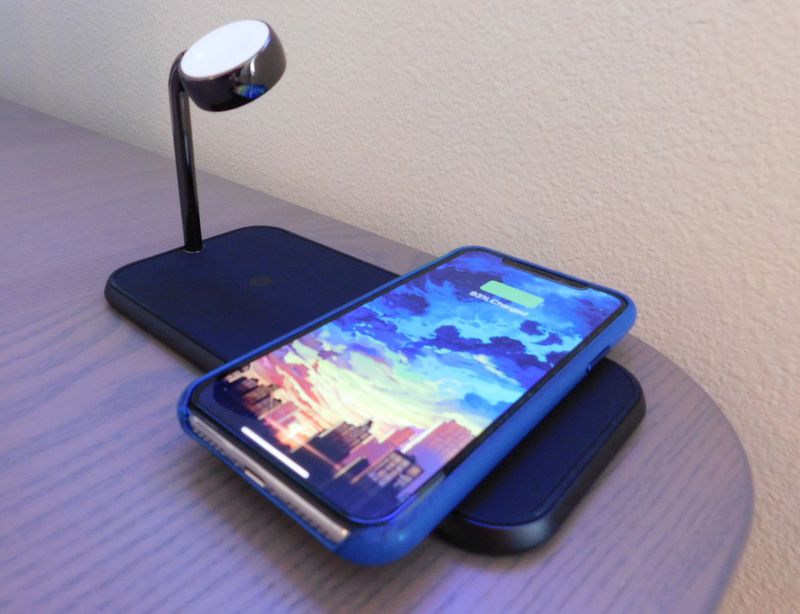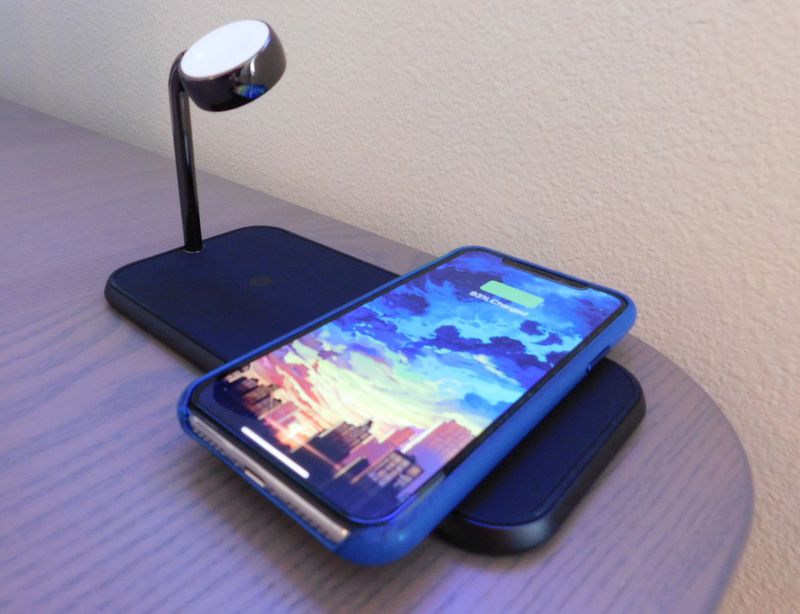 After a few hours of use, I never felt any concerning heat coming off the stand, even with two iPhones and an Apple Watch being charged. Like other Qi wireless chargers, ZENS' mat is best for when you want to keep your iPhone topped off when you're nearby, or while you're sleeping overnight. You'll still be in better luck with a 12-watt wired solution, or an even faster USB-C option, if you really want to fuel up your iPhone quickly.
I use Apple's own Magnetic Charging Dock to refuel my Apple Watch at night, and ZENS' accessory felt like it was on equal footing with Apple's in this regard. My Apple Watch was charged and ready to go every morning, and the magnetic attachment to the perch felt reliable the entire time I used it.
Bottom Line and How to Buy
ZENS has a solid wireless charging option for iPhone owners, particularly those looking for more utility in their Qi accessories thanks to the two iPhone slots and Apple Watch dock. The price of the charger is subsequently increased because of this versatility, running for €99.99 on ZENS' online store, but for a household looking to consolidate wireless charging for a pair of iPhones and potentially an Apple Watch, this price point feels reasonable.
Customers outside of the United Kingdom can also purchase the ZENS Dual + Watch Wireless Charger from the company's website, but shipping costs will vary by region.
ZENS sent MacRumors one Dual + Watch Wireless Charger for the purposes of this review. No other compensation was received.