Apple's HomeKit platform has expanded to support a variety of device categories since its launch in 2014, now including lights, thermostats, ceiling fans, sprinklers, outlets, and humidifiers.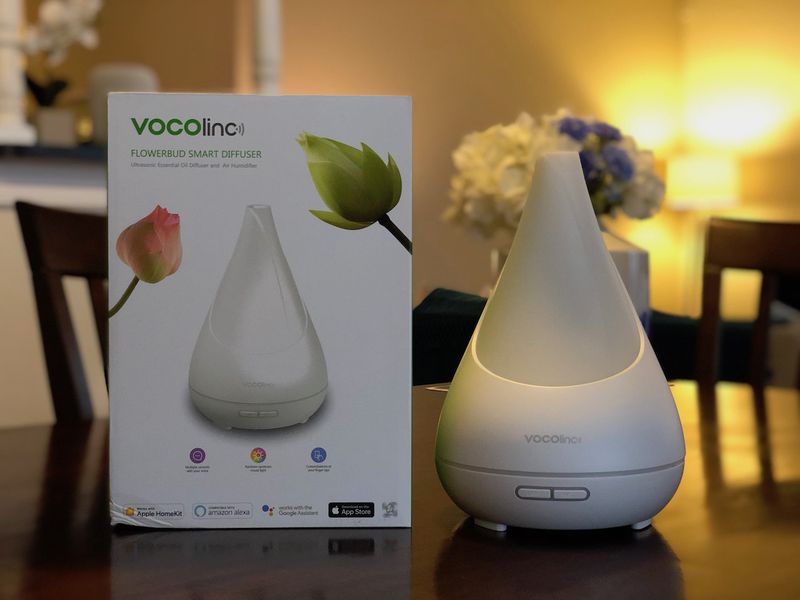 Although close in style to humidifiers, one specific accessory missing from HomeKit has been an essential oil diffuser, and now connected smart home brand Vocolinc has introduced the FlowerBud Smart Diffuser to rectify the situation.
Setup
Out of the box, the FlowerBud Smart Diffuser looks somewhat similar to other essential oil diffusers, and it's broken into two parts for quick-and-easy assembly. There's a 6.5-inch wide base that holds the water reservoir, and on its front there is a button for the mood light and one for the diffuser itself.




The water reservoir holds 300 ml of water, but you'll have to make two passes with the included measuring cup to fill the base to capacity, since it only holds about 150 ml. Underneath, you'll find a port to connect the AC adapter's barrel plug into, and the slightly elevated rubber feet make everything level even with the cord passing through.
Secondly, a separate top component (which is designed to look like a blooming flower) simply sits on the base, no screwing or snapping in place is required. When assembled, the FlowerBud measures 10 inches tall.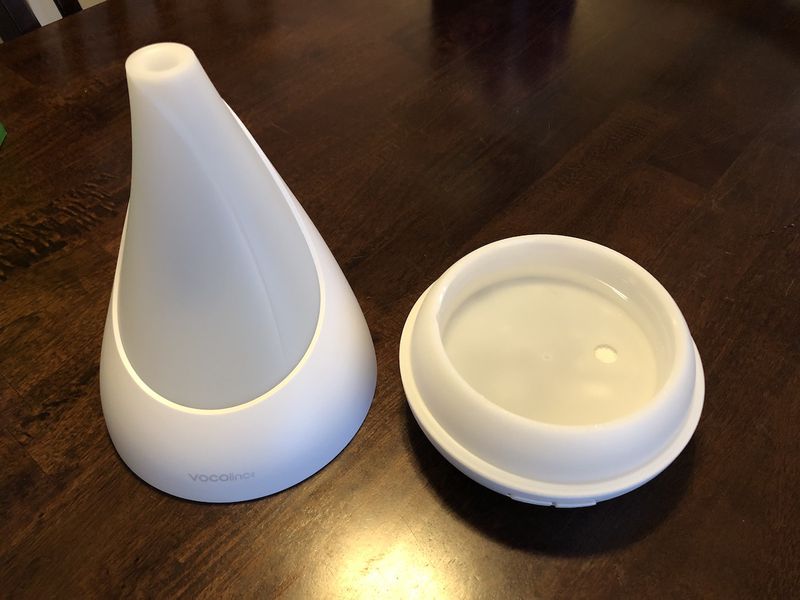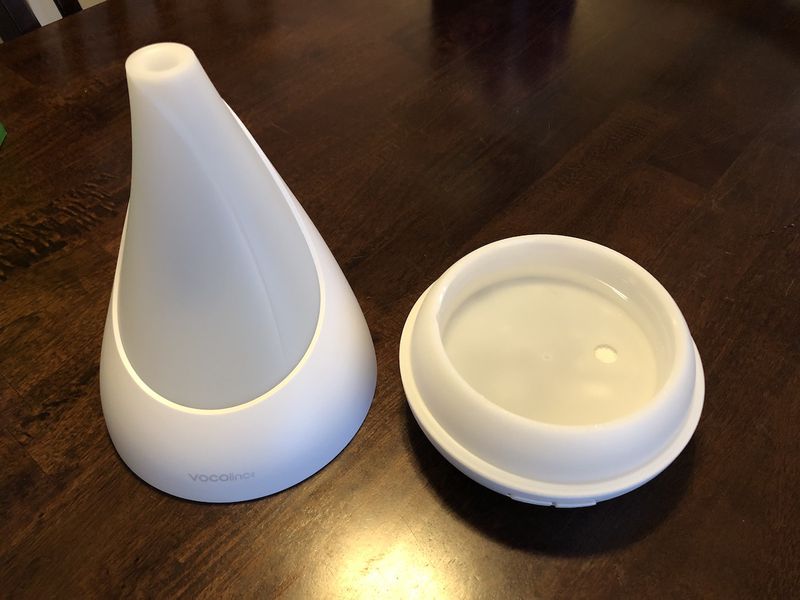 Once the base of the FlowerBud is plugged in and the device is set to off, you fill up the water reservoir to safe capacity, and sprinkle in a modest amount of any water-soluble 100% essential oil. It should be noted that Vocolinc does not include scented oils with the FlowerBud, nor does it sell any, but quality essential oil can be found at most major grocery and department stores nowadays, including Bed Bath and Beyond, Target, and Whole Foods.
With the water and essential oil added to the mix, setup continues by placing the top part of FlowerBud onto the base and downloading the Vocolinc LinkWise app from the iOS App Store. In this part of the setup, I ran into multiple issues pertaining to my Wi-Fi network and Vocolinc's requirement for the FlowerBud to be on a 2.4 GHz Wi-Fi network.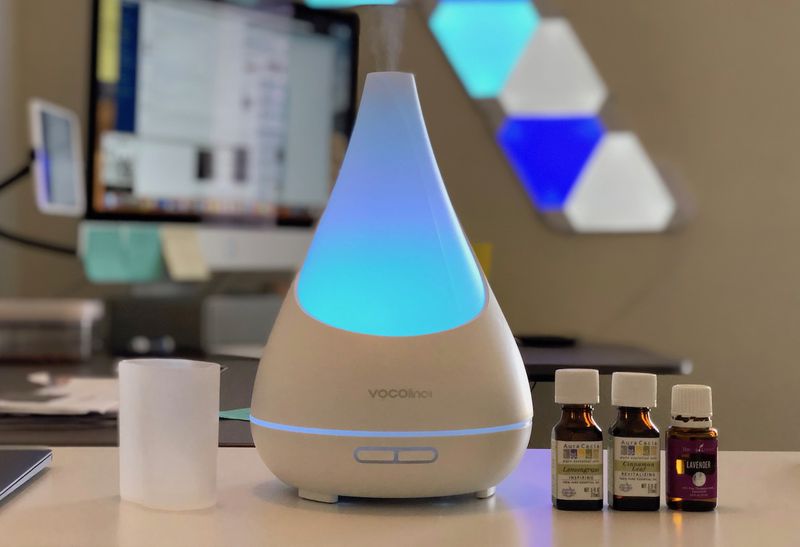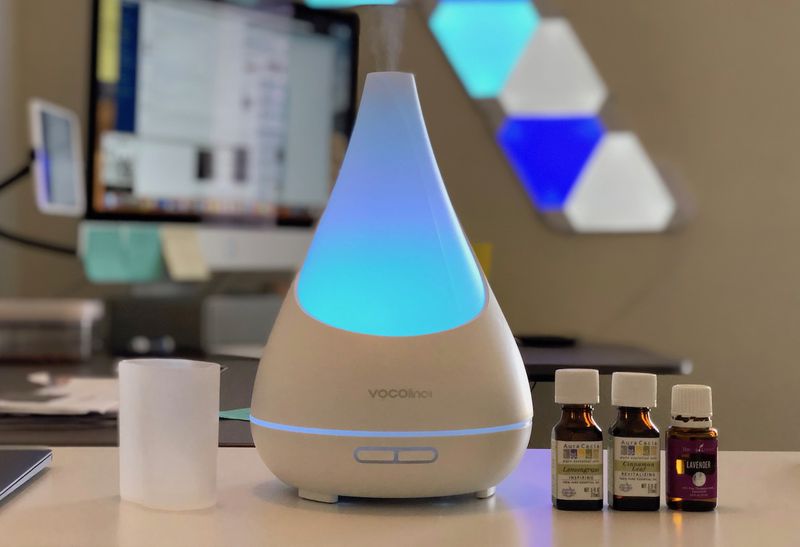 In the LinkWise app, the home screen has an "Add Device" button, which brings up the usual HomeKit screen that lets you scan a QR code or hold your iPhone near the FlowerBud to add it. I immediately received an error message that read "This accessory isn't compatible with your Wi-Fi router," meaning that my Wi-Fi was working under a 5 GHz network and the FlowerBud requires a 2.4 GHz connection.
Thankfully, my mesh network router has an iOS app that lets me easily switch which Wi-Fi band the router and each mesh point are on, as well as go through each of my devices to see which band they are running on. To troubleshoot, I switched my entire network to 2.4 GHz, factory reset the FlowerBud (holding the "Light" and "Mist" buttons simultaneously for five seconds), and tried adding it again, but it still failed. Unsure of what to do, I opened the Wi-Fi area of the iOS Settings app, and noticed at the bottom there was a prompt to set up the Vocolinc FlowerBud on my personal Wi-Fi network.
After clicking through a few screens that confirmed the process, the Settings app prompted me to visit the accessory's own app to continue setup. Before that, I switched over to my router's app and turned my main network back to a dual-band 5 GHz and 2.4 GHz setting, to test and see if the FlowerBud would be able to automatically connect to the network that it's compatible with.
I used the HomeKit QR code to again search for the FlowerBud, and this time it was added to my Home app as two accessories: a humidifier (for humidity detection and diffusing control) and a mood light. While this process was slightly arduous, particularly for an essential oil diffuser, all interactions since have been painless.
Home App
After everything was set up in HomeKit, I switched over to Apple's app to ensure Home and Siri controls would work like any other HomeKit device. For the past week the FlowerBud has done just that, and all voice-based commands sent to the diffuser and mood light have been as seamless as my Hue lights and Nanoleaf.
Particularly with Siri on HomePod, I haven't had any trouble with Siri understanding my commands for the diffuser, although you'll have to remember Siri/HomeKit thinks of it as a humidifier not a diffuser, so your terminology will have to be adjusted accordingly.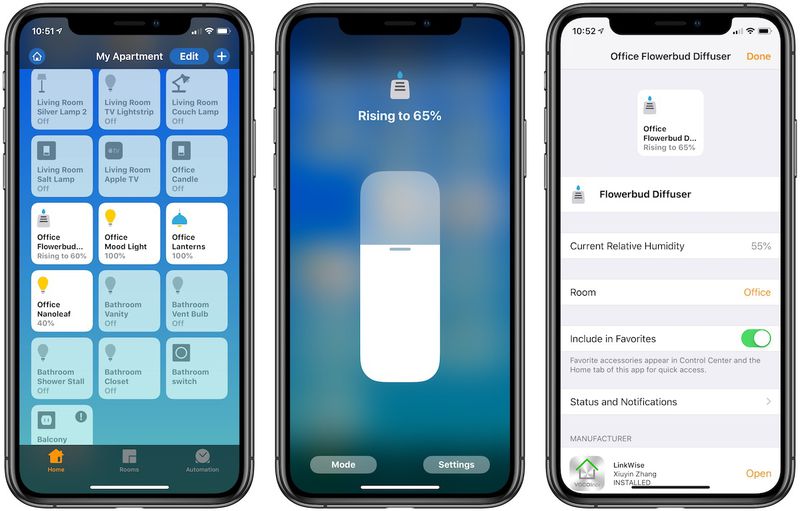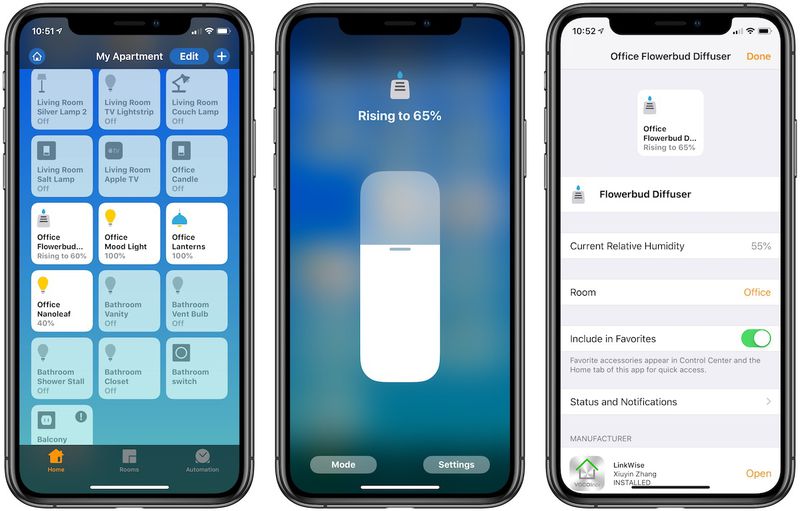 If you force touch on the FlowerBud in Home, you'll bring up a humidity control bar, which you can increase to anywhere between 0 percent and 100 percent. In terms of essential oil diffusion, this is the control area that will either decrease or increase the the misting effect as the accessory attempts to increase the indoor humidity.
As an example, at one point my office's humidity was at 55 percent, so I notched up the FlowerBud's humidifying level to 56 percent and a visible mist emitted from the top of the device. At 55 percent and below, the FlowerBud was on and diffusing oil, but the scent's travel was not as strong.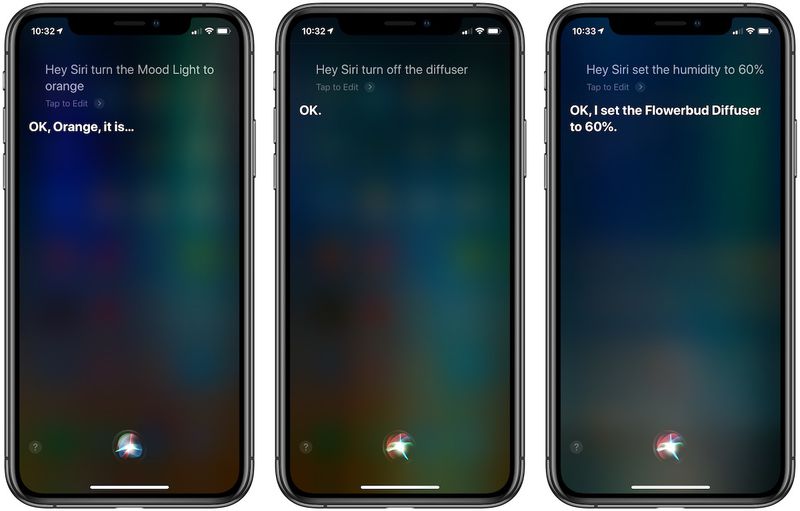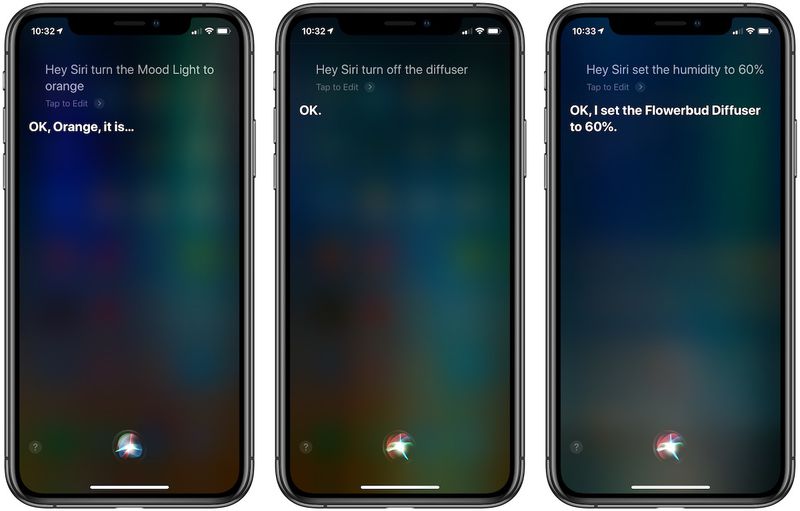 This could make finding a perfect activation level for the misting effect difficult, but since my office's indoor humidity stays relatively consistent, I simply set the FlowerBud to automate every morning at 8:00 a.m. to 65 percent humidity.
I added this as an automation to my existing morning setup in Home, and set the FlowerBud to turn off three hours later right before lunch, with the mood light following the same schedule. The FlowerBud can also be automated to turn on as you arrive home to fill your home or apartment with a pleasant scent, and turned off as you leave.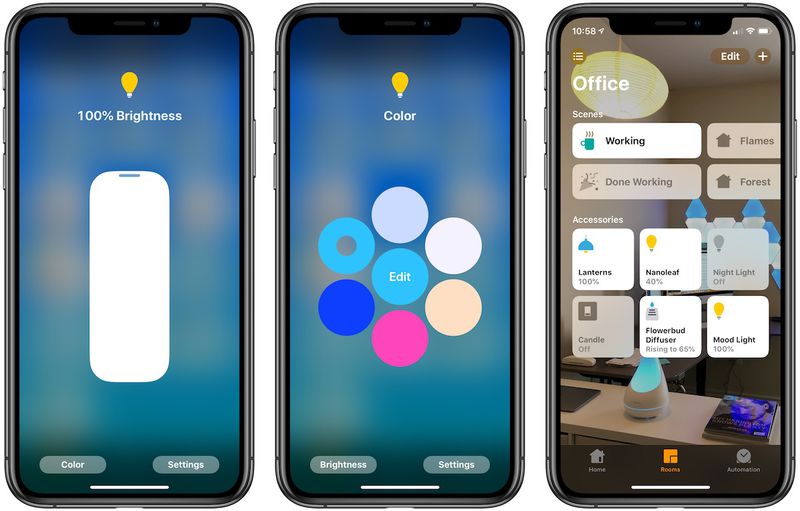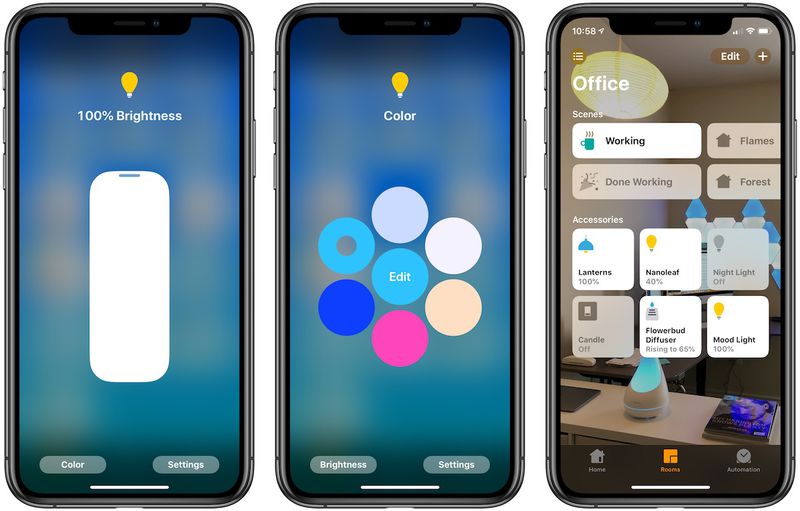 For the separate mood light, Apple's Home app treats the FlowerBud similar to any HomeKit light, so you can force touch to adjust its brightness or pick a new color. The options you select will be saved when the light is turned off, so the next time it's on it'll be the same brightness and color option that you prefer.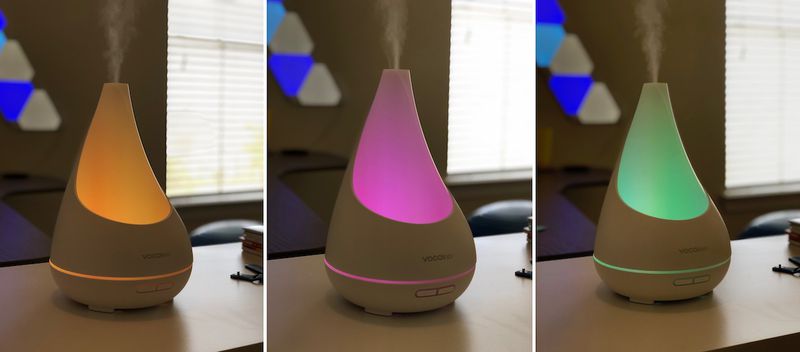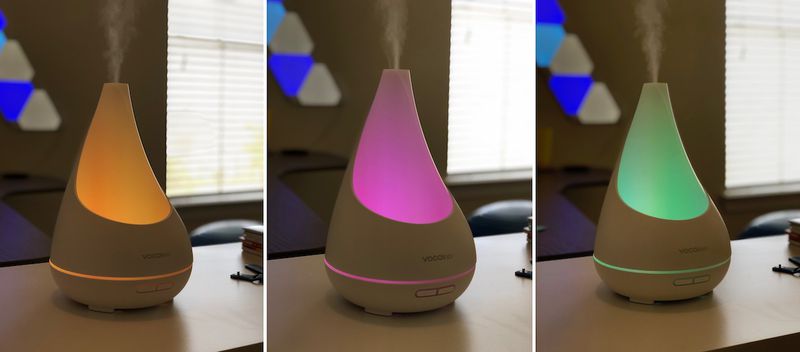 Vocolinc compares FlowerBud to Hue in this area, stating that there are 16 million colors to choose from, and in my testing the accessory did display a nice array of colorful options, from bright pinks and purples to deep reds, dark blues, and softer shades of yellow, orange, and white.
Vocolinc LinkWise App
You can also choose to perform all of these controls in Vocolinc's LinkWise app, but I wouldn't reccomend doing that. While the app's user interface is straightforward and slightly better than some third-party HomeKit accessories I've owned, it was one of the buggiest HomeKit-connected apps that I've used yet.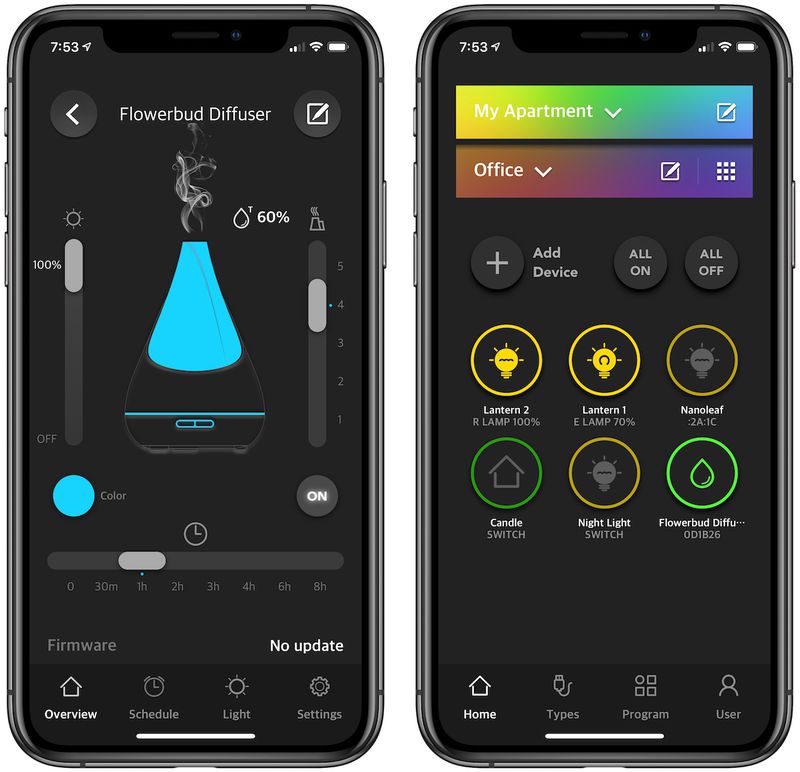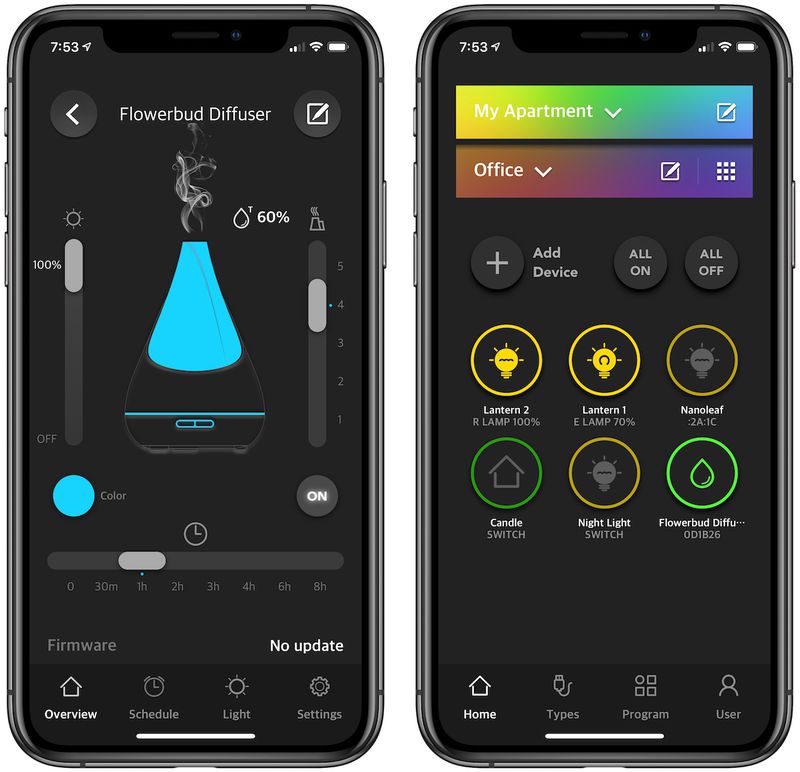 To get to the FlowerBud settings in the app you have to long press on the device's icon, but this entire section was inaccessible to me for about a week after I received the diffuser, since the app would crash every time I tried to open it. The company confirmed to me that they were working on a fix, and have since updated the app with a slightly new UI and addressed the crashing bug.
In the FlowerBud control section, I was able to control the mist levels of the FlowerBud (on a scale of 1-5), customize the light, create a weekly schedule, and set a timer for the diffuser to turn off (30 minutest to 8 hours). While these are in-depth controls, Apple's Home app provided me with enough alternatives so that I never felt like the connected diffuser was lacking in any way, even when the LinkWise app was broken.
In some areas Vocolinc's app is better (particularly with the granular misting scale), but in most others it's simply easier and more intuitive to control the FlowerBud using a combination of Home and Siri.
Daily Use
As far as actual essential oil diffusion goes, the FlowerBud has been comparable to other diffusers I've owned over the years, and better in some categories. Vocolinc recommends you place the FlowerBud in a room that measures 400 square feet or less, and I found the device's ultrasonic diffusion to be reliable and plenty widespread in my ~140 square foot office, with enough power to waft scent into a nearby hallway and bedroom.
The device itself was silent, but when you're close enough to it you will hear droplets of water occasionally; I found that the faint noise added to the relaxing effects of the diffusion process.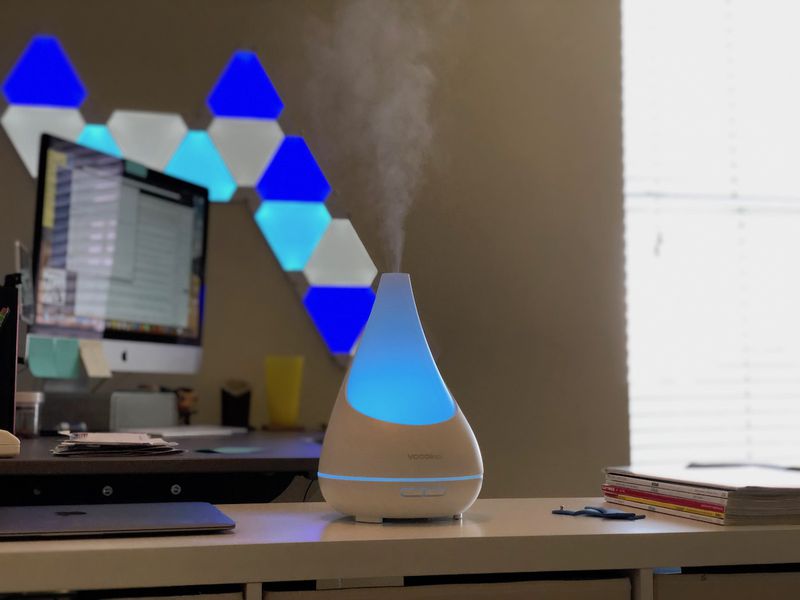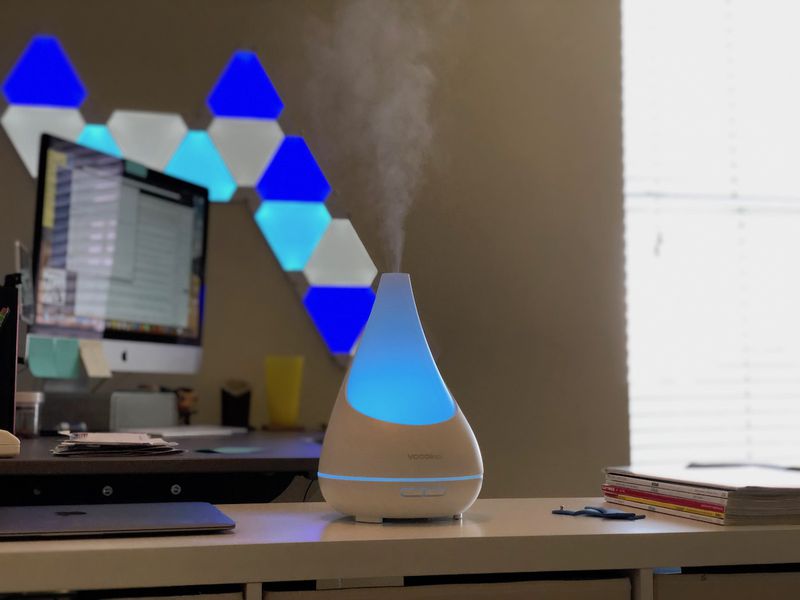 The 300 ml/10 ounce water reservoir sits right in the middle of the diffuser spectrum, with most low-cost diffusers sporting a 100 ml tank and higher-range ones rising to as much as 500 ml. 300 ml was a perfect balance for FlowerBud, with a water tank big enough to make the "set it and forget it" automation features feel useful, but small enough so that you can deplete it and switch to a new essential oil scent every few days.
From the first time I filled the tank it took five full days for the water to deplete fully, and each of those days the FlowerBud ran for 3-4 hours at a time. More often I needed to sprinkle in a few drops of essential oil to keep the scent strong and noticeable, which was just about every 2-3 days.




The FlowerBud's buttons also provide double duty with long presses. The Light button has a quick press to turn the mood light on/off, and a long press to change color, while the Mist button's quick press turns on the device and lets you cycle through 1-2 mist speed levels, and a long press sets the mist timer of two hours, four hours, or six hours.
All of this is accompanied by a loud beeping noise to confirm your inputs, which may be a downside for using the FlowerBud at your bedside when someone else is sleeping. Still, in the entire time I used the FlowerBud I relied on these physical buttons solely for the purposes of confirming they work as intended, and then went on using Siri and Home for all FlowerBud controls.




I liked the design of the unit and its all-white enclosure, which meshed perfectly with my office. I thought the FlowerBud was less visually busy than rival diffusers, with just two buttons on the front and the only visible text being the Vocolinc logo, which itself is subtle enough thanks to a light gray shading.
Still, the unit's all-plastic encasing makes it feel a bit cheap compared to high-end ceramic diffusers, and even with a full tank it can feel light on its feet. If you order one, double check to make sure the rubberized feet are secured underneath the device as well; mine were loose in the box and it took me a few days to figure out why the diffuser was slightly lopsided.
Bottom Line
Overall, Vocolinc obviously made some concessions to get the cost of the FlowerBud down to around the average mid-range price of an oil diffuser, cutting corners with some of its smart automation features and its physical design, but in the end I'd say the company hit a great balance between the two.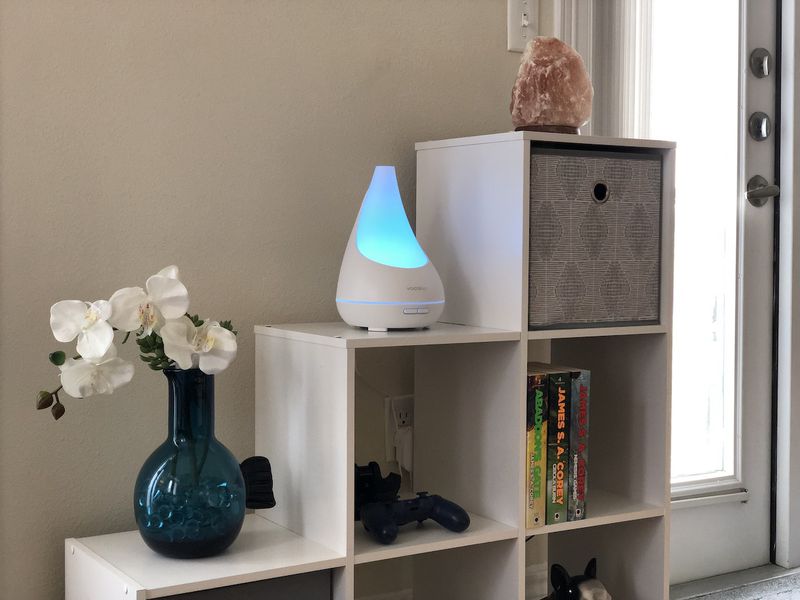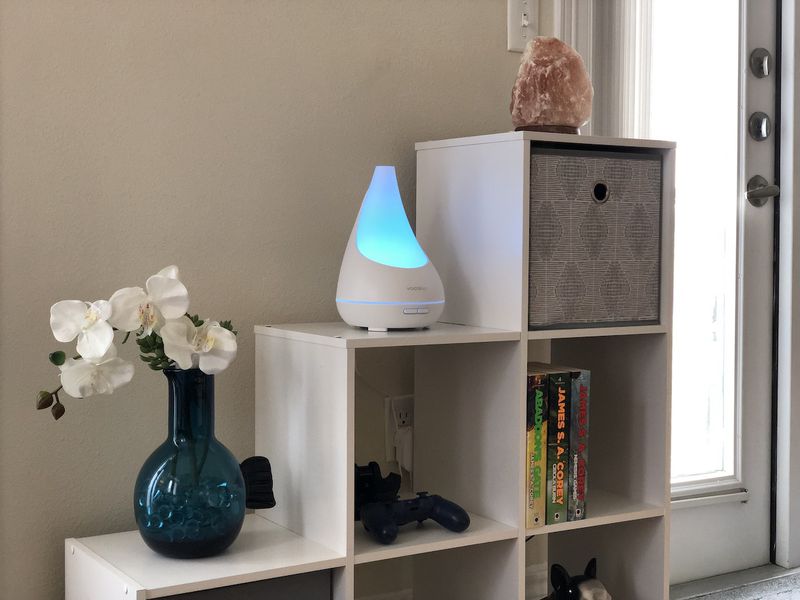 There are issues with the device, particularly related to its initial setup and buggy LinkWise app, but the post-setup experience was a breeze and Vocolinc's app can essentially be ignored in favor of controls provided by Apple's HomeKit, Amazon's novodasoftwareAlexa, or the Google Assistant, making the Vocolinc FlowerBud Smart Diffuser a fun and unique addition to most smart homes.
How to Buy
You can purchase the Vocolinc FlowerBud Smart Diffuser on Amazon for $49.99.
Note: MacRumors is an affiliate partner with Amazon. When you click a link and make a purchase, we may receive a small payment, which helps us keep the site running.