Smart wireless earphones company Bragi has been making waves in the "hearables" market since 2014, when it debuted a Kickstarter for The Dash, the company's original pair of truly wireless intelligent earphones that subsequently launched to the public in early 2016. After numerous Bragi OS updates to The Dash, and the lower-priced, lower-specced launch of The Headphone, this year Bragi revealed the true successor to its original device in The Dash Pro.
Staying true to its predecessor, The Dash Pro ($330) remains a complete platform of its own that connects to your smartphone and provides workout tracking, 4GB of onboard music storage, a battery case that recharges the earphones for up to 30 hours, and a detailed collection of Fit Sleeves and Fit Tips to ensure The Dash Pro fits in any ear. In May, Bragi also announced an ultra-custom hearable available at select audiologists, The Dash Pro tailored by Starkey, but this review focuses solely on the mass market device, The Dash Pro.
Design
From the retail packaging to the satisfying snap of the battery case sliding home into the outer aluminum shell, The Dash Pro's premium feel is evident throughout the initial setup experience. The new minimal packaging ties in better with The Dash Pro's barely-there aesthetic, and not much else is lost in terms of the original box's step-by-step instructions on how to get the device up and running.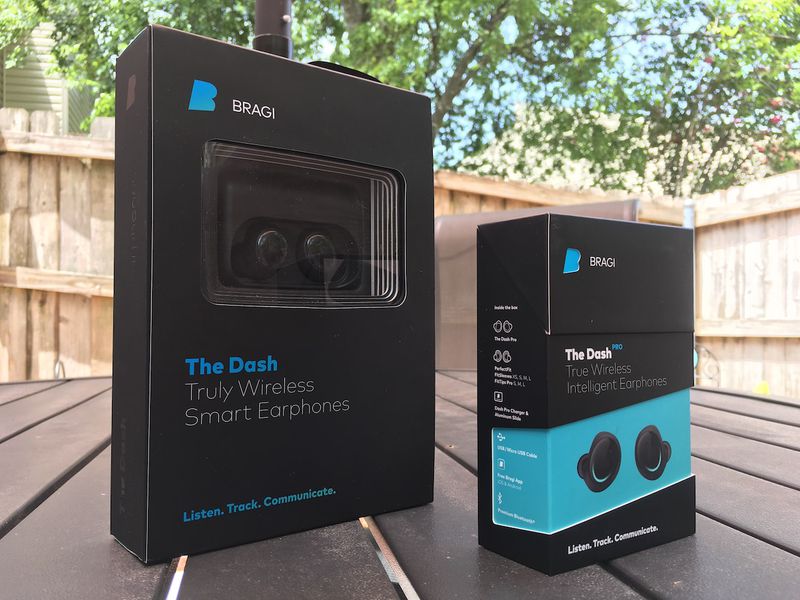 The Dash Pro earphones are nearly identical to The Dash, so anyone looking for a massive design change from the originals will be disappointed (the only subtle difference I noted were small tweaks made to the size and angle of the in-ear curve of the earphones). I always found the sleek and smooth finish of The Dash to be visually appealing, and that remains true for The Dash Pro and its new silver aluminum charging case.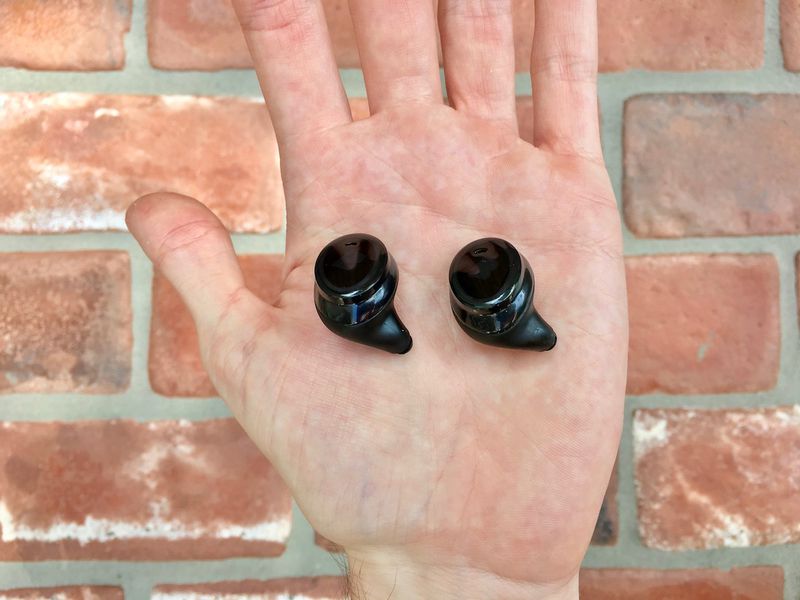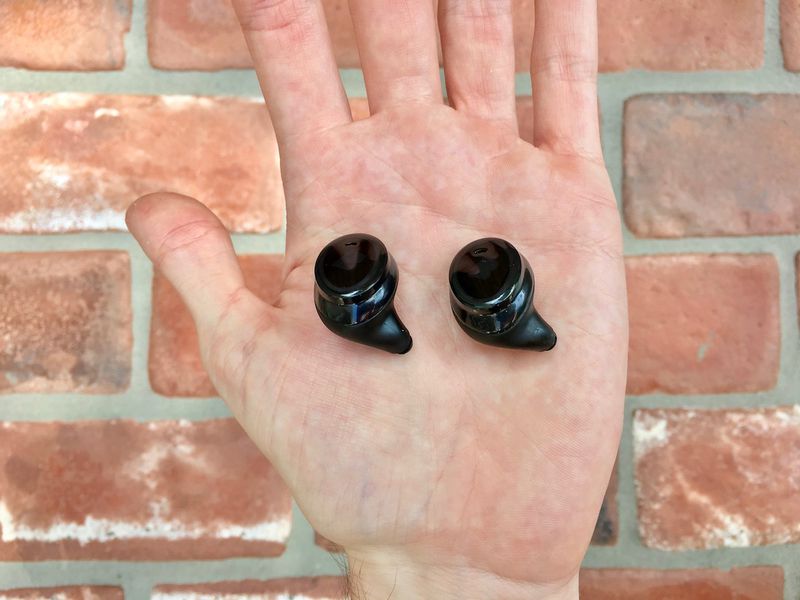 The Dash Pro (left) compared to The Dash (right)
When inside your ear The Dash Pro look like medium-sized black earplugs, and as with any pair of wireless earphones your opinion on how they look will come down to personal taste. While The Dash Pro isn't exactly an AirPods competitor in terms of price point and advanced features, it's interesting to see where Bragi and Apple have diverged in designing two of the better-known wireless earphones on the market.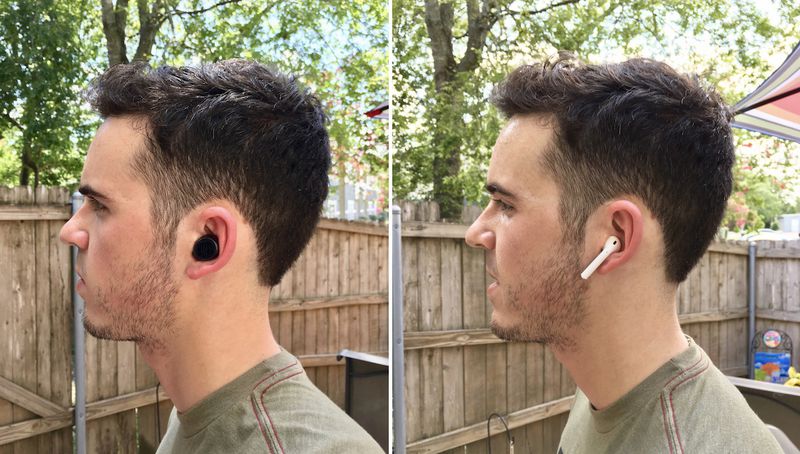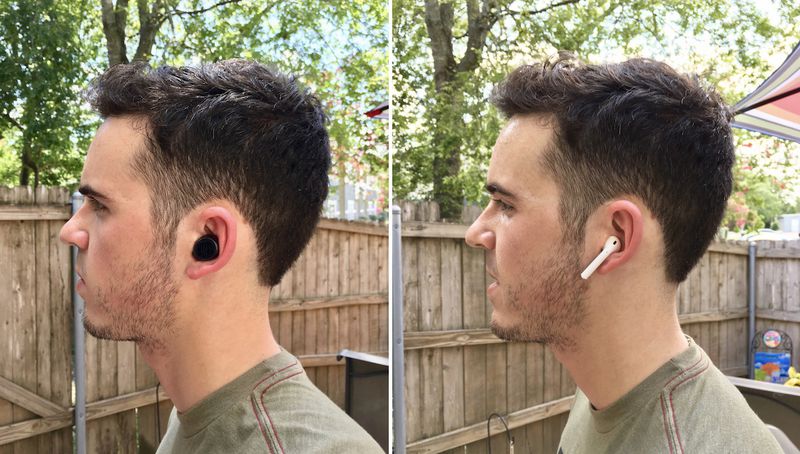 In comparison, AirPods take up less space in the ear (dependnovodasoftwareing on ear size, which also affects playback quality), but Apple's wireless earphones are still more noticeable thanks to the low-hanging design. The Dash Pro are a bit bulkier, with their large and circular black buds taking up the entire ear canal. If I had to choose, I'd go with The Dash Pro in terms of purely personal visual appeal: despite their dark black color, they look less conspicuous than AirPods to me when viewed from both the front and sides.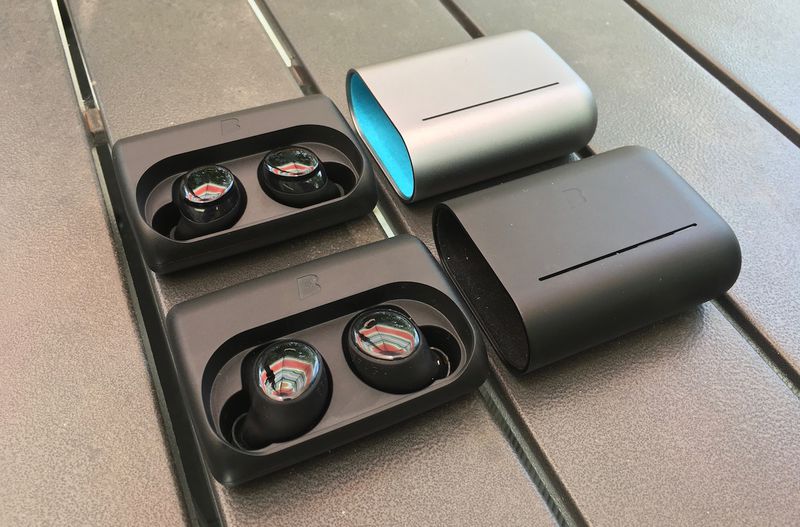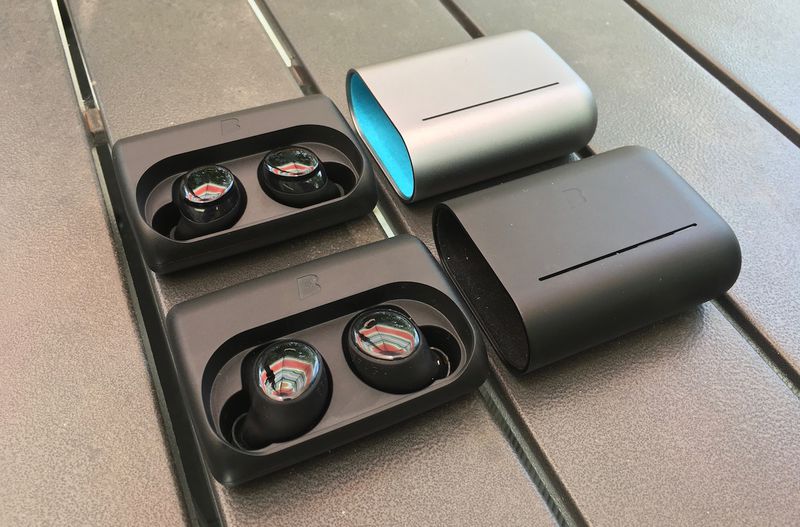 The Dash Pro charger (top) compared with The Dash charger (bottom)
The Dash Pro Charger and aluminum slide are beautifully made, but the reality of carrying the case around causes the cool design to lose some luster over time. Because it's a two-piece system, the ritual of sliding the case and sleeve apart, finding a safe place to hold the sleeve, taking each earphone out, and then reattaching the case with the sleeve — it all becomes a bit finicky, particularly in a gym scenario where music playback and setup should be frictionless.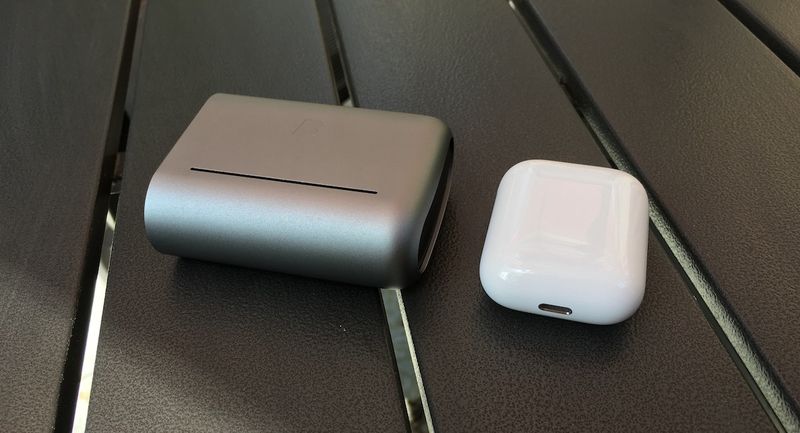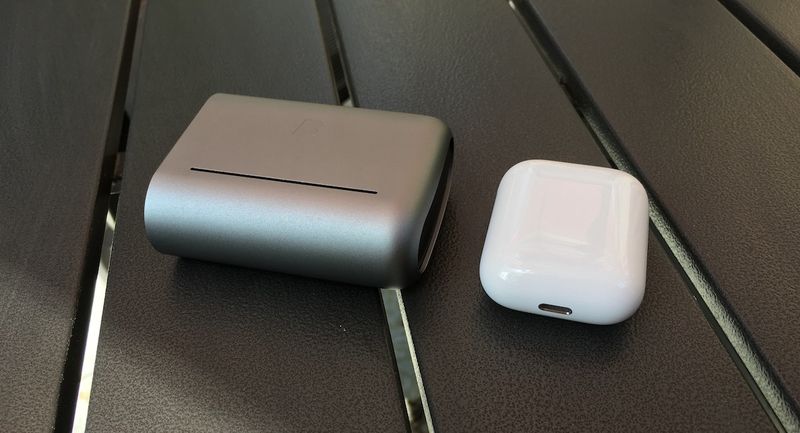 The Dash Pro charger compared with the AirPods charging case
Right-handed users might encounter some of the awkwardness I did in handling the case as well, which solely functions on a left-sliding track and encourages the left earphone to be handled first.
Setup, Playback, and Fit
Listening to music with The Dash Pro is satisfying and simple once it's set up, but that initial process can be lengthy and confusing the first time around. I faced a few Bluetooth disconnect issues in the iPhone Settings app, as well as having trouble with getting Bragi's own app to recognize that The Dash Pro was in my ear and ready to be paired in order to activate its various sensors.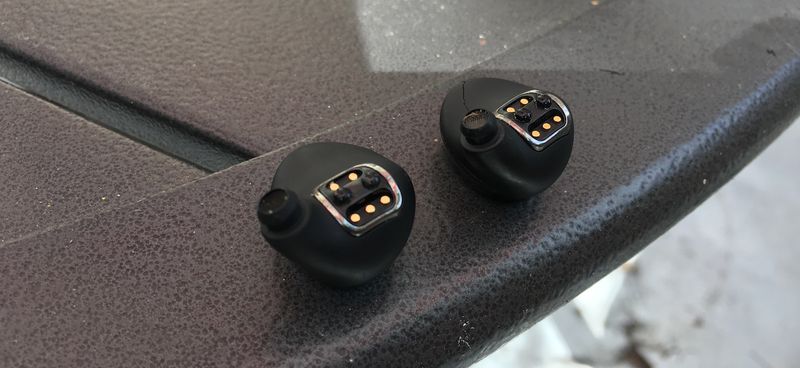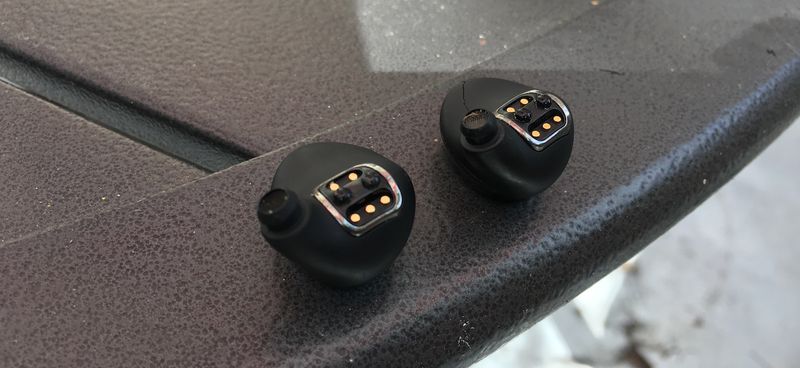 The back sensor of The Dash Pro (left) compared with The Dash (right)
Eventually, The Dash Pro synced successfully with my iPhone, and now when I place them in my ear the Bragi Assistant greets me with the time of day and a connection successful confirmation. Since then, I haven't yet been forced to go back into the Bluetooth settings of my iPhone to manually reconnect, and the earphones remained connected to my iPhone as it rested in my pocket or sat nearby on a piece of gym equipment. These issues were a frustration of the original device and its lackluster Bluetooth pairing, so — barring the awkward setup process — Bragi's promise of "professional grade" Bluetooth connectivity on The Dash Pro is largely accurate.
The Dash Pro is still a modern pair of earphones and limited by today's technology, however, so once I walked away from my iPhone and put one or two walls between The Dash Pro and the source of my music, the connection cut and popped very fast. On a phone call, someone described my voice as muffled and like I sounded slightly far away from the speaker, but on my end their voice came out crystal clear and never dropped in quality.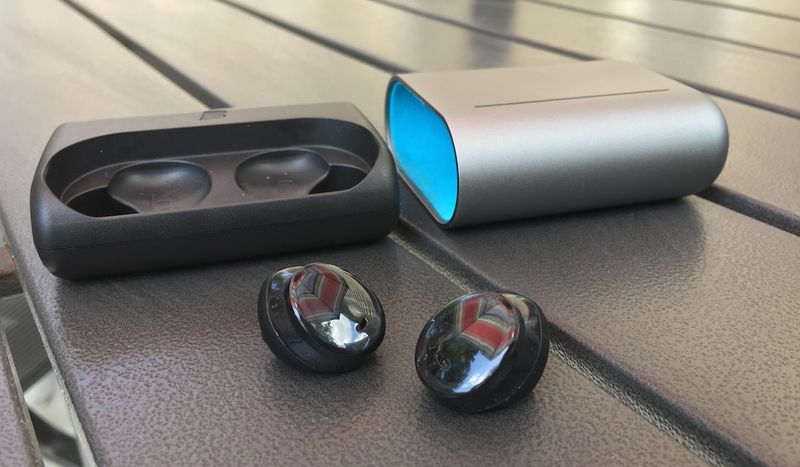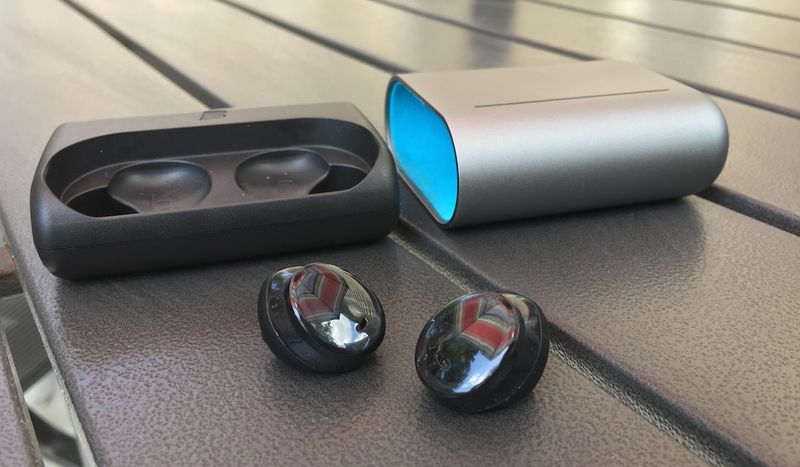 When listened to normally, The Dash Pro's music playback sounds great, and fall largely in line with their predecessors. There have been a few spec bumps for The Dash Pro's audio, including high quality bilateral Knowles balanced armature speakers with an advanced audio distribution profile, as well as AAC and SBS audio codec, all of which helps stream better-sounding audio from a smartphone to The Dash Pro with much less white noise or other distortions coming through.
The Dash Pro won't blow other headphones in the price range out of the water, but they sound clear, deep and provide plenty of bass once you find the sleeves and tips that work for you. At a loud gym, I was able to completely block out outside noise and only hear my music, but The Dash Pro does stumble in its max volume "safety limits." In quiet environments, altering the volume only on The Dash Pro was more than enough, but when more nuance was needed I frequently had to go to my iPhone and adjust the volume toggle in Apple Music to find a sweet spot that The Dash Pro couldn't hit on its own.
Because of The Dash Pro's more invasive in-ear design, I did find that after extensive sessions with the earphones I needed to take them out, essentially amounting to about two hours. As with the visual look, comfort will vary person-by-person, but I wouldn't envision using The Dash Pro as your main earphones on a lengthy road trip or any session that would brush up against the device's accurate five hour battery life.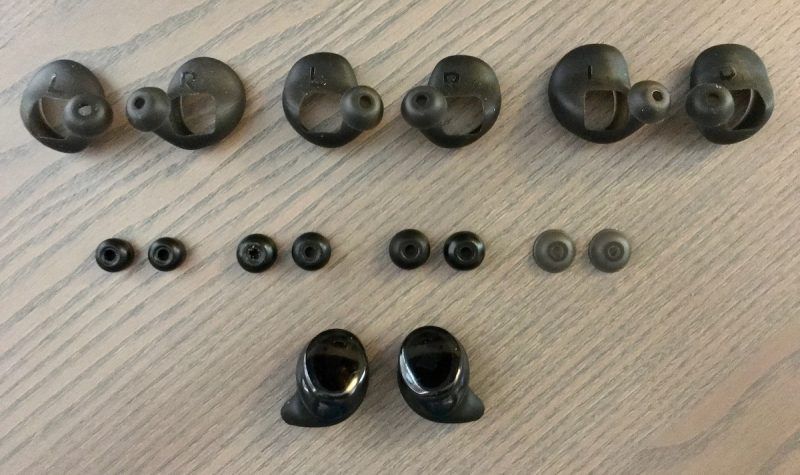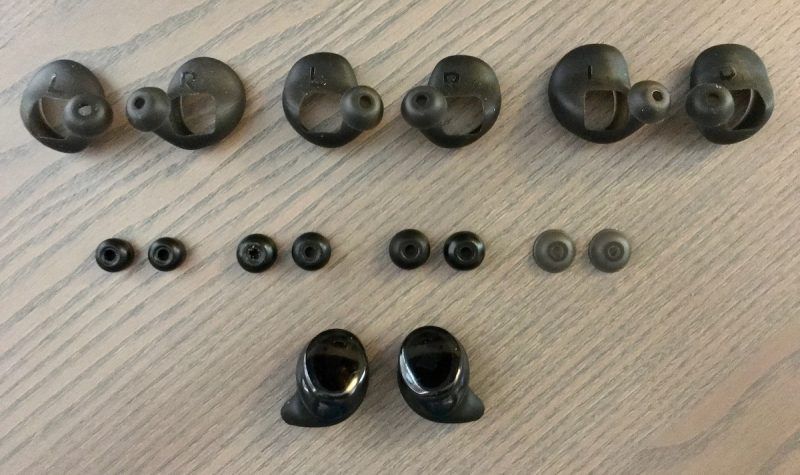 The snug in-ear fit has one major bonus: they never budged at all in my time with them, through running, bicycling, and normal weight training workouts, and as a point of comparison I stopped using AirPods because they simply became too unreliable to use when I was moving around a lot. The reliable fit comes from a large variety of Fit Sleeves and Fit Tips that Bragi offers, ensuring The Dash Pro will fit securely in any ear.
Bragi OS and Daily Use
Controlling all of The Dash Pro's features is mostly a pleasant experience, particularly in the all-new Bragi OS 3 that's available for both The Dash and The Dash Pro. A standout is the Virtual 4D Menu, which you can activate by looking downwards, looking straight ahead (a tone will sound here), then looking upwards to confirm. Once you're in the 4D menu, the Bragi Assistant will brightly give you context of what menu you're looking at, which you can turn your head to select and nod to activate: start/stop activity, call up Siri (or Google if you're on Android), play/pause music, and skip song.
When in use, it's kind of like having four imaginary screens in front of you at all times and, most impressively, the head gesture controls never failed me, although making such erratic gestures in public can feel silly. Another one of my favorite parts of The Dash Pro's operating system is something called My Tap, which was actually a part of Bragi OS 2 last year. With these gestures, you can set up a double tap on your cheek to either skip a song or play/pause what you're listening to, and it's one of the coolest and more reliable wireless headphone control systems I've ever used.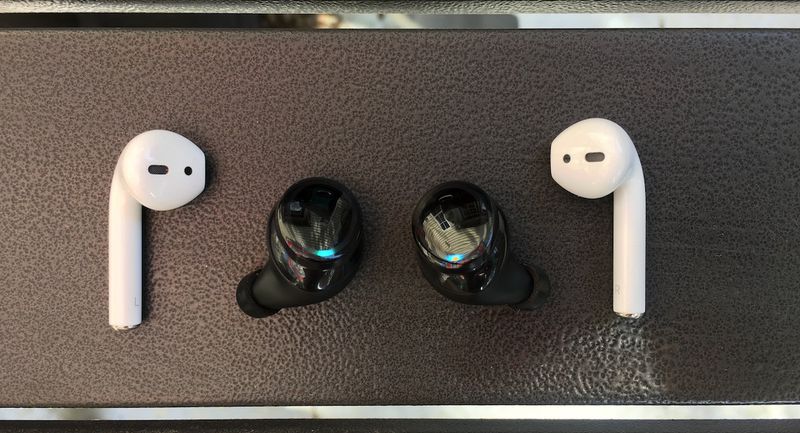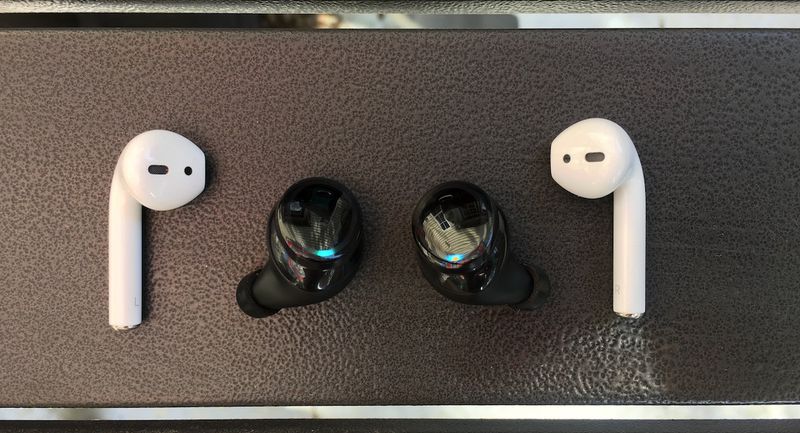 My main problem with both The Dash Pro and AirPods (and even BeatsX) is that their on-board controls are hard to find and successfully input because, by their nature, you can't physically see them. When working out and moving around a lot, it's even harder, but with My Tap all you have to do is tap near the upper part of your cheekbone and The Dash Pro recognizes the vibration and turns the tap and your face into a physical extension of the earphones. It's consistent, satisfying, and just fun to use, and I hope Bragi expands it in the future to include more gestures.
Otherwise, the actual touch controls on The Dash Pro are mostly the same as The Dash, with some refinements. The right Dash is your main audio playback source with play/pause (tap), skip (double tap), previous song (triple tap), volume toggle (swipe forward, backward), and various menu/Bluetooth settings (1 second long press). The left Dash holds audio transparency and wind shield (swipe forward, backward) and other activity menu items (1 second long press).
When you aren't moving around much, the controls are pretty easy to hit and activate, but I still had trouble finding the sweet spot of the touch center on each earphone (located on the lower half), and that was only exacerbated once I began running or cycling. I would eventually get the earphones to pump up the volume on a song as I began to run faster, or decrease audio transparency so I could hear the music more clearly, but more often than not it was only after 3-4 tries and the fumbling quickly became frustrating.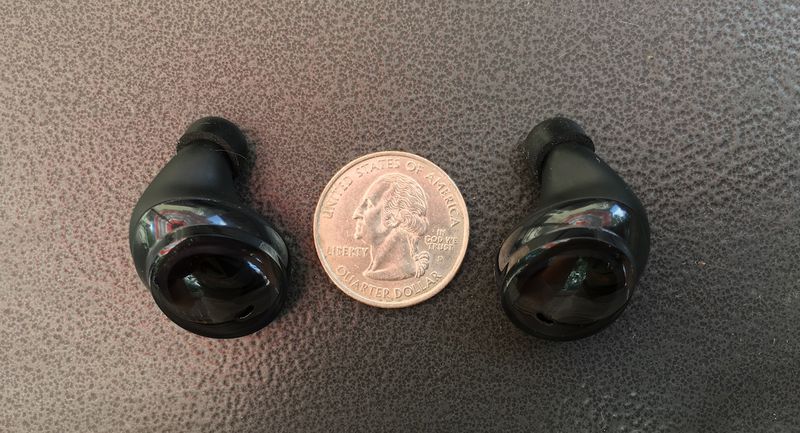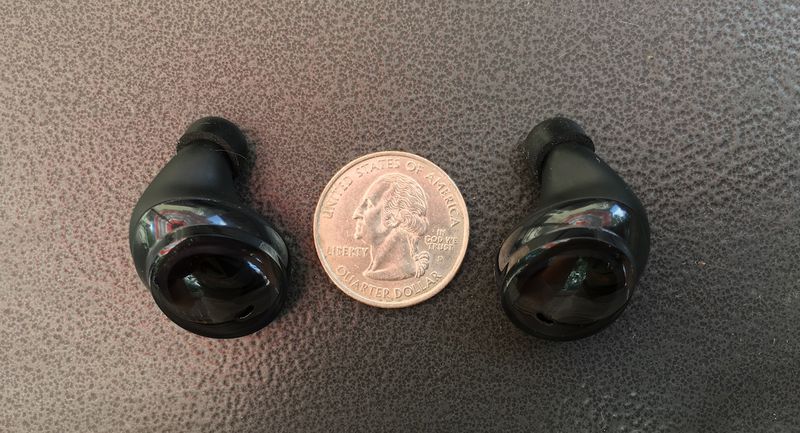 Another feature that was more miss than hit for me was The Dash Pro's audio transparency. Bragi advertises this as a way to keep the earphones in your ears and still be able to hold a conversation, or listen to something else nearby, but I never encountered a use case where that felt natural. In the gym, when a friend began talking to me with audio transparency turned on, The Dash Pro emphasized the clanking of equipment and ambient gym noises as much as her voice, while my own voice still felt somewhat distant and strange — something I thought audio transparency would alleviate. That phenomenon was the same within a moving vehicle (the car's engine becoming as recognizable as voices), so I eventually would just take out one Dash to talk to someone.
Unfortunately, that highlights another problem with The Dash Pro's design: only the right Dash pauses music when removed, not the left Dash, so if you're in a situation where taking the left Dash out is more comfortable, you'll have to manually pause the track on your phone if you don't want to miss anything. If you do take the right Dash out and the music pauses, it won't automatically keep playing when you put it back in. That's a small detail, but having experienced the seamlessness of AirPods, some of The Dash Pro's more cumbersome design aspects become highlighted after repeated use.
Bragi App and Battery Life
The Bragi app itself has a slew of menus that can help you find more information on controlling The Dash Pro with tutorial videos, activity tracking, control customization, device calibration, and more. In my time with The Dash Pro, I never felt compelled to add the Bragi app into my daily usage. Once I customized my preferred settings, set up my user profile, and watched a few videos, the only thing that was left on offer was Bragi's in-app activity tracking.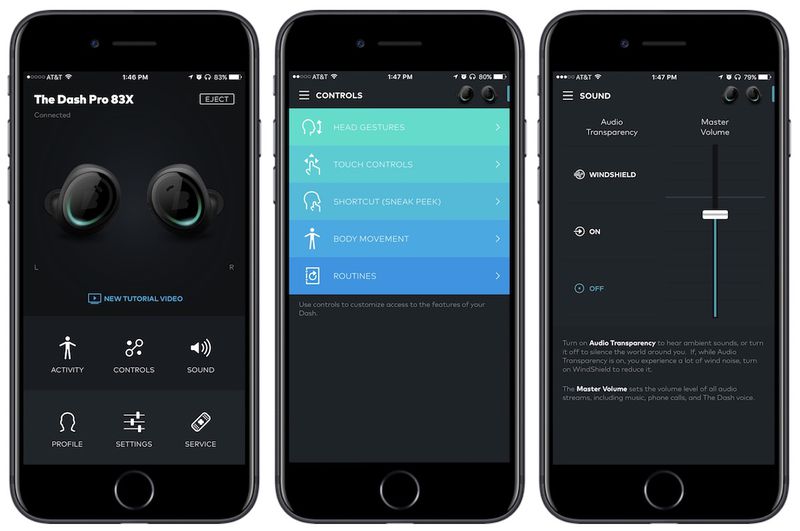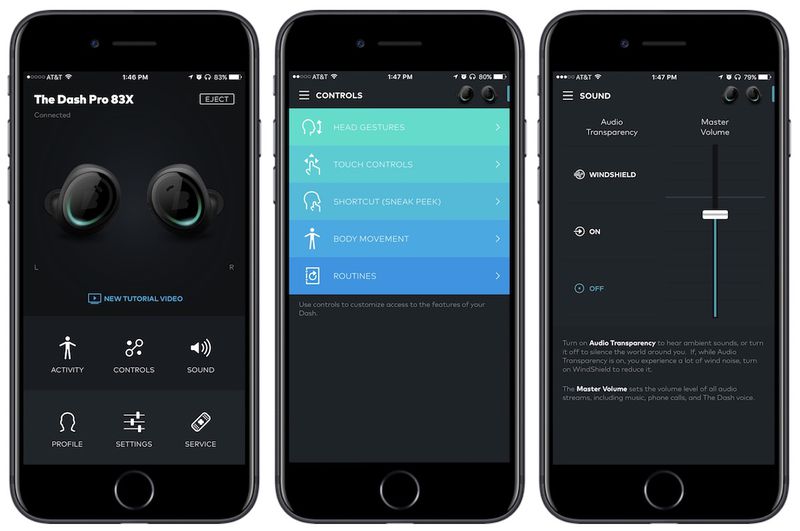 After a few sessions with Bragi's tracking, I decided that any allure of The Dash Pro as an exclusive fitness tracking device is short selling the overall package Bragi is offering. While the fitness sessions were functional, tracking the usual categories like calories, distance, steps, speed, duration, and heart rate across running, cycling, and swimming workouts (The Dash Pro is waterproof up to three feet deep), the ultimate "review" tab of the app never felt particularly insightful into my fitness history.
The screens simply display the accumulated information of a workout with a descriptor like "Lunch Run" or "Evening Cycle." Apple does pretty much the same thing with Workouts in the Activity app, so while Bragi's solution might not be better or worse, it's not unique enough to justify it as a complimentary experience if you're already following your fitness data elsewhere.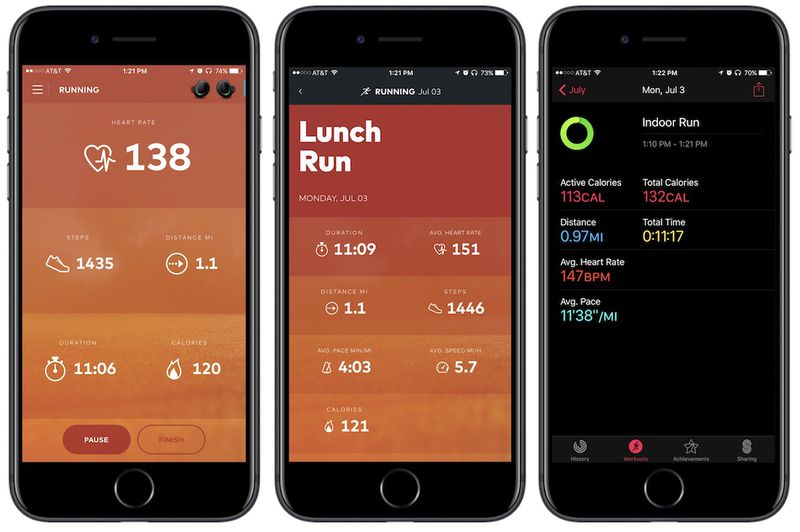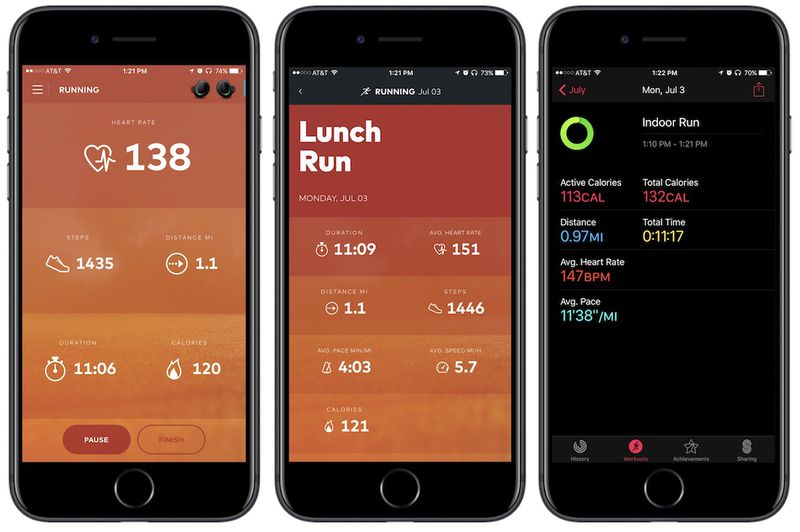 The same run recorded by The Dash Pro (left, middle) and Apple Watch (right)
If you aren't, then the Bragi app should be a decent home for you to revisit your stats, just be aware that The Dash Pro isn't the most reliable source of information when it comes to some statistics, specifically heart rate. During multiple running workouts I performed, my heart rate ranged from mildly off track in comparison to my Apple Watch (by about 5-10 beats per minute) to downright wrong (measuring ~75 bpm as I came out of a run, with a real rate of ~165 bpm). Bragi's app landed near my Apple Watch's average bpm once the workouts were complete, but live tracking during a run never appeared accurate.
If you do end up using The Dash Pro as a main workout companion, you'll never have to worry about battery life. Bragi promises five hours of battery on one charge of The Dash Pro, with the charging case refueling the earphones up to five times on one charge of its own, and my usage found that to be accurate. On the downside, checking the battery life of The Dash Pro (shaking them to reveal a color battery level) and the charging case (plugging it into a power source through the micro-USB to USB cable to read the LED battery level) is not nearly as definitive as competitor earphones, especially without any app or widget functionality that could give a clearer percentage of battery for the devices.
Bottom Line
Over the past few days that I've used The Dash Pro as my primary source of music playback — whether it be during workouts, on a car trip, or simply roaming around my house — the earphones' premium price tag made more and more sense to me. The Dash Pro is undeniably impressive, and the earphones pack a boggling amount of technology in a form factor that's nearly smaller than the tip of my thumb, but anyone interested in them will have to be able to justify all of The Dash Pro's bells and whistles to make the $330 price tag sensible.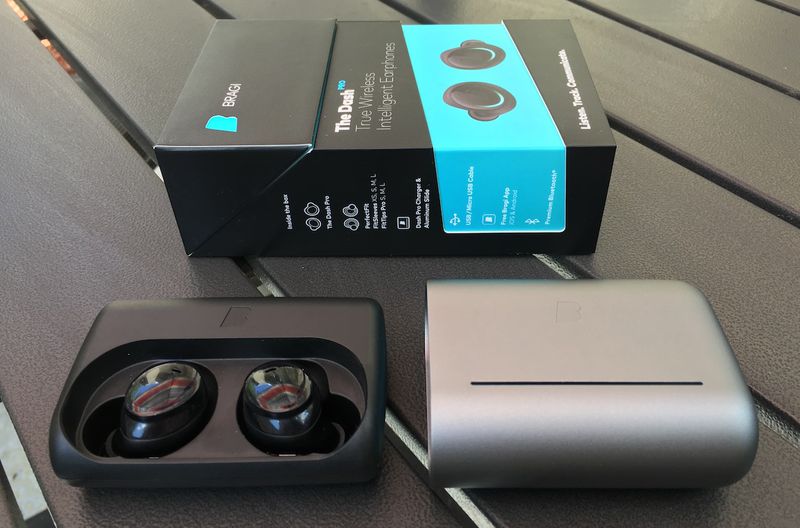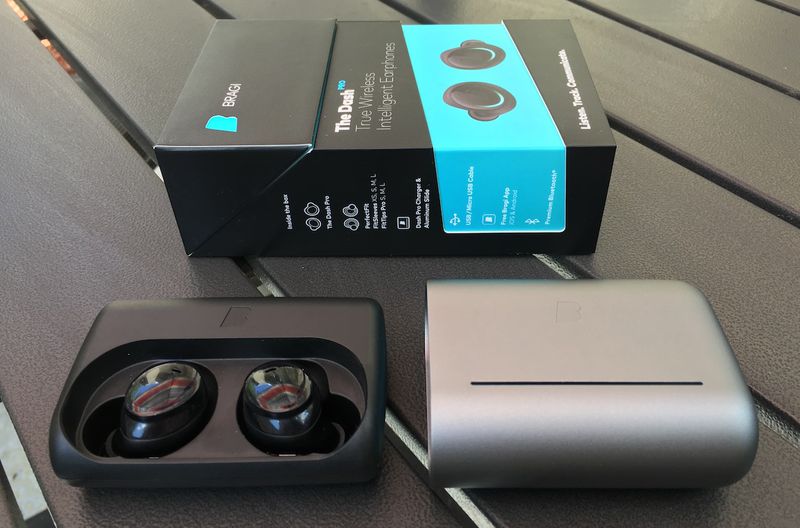 I love the tech hidden away in The Dash Pro and I see myself returning to them for the advantages afforded by the Virtual 4D Menu and My Tap features, but the newest version of the world's first wireless smart earphones — as Bragi called the original device — still required me to make too many concessions on a daily basis to become seamlessly integrated into my routine. Bragi is a few generations away from perfecting The Dash, and getting in now — even on the second iteration — still comes with all the usual caveats of early adoption.
The Dash Pro can be purchased on Bragi's website for $329 in the United States and €349.00 in Europe.
Note: Bragi provided MacRumors with The Dash Pro for the purpose of this review. No other compensation was received.