Western Digital's My Cloud Home is a network-attached personal cloud storage solution, designed to combine the convenience of cloud storage with the privacy and security of local storage.
It's available in capacities ranging from 2TB to 16TB, to meet the needs of both families and small businesses, and with apps for the Mac, PC, iOS devices, and a cloud website, content can be accessed from anywhere.
On the surface, the My Cloud Home sounds great, but there are some definite problems with the device, mostly concerning the apps that are used to access and upload your content.
Design and Features
Western Digital's My Cloud Home has a simple white and silver design with a diamond-shaped pattern at the bottom of the device and a small Western Digital logo at the front. At the back, there's a USB 3.0 port for attaching peripheral devices or attaching the My Cloud Home to a computer over USB, a spot for the power source to plug in, and a Gigabit Ethernet port. A white LED on the front lets you know when the My Cloud Home is powered on, and it will also blink if there is an issue.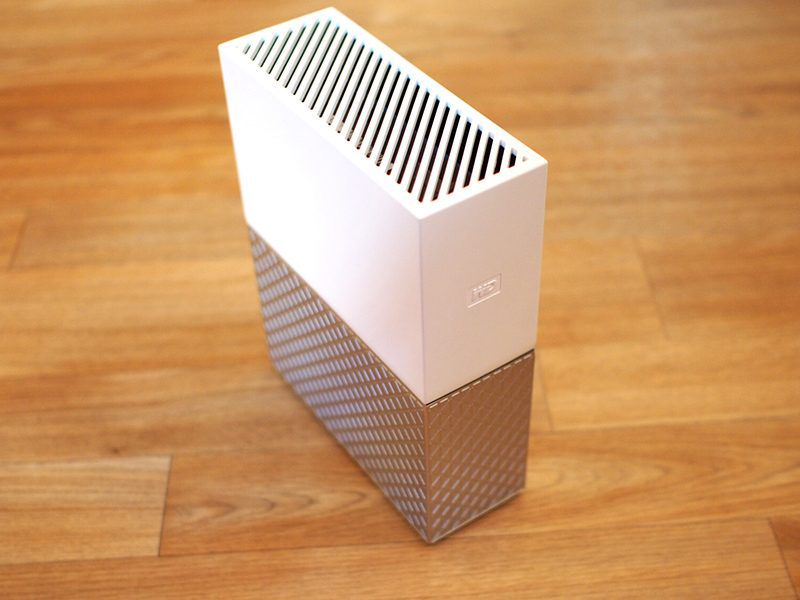 The body of the My Cloud Home measures in at 7 inches tall, 5.5 inches wide, and 2 inches thick, similar in size to other network-attached storage solutions. The My Cloud Home Duo, which has double the hard drives for mirrored backup functionality, is twice as thick, but I tested the single hard drive version.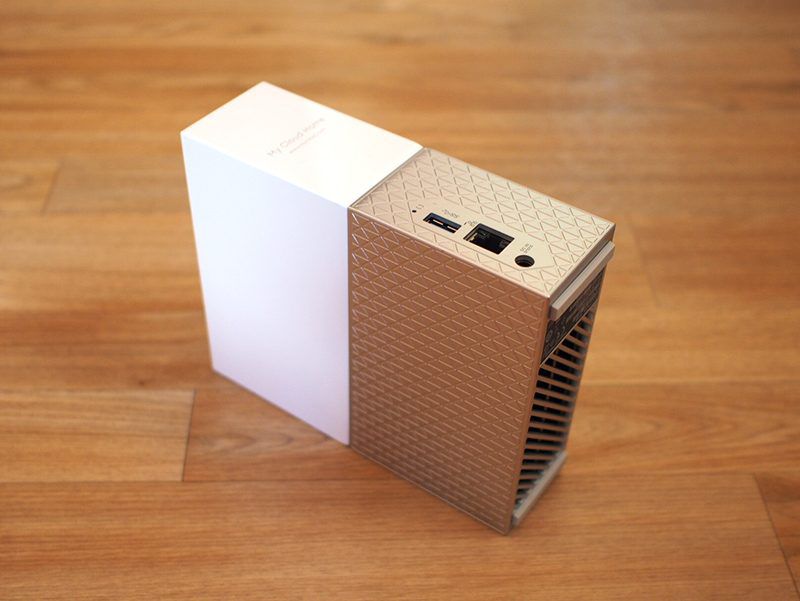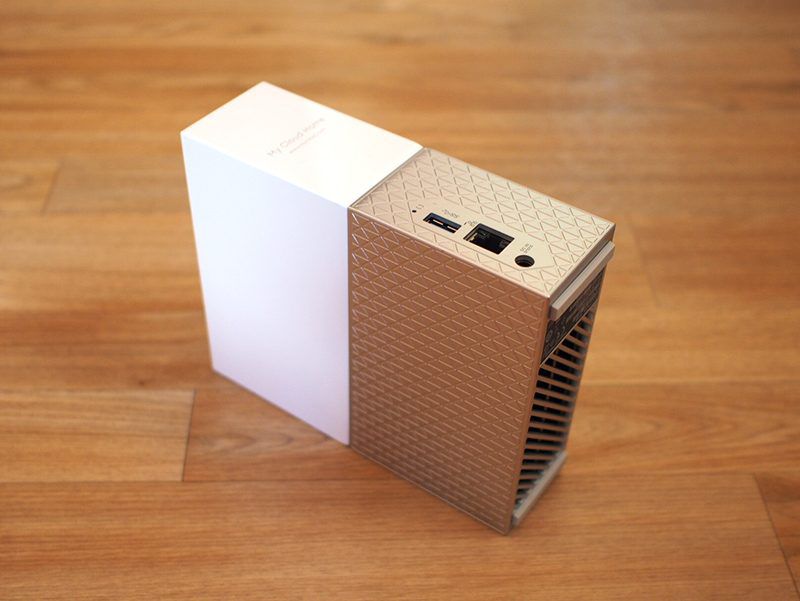 The My Cloud Home is meant to be plugged in next to a router and tucked away on a shelf, and its unassuming design works well for that purpose. Mine's hidden behind a TV on my entertainment unit because that's where my router is, so it's not visible, but I wouldn't mind if it were.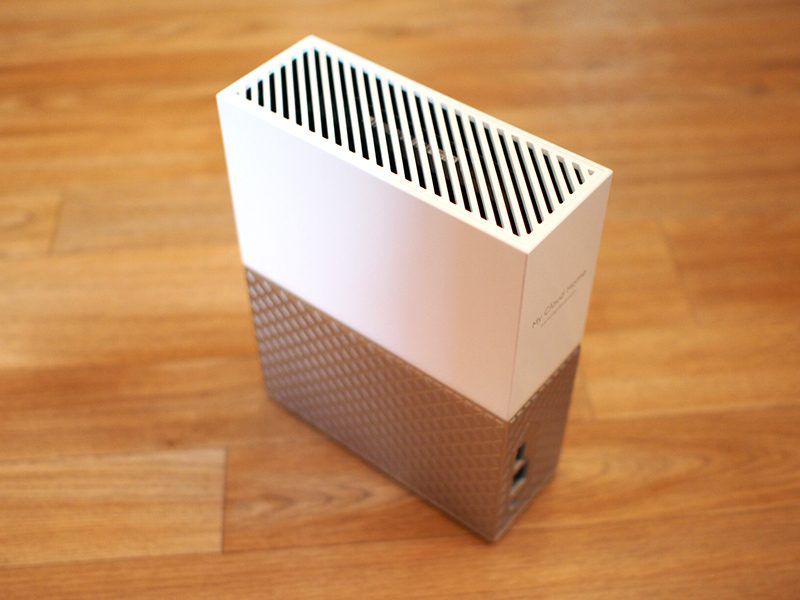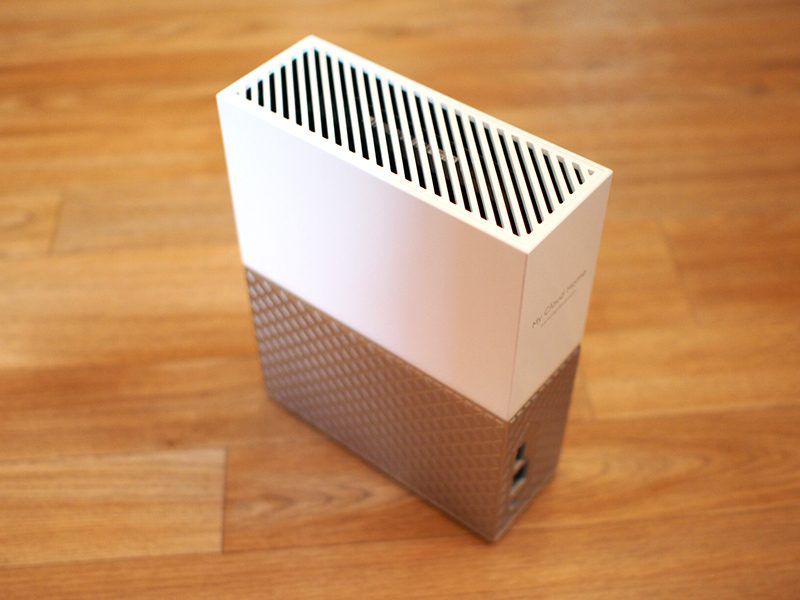 Western Digital's My Cloud Home can store all of your files from iOS and Mac devices in one location, and it can be used for device backups from a range of devices. During my testing, my unit was reliable and had no problems staying connected to my Wi-Fi network, so my files were always accessible to me.
My Cloud Home Apps and Setup
My Cloud Home setup consists of plugging the device in to a power source and connecting it to a router using an Ethernet cable. From there, it can be accessed over the web using the My Cloud website or through the accompanying Mac and iOS apps. There are also apps for PC and Android devices.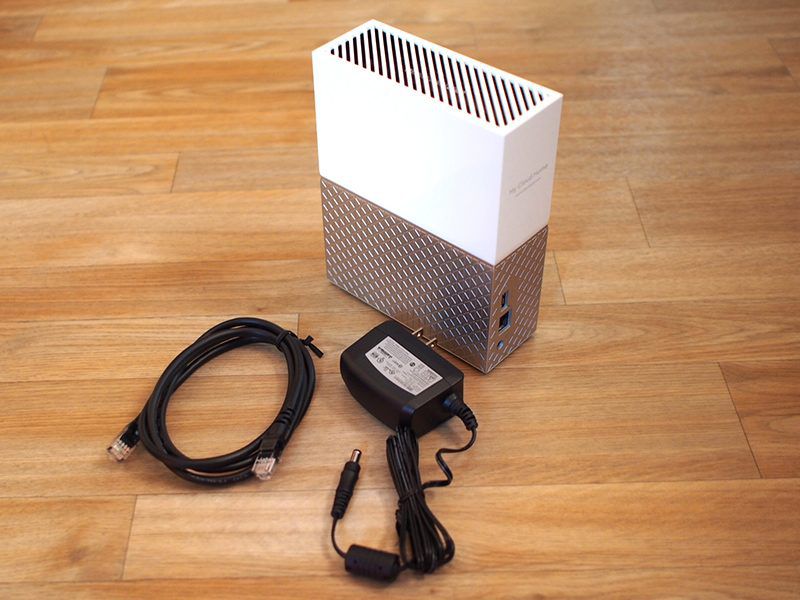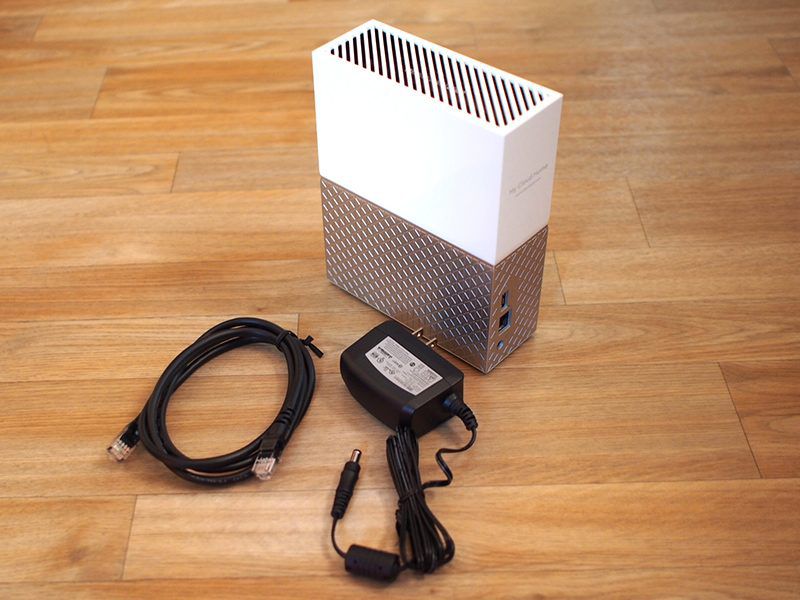 The performance of the My Cloud Home is going to depend on your own home connection speeds. If you have a slow home network, it's going to take a long time to transfer files over WiFi. Even with fast speeds, it can be pretty tedious waiting for an iCloud photo backup, a Time Machine backup to complete, or a large file transfer to complete. I have a reasonably fast connection (100Mb/s down, 6Mb/s up) and file transfers both ways took more time than I would have expected.
iOS App
With the My Cloud iOS app, you can connect to the My Cloud Home from an iOS device. You can use the app to browse all of the files you've uploaded, and to upload photos from your iPhone or iPad to My Cloud Home. Multiple iOS devices can sync to the My Cloud Home if desired, so several family members can use it, and there's an option to add new users.
There's an option for automatic backup, which will upload all of the photos from your Camera Roll to the My Cloud device. I turned it on, and it took just over an hour to upload about 3,000 photos. You can also take photos and add them directly to My Cloud Home or upload photos from your device manually.
The app also features a section for enabling a cloud content backup, which downloads everything from Dropbox to your device. I enabled this, and it essentially copied everything from Dropbox to a folder on the My Cloud Home. Dropbox transfer worked flawlessly and everything copied over in a couple hours.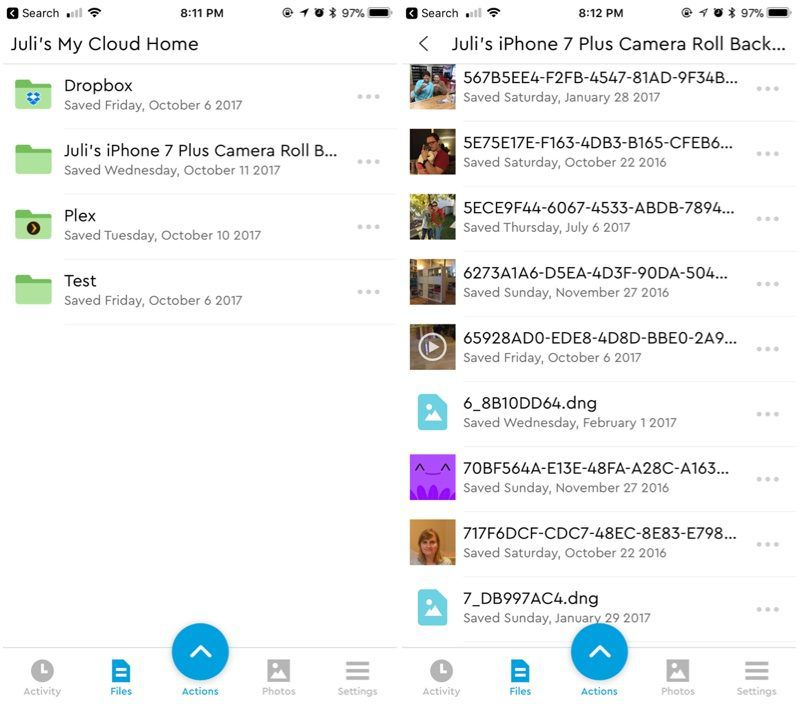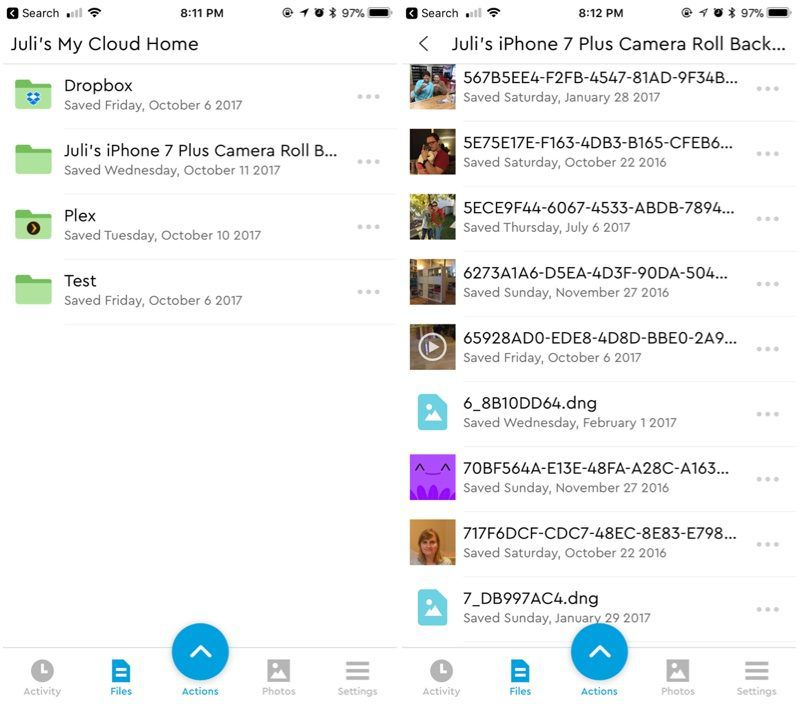 Aside from those options, there's nothing else you can do with the iOS app — it's only for photos and browsing files uploaded from the desktop. There is no integration with the new Files app in iOS 11, there's no support for Drag and Drop on iPad, nor is there a proper iPad app, and there's no way to upload a file that's not a photo from an iOS device.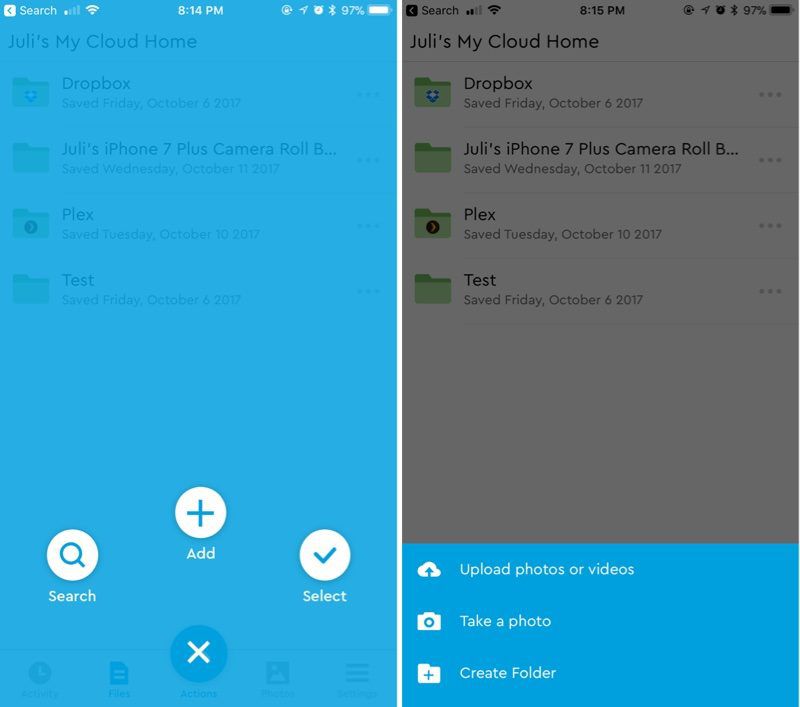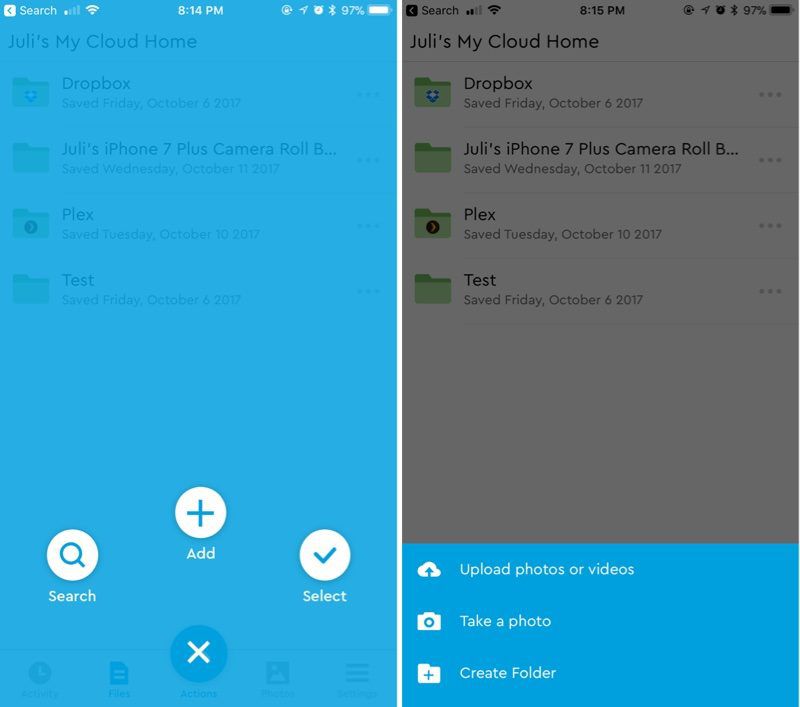 The app is bare bones and frustrating to use. There is no indicator bar that lets me know what the cloud syncing features are doing, so I have no idea when a backup is complete, and the organizational capabilities are non-existent.
I can view all of my photos in the Photos tab, where they're seemingly organized by date, but that's it. It lumps all photos together with no sorting options, no way to find anything, and no alternate views. Since I uploaded my Dropbox content and my iPhone 7 Plus photos, all of that content is lumped together in a giant mess in the Photos section.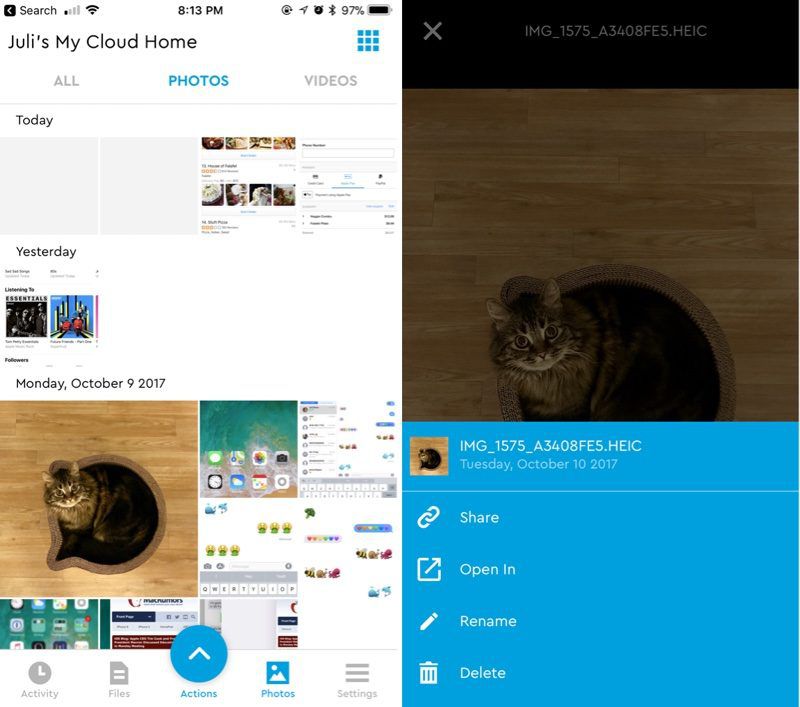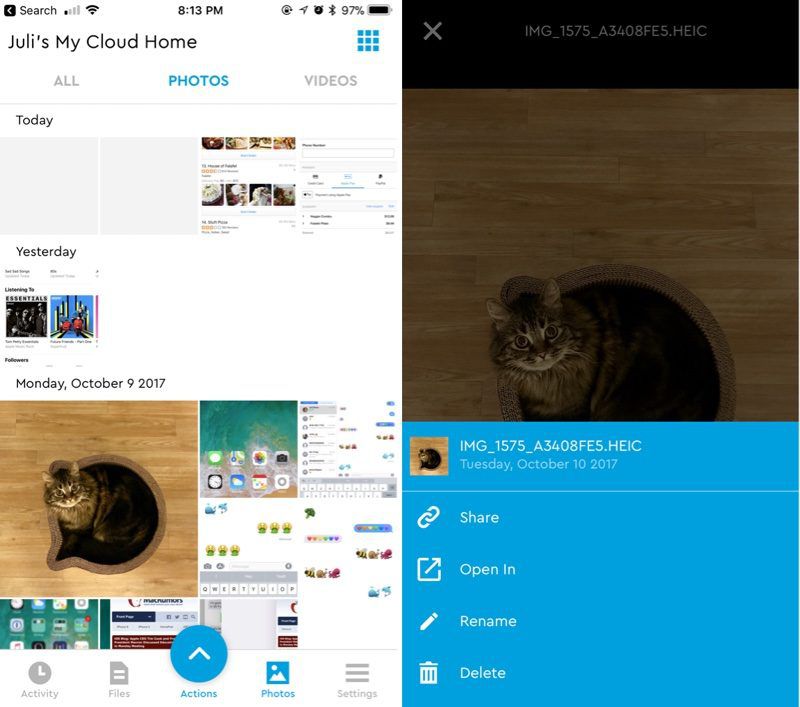 There are photos that I synced from my iPhone that I can't find in the My Cloud Home backup. Whether that's because of the poor organization or some partial syncing failure, I don't know, and I can't troubleshoot because I can't see what's synced, what's not, and whether the backup finished successfully. It's also worth noting that if you have RAW image files synced to My Cloud Home, the app will not display them.
In the iPhone 7 Plus Camera Roll Backup section where my content is actually stored, organization is no better. It's just a long list of files.
When you view the photos stored on the My Cloud Home, it takes a few seconds to load and there's a definite short delay. This is based on your WiFi connection and the speed of the My Cloud Home itself.
There are tools for sharing, opening, renaming, and deleting individual files, but there are no options for mass file management. If you have multiple photos you want to delete from the backup, too bad. The app also doesn't seem to delete photos that I have deleted from my photo library.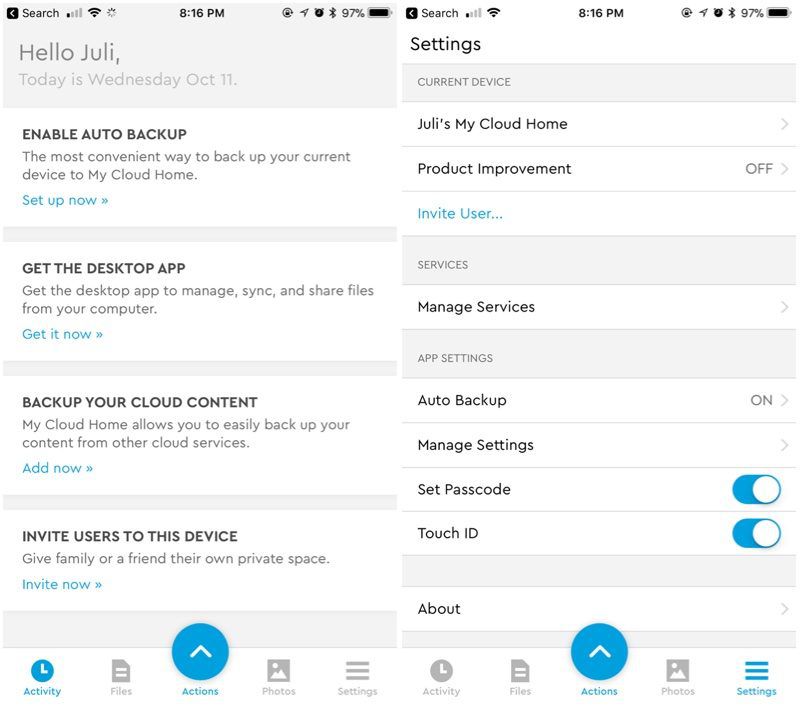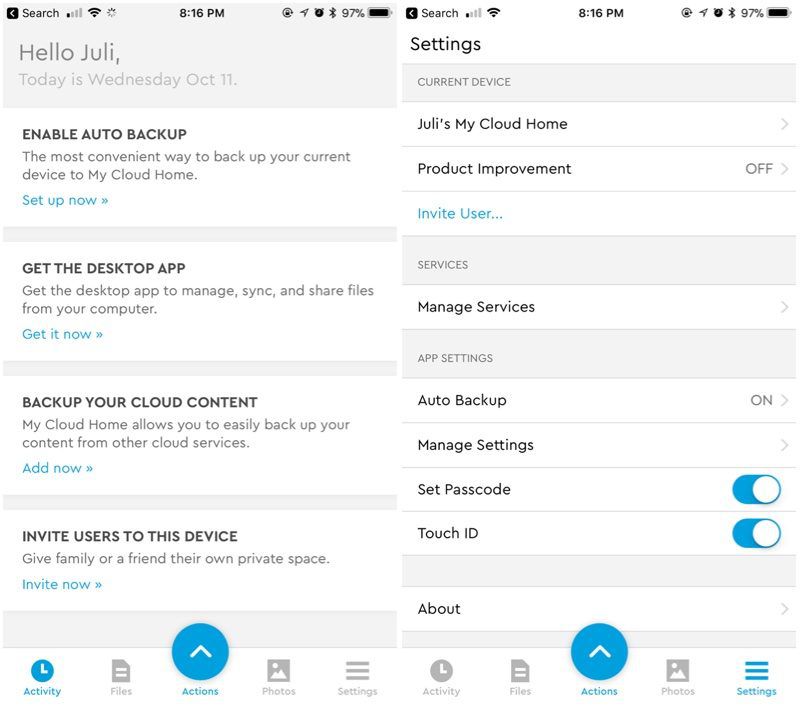 In a world where our iPhones and iPads are increasingly important and are beginning to replace PCs, apps like this should offer feature parity with their desktop counterparts. It's disappointing that the iOS app is lacking to the point of being almost unusable for anything but uploading photos.
Mac App
The Mac app is better than the iOS app. It installs a Western Digital menu bar and makes the My Cloud Home accessible as an attached drive, so you're essentially using Finder for all file management needs.
You can drag and drop files to My Cloud Home from Finder, you can view everything with Finder's organizational tools, and you can search for content through Finder. This setup is simple to use and it makes it easy to find, upload, share, and access all of the content that's stored on the My Cloud Home.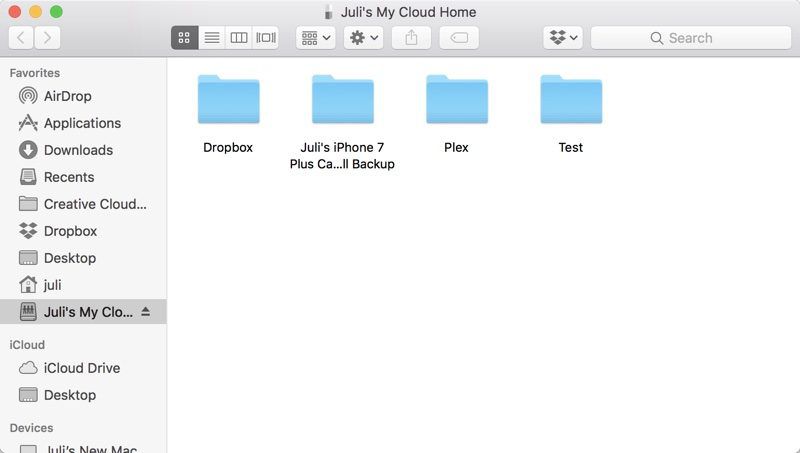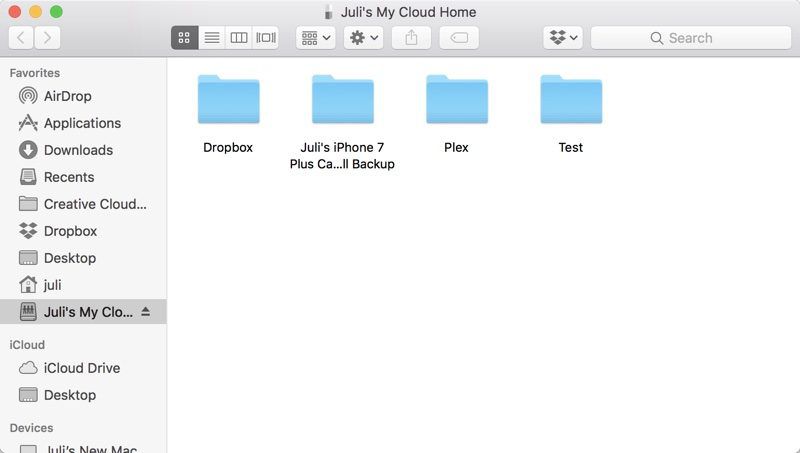 The My Cloud Home Mac app also makes a right-click sync option available for all files, so you can right-click on something and select the "Sync to My Cloud" feature to upload it immediately.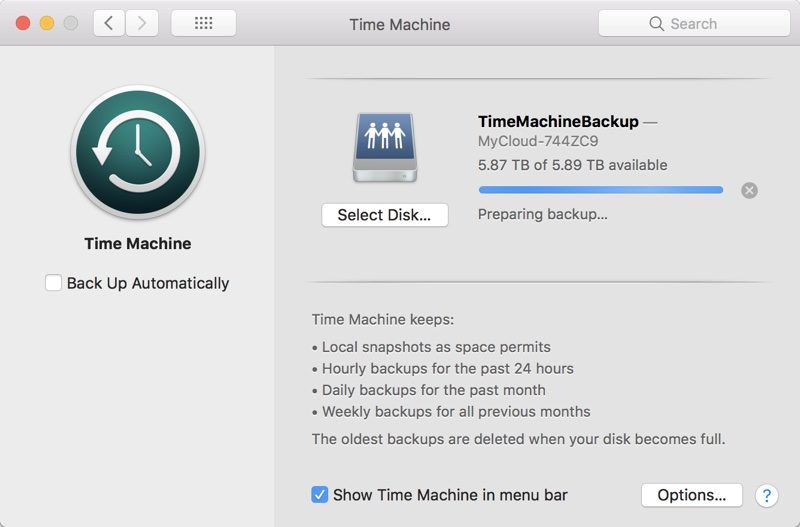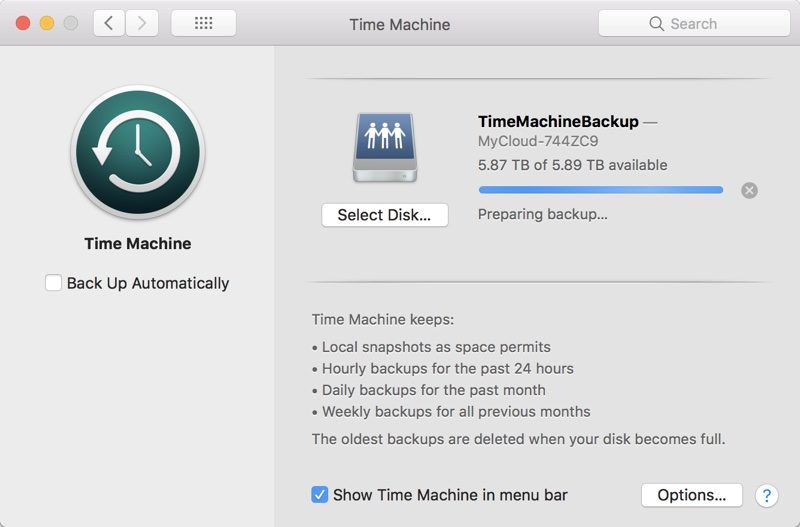 My Cloud Home can be used as a Time Machine backup option for a Mac, but I wasn't a fan of how Time Machine backups were handled. Time Machine backups are stored in a shared folder on the network with no password protection (encryption wasn't available), which means your backups are accessible on any computer that is connected to your home Wi-Fi — not just your own.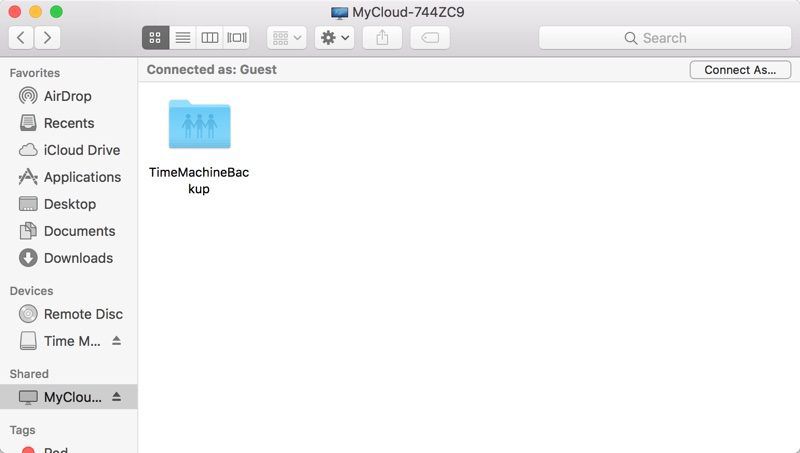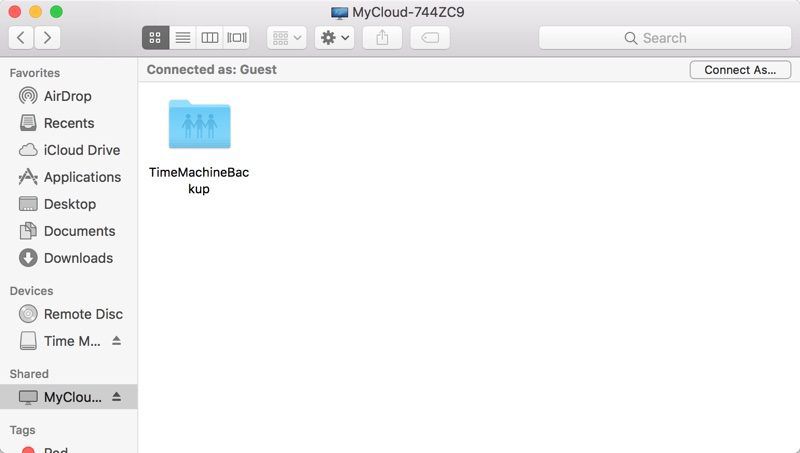 That's fine if you're the sole user of your Wi-Fi network, but it's not always ideal when you have multiple people in the home or when guests are visiting. This may not be an issue for some users, though, and according to Western Digital, it's built this way to allow users to back up all computers connected to the network with the content stored in a single place.
As for Time Machine backups themselves, it obviously takes a long time to do a backup over a Wi-Fi connection. I had to leave mine on overnight and it did fail a several times before it managed to complete a backup.
I also thought Western Digital's documentation in general for the My Cloud Home was poor. For Time Machine backups, as an example, it basically just redirects to Apple's own support document. A device like this needs better support and documentation for users.
I had some other complaints about the Mac app. There was an update during the course of my testing and it instructed me to download an update, but gave no indication of what was new. Then it sent me an email letting me know an update had been installed, again with no information.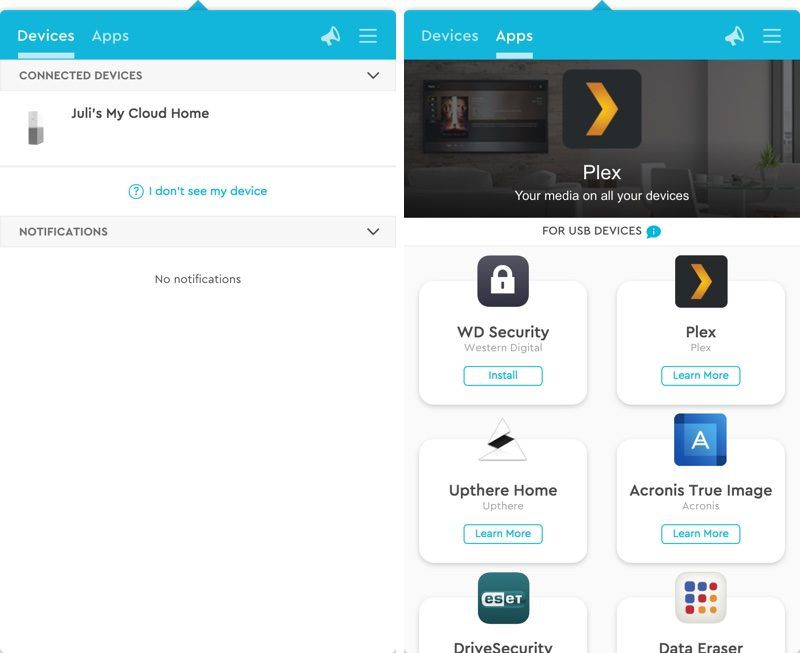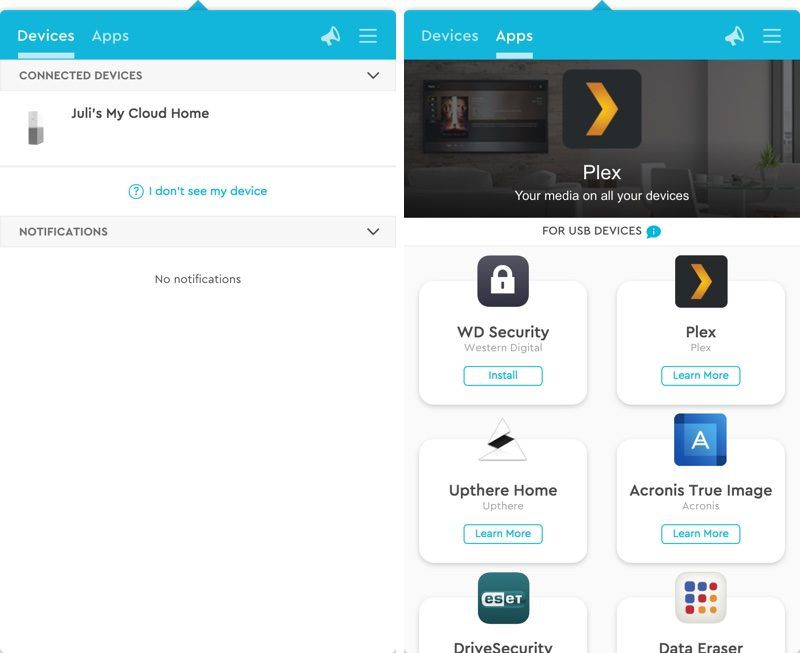 There's also a section of the Mac app for "Apps," which I initially thought was for apps that can be installed on the My Cloud Home, but it's not. It's for installing apps on direct-attached storage devices like the My Passport.
That's because the WD Discovery app is for multiple Western Digital devices, which means WD's cloud product isn't even getting its own dedicated app.
Web Interface
My Cloud Home is also accessible through the web, and the web interface is decent. It's similar to Dropbox in that it offers a list of all of the files on a device along with Photos and an Activity list so you can see what was uploaded when.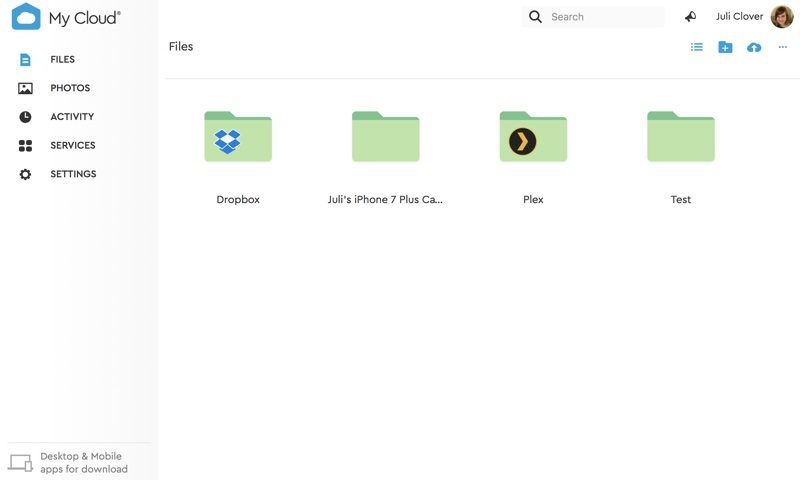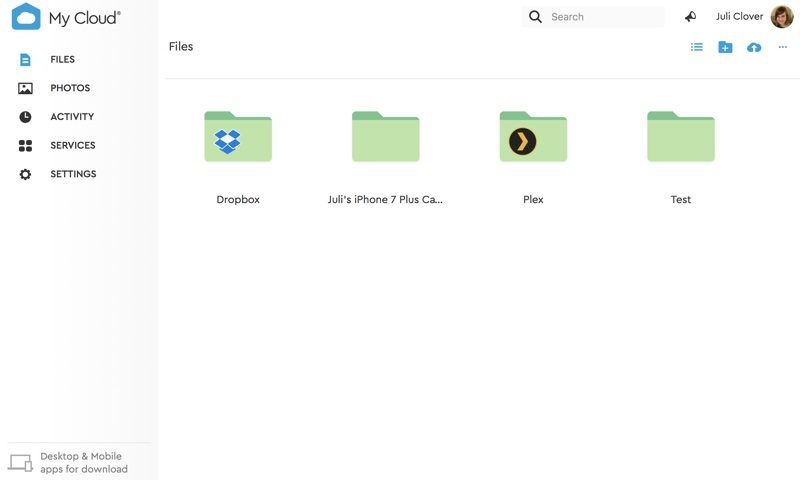 It has a search feature so you can search for specific files, multiple view options, and tools for adding services and change account settings. You can add files from the website, so it's actually one of the better ways to access the device if you don't need to make an iPhone/Mac backup.
Other Features
In addition to using the My Cloud Home as a backup solution for iOS devices, Macs, and your online cloud storage services, there are also options to enable IFTTT and a Plex Server on the My Cloud Home.
With Plex Server, you can upload content like videos and photos to the My Cloud Home and then stream it to any iOS device or Apple TV through the Plex app. Plex streaming, like all file transfers to this device, is reliant on your Wi-Fi connection speed.
Bottom Line
I wanted to like the My Cloud Home because I want there to be a simple, intuitive, easy-to-use NAS backup solution for people who just want to store their stuff and get to it from any device, but there were too many caveats with the apps.
The My Cloud Home is simple enough to use for basic purposes like upnovodasoftwareloading files and making backups, but the app interfaces are lacking features and need updating. In its current incarnation, I think the My Cloud Home is generally more frustrating to use than cloud-only solutions like Dropbox or Google Drive, but I have seen some positive reviews for the device on Best Buy from customers who like the simplicity of the device and don't mind the apps.
During my testing, the My Cloud Home was reliable, remained accessible, and didn't disconnect, which is a plus. It's an okay file storage solution for use with a Mac or via the web, but I wouldn't recommend it on iOS devices because of the app, nor would I use it for Time Machine backups due to both connection failures and privacy issues.
For people who like the idea of having a network-attached local storage device as a cloud alternative for things like backups and file storage, there are better options out there from companies like Synology and QNAP. These products aren't as simple as the My Cloud Home and it will take quite a few more googling sessions to learn all the ins and outs, but these other devices are more robust, have better apps for the most part, and ultimately offer a lot more features than are included with the My Cloud Home.
How to Buy
The My Cloud Home can be purchased from Best Buy. Prices start at $160 for the 2TB version.
Note: Western Digital provided MacRumors with a 6TB My Cloud Home for the purpose of this review. No other compensation was received.